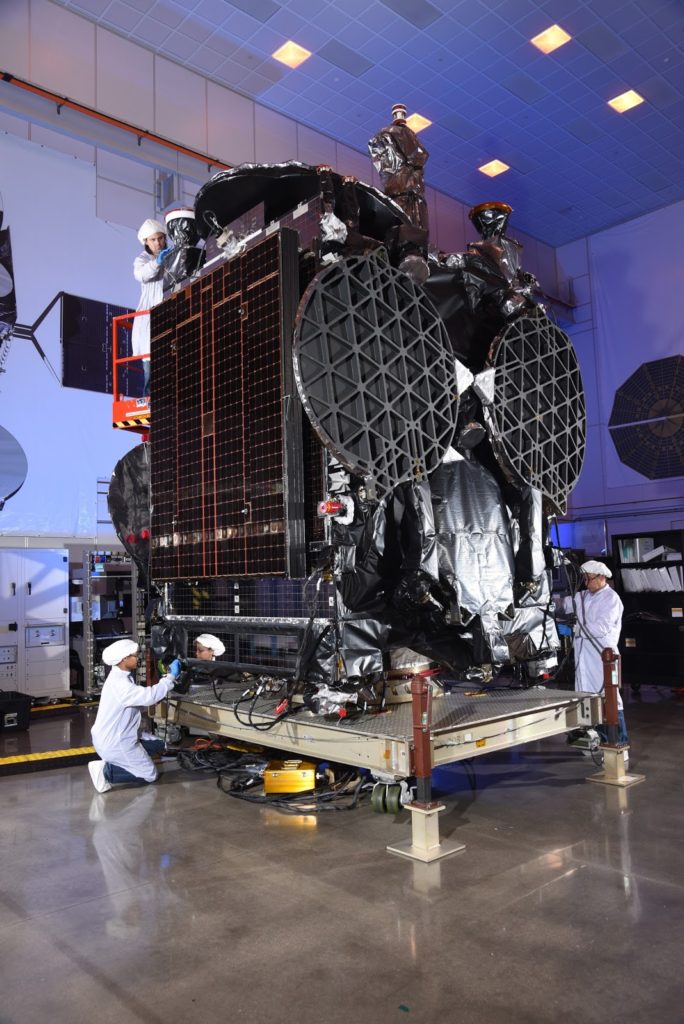 The GovSat-1/SES-16 communications
satellite spacecraft is a joint venture between the Government of Luxembourg
and satellite operator SES. It is scheduled for launch on Jan 30, 2018 on board
a SpaceX flight-proven Falcon 9 rocket from pad 40 on Cape Canaveral Air Force
Station, FL.

Credit: Orbital ATK/SES
Ken Kremer

—

SpaceUpClose.com

—

29
Jan 2018
CAPE CANAVERAL AIR FORCE STATION, FL – A double dose of Florida Falcons
commences launching Tuesday afternoon, Jan. 30, with the GovSat-1
communications satellite
on a 'Flight-Proven' Falcon 9.

GovSat-1 is
designed for e
xclusive
use by governments and institutions – including m
ilitary, humanitarian and maritime
users.
Liftoff of the recycled single stick Falcon 9 carrying

GovSat-1 is scheduled for
4:25
p.m.
EST
(2125
GMT) from seaside
Space Launch Complex-40
(SLC-40) on Cape Canaveral Air Force Station.
If all goes well,
SpaceX's rapid launch pace continues apace exactly
1 week later on Feb. 6 – with the triple stick Falcon Heavy targeting liftoff next week from historic Launch
Complex 39A (LC-39A) at NASA's Kennedy Space Center.
SpaceX
CEO and billionaire founder Elon Musk just announced the maiden Falcon Heavy's
launch date over the weekend – as reported I here with our exclusive photo
gallery.
The two stage 229-foot-tall (70-meter-tall) SpaceX Falcon 9
rocket will deliver GovSat-1/SES-16 to a geosynchronous transfer orbit for
GovSat –
a public-private partnership between the
Government of Luxembourg and satellite operator SES.
T
he over 4.5 ton GovSat-1/SES-16 communications satellite launching
Tuesday is a joint venture between the Government of Luxembourg and SES, the
worlds leading satellite operator.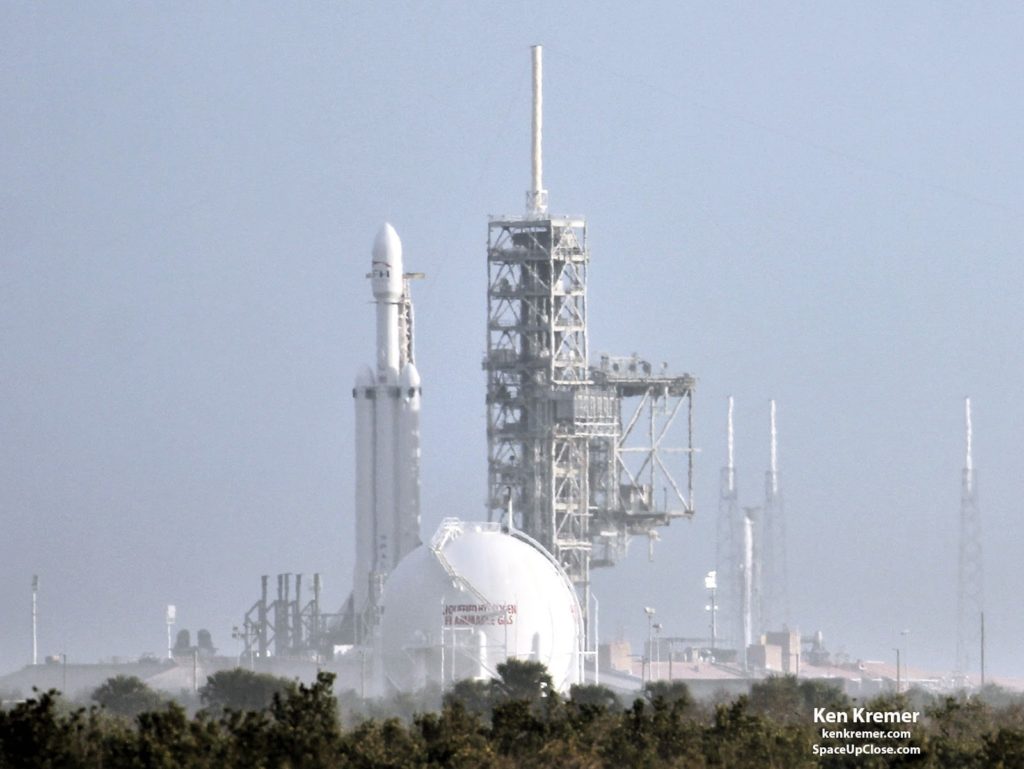 2 soon to launch SpaceX rockets stand simultaneous erect at
Florida's Spaceport:

Falcon Heavy at pad 39A at the Kennedy Space Center at
left and Falcon 9 booster carrying GovSat-1/SES-16 at pad 40 at Cape Canaveral
Air Force Station.

Falcon 9 blastoff slated
for Jan. 30, 2018.

Falcon Heavy blastoff slated for Feb. 6.

Credit: Ken Kremer/SpaceUpClose.com/www.kenkremer.com
You
can watch the launch live on a SpaceX dedicated webcast starting about 15
minutes prior to the 4:25
p.m. EDT (2025
GMT)
liftoff time.
The GovSat-1 launch
window at pad 40 extends for a little over two full hours. The window opens at 4:25

p.m.

EST
(2125
GMT) and e
xtends until
closing at 6:46 p.m. EST, or 2346 GMT.
The backup
launch day is Wednesday, Jan. 31 in case of any delay for weather or technical
reasons.
The Jan.
31 launch window remains the same extending from 4:25 p.m. To 6:46: p.m. EST.
GovSat-1 is the first
satellite for GovSat and has many unique features and offers secure
communications for military and government users.
"We are committed to our
mission of providing secure satellite communication services for governments
and institutions. GovSat-1, with its highly flexible payload featuring advanced
encryption and anti-jamming capabilities, will further secure the connectivity
for our users' applications," said Patrick Biewer, CEO of GovSat in a
statement.
"We are incredibly
excited about the upcoming launch of this satellite."
SES has launched multiple times on SpaceX rockets and was
the first company to take the risk and launch on a flight-proven Falcon 9
booster – in March 2017.
Although this mission features a used rocket, SpaceX does
not plan to recover the first stage after liftoff.
The recycled first stage for the GovSat-1 mission
previously supported the NROL-76 mission from LC-39A in May 2017.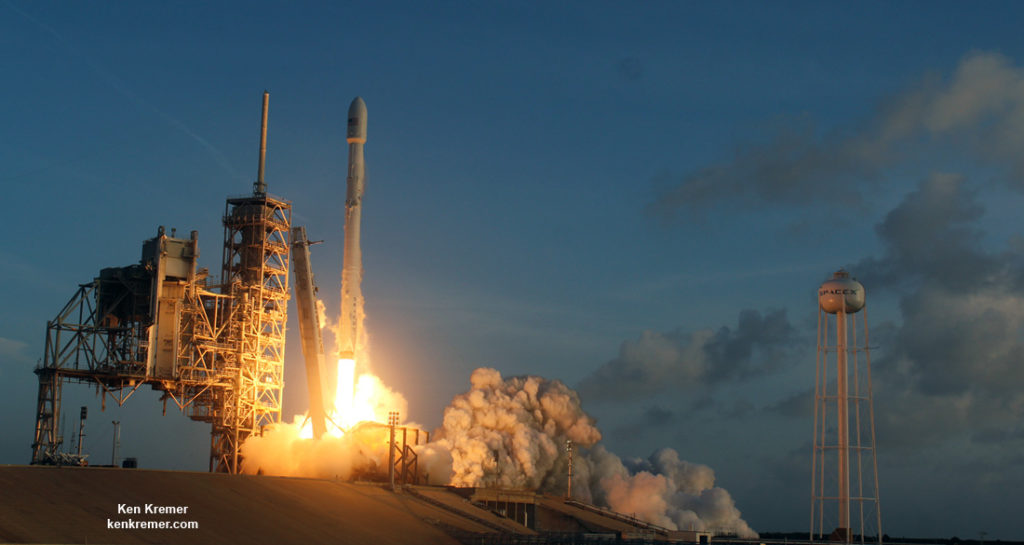 The latest
weather
forecast outlines difficult conditions along the Florida Space Coast with only a
40% chance of favorable conditions at
launch time according to
U.S.
Air Force
meteorologists with the 45th Space Wing
Weather Squadron
at Patrick Air Force Base.
"Maximum upper-level winds will be from the west at 100
knots near 40,000 feet," said the
45th Space Wing
Weather Squadron
in a weather update.
In case of a 24 hour delay the weather outlook improves
dramatically to a superb 90% chance of favorable launch condition as thwe winds
die down.
The
primary concern on Jan. 31 is for the
Thick Cloud Layer Rule.
The multi-mission
satellite was built by prime contractor Orbital ATK. It has a design lifetime
of 15 years of operation in geostationary orbit. The spacecraft has a launch
mass of 4,230 kg (9326 lb).
"GovSat-1 has a diverse
mix of transponder sizes in terms of bandwidth per transponder, offering in
total 68 transponder-equivalent units of 36 MHz," according to SES.
GovSat-1 will be located
at the 21.5 degrees East orbital slot.
It will serve Europe,
the Middle East and Africa, including substantial maritime coverage over the
Mediterranean and Baltic seas, and the Atlantic and Indian Oceans.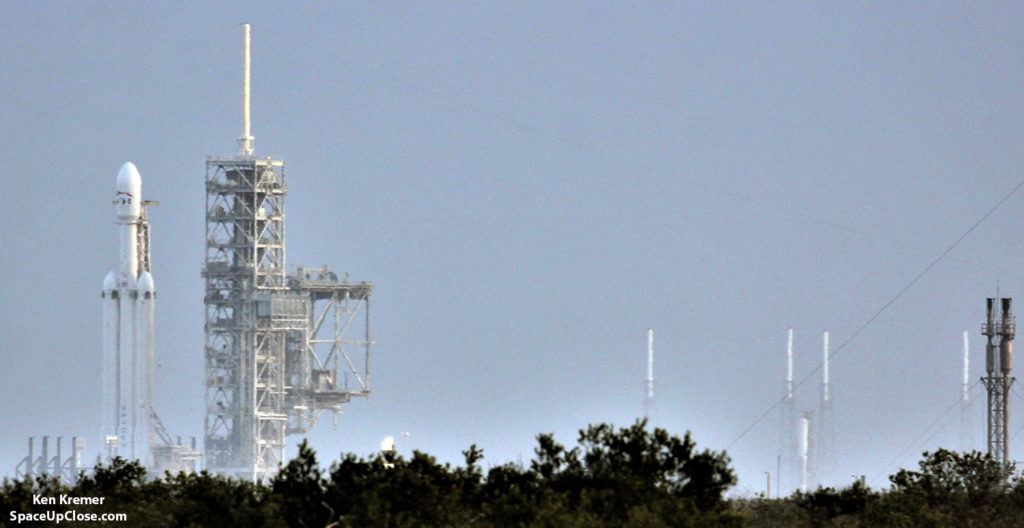 Watch for Ken's continuing onsite coverage of SpaceX Falcon
9 & Heavy, NASA,

ULA and more
space
mission reports direct
from the Kennedy Space Center and Cape Canaveral Air Force Station, Florida.
Stay tuned here for Ken's continuing
Earth and Planetary science and human spaceflight news:

www.kenkremer.com

–www.specupclose.com –
twitter @ken_kremer –
ken
at kenkremer.com
Ken's upcoming outreach events:
Learn more about the upcoming SpaceX Falcon
Heavy and Falcon 9 SES-16/GovSat-1 launches on Jan. 30 & Feb. 6, NASA
missions, ULA Atlas & Delta launches, SpySats and more at Ken's upcoming
outreach events at Kennedy Space Center Quality Inn, Titusville, FL:
Jan 29/30: "SpaceX Falcon Heavy & Falcon 9
launches, ULA Atlas USAF SBIRS GEO 4 missile warning
satellite, SpaceX SES-16/GovSat-1, CRS-13/14 resupply launches to the ISS,
Intelsat 35e, BulgariaSat 1 and NRO Spysat, SLS, Orion, Commercial crew
capsules from Boeing and SpaceX , GOES-S weather satellite launch, OSIRIS-Rex,
Juno at Jupiter, InSight Mars lander, SpaceX and Orbital ATK cargo missions to
the ISS, ULA Delta 4 Heavy spy satellite, Curiosity and Opportunity explore
Mars, NH at Pluto and more," Kennedy Space Center Quality Inn, Titusville, FL,
evenings. Photos for sale