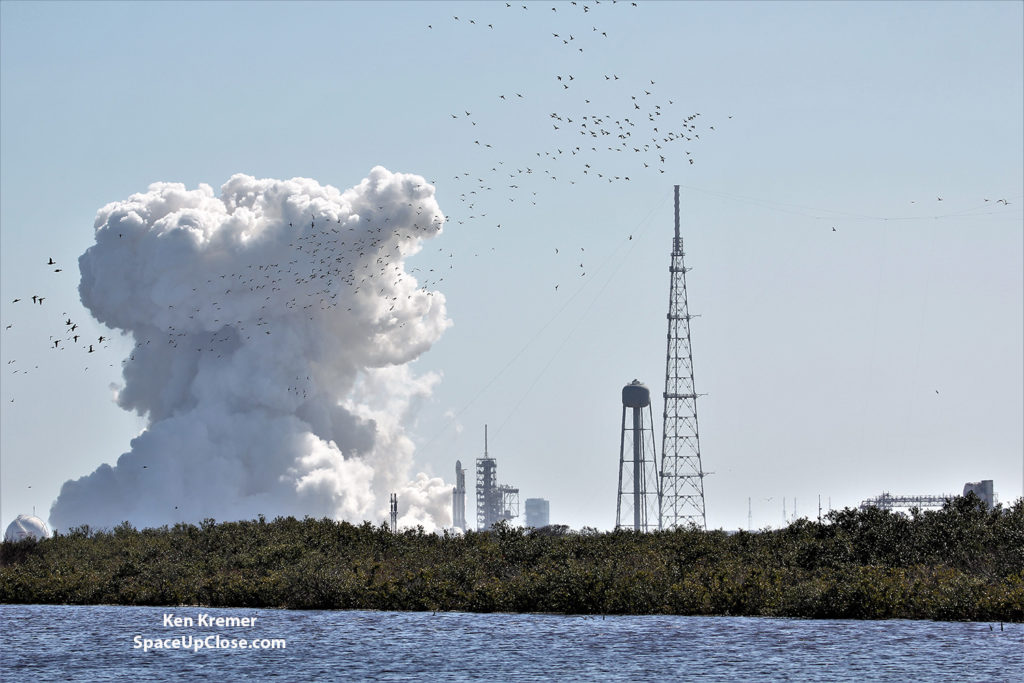 Debut SpaceX
Falcon Heavy ignites 27 first stage engines during first ever static fire test generating
5 million pounds of thrust and an enormous exhaust plume on
Launch
Complex 39A at NASA's Kennedy Space Center in Florida – as seen on Jan. 24

2018 from Merritt Island National Wildlife
Refuge.

Debut liftoff slated for early
February 2018.
Credit: Ken Kremer/SpaceUpClose.com
Ken Kremer

—
SpaceUpClose.com

—

24 Jan 2018
MERRITT ISLAND
NATIONAL WILDLIFE REGUGE/PLAYALINDA BEACH, FL –

The mighty SpaceX Falcon Heavy made space
history today, roaring to life for the first time ever – emitting an enormous
exhaust plume after firing up all 27 first stage engines generating 5 million
pounds of thrust and successfully conducting the first ever hold down static
fire test at historic pad 39A at NASA's Kennedy Space Center.
SpaceX billionaire
CEO and founder Elon Musk declared the test firing a success soon after the mammoth
triple core rocket ignited all 27 of its Merlin 1D first stage engines putting
on stunning display of firepower and thundering sound today, Jan. 24, at approximately
12:30 p.m. EST on seaside Launch Complex 39A at KSC
"Falcon
Heavy hold-down firing this morning was good, SpaceX CEO Elon Musk tweeted.


"Generated
quite a thunderhead of steam."
For over 10 seconds
finally we heard the SpaceX Falcon Heavy produce the biggest and loudest rocket
firing reverberate across the Florida Space Coast since the retirement of NASA's
space shuttle over six years ago dating back to July 2011. The test has been
delayed a quite number of times over the past few weeks as workers tested hardware
and software and resolved issues.


The exhaust plume
of steam and ash towered high in the skies over pad 39A.

It was far bigger, more impressive and louder than
the single stick SpaceX Falcon 9 static fire tests which typically last about 3
to 7 seconds.
Check out our
Space UpClose gallery as I watched the magnificent test firing along with space
journalist colleagues and the public from the Playalinda Causeway on the
Merritt Island National Wildlife Refuge.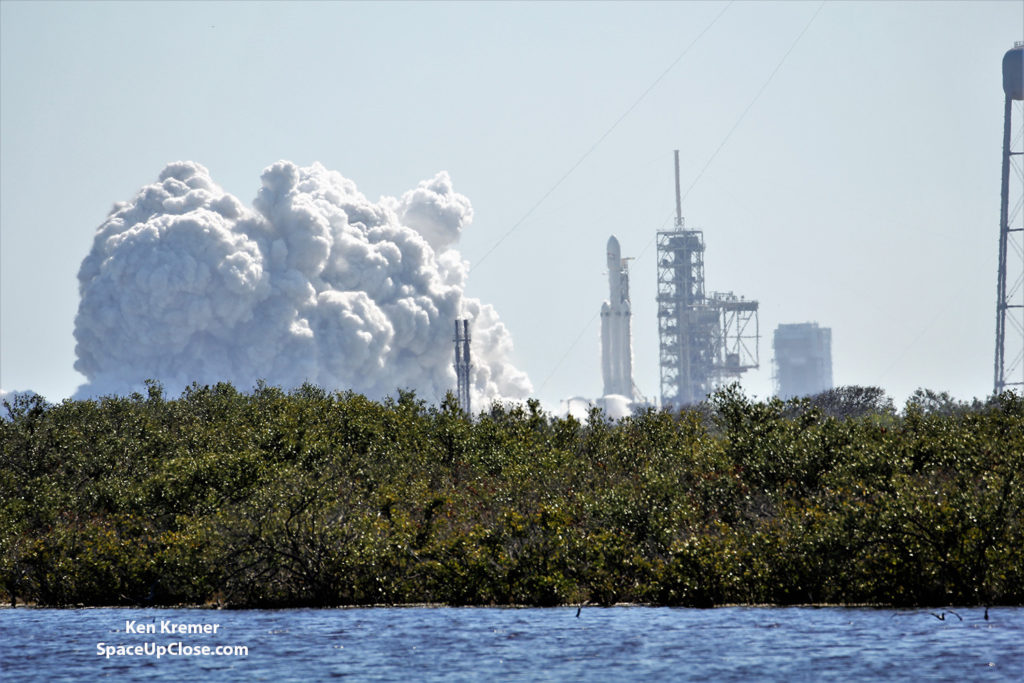 The 22 story tall
Falcon Heavy was glistening in the midday sun under uncommonly picture perfect January
skies in the moments leading up to engine ignition.
The soon to be 'World's
Most Powerful Rocket' should finally blastoff soon, perhaps as soon as early
February.
"Launching
in a week or so," Musk added.
The debut liftoff
of the SpaceX Falcon Heavy on its first demonstration mission is now closer than
ever before after years of development.
"First static fire test of Falcon Heavy complete—one step
closer to first test flight!" tweeted SpaceX.
The static fire test
had been postponed multiple times over the past few weeks as the SpaceX launch
team carried out numerous pad operations, rollout, raising erect and lowering
as well as what called 'Wet Dress Rehearsals' where technicians conduct

critical pumping and loading operations of the
liquid oxygen and RP-1 kerosene propellants
into the first
and second stages
.
Watch this video
of the today's static test fire:
Video
Caption: SpaceX Falcon Heavy TEST FIRE Jan 24, 2018. America's new
rocket, the inaugural SpaceX Falcon Heavy, came to life for the first time for
a Static Test Fire on KSC pad 39A Jan 24, 2018.

Credit: Jeff Seibert
A successful static
fire test is one of the last major milestones required before SpaceX can
attempt to really launch the Falcon Heavy on the maiden demonstration mission
of this very complicated vehicle.
The payload is Musk's
Tesla Roaster that will be hurled outward on a whimsical trip to Mars orbit.
The triple stick
Falcon Heavy is comprised of a trio of Falcon 9 boosters – including a
significantly modified central core, to deal with aerodynamic stresses, that is
attached to a pair of side-mounted cores with newly developed nose cones
mounted in place of payload fairings.
The two side
cores are 'flight-proven' boosters that already launched once and are being recycled
for the Heavy.
The
gigantic two stage Falcon Heavy stands
more
than 229 feet (70 meters) tall and measures 39.9 feet wide (12.2 meters).

It also features a dozen grid fins and a
dozen landing legs attached to the first stage boosters in an attempt to soft
land all three cores – by land and by sea.
Watch
for Ken's continuing onsite coverage of Falcon Heavy, ULA and NASA and
space
mission
reports direct from the Kennedy Space Center and Cape Canaveral Air Force
Station, Florida.