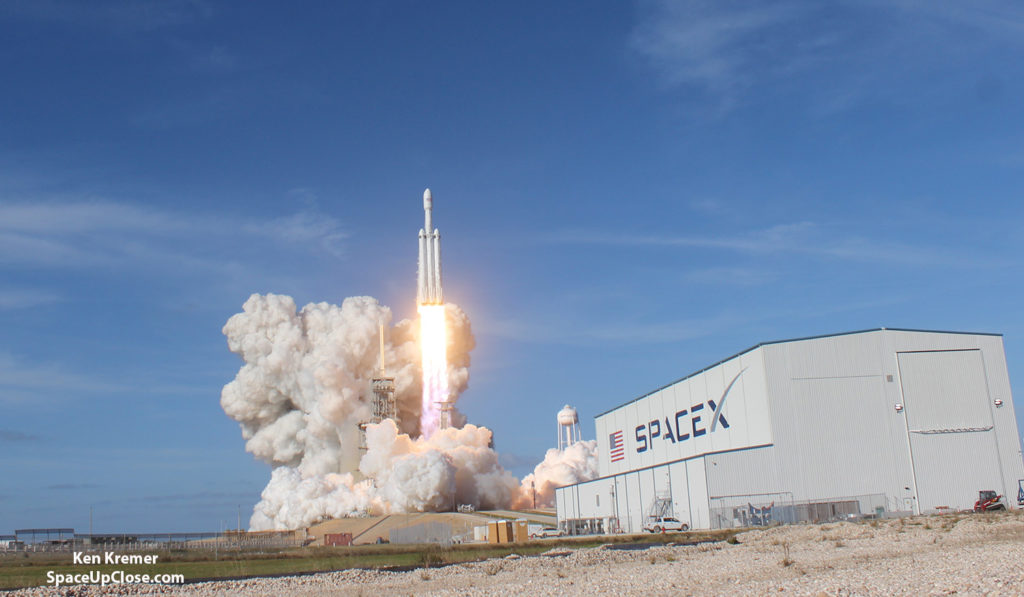 Maiden
SpaceX Falcon Heavy rocket blasts off from Launch Complex 39A at NASA's Kennedy
Space Center in Florida on Feb. 6, 2017. Nose cone housing Starman seated
in Tesla Roadster is stenciled with Falcon Heavy logo. Credit: Ken
Kremer/SpaceUpClose.com/kenkremer.com
Ken
Kremer

—

SpaceUpClose.com

—

6
Feb 2018


KENNEDY SPACE CENTER, FL – The first ever triple
core Falcon Heavy rocket blasted off late Tuesday afternoon (Feb. 6) and put on
a space spectacular with a massive display of raw power for a massive crowd of
thrilled eyewitnesses who will long remember the day SpaceX rocked the launch world with the nearly
flawless launch of the new 'Most Powerful Rocket' currently in operation by a
factor of two!
And the Falcon Heavy propelled
a mannequin nicknamed
'Starman' on a journey to Mars and Beyond to the tune of David Bowie's
'Space Oddity –

wearing a genuine spacesuit

while seated as the driver in SpaceX billionaire

CEO Elon Musk's midnight red Tesla sports car
cwhich he donated as the payload for this inaugural demonstration
mission

for the firm he founded.
Surrounded by all
the drama of the unknown the three stick Falcon Heavy rocket lifted off on its
debut test flight from
historic
pad 39A at the Kennedy Space Center in Florida, Tuesday afternoon at 3:45 p.m.
EST

(2045 GMT)

on Feb. 6 and successfully
hurled 'Starman' to space atop the second stage of the center core encapsulated
inside the nose cone.
Check out our
initial gallery of on site launch photos of the thrilling event.
The drama
was palpable for everyone at the press viewing sites where I was based and
about as high as could be since Musk had repeated downplayed the chances of
success- saying multiple times it was about 50% or so.
So he was
elated with the success at a post launch briefing held at NASA's Kennedy Space
Center press site.
"I didn't really think this would work," Musk said. "When I see
the rocket lift off, I see, like, 1,000 things that could not work. And it's
amazing when they do."
The triple stick Falcon
Heavy is comprised of a trio of Falcon 9 boosters – including a significantly
modified central core, to deal with aerodynamic stresses, that is attached to a
pair of side-mounted cores with newly developed nose cones mounted in place of
payload fairings.
The two side cores are
'flight-proven' boosters that already launched once and were

recycled for this inaugural Falcon Heavy

demonstration test flight.
SpaceX's launch
was watched by over a 100,000 locally and millions more online around the world
via their live webcast.

Live streaming video
was beamed back after fairing separation and achieving preliminary orbit.
And in a
magnificent feat of wonder you had to see to believe the two side mounted first
stage boosters detached from the central booster and returned to Earth
accomplishing a near simultaneous rocket assisted precision guided touchdown
back at Cape Canaveral.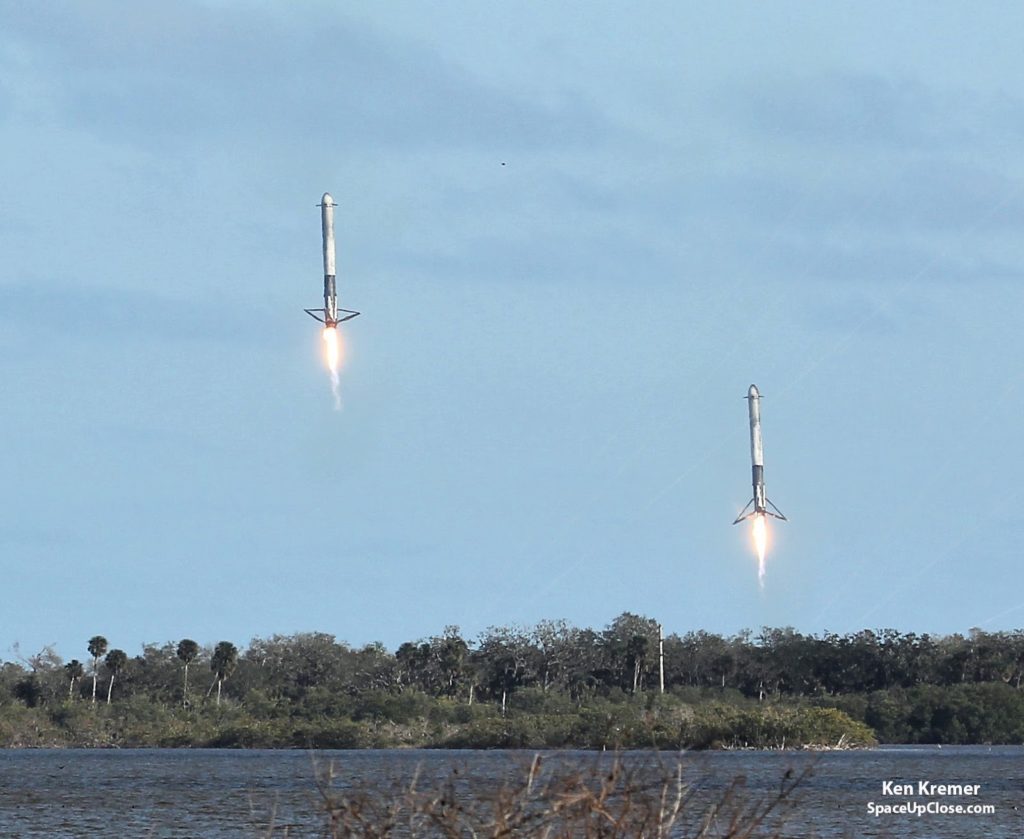 The two recycled
SpaceX Falcon Heavy side boosters landed nearly simultaneously,
and side by side, on Feb. 6, eight minutes after maiden liftoff from Launch Complex 39A at NASA's Kennedy Space Center in
Florida on Feb. 8,
2018.
Credit: Ken
Kremer/SpaceUpClose.com/kenkremer.com



Under gloriously
sunny Sunshine state skies the rockets 27 Merlin
1D first stage engines
ignited to produce nearly 5
million pounds of liftoff thrust and by far the loudest sounds to roar from the
Florida Space Coast since the retirement of NASA's space shuttles back in 2011.

Ever so slowly the
gigantic 22-story tall two stage Falcon
Heavy creeped upward to start its dramatic soar to space for the first time as
a massive crowd of more than 100,000 folks gathered from across the globe
gawked in wonder.
The two stage Falcon Heavy stands
more than 229 feet (70 meters) tall and measures 39.9 feet wide
(12.2 meters).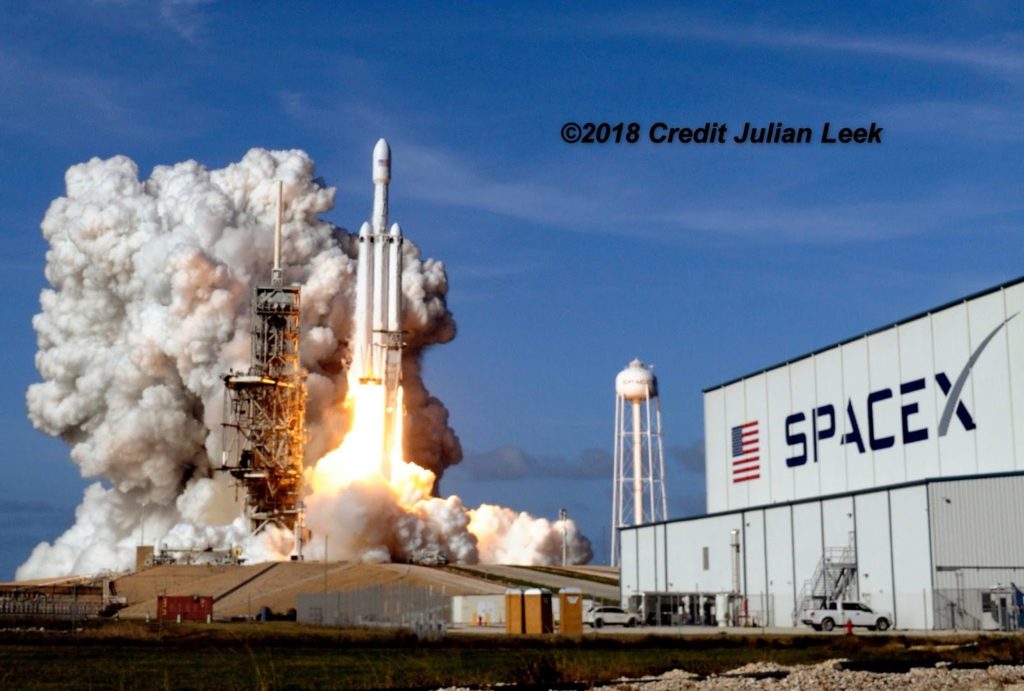 Liftoff of SpaceX
Falcon Heavy on first demonstration test flight on Feb. 6, 2018 from Launch
Complex 39A at NASA's Kennedy Space Center in Florida
on Feb. 6,
2018.
Credit: Julian
Leek
Stunning video of 'Starman' departing his Home
Planet while 'driving' outwards through the black void of space was streamed
back live in super high resolution 8 K video – showing stark images of the Blue
Earth moving across the screen in the background at times.
Musk's personal Tesla Roadster was the primary
payload for the debut Falcon Heavy launch.
The launch was by far the largest in terms of crowd size
gathered since NASA's final shuttle launch of Space Shuttle Atlantis in July
2011.
The
Falcon Heavy is now the most powerful rocket to launch since NASA's Space
Shuttles were retired in 2011.
Sporting
5.1 million pounds of liftoff, it is twice as powerful as the ULA Delta IV
Heavy- which until today previously currently which held the title as 'Worlds
Most Powerful' rocket – until today.
To
put that in perspective, the combined thrust of the 27 Merlin 1D first stage
engines on Falcon Heavy is equivalent to 18 Boeing 747s.
Read our detailed prelaunch and launch
stories.
Watch
for Ken's continuing onsite coverage of Falcon Heavy and Falcon 9, ULA and NASA
and
space
mission reports direct
from the Kennedy Space Center and Cape Canaveral Air Force Station, Florida.
Stay tuned here for Ken's continuing
Earth and Planetary science and human spaceflight news:

www.kenkremer.com


–www.spaceupclose.com – twitter @ken_kremer –
ken at kenkremer.com