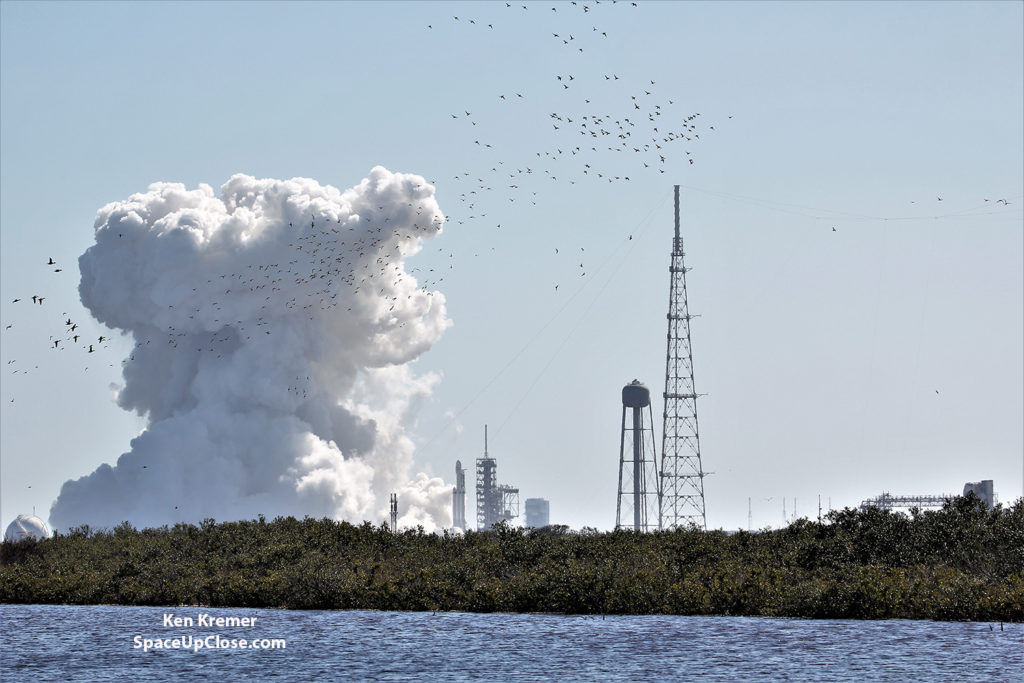 Maiden SpaceX
Falcon Heavy ignites 27 first stage engines during first ever static fire test generating
5 million pounds of thrust and an enormous exhaust plume on Launch Complex 39A
at NASA's Kennedy Space Center in Florida – as seen on Jan. 24

2018 from Merritt Island National Wildlife
Refuge.

Debut liftoff slated for 6 February
2018.
Credit:
Ken Kremer/SpaceUpClose.com
Ken
Kremer

—

SpaceUpClose.com

—

3
Feb 2018
KENNEDY SPACE CENTER, FL –
The
Federal Aviation Administration (FAA) has granted SpaceX a launch license for
the debut launch of the mammoth Falcon Heavy rocket targeted for Tuesday
afternoon, Feb. 6, from NASA's historic launch complex 39A in Florida –
clearing one of the last hurdles to history.
An FAA license from the Office of Commercial
Transportation is required for all commercial launches conducted from US soil.
And to make matters even better for the hordes of space
enthusiasts flocking to the Florida Space Coast for this signature space event
– the weather outlook for the first launch of the soon to be 'World's Most Powerful Rocket' is rather promising at 80% GO!
So, for the
second time in less than 1 week a SpaceX Falcon is set to soar to space
following Wednesdays (Jan. 31) blastoff of a preflown SpaceX Falcon 9 that
successfully delivered the GovSat-1 telecommunications satellite to supersynchronous
orbit for the
Government of Luxembourg and SES, one of the world's top satellite
operators.
SpaceX Falcon 9 rocket carrying GovSat-1/SES-16
lifts off at 4:25 p.m. EST from Space Launch Complex 40 (SLC-40) on Cape
Canaveral Air Force Station, Florida to geostationary transfer orbit on Jan. 31,
2018.

Credit: Ken
Kremer/SpaceUpClose.com/www.kenkremer.com
The
payload is SpaceX CEO Elon Musk's 'modified' cherry red Tesla Roaster sports car that will
be hurled outward on a whimsical trip to Mars orbit. It will be playing David Bowie's hit song 'Space
Oddity.'



"Space Exploration Technologies is authorized to
conduct a flight of the Falcon Heavy launch vehicle from Launch Complex 39A at
Kennedy Space Center (KSC) transporting the modified Tesla Roadster (mass
simulator) to a hyperbolic orbit," reads the FAA license.
The FAA issued the launch license on Feb. 2, 2018,
and it only covers the maiden liftoff with Musk's Tesla and for a period limited
to 1 year from the date of issuance.
SpaceX plans to recover all three boosters from the
inaugural test flight of the triple core rocket and the FAA license includes both
the sea based and ground based precision guided landings.
"Flight includes landing of the Falcon Heavy first
stage core and side boosters as indicated in the license application," noted
the FAA.
"The license terminates upon completion of the
launch authorized by the license, or one (1) year from the effective date of
this license order, whichever comes first."


SpaceX
CEO and billionaire founder Elon Musk revealed the targeted launch date
publicly for the first time only last week.

"Aiming for
first flight of Falcon Heavy on Feb 6 from Apollo launchpad 39A at Cape Kennedy,"
Musk tweeted Saturday, Jan. 27 – even as his firm's single stick Falcon 9 targeted
blastoff on Wednesday, Jan 31 on nearby pad 40 on the Florida Space Coast.

The triple core
rocket will lift off from historic pad 39A at the Kennedy Space Center in the early
afternoon during a launch window that opens at 1:30 p.m. EST on Feb. 6.
The two
and a half hour long launch window extends from 1:30 p.m. until 4:00 pm EST
(18:30-21:00 GMT).

The backup launch day
is Feb. 7.
Musk also
announced today that a new Falcon Heavy launch simulation will be released soon,
presumably prior to liftoff.


"Falcon Heavy launch simulation almost ready. Will be set to
Bowie's Life on Mars," Musk tweeted.


The
latest weather forecast at L- Minus 3 outlines
very favorable conditions along the Florida Space Coast with an 80% chance of favorable conditions at launch time according
to U.S. Air Force meteorologists with the 45th Space Wing Weather Squadron at Patrick Air Force Base.


The primary concerns on Feb. 6 are for liftoff winds and the Thick Cloud layer Rule.
"On Tuesday [Feb. 6], winds are expected to become
easterly at 15 mph, again bringing a few low-level clouds in off the water. The
main weather concerns are liftoff winds and thick clouds. Maximum upper-level
winds will be from the west at 90 knots near 40,000 feet
,"
said the
45th Space Wing
Weather
Squadron
in the Feb. 3 weather
update.
In
case of a 24 hour delay the weather outlook remains promising with only a slip
dip to 70% chance of favorable launch condition

The primary concern on Feb 7 is again
for Liftoff Winds and the Thick Cloud Layer Rule.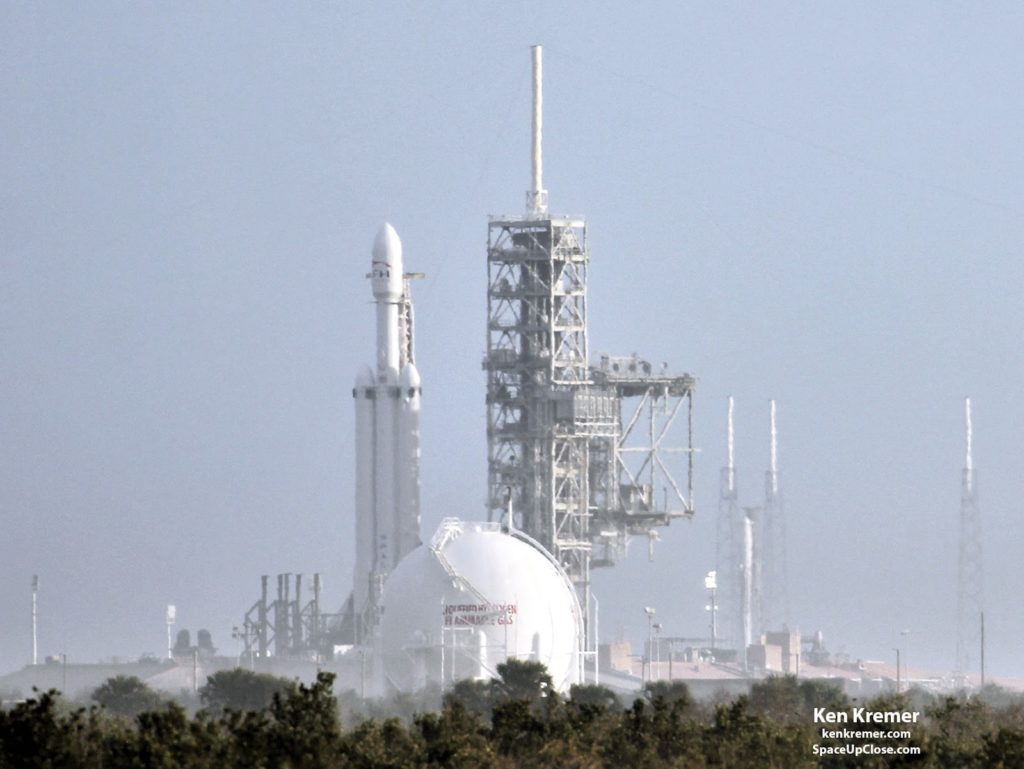 The enormous 22
story tall Falcon Heavy vehicle will generate by far the loudest, most
impressive and tremendous sounds thundering out from Florida's Spaceport since
the shuttle shutdown in 2011.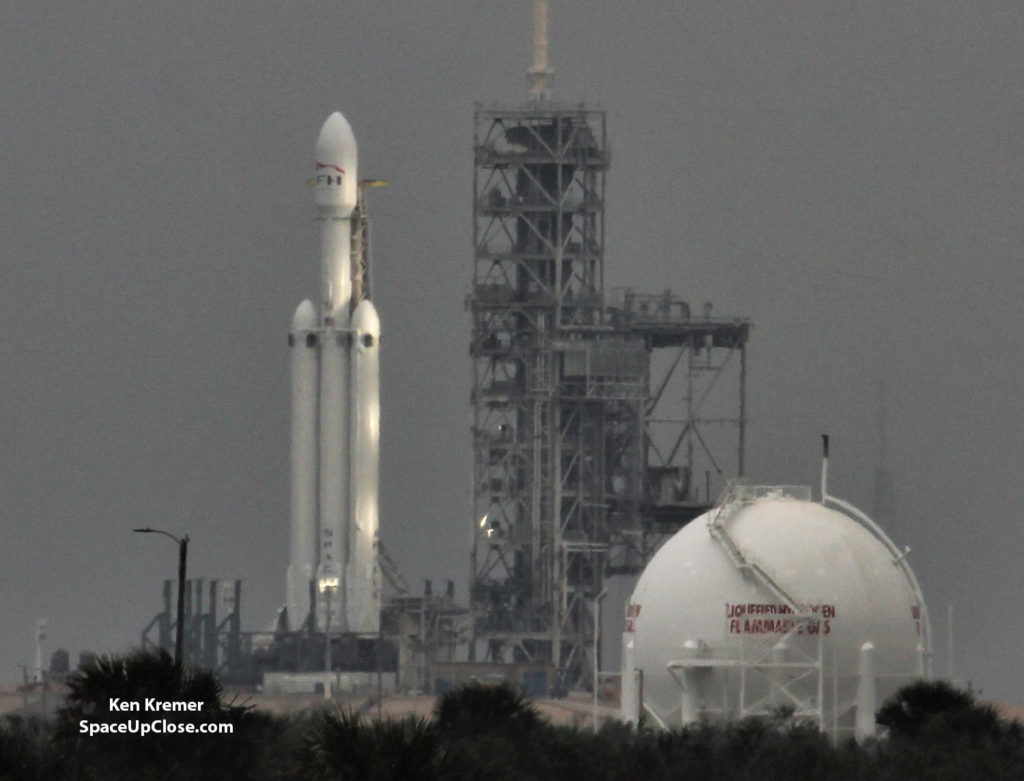 It's truly 'Rocket Heaven' time at Florida's Spaceport – with
a double dose of SpaceX Falcons totaling four cores launching back to back.
Launch
of the soon to be 'World's Most Powerful Rocket' on its first demonstration
mission is at last at hand after years of postponements to refine and validate
the design and develop, ready and test this incredible complex "beast" of a
vehicle.
27
first stage Merlin 1D engines will ignite to generate nearly 5 million pounds
of liftoff thrust rumbling across the Florida Space Coast as it starts its
history making soar to space.
The
Falcon Heavy has about double the liftoff thrust of its nearest competitor –
namely the United Launch Alliance Delta IV Heavy.
"We're stepping through this carefully, it's a beast of a
vehicle," says SpaceX President Gwynne Shotwell.
The 1st ever static fire test for the Falcon Heavy
took place on Wednesday, Jan 24, at 12:30 p.m. EST and lasted about 10 seconds
– as I watched from the Playalinda Beach causeway. Read our stories here.
The triple stick Falcon
Heavy is comprised of a trio of Falcon 9 boosters – including a significantly
modified central core, to deal with aerodynamic stresses, that is attached to a
pair of side-mounted cores with newly developed nose cones mounted in place of
payload fairings.
The two side cores are
'flight-proven' boosters that already launched once and are being recycled for
the Heavy.


The gigantic two stage Falcon Heavy stands more than 229 feet (70 meters) tall and measures 39.9 feet wide
(12.2 meters). It also features a dozen
grid fins and a dozen landing legs attached to the first stage boosters in an
attempt to soft land all three cores – by land and by sea.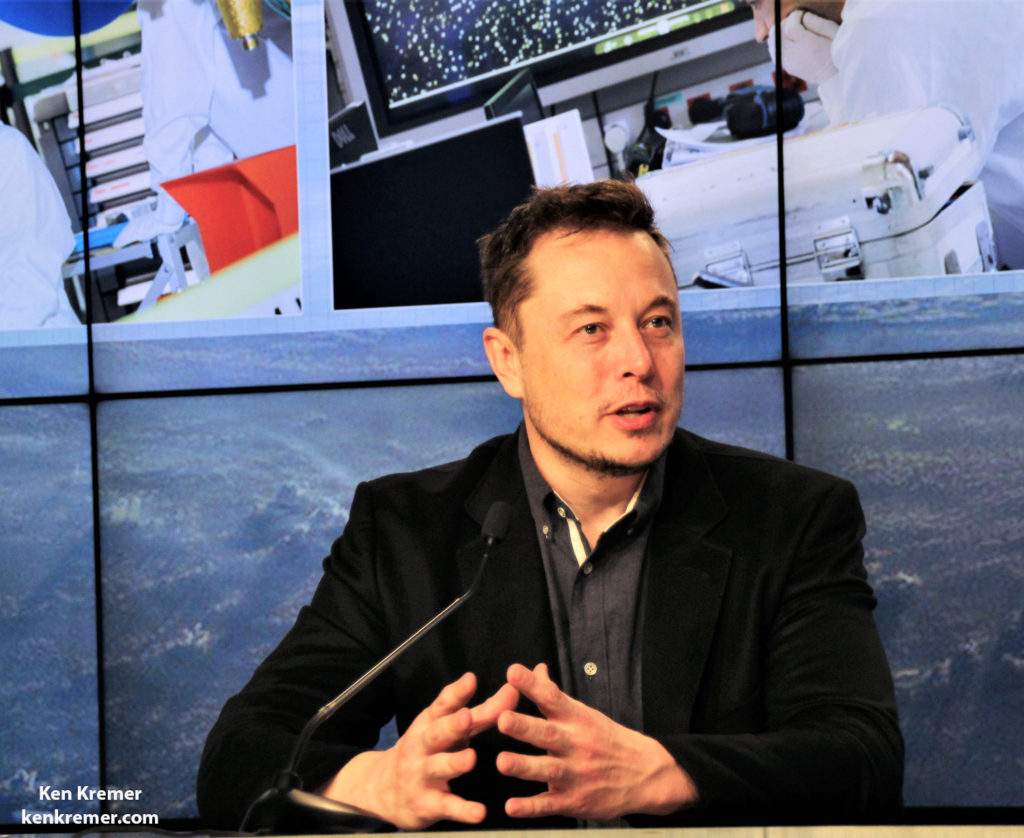 SpaceX CEO Elon
Musk discusses Falcon Heavy and rocketry during media briefing at NASA's
Kennedy Space Center.
Credit: Ken Kremer/kenkremer.com
Read our detailed prelaunch
and launch stories.
Watch
for Ken's continuing onsite coverage of Falcon Heavy, ULA and NASA and
space
mission reports direct
from the Kennedy Space Center and Cape Canaveral Air Force Station, Florida.
Stay tuned here for Ken's continuing
Earth and Planetary science and human spaceflight news:

www.kenkremer.com

–www.spaceupclose.com –
twitter @ken_kremer –
ken
at kenkremer.com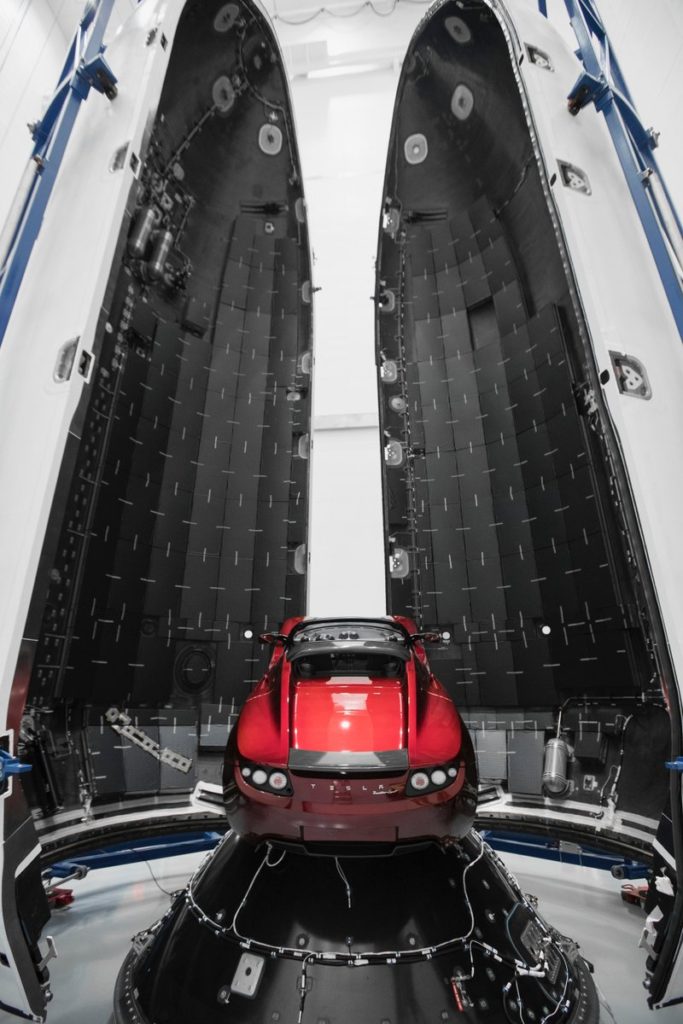 Cherry red Tesla sports car owned by SpaceX CEO Elon Musk is the
payload on the inaugural test flight of his Falcon Heavy Rocket.

The Tesla will be propelled to Mars on the
rocket's debut flight from KSC pad 39A in Feb 2018.

Credit: SpaceX