The
combined optical element and science instruments of NASA's James Webb Space
Telescope were removed from their specially designed shipping container, called
the Space Telescope Transporter for Air, Road and Sea (STTARS), in a high bay
at Northrop Grumman in Redondo Beach, California, on March 8, 2018. Credit:
NASA/Chris Gunn
K
en
Kremer

—
SpaceUpClose.com
—

18
Mar 2018
CAPE CANAVERAL, FL – NASA's James Webb Space
Telescope (JWST) has begun final assembly and testing at the Northrup Grumman spacecraft integration facility in

Redondo Beach,

California

where the huge science instrument component and sunshield will be joined
together.
California is Webb's last assembly and testing spot
before the completed telescope is shipped to
its launch site in Kourou, French Guiana.
NASA is aiming for a spring 2019 launch target, but
the date has not yet been determined pending the outcome of the final assembly
and testing of the massive observatory at Northrup Grumman.
Engineers
lift the combined optics and science instruments of NASA's James Webb Space
Telescope after removing it from the Space Telescope Transporter for Air, Road
and Sea (STTARS) at Northrop Grumman in Redondo Beach, California, on March 8,
2018. Webb's science payload and spacecraft (which includes the sunshield that
is also pictured here in its folded state) will be combined at Northrop before
launch.

Credits: NASA/Chris Gunn
JWST is the largest, most powerful and most complex
space telescope ever built. It will serve as the scientific successor to NASA's
world famous and phenomenally successful Hubble
Space Telescope (HST).
It will be launched on an Ariane 5 rocket, folded up
like origami inside the nose

cone.


The science module is comprised of the science
instruments, optical train, and the iconic and gigantic golden primary mirror measuring 6.5-meter
(21.3-foot) in diameter.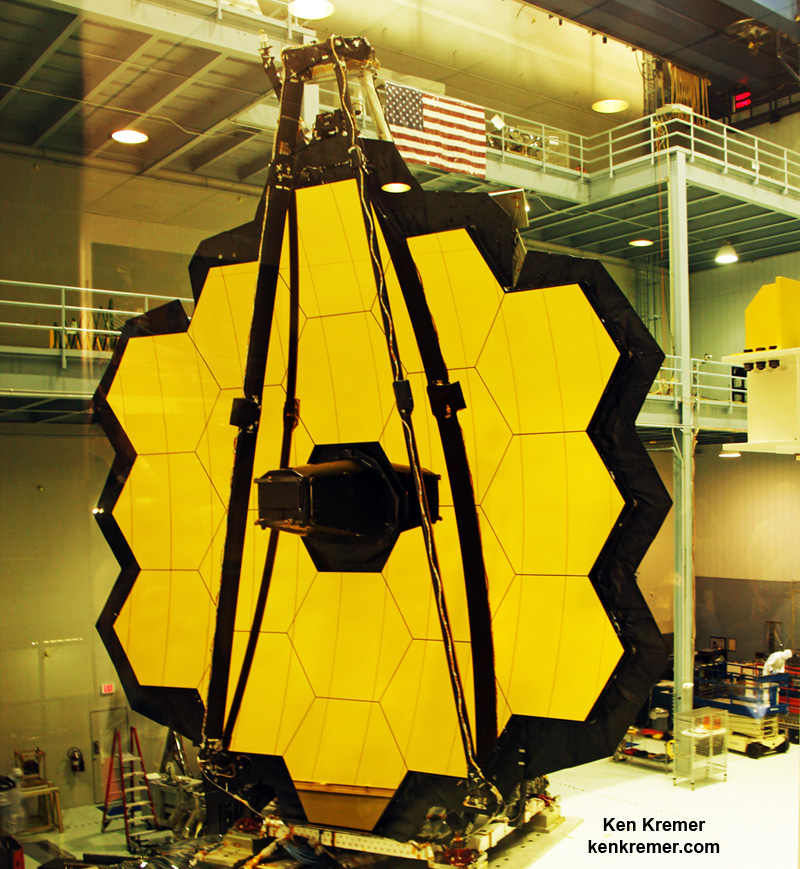 The 18-segment
gold coated primary mirror of NASA's James Webb Space Telescope is raised into
vertical alignment in the largest clean room at the agency's Goddard Space
Flight Center in Greenbelt, Maryland, on Nov. 2, 2016. The
secondary mirror mount booms are folded down into stowed for launch
configuration.

Credit: Ken
Kremer/kenkremer.com/spaceupclose.com
The science module half of
Webb is named OTIS which stands for optical telescope and integrated science
instrument module.
OTIS recently arrived at
the Northrup Grumman
Redondo Beach facility in California in
February after successfully completing 9 months of cryogenic testing at NASA's
Johnson Space Center in Houston.
It was flown on a U.S.
military C-5 Charlie aircraft that departed Ellington Field Joint Reserve Base,
just outside of Johnson to Los Angeles International Airport and then trucked
to Northrop Grumman.
OTIS was carefully transported
from Texas to California packed inside the shipping container known as the Space
Telescope Transporter for Air, Road and Sea (STTARS).
For the first time the two
halves of JWST now reside at Northrop Grumman Aerospace Systems in Redondo
Beach, California, where they will come together to form the complete
observatory after years of

design, development, manufacturing and testing.
The science instrument module was assembled and
tested at NASA's Goddard Space Flight Center in Greenbelt, Md, which this author
saw and reported on the fully open golden mirror first hand. It was then
shipped to Johnson for further cryogenic testing.
"Extensive and rigorous
testing prior to launch has proven effective in ensuring that NASA's missions
achieve their goals in space," said Eric Smith, program director for Webb at
NASA Headquarters in Washington, D.C., in a statement.
"Webb is far along into its
testing phase and has seen great success with the telescope and science
instruments, which will deliver the spectacular results we anticipate."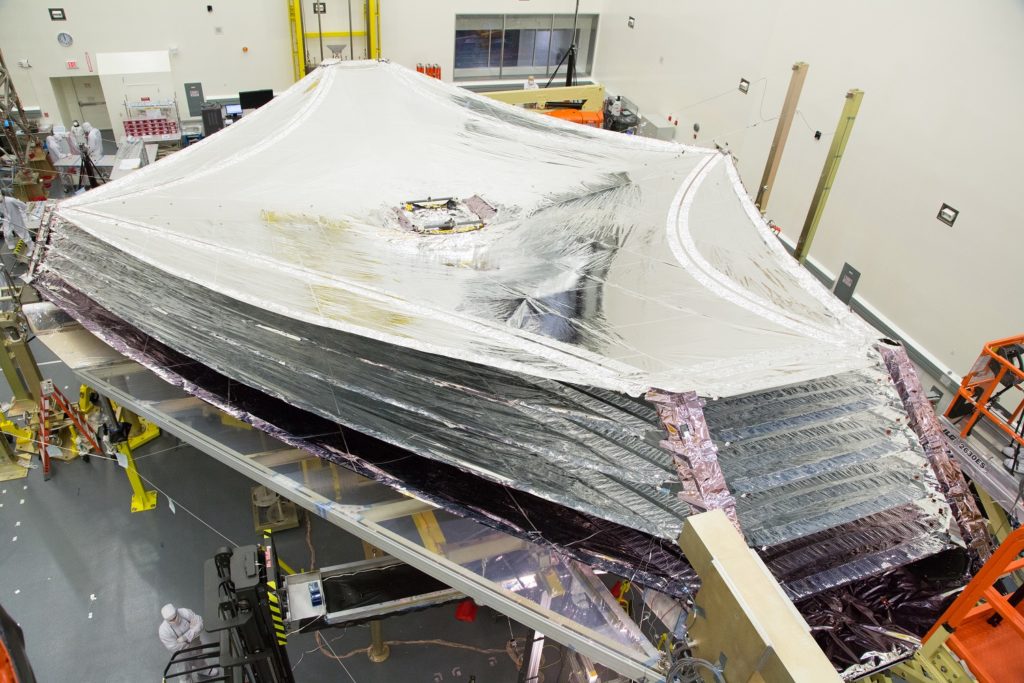 The
sunshield of NASA's James Webb Space Telescope sits deployed inside a cleanroom
at Northrop Grumman Aerospace Systems in Redondo Beach, California, in October
2017. Credits:
Northrop Grumman

After the two halves are joined, the additional
testing is required to insure that Webb's extremely complicated unfolding and
deployment process work as planned.
"These final tests at Northrop are
critical to making sure the fully assembled observatory deploys and operates as
expected in space. Deployment is the most critical part of Webb's journey to
L2. To reach space, the telescope must fold origami-style inside its Ariane 5
rocket for launch. Once in space and detached from the rocket's payload
adaptor, Webb will unfold its sunshield and deploy its mirrors, including its high complex primary mirror. It will be the first space telescope to complete such an intricate process."
"Opening Webb's tennis court-sized, five-layered
sunshield is one of the most technically challenging parts of
deployment. The sunshield must delicately fold around the telescope for launch
and then carefully open in space. Opening the sunshield requires that about 100
actuators, tiny motors that control the delicate motions of deployment,
correctly fire. The sunshield must deploy successfully to ensure the mirrors
and science instruments of Webb stay cold enough to be able to detect the
extremely faint light of far-away planets, stars and galaxies."


Watch
for Ken's continuing onsite coverage of NASA, SpaceX, ULA, Boeing, Lockheed
Martin, Orbital ATK and more space
and mission reports direct from the Kennedy Space Center and Cape Canaveral
Air Force Station, Florida.
Stay tuned here
for Ken's continuing Earth and Planetary science and human spaceflight news:
www.kenkremer.com
–www.spaceupclose.com –
twitter @ken_kremer –
ken at kenkremer.com
Engineers
open the interior tent frame of the Space Telescope Transporter for Air, Road
and Sea (STTARS) at Northrop Grumman in Redondo Beach, California, on March 8,
2018, to reveal its precious cargo — the combined optics and science
instruments of NASA's James Webb Space Telescope.

Credits: NASA/Chris Gunn