The SpaceX Dragon CRS-14
cargo ship was grappled by the Canadarm2 robotic arm on April 4, 2018 as the
space station orbited above the continent of Africa. Credit: NASA TV
KENNEDY
SPACE CENTER, FL –

Two days after successfully
blasting off for the second time, a used SpaceX commercial Dragon successfully arrived
early this morning, April 4, at the International Space Station (ISS) for the second
time as the vehicles were traveling some 250 miles above Earth
over the southern part
of the Democratic Republic of the Congo in Africa.
Working inside the domed Cupola module Japan
Aerospace Exploration Agency astronaut Norishige Kanai maneuvered the space
station's 57 foot long Canadarm2 robotic arm to capture the private Dragon
spacecraft at 6:40 a.m.

EDT

(1040 GMT)

Wednesday, April 4.
Kanai was backed up by NASA astronaut Scott
Tingle. Working together they captured Dragon some 20 minutes ahead of schedule.
"Capture
complete," radioed Tingle. "I don't think it gets any better than that."
"Capture confirmed," replied Houston Mission
Control. "Excellent job everyone"
"We had a very successful flight and capture
this morning. That was nice and smooth"
Ground controllers then took command and
maneuvered the robotic arm to begin the robotic installation of the spacecraft
on the station's Harmony module. The installation on Harmony was completed
at 8:30 a.m. EDT this morning as the combined complex was soaring some 250miles
over the Pacific Ocean.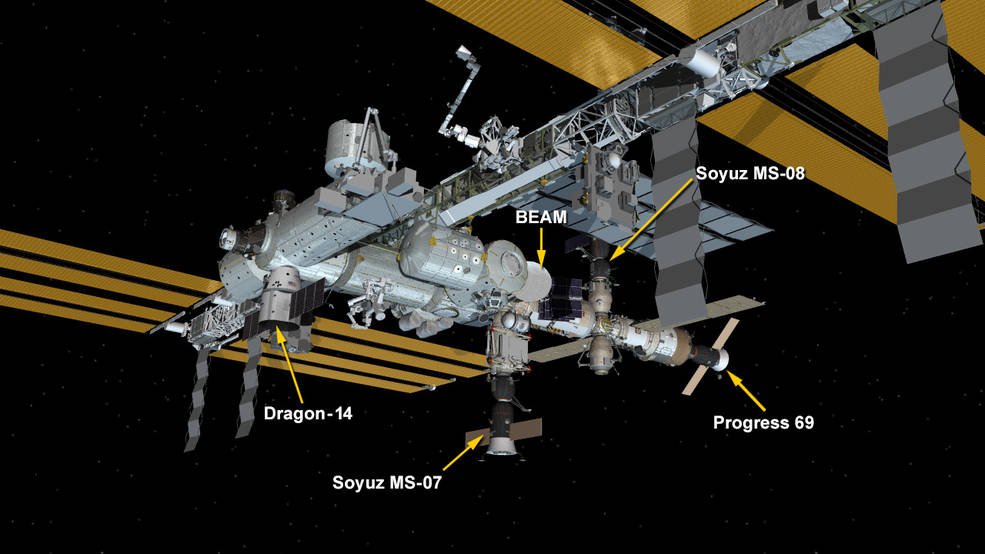 April 4, 2018: International Space Station Configuration. Four
spaceships are docked at the space station including the SpaceX Dragon space
freighter, the Progress 69 resupply ship and the Soyuz MS-07 and MS-08 crew
ships.
Credit: NASA
16 bolts
and latches were then driven home to for form a hard mate between the two
vehicles.
"Dragon
is now firmly attached to the space station," said NASA mission commentator Don
Huot.
"The
hatch will be opened tomorrow. The astronauts will begin a 'fast and furious'
schedule to unload Dragon over the next four weeks."
Dragon will remain attached for 30 days until
early May when it will return to
Earth with more than 3,500 pounds of research samples, hardware and crew
supplies.
Robonaut
2 will also be returned for repair and eventual relaunch.
The
crew will also extract the 3 external payloads mounted in Dragon's unpressurized
trunk using the robotic arm.
The
Dragon CRS-14 cargo freighter is jam packed
with over 5800 pounds
of science and supplies
for the six person multinational crew serving aboard that will support more
than 50 research investigations.
This
the fourteenth SpaceX Dragon commercial resupply mission launched from the Kennedy Space Center
(KSC) in Florida under the commercial resupply services (CRS) contract with
NASA.
The
mission utilized both a flight proven Falcon 9 booster and Dragon cargo vessel
approved by NASA managers for only the second time.
Blastoff of the 'used' SpaceX Falcon 9 and
Dragon CRS-14 commercial cargo freighter took place on time at
4:30 p.m. EDT Monday, April 2 from
seaside Space
Launch Complex 40 at Cape Canaveral Air Force Station in Florida, during an
instantaneous launch window.
The
total cargo on board amounts to 5836 pounds/2647 kilograms. Of that 3794
pounds/1721 kg is pressurized cargo and 2041 pounds/926 kg is unpressurized and
loaded in the Dragon truck.
The CRS-14 pressurized cargo manifest includes 758
pounds/344 kg of crew supplies, 2359 pounds/1070 kg of science investigations,
218 pounds/99 kg of spacewalk equipment, 326 pounds/148 kg of vehicle hardware,
108 pounds /49 kg of computer resources, 24 pounds/11 kg of Russian hardware.
Here's a NASA description of the science on Board:
Among the research arriving on Dragon is a new
facility to test materials, coatings and components, or other large
experiments, in the harsh environment of space. Designed by Alpha Space and
sponsored by the Center for the Advancement of Science in Space, the

Materials ISS Experiment Flight Facility (MISSE-FF)


provides a platform for testing how materials react to exposure to ultraviolet
radiation, atomic oxygen, ionizing radiation, ultrahigh vacuum, charged
particles, thermal cycles, electromagnetic radiation, and micro-meteoroids in
the low-Earth orbit environment.
The Canadian Space Agency's study Bone Marrow
Adipose Reaction: Red or White (

MARROW

) will look at the effects of
microgravity on bone marrow and the blood cells it produces – an effect likened
to that of long-term bed rest on Earth. The extent of this effect, and bone
marrow's ability to recover when back on Earth, are of interest to space
researchers and healthcare providers alike.
Dragon also is carrying an

Earth observatory

that will study severe
thunderstorms and their role in the Earth's atmosphere and climate, as well as
upgrade equipment for the station's carbon dioxide removal system, external
high-definition camera components, and a new printer for the station's crew.




Watch for Ken's continuing onsite coverage of NASA, SpaceX
CRS-14, ULA, Boeing, Lockheed Martin, Orbital ATK and more space and mission
reports direct from the Kennedy Space Center and Cape Canaveral Air Force
Station, Florida.
Stay tuned here for Ken's continuing
Earth and Planetary science and human spaceflight news:

www.kenkremer.com

–www.spaceupclose.com –
twitter @ken_kremer –
ken
at kenkremer.com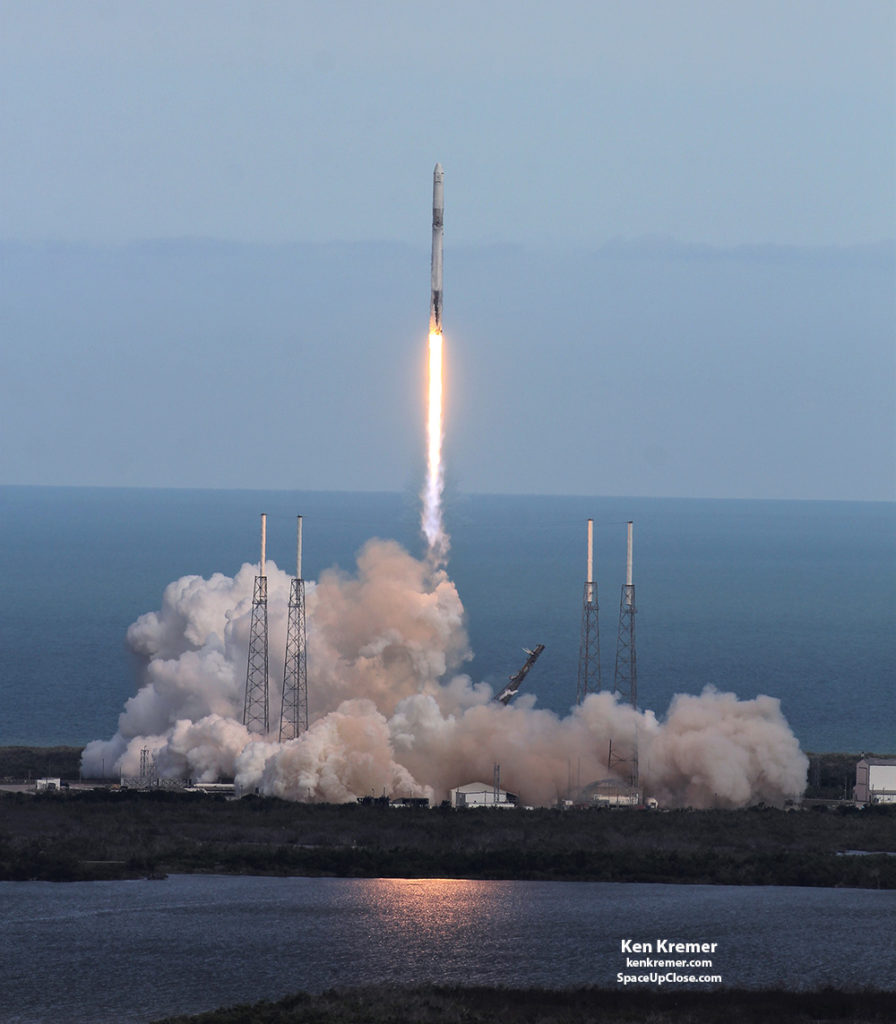 Blastoff of SpaceX
Flight-proven' Falcon 9 rocket and Dragon CRS-14 cargo ship from Space Launch
Complex-40 on Cape Canaveral Air Force Station, FL, on April 2 at 4:33 pm EDT
to the ISS, as seen from the VAB roof. Credit: Ken
Kremer/kenkremer.com/spaceupclose.com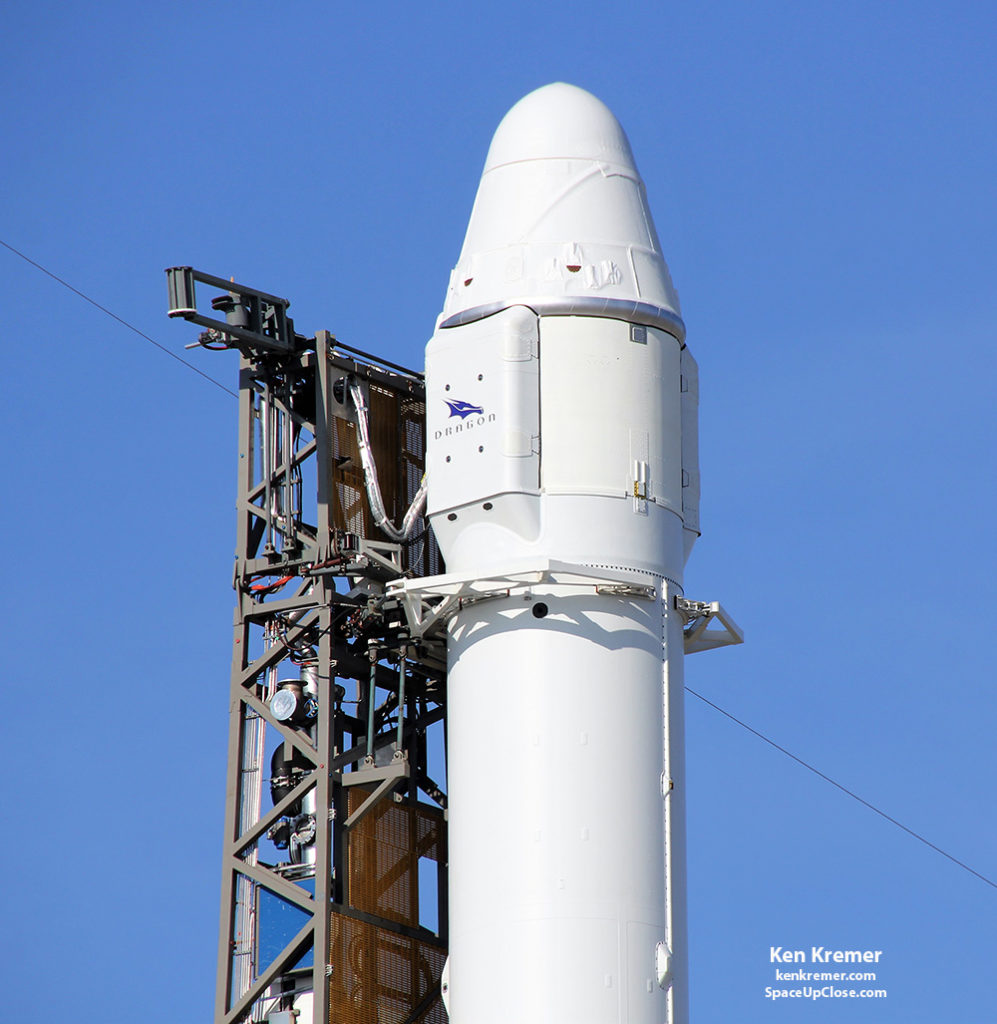 Up close
view of recycled SpaceX Dragon CRS-14 vessel loaded with 5800 pounds of science
and supplies bound for the International Space Station
from Space Launch
Complex-40 on Cape Canaveral Air Force Station, FL, on April 2, 2018
.

Credit: Ken Kremer/kenkremer.com/spaceupclose.com