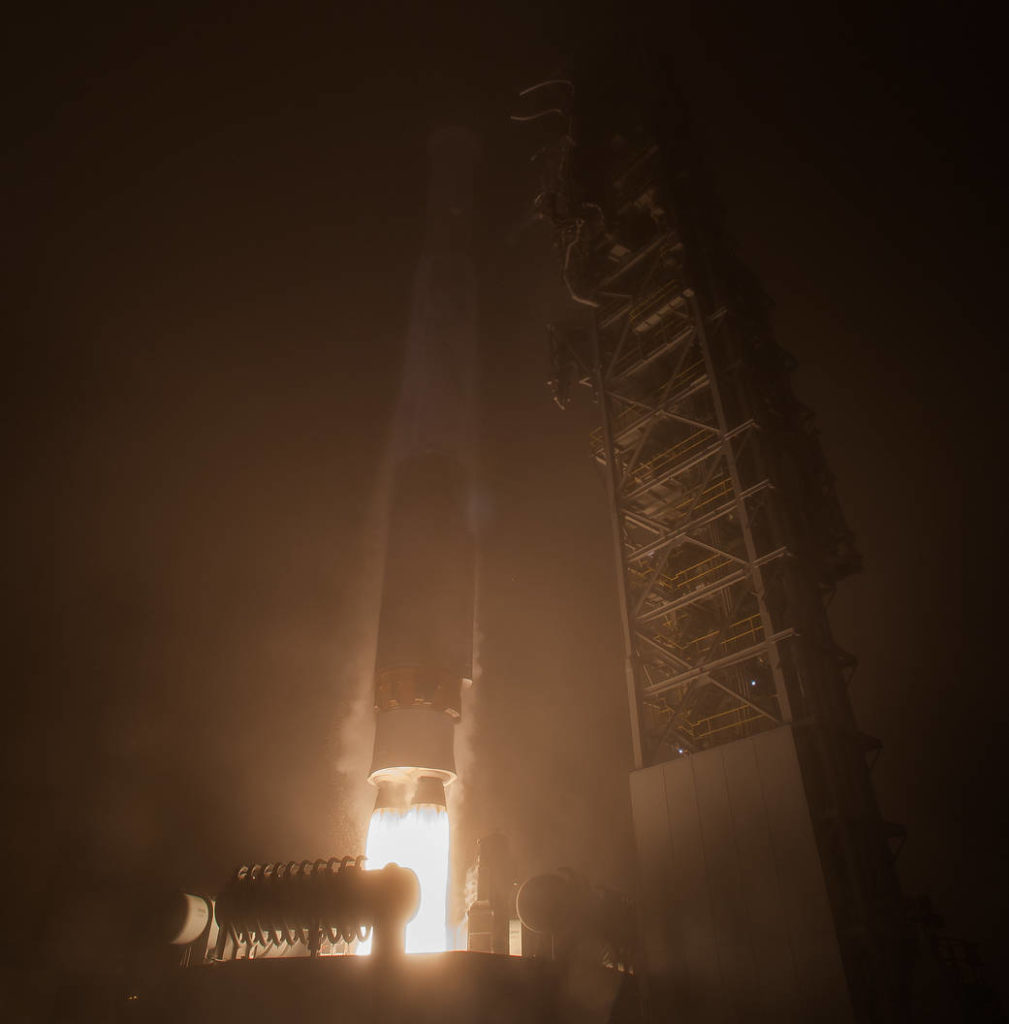 The NASA InSight spacecraft launches onboard a
United Launch Alliance Atlas-V rocket, Saturday, May 5, 2018, from Vandenberg
Air Force Base in California through thick fog to study the "inner
space" of Mars: its crust, mantle, and core.

Credit: NASA/Bill Ingalls
Ken Kremer — SpaceUpClose.com — 5 May 2018



CAPE CANAVERAL, FL
–

The I
nSight lander blasted off in the wee hours this morning,
Saturday, May 5, or
Cinco De Mayo f
rom California on NASA's
unprecedented mission to elucidate the "vital signs" of the Red Planet.
NASA's
Interior Exploration using Seismic Investigations, Geodesy and Heat Transport
(InSight) Mars mission launched on a United Launch
Alliance Atlas V rocket in the dead of night at 7:05 a.m. EDT (4:05 am PDT) Saturday from
Vandenberg Air Force Base, California.
The ULA rocket successfully launched through a
thick layer of fog and was not visible to local spectators although it was
heard loud and clear and set off multiple car alarms.
InSight
lifted off on NASA's first ever interplanetary mission from the US West Coast
to start a six month,
300-million-mile trip to Mars to study for the first time what
lies deep beneath the surface of the Red Planet.
"The United States continues to lead the way to
Mars with this next exciting mission to study the Red Planet's core and
geological processes," said newly sworn in NASA Administrator Jim Bridenstine,
in a message to the team on NASA TV shortly after liftoff.
"I want to congratulate all the teams from NASA
and our international partners who made this accomplishment possible. As we
continue to gain momentum in our work to send astronauts back to the Moon and
on to Mars, missions like InSight are going to prove invaluable."
Riding on the two stage ULA Atlas V the spacecraft
reached orbit 13 minutes and 16 seconds after launch. Seventy-nine minutes
later, the Centaur upper stage ignited a second time, sending InSight on a
trajectory towards the Red Planet.
As planned InSight separated from the Centaur about 93 minutes after launch. A signal indicating the
spacecraft was healthy reached NASA's Deep Space Network at 8:41 a.m. EDT (5:41
PDT).
Watch this NASA launch video:
Video Caption: Go, Atlas. Go, Centaur.
Go, InSight! NASA's InSight mission launched from Vandenberg Air Force Base for
Mars on May 5, 2018—the first interplanetary launch from the West Coast.
InSight is expected to land on the Red Planet on Nov. 26, 2018. More than a
mission to Mars, InSight will help scientists understand the formation and
early evolution of all rocky planets, including Earth.

Credits: NASA/JPL-CalTech
InSight
is NASA's next interplanetary probe on a mission to study the deep interior of
the Red Planet. It is equipped with two state of the art science instruments
and will also help us understand how the Earth evolved after its formation.
The primary mission
phase to take the "vital signs" of the Red Planet in terms of heat flow
and temperature and measure "Marsquakes". It is designed to operate for at
least one full Martian year (2 Earth years) after touchdown. And if all goes
well, the mission will continue beyond.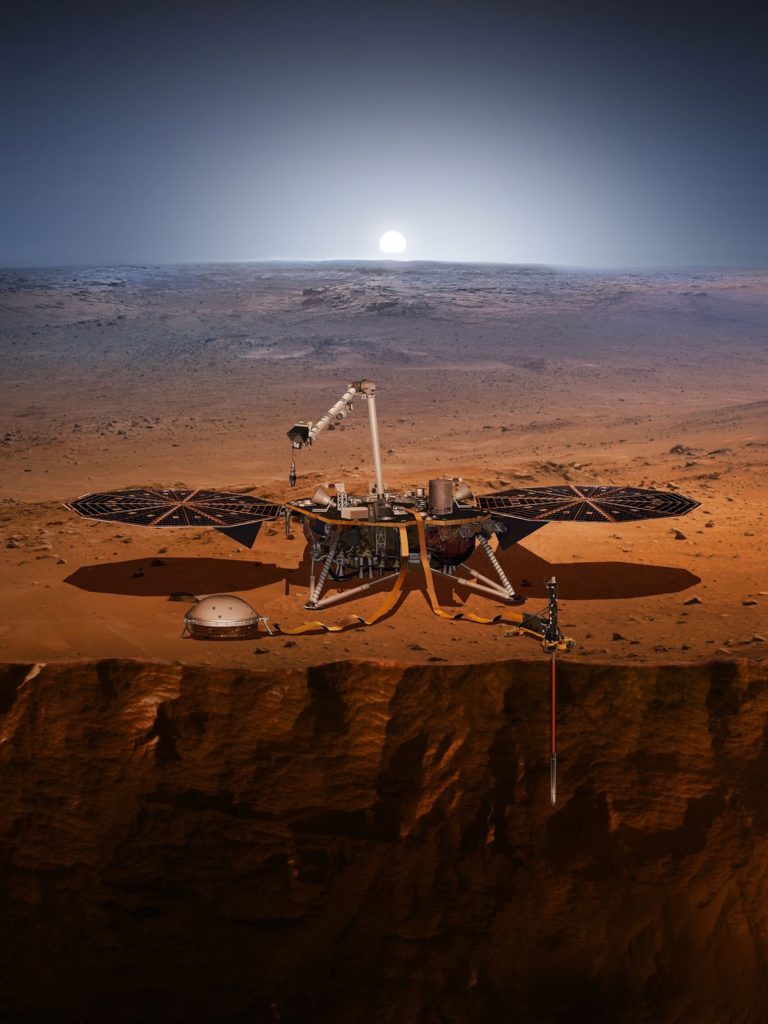 Artist's rendering of the NASA's Interior Exploration using Seismic
Investigations, Geodesy and Heat Transport (InSight) lander on Mars launching
on May 5, 2018 from Vandenberg Air Force Base, Calif . Credits: NASA
The first ever interplanetary cubesats
launching beyond Earth orbit and towards the Red Planet named MarCO A and B (or
Mars Cube One) and nicknamed Wall-E and Eva are also aboard. They are
technology demonstration experiments.
If they survive the trip they will
relay EDL data from InSight as it plummets down to the Red Planet.
The
cubesats were deployed from the Centaur meaning that overall NASA has a trio of
spaceships flying separately to Mars.
InSight's

goal is to accomplish an unprecedented study
of the deep interior of the most Earth-like planet in our solar system.
The probe "will look for tectonic activity and
meteorite impacts, study how much heat is still flowing through the planet, and
track Mars' wobble as it orbits the sun. While InSight is a Mars mission, it's
more than a Mars mission. InSight will help answer key questions about the
formation of the rocky planets of the solar system."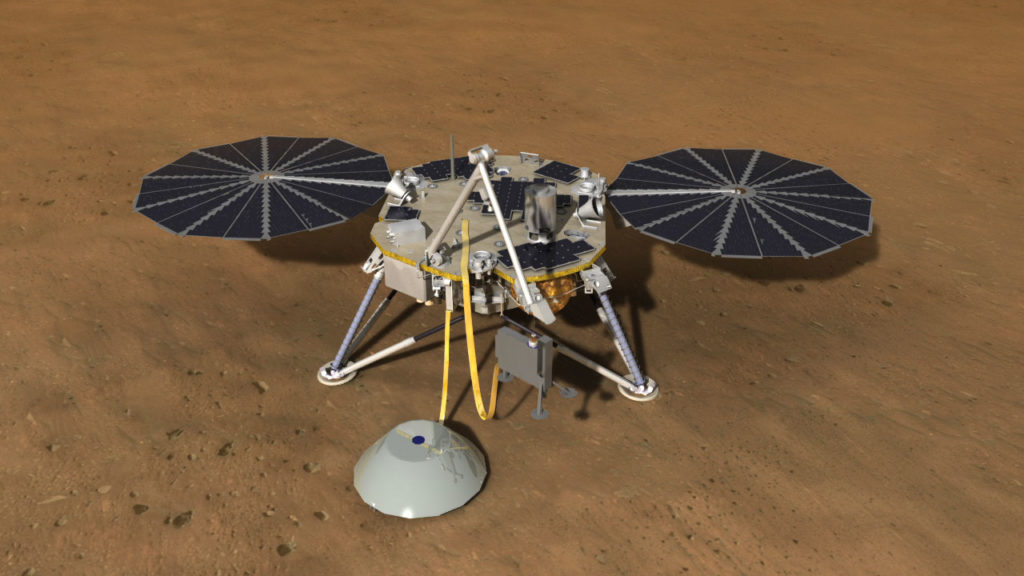 "As exciting as launch day will be, it's just a
first step in a journey that should tell us not only why Mars formed the way it
did, but how planets take shape in general," said Bruce Banerdt, InSight
principal investigator at JPL.
Nearly
7 months after liftoff the landing is
scheduled for Nov. 26, 2018 at
Elysium Planitia
at around 3 p.m. EST (noon PST).

The location is about 375 miles
away from Gale Crater – where NASA's Curiosity rover landed in 2012.
InSight in an international science mission. Loaded aboard are
the two primary science instruments provided by European partners: The SEIS
seismometer and

HP3 heat flow
measuring instrument.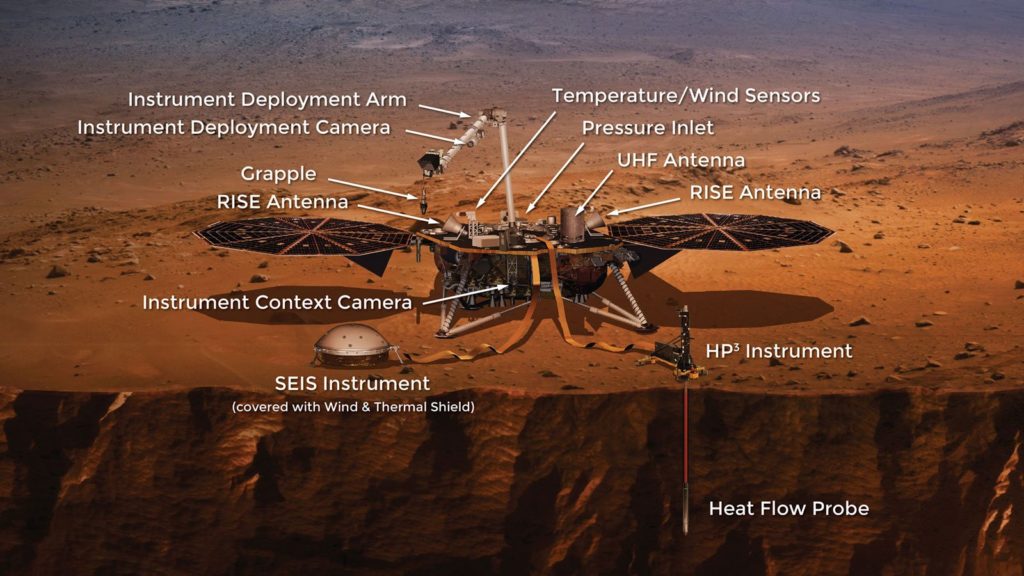 The SEIS seismometer instrument was provided by the Centre
National d'Études Spatiales (CNES) – the French national space agency
equivalent to NASA.

The other instrument
measuring heat flow from the Martian interior is provided by the German
Aerospace Center (DLR) and is named Heat Flow and Physical Properties Package
(HP3).
The HP3 hammering mole will pound about 5 meters
(16 feet) deep into Mars pulling the science heat flow cable tether along to
make heat flow and temperature measurements.
It will pause multiple times along the way down to make detailed
measurements at different depths of heat flow from the planets core.

The mission was originally planned to launch in 2016, but was delayed 2
years after a leak was detected in the SEIS instrument. It failed to hold
vacuum which would have relegated it useless. The instrument was successfully
repaired by JPL engineers.
The cost of the two-year delay and instrument redesign amounted to $153.8
million, on top of the original budget for InSight of $675 million.
Lockheed Martin is the prime contractor for InSight and placed the
spacecraft in storage while SEIS was fixed.
The 1,530 pounds (694 kilograms) spacecraft consists of the
lander, aeroshell and cruise stage.
The lander has a mass of about 790 pounds (358-kilograms),
the aeroshell 418-pounds (189-kilograms) and the cruise stage is 174-pounds
(79-kilograms) as well as 148 pounds (67 kilograms) of loaded propellant and
pressurant.
Each of the two briefcase sized MarCO cubesat spacecraft
has a mass of 30 pounds (13.5 kilograms).
They were loaded inside dispensers mounted on the aft bulkhead carrier of the Centaur
upper stage, not far from the engine. They were successfully deployed about 30 minutes after InSight separated from the Centaur, and about 1 minute
apart after the stage did a 180 degree roll so they would not collide with one
another – roughly 1 hour and 28 minutes after launch.
InSight
launched aboard an Atlas V in the 401
configuration which includes a 4-meter Payload Fairing (PLF). The Atlas booster
for this mission was powered by the RD AMROSS RD-180 engine providing 860,000
pounds of liftoff thrust. Aerojet Rocketdyne provided the RL10C-1 engine for
the Centaur upper stage.
This is the 78th
launch of the Atlas V rocket, ULA's fifth launch in 2018 and the 128th
successful launch since the company was formed in December 2006.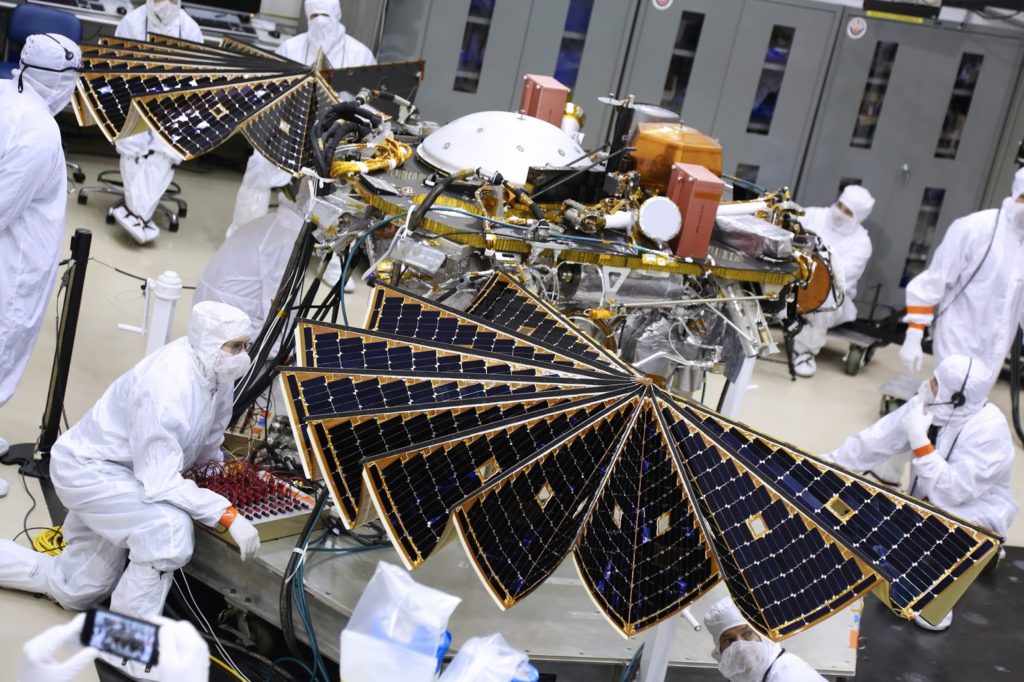 InSight
is funded by NASA's Discovery Program of low cost, focused science missions
along with the science instrument funding contributions from France and
Germany.
Watch for Ken's continuing coverage of NASA, ULA, SpaceX, Boeing,
Lockheed Martin, Orbital ATK and more space
and mission
reports direct from the Kennedy Space Center, Cape Canaveral Air Force Station,
Florida and Wallops Flight Facility, Virginia.
Stay tuned here for Ken's continuing
Earth and Planetary science and human spaceflight news:

www.kenkremer.com

–www.spaceupclose.com –
twitter @ken_kremer –
ken at kenkremer.com