Artist's rendering of
the NASA's Interior Exploration using Seismic Investigations, Geodesy and Heat
Transport (InSight) lander on Mars launching on May 5, 2018 from Vandenberg Air
Force Base, Calif .

Credits: NASA
Ken Kremer

—
SpaceUpClose.com
—

4 May 2018
CAPE
CANAVERAL, FL –
NASA's
InSight Mars lander is ready for blastoff to the Red Planet on Saturday, May 5,
or
Cinco De Mayo atop a United Launch Alliance Atlas
V rocket in the dead of night from California.

The ULA Atlas V booster will propel NASA's next
interplanetary probe on a mission to study the deep interior of the Red Planet.
It is equipped with two state of the art science instruments and also help us understand
how the Earth evolved after its formation
The primary mission
phase to take the "vital signs" of the Red

Planet and measure "Marsquakes" will last

for a full
Martian year (2 Earth years) after touchdown. And if all goes well, the mission
will continue beyond !

Liftoff of NASA's InSight
lander is slated for May 5 aboard a United Launch Alliance (ULA) Atlas V 401
rocket from the U.S. Air Force Vandenberg Air Force Base Space Launch Complex
3E.
The first ever
interplanetary cubesats launching
beyond Earth orbit
and
t
owards
the Red Planet named MarCO A and B (or
Mars Cube One) and nicknamed WALL-E and
Eva are also aboard.
They are
technology demonstration experiments. If they survive the trip they will
relay EDL data from InSight as it plummets down to the Red Planet.
The May 5 launch window extends for two hours and opens
at 4:05 a.m. PDT (7:05 a.m. EDT) and remains open through 6:05 a.m. PDT (9:05
a.m. EDT). The overall launch window to the Red Planet lasts until June 8.
You can watch the NASA's coverage of the InSight launch
live on NASA TV stating about 35 minutes prior to liftoff on
Saturday, May 5,
6:30 a.m. Eastern (3:30 a.m. Pacific)
:
ULA will also offer a webcast.

Live launch coverage will begin at 3:30 a.m.
PT on May 5.
Web
cast available at:www.ulalaunch.com
The
weather forecast is only 20 percent GO as this time according to USAF weather forecasters
with the 30th AF weather squadron.
The Primary
concern is Launch Visibility
. However if NASA and ULA choose to
wave the constraint then the weather odds rise to 100%. However fog will limit
visibility in the immediate area.
The overall
probability of violating weather constraints for a 24 hour delay remain at 80%.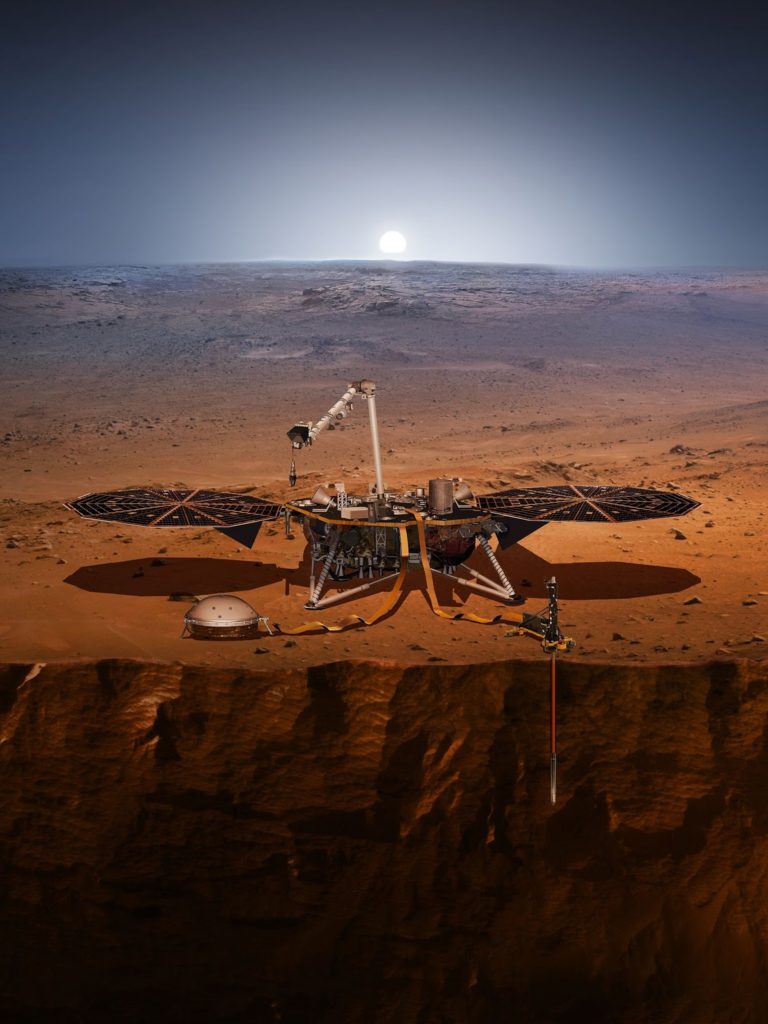 Artist's rendering of
the NASA's Interior Exploration using Seismic Investigations, Geodesy and Heat
Transport (InSight) lander on Mars launching on May 5, 2018 from Vandenberg Air
Force Base, Calif .
Credits: NASA
InSight stands for Interior
Exploration using Seismic Investigations, Geodesy and Heat Transport mission.
The goal is to accomplish an unprecedented study of the deep interior of the
most Earth-like planet in our solar system.
The probe "will look for
tectonic activity and meteorite impacts, study how much heat is still flowing
through the planet, and track Mars' wobble as it orbits the sun. While InSight
is a Mars mission, it's more than a Mars mission. InSight will help answer key
questions about the formation of the rocky planets of the solar system.
"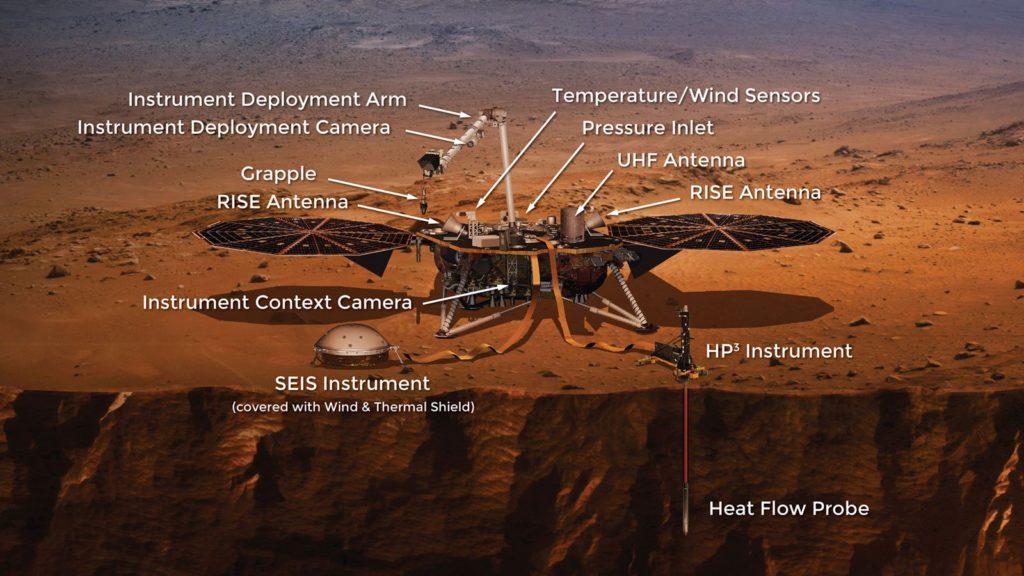 Annotated artist's
rendering of the NASA's Interior Exploration using Seismic Investigations,
Geodesy and Heat Transport (InSight) lander on Mars launching on May 5, 2018
from Vandenberg Air Force Base, Calif .

Credits: NASA
The official start of the
countdown to launch starts on Friday, May 4 at 10:14 p.m. PDT (Saturday, May 5,
1:14 a.m. EDT).
NASA says that "an hour
later, at about 11:30 p.m. PDT (May 5, 2:30 a.m. EDT), the 260-foot-tall
(80-meter) Mobile Service Tower — a structure that has been protecting the
Atlas V launch vehicle and its InSight payload during their vertical assembly
— will begin a 20-minute long, 250-foot (about 80-meter) roll away from the
Atlas. Four hours and 25 minutes later, the launch window will open.
"
"I've been to several
rocket launches, but it is a whole different vibe when there is something
you've been working on for years sitting in the nose cone waiting to get hurled
beyond our atmosphere," said Bruce Banerdt, InSight principal investigator at JPL.
"But as exciting as launch day will be, it's just a first step in a journey
that should tell us not only why Mars formed the way it did, but how planets
take shape in general."
Click on this link for options to view the launch:
InSight
is NASA's first interplanetary mission to launch from the US West Coast and
could be visible to tens of millions of Californians – weather permitting.
Read
this NASA Description:
"All
of NASA's interplanetary launches to date have been from Kennedy Space Center
in Cape Canaveral, Florida, in part because the physics of launching off the
East Coast are better for journeys to other planets. However, InSight will
break the mold by launching from Vandenberg Air Force Base in California. It
will be the first launch to another planet from the West Coast."
"A whole new region of
the country will get to see an interplanetary launch when InSight rockets into
the sky. On a clear day, the launch may be visible from Santa Maria, Calif. to
San Diego, Calif."
"Weather permitting,
InSight's pre-dawn launch (4:05 a.m.) may be visible for more than 10 million
Californians without a need for them to drive to a special location. Just wake
up early, check the

InSight Website

for assurance the launch is
still on schedule, go outside, look at the western sky, marvel at the rocket's
flare as it travels southward, and cheer InSight bon voyage to Mars."
Watch this video explaining the challenges of the fiery
inferno and terror experienced during InSight's planned entry, descent and
landing:
Video Caption: NASA Langley
researchers are experts in modeling and simulations for entry, descent and
landing, working on missions since the Viking lander in 1976. In this episode,
we explore the challenges of guiding landers like Mars InSight through the
Martian atmosphere for a safe landing. Watch InSight launch as early as May 5,
2018! Credit: NASA
Nearly
7 months after liftoff the landing is
scheduled for Nov. 26, 2018 at
Elysium Planitia. The location is about 300 miles away from Gale Crater
Crater – where NASA's Curiosity rover landed in 2012.
InSight in an international science mission. Loaded aboard are
the two primary science instruments provided by European partners: The SEIS
seismometer and

HP3 heat flow
measuring instrument.
The SEIS seismometer instrument was provided by the Centre
National d'Études Spatiales (CNES) – the French national space agency
equivalent to NASA.

The other instrument
measuring heat flow from the Martian interior is provided by the German
Aerospace Center (DLR) and is named Heat Flow and Physical Properties Package (HP3).

The HP3 hammering mole will pound about 5 meters
(16 feet) deep into Mars pulling the science heat flow
cable tether along to make heat flow and
temperature measurements.

It will pause multiple times along the way down
to make detailed measurements at different

depths of heat flow from the planets core.





The mission was originally planned to launch in 2016, but was delayed 2
years after a leak was detected in the SEIS instrument. If failed to hold
vacuum which would have relegated it useless. The instrument was successfully repaired
by JPL engineers.


The cost of the two-year delay and instrument redesign amounted to $153.8
million, on top of the original budget for InSight of $675 million.


Lockheed Martin is the prime contractor for InSight and placed the spacecraft
in storage while SEIS was fixed.
The 1,530 pounds (694 kilograms) spacecraft consists of the
lander, aeroshell and cruise stage.
The lander has a mass of about 790 pounds (358-kilograms),
the aeroshell 418-pounds (189-kilograms) and the cruise stage is 174-pounds
(79-kilograms) as well as 148 pounds (67 kilograms) of loaded propellant and
pressurant.
Each of the two

briefcase sized

MarCO cubesat spacecraft has a mass of 30
pounds (13.5 kilograms).
They are mounted on the Centaur upper stage. They will be deployed about 30
minutes after InSight separates from the Centaur, and about 1 minute apart.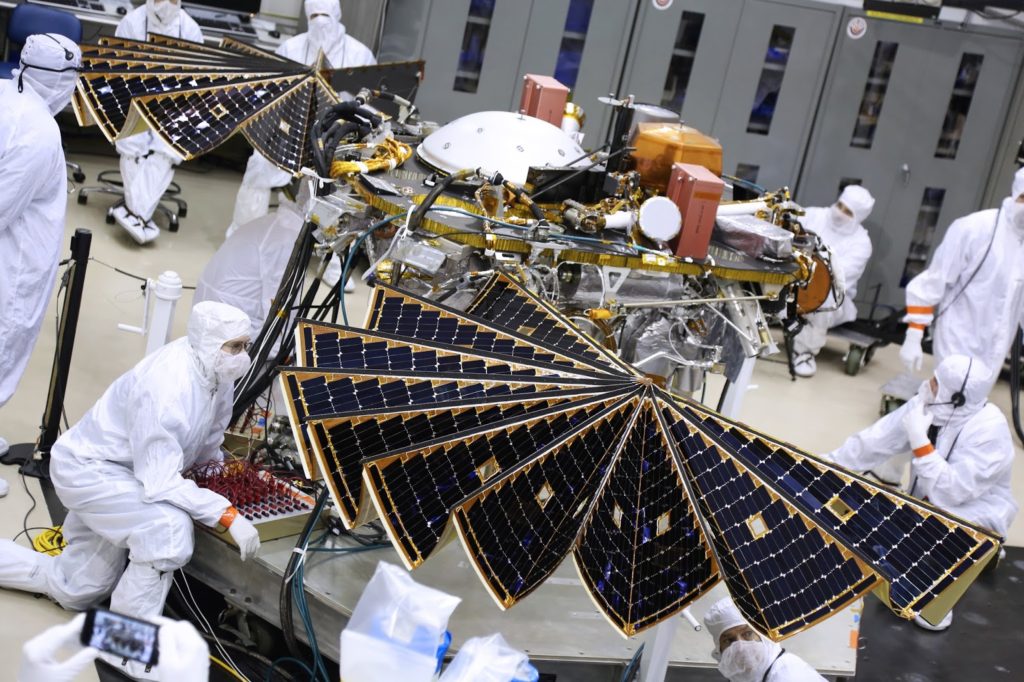 InSight Lander Solar Array Test.
While in the landed
configuration for the last time before arriving on Mars, NASA's InSight lander
was commanded to deploy its solar arrays to test and verify the exact process
that it will use on the surface of the Red Planet. During the test on Jan. 23, 2018
from the Lockheed Martin clean room in Littleton, Colorado, engineers and
technicians evaluated that the solar arrays fully deployed and conducted an
illumination test to confirm that the solar cells were collecting power.
Credit: NASA/Lockheed Martin
InSight
is funded by NASA's Discovery Program of low cost, focused science missions
along with the science instrument funding contributions from France and
Germany.


Watch
for Ken's continuing onsite coverage of NASA, SpaceX, ULA, Boeing, Lockheed
Martin, Orbital ATK and more space
and mission
reports direct from the Kennedy Space Center and Cape Canaveral Air Force
Station, Florida.
Stay tuned here for Ken's continuing
Earth and Planetary science and human spaceflight news:

www.kenkremer.com

–www.spaceupclose.com –
twitter @ken_kremer –
ken
at kenkremer.com