Illustration of NASA's Parker Solar Probe
spacecraft approaching the sun. Blastoff is targeted for August 2018 from Cape
Canaveral, FL.

Credit:

Johns Hopkins University Applied Physics Laboratory
Ken Kremer

—
SpaceUpClose.com
—

19 June 2018
CAPE CANAVERAL, FL – Blastoff of NASA's
groundbreaking Parker Solar Probe mission that will virtually 'touch the sun'
has been retargeted to early August 2018 from late July.
Technicians require additional
time for ground processing to complete and validate testing of the spacecrafts
systems to ensure it is ready for its unprecedented flight to within 4 million
miles of the suns surface.
Launch is slated for
no earlier than Aug. 4,
2018 atop a triple barrel United Launch Alliance triple barrel Delta IV Heavy
rocket, the most powerful vehicle in the firms fleet,
from Space Launch Complex-37 on the
Florida Space Coast.
Previously NASA was working towards
a July 31 liftoff of Parker Solar Probe.
Further delays are possible as teams work through all the issues.
"NASA and the Johns Hopkins University Applied Physics Laboratory
are now targeting launch of the agency's Parker Solar Probe spacecraft no
earlier than Aug. 4, 2018," the agency announced in a statement.
A dead of night liftoff is
planned Aug 4 with an approximate two hour window opening around 4 a.m. EDT.
Its sure to be spectacular with
over 2.5 million pounds of liftoff thrust spewing from the engines and sure to
wake up residents and hordes of tourists alike with rattling windows

and shaking structures.
"Originally
scheduled to launch on July 31, additional time is needed to accommodate
further software testing of spacecraft systems."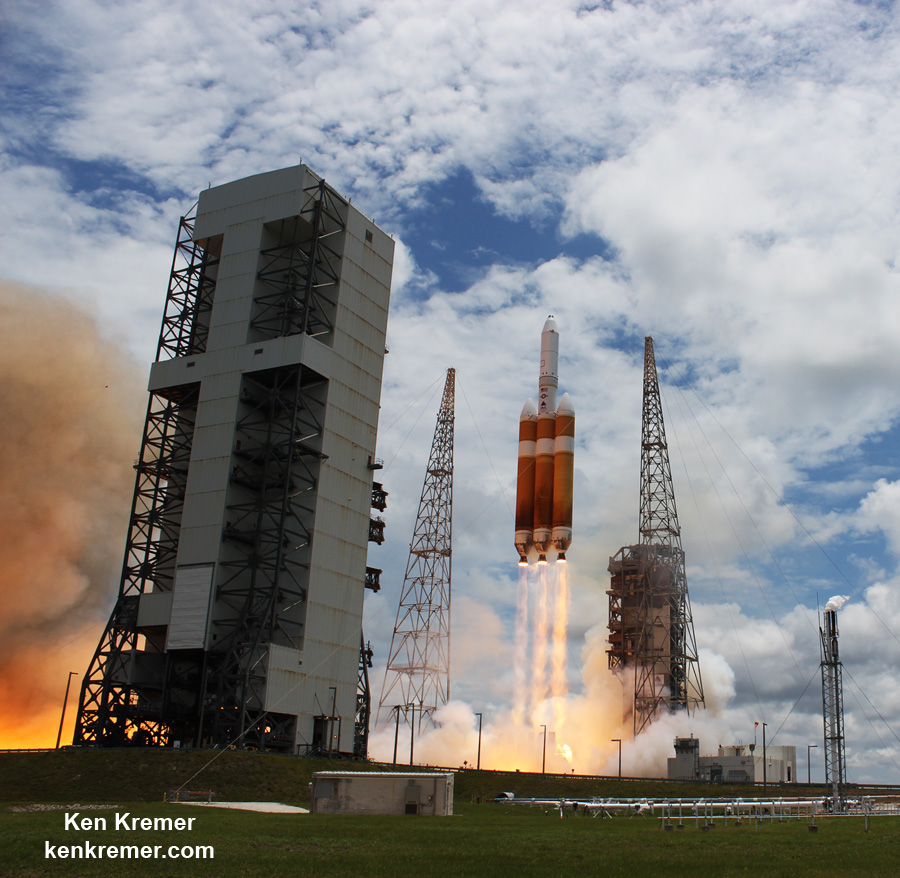 Liftoff of a
United Launch Alliance Delta IV Heavy rocket for the USAF from pad 37 on Cape
Canaveral Air Force Station, FL in 2016 in this file

.

Credit:

Ken Kremer

/kenkremer.com/spaceupclose.com
The
probe is being processed and tested at Astrotech Space Operations Facility in Titusville,
FL.



NASA's Parker Solar
Probe will fly 'Where no Earth probe has gone before!'
"Throughout its seven-year mission, NASA's
Parker Solar Probe will swoop through the Sun's atmosphere 24 times, getting
closer to our star than any spacecraft has gone before."
Parker will travel
directly into the Sun's
atmosphere to within about 4 million miles from the surface of our stars
unbearable scorching surface and that keeps us all alive.
"The mission will travel through the Sun's
atmosphere, facing brutal heat and radiation conditions," says NASA.
And over 1.1 million people, including this author,
submitted their names – per NASA invitation and my earlier story – to ride
along on a memory chip installed on the spacecraft.
A memory card containing
1,137,202 names submitted by the public to travel to the Sun was installed on
Parker Solar Probe on May 18, 2018. Credit: NASA/Johns Hopkins APL/Ed Whitman
A state-of-the-art 4.5-inch-thick carbon-composite
shield will protect Parker from beyond blow torch temperatures reaching nearly 2,500
F as it studies the sun with a suite of four science instruments.
"The primary science goals for the mission are
to trace how energy and heat move through the solar corona and to explore what
accelerates the solar wind as well as solar energetic particles. The mission
will revolutionize our understanding of the Sun, where changing conditions can
spread out into the solar system, affecting Earth and other worlds," says NASA.
Parker Solar Probe's
two solar arrays – one of which is shown here on the spacecraft – were
installed on the spacecraft on May 31, 2018. Credit: NASA/Johns Hopkins APL/Ed
Whitman
In May 2017, NASA renamed the spacecraft from
the Solar Probe Plus to Parker Solar Probe
The Parker Solar Probe is named in honor of
astrophysicist Eugene Parker, S. Chandrasekhar Distinguished Service Professor
Emeritus, Department of Astronomy and Astrophysics at the University of Chicago.
It was previously known as Solar Probe Plus.
This was the first time NASA named a spacecraft
for a living individual.
"This probe will journey to a region humanity
has never explored before," said Thomas Zurbuchen, the associate administrator
for the Science Mission Directorate at NASA Headquarters in Washington. "This
mission will answer questions scientists have sought to uncover for more than
six decades."
Watch for Ken's continuing onsite coverage of NASA, SpaceX, ULA,
Boeing, Lockheed Martin, Orbital ATK and more space and mission reports direct
from the Kennedy Space Center, Cape Canaveral Air Force Station, Florida and
Wallops Flight Facility, Virginia.


Stay tuned here for Ken's continuing Earth and Planetary science and human
spaceflight news:

www.kenkremer.com


–www.spaceupclose.com – twitter @ken_kremer – email: ken at kenkremer.com