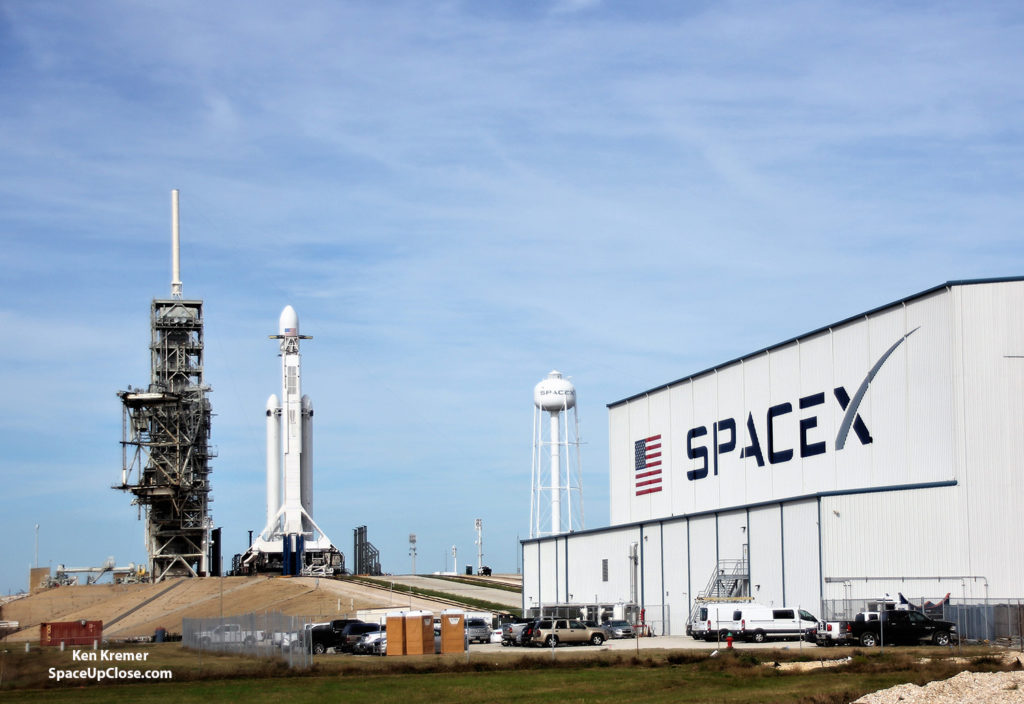 Maiden SpaceX Falcon Heavy rocket is erected
to vertical launch position at Launch Complex 39A at NASA's Kennedy Space
Center in Florida prior to successful launch on Feb. 6, 2018.
Credit: Ken Kremer/SpaceUpClose.com/kenkremer.com
Ken Kremer

—
SpaceUpClose.com
—

24 June 2018
C
APE CANAVERAL,
FL –

SpaceX has won a competitively bid military
contract from the US Air Force for the launch of a classified US national security
payload on the Falcon Heavy rocket, the Air Force announced.
SpaceX
was awarded $130 million to launch the Air Force Space Command (AFSPC)-52 satellite
in Fiscal Year 2020 for the Air Force under terms of the Evolved Expendable
Launch Vehicle (EELV) launch service contract program.
To
date the triple barreled Falcon Heavy has only launched once – on its maiden mission which took
place successfully earlier this year in February with SpaceX CEO Elon Musk's
Tesla Roadster as the payload.
Thus the selection of the singly launched Falcon Heavy to loft what is undoubtedly a
rather expensive and extremely elaborate satellite employing advanced new technologies


is perhaps somewhat surprising.
"Space
Exploration Technologies Corporation (SpaceX) has been awarded a $130 million
firm-fixed price contract for launch services to deliver Air Force Space
Command (AFSPC)-52 to the intended orbit," according to an Air Force statement.
The nature and orbit of the
(AFSPC)-52 is top secret, as well as its mass and dimensions and
all other details regarding capabilities and purposes.
However
the launch site was proclaimed to be the Kennedy Space Center in Florida which
indicates Launch Complex 39A – which SpaceX leases from NASA and utilized for both
Falcon 9 and Falcon Heavy.
SpaceX President Gwynne Shotwell thanked the Air Force for the
award.


"SpaceX
is honored by the Air Force's selection of Falcon Heavy to launch the
competitively-awarded AFSPC-52 mission," said SpaceX President and COO Gwynne
Shotwell, in a statement provided to Space UpClose.


The
Air Force said they are trying to cut launch costs while maintaining assured and reliable access to space with the competitive biddings process.


The
only other certified bidder would have been United Launch Alliance (ULA).


It
is believed that ULA offered either the Atlas 551 or the triple core Delta IV
Heavy but the details are completely classified. The cost of a Delta IV Heavy is roughly $350
million.
Until
recently ULA enjoyed a virtual monopoly on military launches.


"The competitive award of this
EELV launch service contract directly supports Space and Missile Systems
Center's (SMC) mission of delivering resilient and affordable space
capabilities to our Nation while maintaining assured access to space," said Lt.
Gen. John Thompson, Air Force program executive officer for Space and SMC
commander, in a statement.


"This is the fifth competitive
procurement under the current Phase 1A strategy. These launch service
contract awards strike a balance between meeting operational needs and lowering
launch costs through reintroducing competition for National Security Space
missions," the Air Force noted.


Interestingly
SpaceX announced that the launch vehicle would be the Falcon Heavy instead of
the Falcon 9.

Launch of SpaceX Falcon Heavy on debut test
flight
from Launch Complex 39A at NASA's Kennedy Space
Center in Florida on Feb. 6, 2018
Credit: Ken
Kremer/SpaceUpClose.com/kenkremer.com
Furthermore
Shotwell stated that the Air Force had approved the certification of the Falcon
Heavy for these critical and covert national security missions in defense of
the homeland.


"On
behalf of all of our employees, I want to thank the Air Force for certifying
Falcon Heavy, awarding us this critically important mission, and for their
trust and confidence in our company."


Shotwell
also made of point of stating that SpaceX launch costs are lower than their competitors.


"SpaceX
is pleased to continue offering the American taxpayer the most cost-effective,
reliable launch services for vital national security space missions."
However, the details and cost of the ULA bid have not been
made public.
ULA launched the prior AFSPC mission for the USAF.
The next Falcon Heavy launch is not expected until later
this year, potentially November or December but the date has slipped
frequently.
The payload is the Air Force STP-2 demonstration satellite.
The next SpaceX launch from Florida is scheduled for later
this week when a reused Falcon 9 rocket will lift off on Friday, June 29, on
the Dragon CRS-15 resupply mission for NASA to the International Space Station.
SpaceX conducts successful static fire test of reused
Falcon 9 first stage at 5:30 p.m. EDT on June 23 at Space Launch Complex-40 on
Cape Canaveral Air Force Station for CRS-15 resupply mission to the ISS
targeted on launch June 29, 2018.

Credit: Ken Kremer/kenkremer.com/spaceupclose.com
The path to launch was cleared following a successful hold
down static fire test of the first stage engines on Sat, June 23. Read my
story.
Blastoff of the 'used' SpaceX Falcon 9 and Dragon CRS-15
commercial cargo freighter is now slated for

dawn
Friday, June 29 at 5:42 a.m. EDT
(0942 GMT)
from Space Launch Complex 40 at Cape Canaveral Air Force Station in
Florida.
CRS-15 marks the 12th flight overall for SpaceX
in 2018 and the 2nd ISS resupply mission for NASA in 2018.


Watch for Ken's continuing onsite coverage of NASA, SpaceX, ULA,
Boeing, Lockheed Martin, Orbital ATK and more space and mission reports direct
from the Kennedy Space Center, Cape Canaveral Air Force Station, Florida and
Wallops Flight Facility, Virginia.


Stay tuned here for Ken's continuing Earth and Planetary science and human
spaceflight news: www.kenkremer.com
–www.spaceupclose.com – twitter @ken_kremer – email: ken at kenkremer.com
Ken's upcoming outreach events:
Learn more about the upcoming
upcoming/recent

SpaceX Falcon 9/CRS-15 launch to ISS,

SES-12 comsat
launch
, Falcon Heavy, TESS, GOES-S, Bangabandhu-1,
NASA missions, ULA Atlas & Delta launches, SpySats and more at Ken's
upcoming outreach events at Kennedy Space Center Quality Inn, Titusville, FL,
evenings:
Jun
27-29: "SpaceX Dragon CRS-15
resupply launch to ISS, SpaceX Falcon Heavy & Falcon 9 launches, SpaceX SES-12
comsat. ULA Atlas USAF SBIRS GEO 4 missile warning satellite, SpaceX GovSat-1,
CRS-14 resupply launches to the ISS, NRO & USAF Spysats, SLS, Orion, Boeing
and SpaceX Commercial crew capsules, OSIRIS-Rex, Juno at Jupiter, InSight Mars
lander, Curiosity and Opportunity explore Mars, NH at Pluto and more," Kennedy
Space Center Quality Inn, Titusville, FL, evenings.
Photos for sale