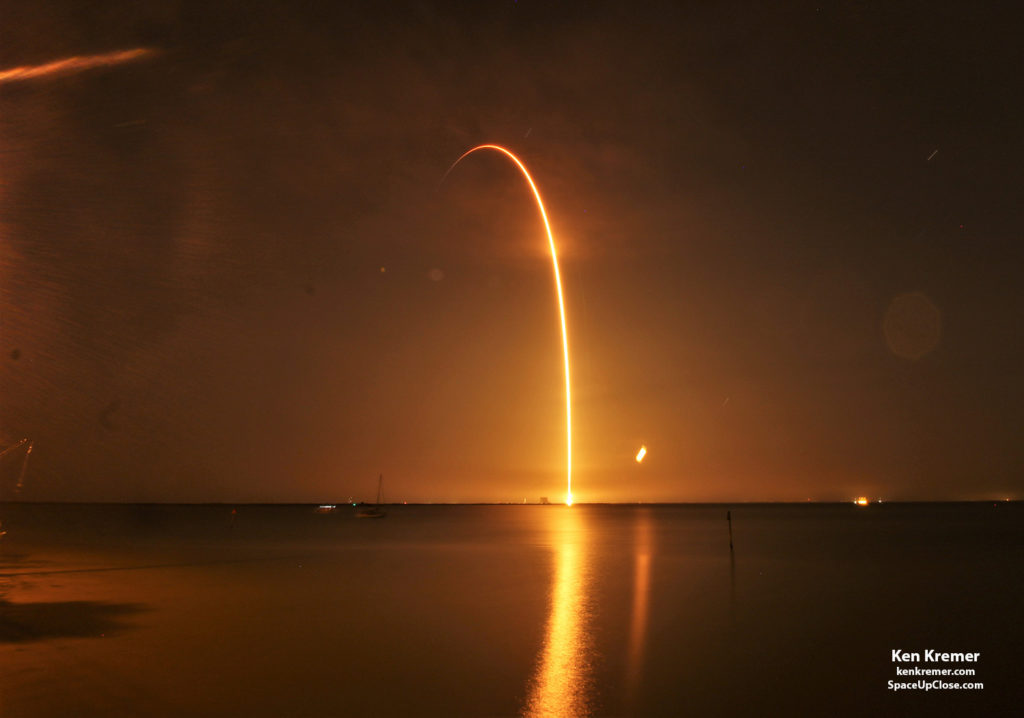 SES-12 telecom
craft steaks to geostationary transfer orbit atop

SpaceX

Falcon 9

at
midnight
Monday June 4, 2018 at 12:45 a.m. EDT in this long exposure photo from Space
Launch Complex-40 on
Cape Canaveral Air Force Station, FL. Credit:
Ken Kremer/kenkremer.com/spaceupclose.com
Ken Kremer — SpaceUpClose.com — 4 June 2018
CAPE CANAVERAL
AIR FORCE STATION, FL – A spectacular midnight launch lit up Florida Space
Coast skies Monday, June 4, as the massive six ton SES-12 high powered commercial
telecommunications satellite that will provide ever better TV, internet and
more to ground, airplane and cruise ship services for millions of customers – soared
to orbit on a recycled SpaceX Falcon 9 rocket.



SES-12 will serve
over 18 million customers across the globe all the way from the Middle East to
the vast Asia-Pacific region
for Luxembourg-based operator SES.
The
'Flight-Proven' Falcon 9 roared off seaside Space Launch
Complex-40 just past midnight
Monday morning June 4 at 12:45 a.m. EDT (0445 GMT) from
Cape Canaveral Air Force Station, Florida.
Check out our
expanding SpaceUpClose.com eyewitness photo gallery.
SES maintains a fleet of space-based satellites
in a constellation comprising more than 70 spacecraft
in a variety of orbits.



SES-12 streaks to
orbit on June 4, 2018 on SpaceX Falcon 9 from Cape Canaveral pad 40 in this
long exposure photo taken from Port Canaveral, FL. Credit: Julian Leek
Today's launch comes after a four day delay announced last
Thursday when SpaceX said
engineers needed to run "run additional tests" on the workhorse Falcon 9 vehicles
second stage to verify its readiness to launch.
This Falcon 9
rocket was comprised of a unique combination of old and new involving a
'Flight-Proven' Block 4 first stage and a new and improved Block 5 upper stage.
The first stage is expendable and was not recovered.
The launch
vehicle utilized a recycled first stage booster from the OTV-5 mission launch
in September 2017.
The middle-of-the-night
lift off of the 229-foot tall (70-meter) Falcon 9 proved to be absolutely
stunning and flawlessly delivered SES-12 to its preliminary supersynchronous
transfer orbit.
"The
satellite is functioning perfectly. It was right on
the money,"
SES
Chief Technology
Officer (
CTO) Martin Halliwell told
me in an exclusive post-launch interview with SpaceUpClose.
"The SpaceX team is
amazing. They worked right through the weekend and at night to clear all the
issues that came up with the second stage that allowed us to launch. At SpaceX
Headquarters in Hawthrone, CA, they worked to make sure all the testing criteria
were achieved. There were no outstanding issues by launch time but it took a
lot of time to clear them all."
"The Falcon 9 delivered
SES-12 to an Apogee of approximately 58,000 km and perigee was 294 km."
Spectators
enjoyed the magnificent sky show as the threatening sunshine state skies that
have inundated Florida with drenching rains storms and lightning all week long
miraculously parted in time of the early morning launch.
We could easily
see the rocket for more than 4 minutes as it blastoff off in an easterly
direction over the Atlantic Ocean, accelerated to orbit and soon arced over to
African continent.
The nine Merlin-9
engines ignited to generate over 1.7 million pounds of liftoff thrust fueled by
super chilled liquid oxygen and RP-1 propellants stored inside the used first
stage booster.
The upper stage
fired as planned and spacecraft separation took place right on time about 32
minutes after liftoff.
SES-12 will
provide a vast

array of services
including HDTV and UHDTV, wifi, banking,

cruise ships and public services.
"More content. More immersive viewing experience. Blazing
internet speeds. Reliable cell coverage. All of these dynamic customer requirements
can now be met with the successful launch of SES-12, which will provide
incremental high performance capacity and offer greater reliability and
flexibility to our customers," says Halliwell.
SES-12 is gigantic
– think school bus sized. And it just barely fits inside the nose cone,
Halliwell told me.
"Despite the size
SES-12 survived the launch well and there were no issues."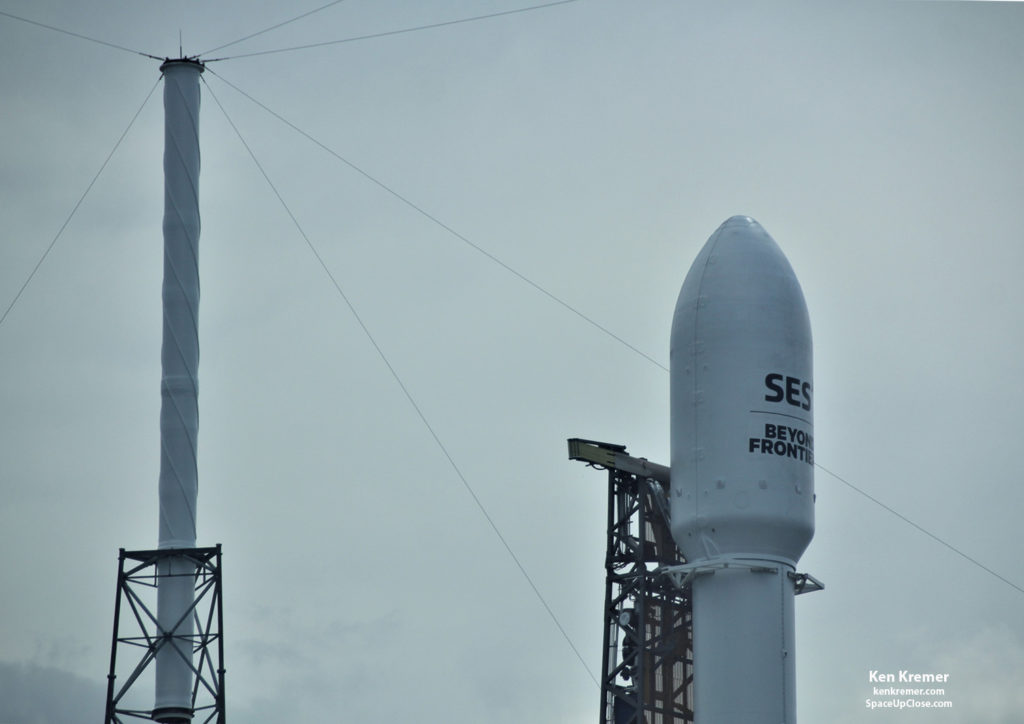 Up close
view of the nose cone encapsulating SES-12 comsat atop
SpaceX Falcon 9 slated for liftoff on
June 4, 2018 from Space launch Complex-40 on Cape Canaveral Air
Force Station, FL. Credit: Ken Kremer/kenkremer.com/spaceupclose.com
"SES-12 is the
most powerful spacecraft ever built for us," said Halliwell. 'It's really,
really big."
"Its like 2
satellites in one common bus supporting 6 wide beams and 72 high throughput
data beams."
SES-12 weighs
5383 kg and measure 3.5 m x 3.5 m x 8 m.
SpaceX did not attempt to recover the first stage booster on the
OCISLY droneship, said Halliwell.

OCISLY
is normally prepositioned at sea in the Atlantic Ocean some 400 miles (600 km)
off the east coast of Florida for ocean landings. OCISLY has remained docked in
Port Canaveral.
Rather the 15 story tall booster "is expandable and will be "sent
straight into the ocean."
"There will be no recovery and there are no landing legs."
"We've
actually stripped everything off the first stage, so there are no landing legs
on board," Halliwell noted.
"This
is going straight into the ocean. The first stage is a Block 4 and the upper
stage is a Block 5.

We get a lot of
performance from this vehicle."
SES-12
was built by prime contractor Airbus Defence and Space and was originally
designed to operate for 15 years in geostationary orbit.
SES-12 communications satellite undergoes Rf testing prior
to launch on SpaceX Falcon 9 rocket. Credit:
Airbus Defence and Space

But
the life time will be extended about 7 years from 15 to 22 years by firing the
second stage engine for 2 to 5 seconds longer
"It will come
into service for us in January or February 2019."
"SES-12 is our 6th
satellite launch by SpaceX."
The Falcon 9
rocket is comprised of a unique combination of old and new involving a
'Flight-Proven' Block 4 first stage and a new and improved Block 5 upper stage.
The upgraded
Block 5 Falcon 9 just successfully flew its maiden flight last month for the
Bangabandhu-1 comsat for Bangladesh on May 11.
SES-12
will be co-located with SES-8 at the 95 degrees
East orbital slot. Combined they
will
serve to reach
over 18 million SES
video, data and TV customers across the Asia-Pacific region. It will replace
and augment services currently provided on NSS-6.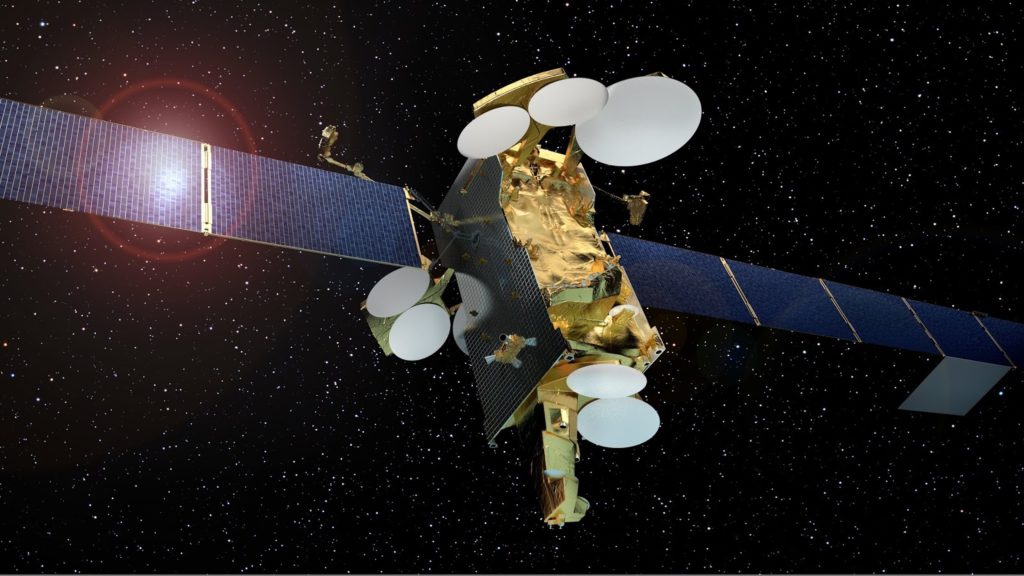 Artist's concept of SES-12 communications
satellite in orbit.

Credit: SES/
Airbus Defence and
Space
The path to
launch was cleared last week when SpaceX engineers conducted a successful hold
down static fire test of the rocket at the pad, minus the payload, wherein the
two stages were fueled with propellants completing a full countdown simulation.
During the dress
rehearsal all 9 Merlin 1D first stage engines are ignited to full thrust for
several seconds while the rocket is held down at the pad.
With birds aflutter SES-12 comsat poised for liftoff under
gloomy dismal rain drenched skies atop

SpaceX

Falcon 9

poised for midnight
Monday liftoff 12:45 am ET June 4, 2018 from Cape Canaveral Air
Force Station, FL. Credit: Ken Kremer/kenkremer.com/spaceupclose.com
The SES-12
mission marked SpaceX's 11th launch of 2018.
The next SpaceX
launch involves the Dragon CRS-15 cargo resupply mission to the International
Space Station (ISS) – tentatively set for liftoff on no earlier than June 28
from Space launch Complex-40 at the Cape.
Watch for Ken's continuing onsite coverage of NASA, SpaceX, ULA,
Boeing, Lockheed Martin, Orbital ATK and more space and mission reports direct
from the Kennedy Space Center, Cape Canaveral Air Force Station, Florida and
Wallops Flight Facility, Virginia.
Stay tuned here for
Ken's continuing Earth and Planetary science and human spaceflight news:

www.kenkremer.com


–www.spaceupclose.com – twitter @ken_kremer – email: ken at kenkremer.com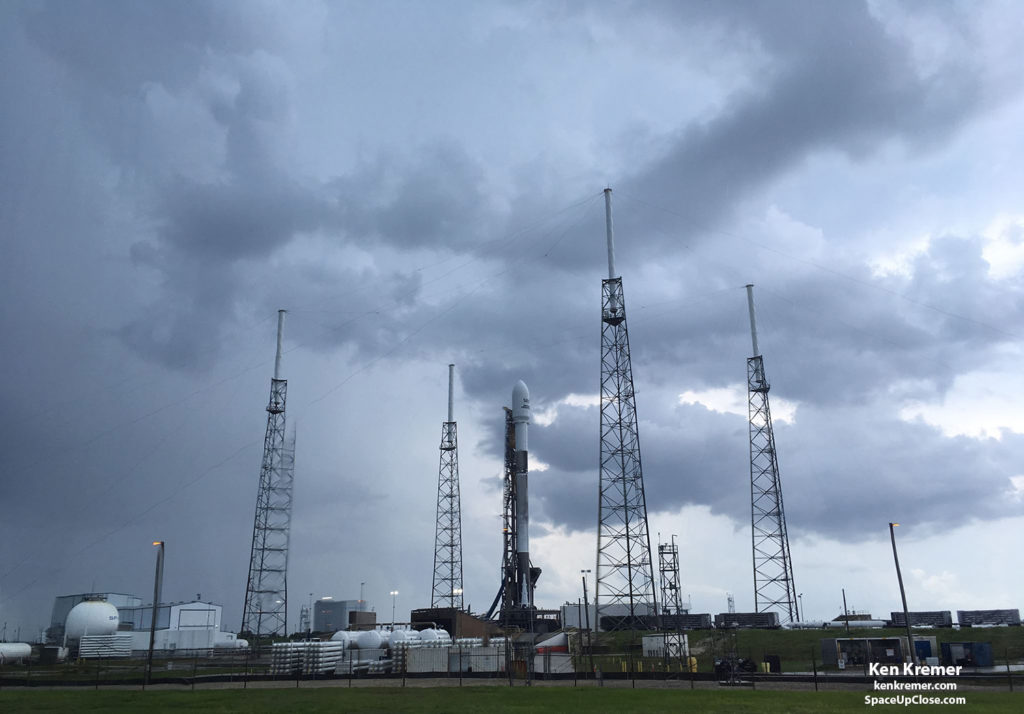 SES-12 comsat poised for liftoff under gloomy dismal rain drenched
skies atop

SpaceX

Falcon 9

poised for midnight
Monday liftoff 12:45 am ET June 4, 2018 from pad 40 on Cape
Canaveral Air Force Station, FL. Credit: Ken
Kremer/kenkremer.com/spaceupclose.com