Under gloomy skies this up close view shows the reused SpaceX
Dragon CRS-15 spacecraft joined to the reused Falcon 9 first stage resting horizontal
at Space Launch Complex-40 on June 28 prior to resupply mission to the ISS
targeted for launch June 29, 2018 from Cape Canaveral Air Force Station, Florida.

Credit: Ken
Kremer/kenkremer.com/spaceupclose.com
Ken Kremer

—
SpaceUpClose.com
—

28 June 2018
KENNEDY
SPACE CENTER & CAPE CANAVERAL
AIR FORCE STATION, FL –

Under gloomy space
coast skies SpaceX engineers were reading a used Falcon 9 rocket and used Dragon
cargo freighter for blastoff to the International Space Station (ISS) on a cargo
mission for NASA carrying 3 tons of science including the CIMON Artificial Intelligence
astronaut assistant.
If all goes well
and clouds stay away, spectators should witness a spectacular launch about 45
minutes before sunrise as the rocket rises into sunlight in the first few
minutes after liftoff.
Although the weather
forecast is excellent with a 90 percent chance of favorable conditions at
launch time, heavy rain and some thunder drenched the Space Coast area Thursday
afternoon – as is normal for Florida at this time of year.
Under gloomy skies this up close view shows the reused SpaceX
Dragon CRS-15 spacecraft joined to the reused Falcon 9 first stage resting horizontal
at Space Launch Complex-40 on June 28 prior to resupply mission to the ISS
targeted for launch June 29, 2018 from Cape Canaveral Air Force Station, Florida.

Credit: Ken
Kremer/kenkremer.com/spaceupclose.com
Blastoff of the recycled SpaceX Falcon 9 and recycled Dragon
CRS-15 commercial cargo freighter is now slated for dawn

Friday, June
29 at 5:42 a.m. EDT
(0942 GMT)
from seaside Space Launch Complex-40 (SLC-40)
at Cape Canaveral Air Force Station in Florida.
If you can't watch
in person, you can watch the launch live on NASA TV starting about 5:15 a.m.
EFT with
live streaming and blog updates as the countdown
milestones occur
.
In case of a delay for any reason, there will
be a 48 hour postponement and the backup launch date is Sun, July 1.
There is just no satisfactory trajectory that
Dragon can use to catch up to the station on June 30 with the fuel reserves on
board.



The two stage Falcon 9/Dragon rocket stands
about 213-feet (65-meters) tall.
Dragon CRS-15 is
loaded with nearly 3 tons of science and supplies for the six person Expedition
56 crew aboard the ISS.
The
20-foot
high, 12-foot-diameter
Dragon CRS-15 vessel is jam packed with more than 5,900 pounds (about 2,700 kilograms) of science
experiments, research hardware, space parts, food water, clothing and more
supplies for the six person Expedition 56 crew.
One of the key technology demonstration
experiments involves artificial intelligence and is known as CIMON, which
stands for
Crew Interactive Mobile CompanioN.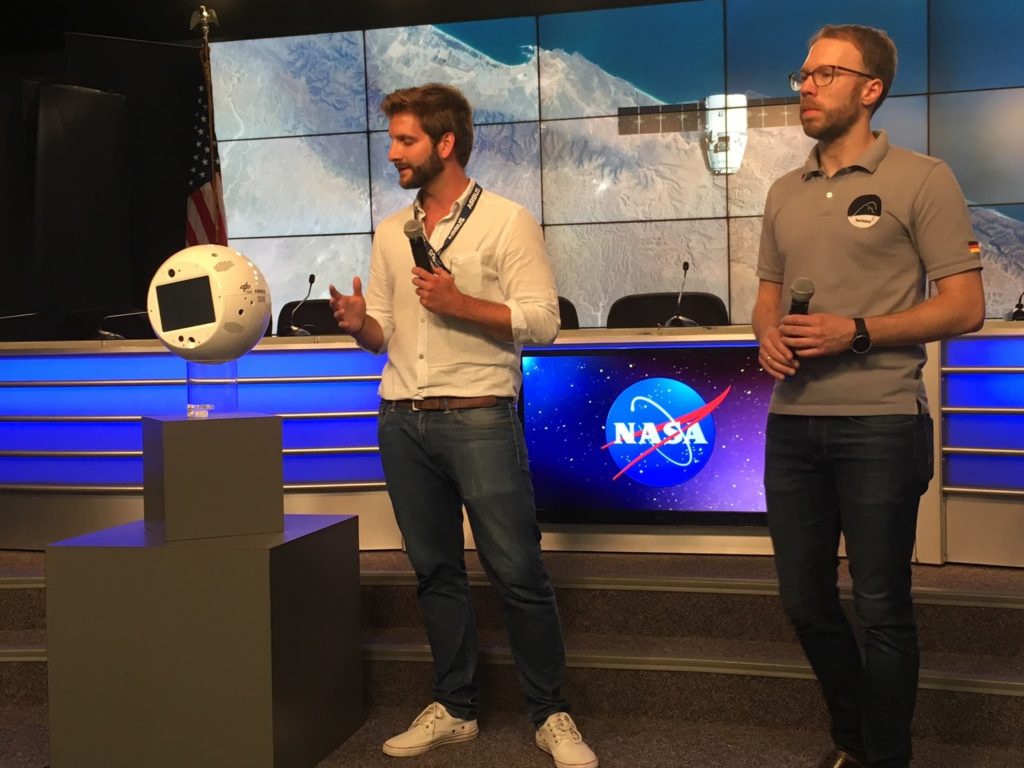 Credit: Ken
Kremer/kenkremer.com/spaceupclose.com
CIMON is the size of a medicine ball
sized and functions as a free flying mobile and autonomous assistance system
designed to aid astronauts with their everyday tasks on the ISS by using

Watson AI technology from the IBM cloud.
ESA astronaut Alexander Gerst from
Germany will work with CIMON to test its capabilities on the ISS.
CIMON is significant in being the
first form of Artificial Intelligence (AI) on the space station.
It
was developed by prime contractor Airbus (Friedrichshafen/Bremen, Germany) in
cooperation with DLR, the German Aerospace Center.
"AI-based
technology is about constantly understanding, reasoning and learning, so CIMON
is designed to assist and to create a feeling of talking to a crew mate", says
DLR.
CIMON has the ability to learn and offer solutions to problems. It it
equipped with a face and voice uses artificial intelligence to becomes a
genuine 'colleague' on board, says DLR.
The CRS-15 manifest includes:
§
2,718 pounds (1,233 kilograms) of scientific
investigations
§
452 pounds (205 kilograms) of crew supplies
§
392 pounds (178 kilograms) of vehicle hardware
§
139 pounds (63 kilograms) of spacewalk equipment
§
46 pounds (21 kilograms) of computer resources
§
27 pounds (12 kilograms) of Russian hardware
SpaceX will not attempt to recover this older Block 4
version of the Falcon 9 booster which is being discontinued in favor of the
Block 5. The firm is rapidly switching over to the new Block 5 version first
launched in May.
The Block 5 Falcon 9 will be cheaper to produce and much
easier to turnaround with minimal maintenance, says SpaceX CEO Elon Musk. His
goal is to relaunch a recovered Block 5 a second time within 24 hours by
sometime next year.
If all goes well Dragon will arrive at the orbiting outpost
on July 2 for a month long stay.
The prior CRS-14 resupply flight successfully flew in April
from pad 40.
CRS-15 marks the 12th flight overall for SpaceX
in 2018 and the 2nd ISS resupply mission for NASA in 2018.
Watch for Ken's continuing onsite coverage of NASA, SpaceX, ULA,
Boeing, Lockheed Martin, Orbital ATK and more space and mission reports direct
from the Kennedy Space Center, Cape Canaveral Air Force Station, Florida and
Wallops Flight Facility, Virginia.

Stay tuned here for Ken's continuing Earth and Planetary science and human
spaceflight news:

www.kenkremer.com


–www.spaceupclose.com – twitter @ken_kremer – email: ken at kenkremer.com
Ken's upcoming outreach events:
Learn more about the upcoming
upcoming/recent

SpaceX Falcon 9/CRS-15 launch to ISS,

SES-12 comsat
launch,
Falcon Heavy, TESS, GOES-S, Bangabandhu-1,
NASA missions, ULA Atlas & Delta launches, SpySats and more at Ken's
upcoming outreach events at Kennedy Space Center Quality Inn, Titusville, FL,
evenings:
Jun 29: "SpaceX Dragon CRS-15 resupply launch
to ISS, SpaceX Falcon Heavy & Falcon 9 launches, SpaceX SES-12 comsat. ULA
Atlas USAF SBIRS GEO 4 missile warning satellite, SpaceX GovSat-1, CRS-14
resupply launches to the ISS, NRO & USAF Spysats, SLS, Orion, Boeing and
SpaceX Commercial crew capsules, OSIRIS-Rex, Juno at Jupiter, InSight Mars
lander, Curiosity and Opportunity explore Mars, NH at Pluto and more," Kennedy
Space Center Quality Inn, Titusville, FL, evenings. Photos for sale