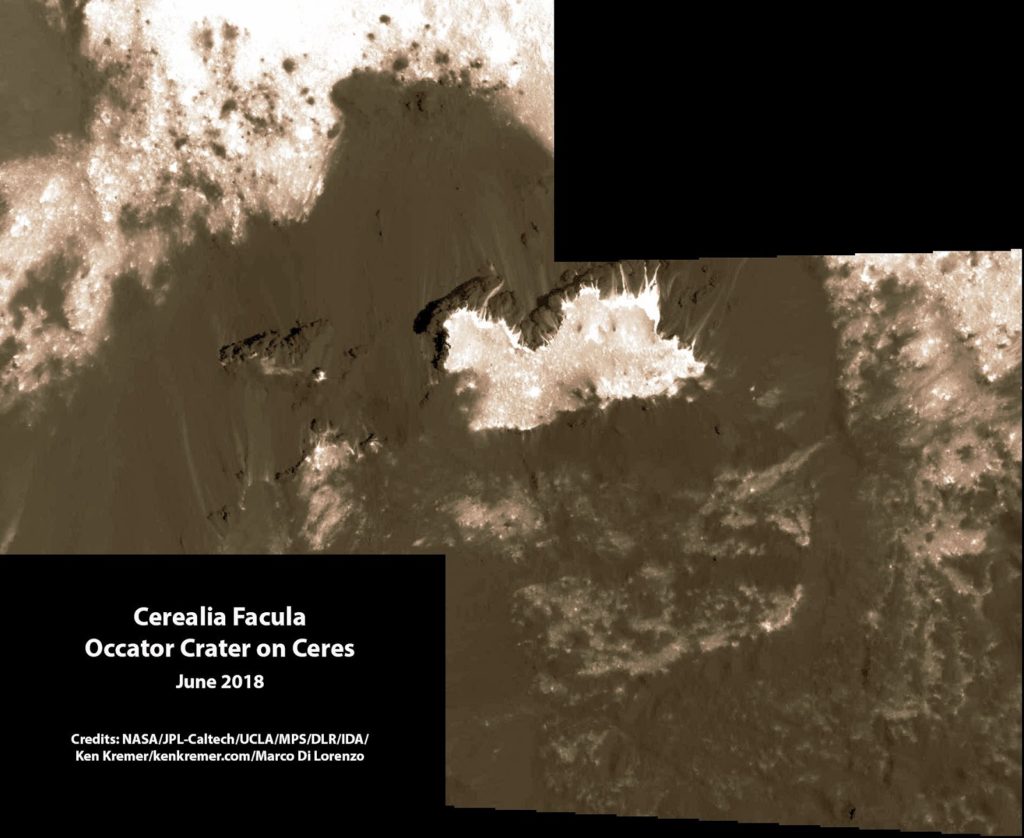 This mosaic of a
prominent mound located on the western side of Cerealia Facula
showing famous bright
spots of salt deposits inside Occator crater was newly obtained by NASA's Dawn
spacecraft on June 22, 2018 from a record low altitude of about 21 miles (34
kilometers) above Ceres, colorized mosaic.

Credits: NASA/JPL-Caltech/UCLA/MPS/DLR/IDA/Ken
Kremer/kenkremer.com/Marco Di Lorenzo
Ken Kremer — SpaceUpClose.com — 4 July 2018


CAPE CANAVERAL,
FL – NASA's amazingly productive Dawn
spacecraft has just transmitted stunning
new close ups of the famously prominent and bright salty crater on Ceres as it
enters its final orbit – thereby bringing the probe 10 tens closer to the
surface than ever before as the fuel reserves near exhaustion and the daring mission
nears its end only weeks or months from now.
Known as Occator Crater, the feature is the brightest spot on Ceres and
consists of sodium carbonate evaporite deposits. Ceres is the largest
object in the main asteroid belt and also dubbed a 'dwarf planet.'
"NASA's Dawn spacecraft reached its lowest-ever
and final orbit around dwarf planet Ceres on June 6 and has been returning
thousands of stunning images and other data," NASA said in a statement.
The newly
captured close ups, released by NASA, show portions of Occatur Crater and displays
the bright salt deposits in much sharper focus and far higher resolution than
ever before.

They were obtained by Dawn on June 22, 2018 as it dove to an altitude
merely 21 miles (34 kilometers) above Ceres.
One area is focused
on a prominent mound located on the western side of
the feature named Cerealia Facula and vividly shows the extremely bright surface
salt deposits composed of sodium carbonate, "a
material commonly found in evaporite deposits on Earth."
Aqueous solutions
of sodium carbonate and other salts erupted from cryovolcanoes in the past. After the water
evaporated bright salt domes formed leaving behind thick deposits of the sodium carbonate
evaporite residue.
This context collage shows
the location of a prominent mound of the famous bright spots of salt deposits located
on the western side of Cerealia Facula (top right) inside Occator crater (left)
on dwarf planet Ceres. Newly obtained highest ever resolution images were
taken of the bright salt deposits in Occator by NASA's Dawn spacecraft on June 22, 2018
from a record low altitude of about 21 miles (34 kilometers) above Ceres (lower
right), colorized mosaics.

Credits: NASA/JPL-Caltech/UCLA/MPS/DLR/IDA/Ken
Kremer/kenkremer.com/Marco Di Lorenzo
These are the
largest known deposits of sodium carbonate found in our Solar System outside of Earth and
possibly Mars too.

The imaging team
of Ken Kremer and Marco Di Lorenzo has combined the two individual images taken
by Dawn's framing camera into a mosaic for Space UpClose –
see lead mosaic.


We have
incorporated our mosaic into a context collage showing the location of the newly
imaged bright spots of salts inside Occator Crater in their highest ever
resolution, captured from Dawn's lowest ever altitude on June
22 – see above.
JPL has published a
cropped version of the newly captured images whereas our mosaic shows the complete view
available at this time.

The framing
camera was provided by the Max Planck Society in Germany and funded by DLR
(German Aerospace Center).
This mosaic of a
prominent mound located on the western side of Cerealia
Facula

showing famous bright spots of salt deposits inside Occator crater

was obtained by NASA's Dawn spacecraft on June 22, 2018 from an altitude
of about 21 miles (34 kilometers) above Ceres.

C

redits: NASA/JPL-Caltech/UCLA/MPS/DLR/IDA
Dawn initially arrived
at Ceres three years ago in 2015 and discovered the mysterious bright spot and
Occator Crater on final approach. The bright spot was eventually resolved into
two as the probe closed in to achieve orbit in March 2015 and they looked rather
like a pair of eyes staring out from the pockmarked surface.
Spectral analysis
captured by the onboard visible and infrared mapping
spectrometer (VIR) science instruments after circling overhead in orbit later
revealed that the bright spots were composed of salts – namely sodium carbonate.
VIR was provided by the Italian Space Agency and
Italian National Astrophysical Institute.
Occator Crater,
measuring 57 miles (92 kilometers) across and 2.5 miles (4 kilometers) deep,
contains the brightest area on Ceres. This
region has been the subject of intense interest since Dawn's approach to the
dwarf planet in early 2015.

Credits:
NASA/JPL-Caltech/UCLA/MPS/DLR/IDA
Occator
Crater is an impact crater measuring 57 miles (92 kilometers) across and 2.5
miles (4 kilometers) deep.


"The first views of Ceres obtained by Dawn
beckoned us with a single, blinding bright spot," said Carol Raymond of JPL,
Dawn's principal investigator, in a statement.


"Unraveling the nature and history of this
fascinating dwarf planet during the course of Dawn's extended stay at Ceres has
been thrilling, and it is especially fitting that Dawn's last act will provide
rich new data sets to test those theories."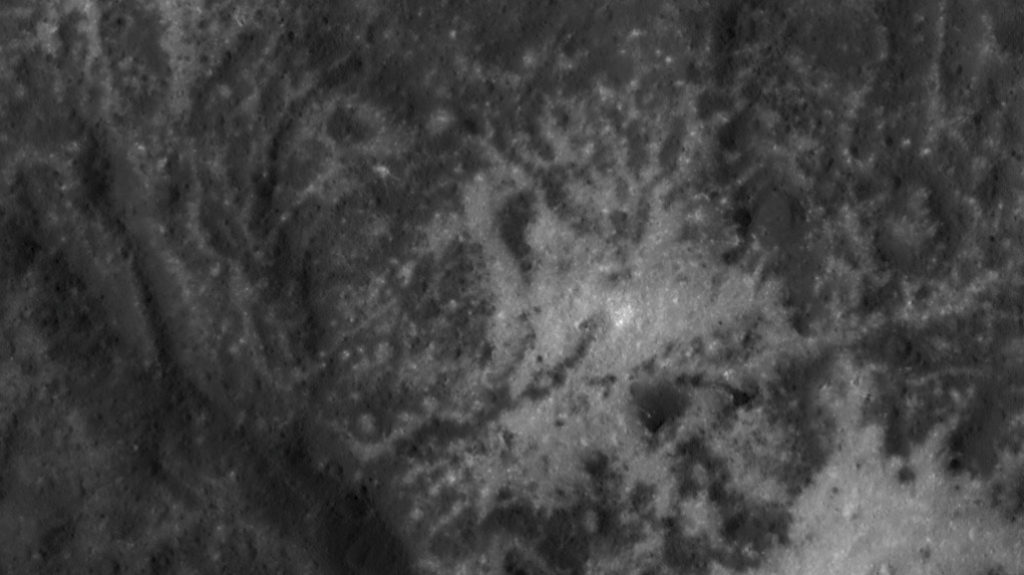 This close-up image of
the Vinalia Faculae in Occator Crater was obtained by NASA's Dawn spacecraft on
June 14, 2018 from an altitude of about 24 miles (39 kilometers).

Credits:
NASA/JPL-Caltech/UCLA/MPS/DLR/IDA
Now Dawn is literally
in the final throes of its over decade long mission life and at its lowest ever
orbit above Ceres –

since launching back
in 2007 from Cape Canaveral Air Force Station, FL.
"The flight team maneuvered the spacecraft into
an orbit that dives 22 miles (35 kilometers) above
the surface of Ceres and viewed Occator Crater, site of the famous bright
deposits, and other intriguing regions," said the Dawn team.
That
altitude of 22 miles (35 kilometers) is 10 times lower than the previous lowest
altitude before this month of 240 miles (385 kilometers).
"
So
the data from this current orbit bring the dwarf planet into much sharper
focus."
This annotated image shows the locations of
Cerealia Facula and
Vinalia Faculae inside Occotur crater and recently imaged by NASA's
Dawn spacecraft in their highest resolution ever in June 2018 from the probes
new, lowest ever orbit around Ceres.
Credits:
NASA/JPL-Caltech/UCLA/MPS/DLR/IDA.
Annotation: Marco Di Lorenzo/Ken Kremer
Dawns final orbit
is highly elliptical ranging from a high of about 2,500 miles (4,000 kilometers) and diving down to only 22 miles
(35 kilometers) about once per day.


And it took
months of dedicated effort, planning and work by the Dawn team to carefully transition
and shape Dawn to its final, ultra-low diving, egg shaped orbit by firing its Xenon
fueled ion propulsion engine.


The ion engine firing was possibly the last one and placed Dawn
on a trajectory targeting the center of Occator Crater.


"Acquiring these spectacular pictures has been
one of the greatest challenges in Dawn's extraordinary extraterrestrial
expedition, and the results are better than we had ever hoped," said Dawn's
chief engineer and project manager, Marc Rayman, of NASA's Jet Propulsion
Laboratory, Pasadena, California, in a statement.


"Dawn is like a master artist, adding rich
details to the otherworldly beauty in its intimate portrait of Ceres."
At the low point in its final orbit Dawn is "speeding
above the ground at 1,050 mph (1,690 kph), and then shoots back up again," says
Rayman.
The exact origin of the Cerean salt deposits is
still an "open question" to be determined.
"The wealth of information contained in these
images, and more that are planned in the coming weeks, will help address key,
open questions about the origin of the faculae, the largest deposits of
carbonates observed thus far outside Earth, and possibly Mars. In particular,
scientists have been wondering how that material was exposed, either from a
shallow, sub-surface reservoir of mineral-laden water, or from a deeper source
of brines (liquid water enriched in salts) percolating upward through fractures,"
say Dawn officials.
Dawn was built by Orbital ATK, now Northrup Grumman and
launched on

Delta II rocket from
Florida. It swung by Mars before arriving at its first target, Vesta, the
second most massive object in the asteroid belt.
Watch for Ken's continuing onsite coverage of NASA, SpaceX, ULA,
Boeing, Lockheed Martin, Orbital ATK and more space and mission reports direct
from the Kennedy Space Center, Cape Canaveral Air Force Station, Florida and
Wallops Flight Facility, Virginia.
Stay tuned here for Ken's continuing Earth and Planetary science and human
spaceflight news:

www.kenkremer.com


–www.spaceupclose.com – twitter @ken_kremer – email: ken at kenkremer.com
This mosaic of a
prominent mound located on the western side of Cerealia Facula
showing famous bright spots
of salt deposits inside Occator crater was newly obtained by NASA's Dawn
spacecraft on June 22, 2018 from a record low altitude of about
21 miles (34 kilometers)
above Ceres. Credits:
NASA/JPL-Caltech/UCLA/MPS/DLR/IDA/Ken Kremer/kenkremer.com/Marco Di Lorenzo