NASA's Commercial Crew Program is working with the American aerospace
industry as companies develop a new generation of spacecraft and launch systems
to carry crews safely to and from low-Earth orbit – the SpaceX Crew Dragon and
Boeing CST-100 Starliner.

Credits: NASA
Ken Kremer
—
SpaceUpClose.com
—

2 Aug 2018
CAPE CANAVERAL, FL –
The day we've all been waiting for in human spaceflight is almost upon us –
after years of anticipation! On Friday, Aug. 3 NASA will announce the 1st
new crews of astronauts to launch from American soil since the retirement of
the agency's space shuttles in 2011.
It's T-MINUS 1 Day to knowing the names of the folks soaring to space and opening the exciting new
era of commercial crew spaceflight.

The astronauts to be
named Friday will launch on the Commercial Crew Program (CCP) spaceships being developed
and manufactured by Boeing and SpaceX under contracts with NASA – namely the
Starliner and Crew Dragon respectively.
New NASA
Administrator Jim Bridenstine will make the announcement during a live
broadcast on NASA TV and the agency's website.
"The
astronauts assigned to crew the first flight tests and missions of the Boeing
CST-100 Starliner and SpaceX Crew Dragon, and begin a new era in American
spaceflight," NASA said in a statement.
"NASA Administrator Jim Bridenstine will preside
over the event, which will begin at 11 a.m. EDT on NASA Television and the
agency's

website

."
Be sure to tune in
for all the exciting details.
The two spacecraft –
also dubbed 'Space Taxis' – will launch American and partner astronauts to low
Earth orbit and the International Space Station (ISS) – thereby ending NASA's
total 100% reliance on the Russians for rides to the orbiting research laboratory.
The Boeing CST-100 Starliner (l) and SpaceX Crew Dragon (r)
currently being manufactured for their respective

inaugural launches to the ISS. Credit: NASA/Boeing/SpaceX
The crew assignments pertain
both to the first test flights as well as the first post-certification missions.
Bridenstine will be joined by
Johnson Space Center Director Mark Geyer and Kennedy Space Center
Director Bob Cabana as well as representatives from Boeing and SpaceX to
introduce the crews.
"NASA
will announce the crew assignments for the the crewed flight tests and the
first post-certification missions for both Boeing and SpaceX."
Former NASA astronaut Chris Ferguson who also
served as the final Shuttle Commander during the STS-135 mission to the ISS in
2011 is expected to named Commander of the1st piloted Boeing Starliner mission.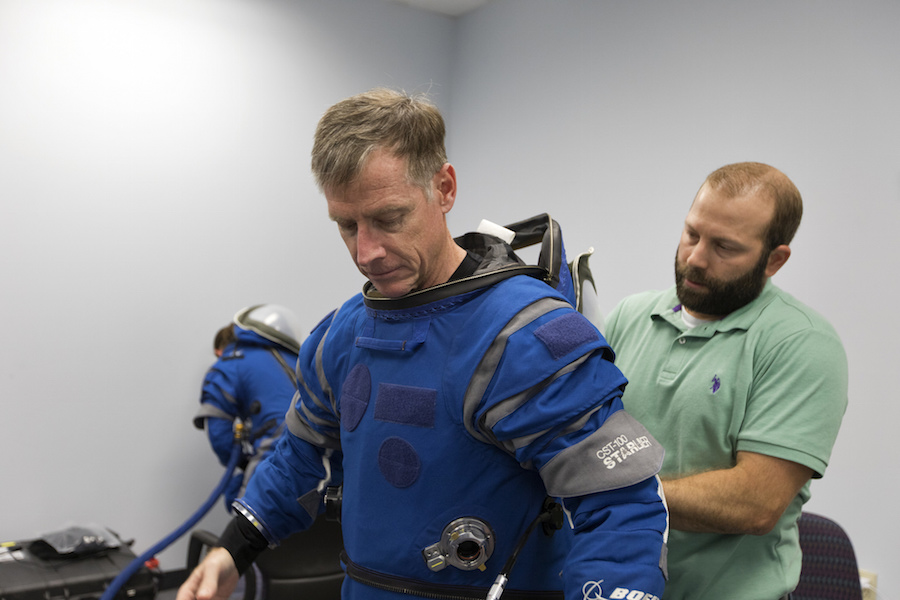 Boeing test pilot
Chris Ferguson is helped into his spacesuit ahead of emergency egress training
at United Launch Alliance's Atlas 5 launch pad at Cape Canaveral in June.
Credit: NASA/Kim Shiflett
Ferguson is a veteran who has flown 3 times to
space on NASA's shuttles will fly in his role as a Boeing Test Pilot and leader
of the Starliner team.
The Boeing flight is expected to include a crew
of three with Ferguson being joined by 2 NASA astronauts.
The SpaceX flight is expected to number 2 NASA
astronauts.
The crews are expected to include the names of all
4 NASA astronauts who were selected several years ago to begin the commercial crew training:

Bob Behnken, Eric Boe, Doug Hurley
and Suni Williams.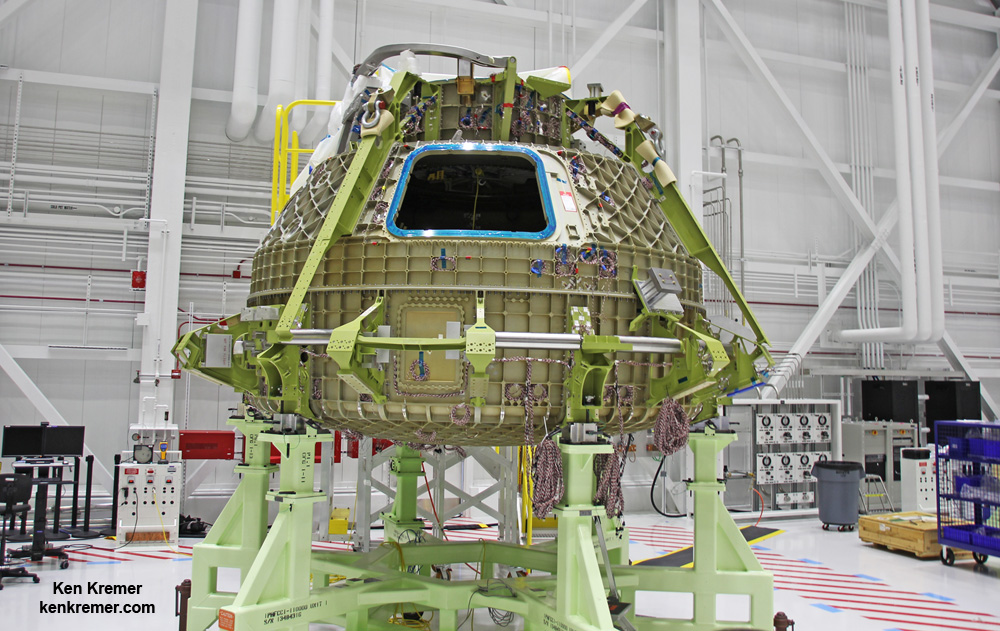 Hull of the Boeing CST-100 Starliner Structural Test Article
(STA)- the first Starliner to be built in the company's modernized Commercial
Crew and Cargo Processing Facility high bay at NASA's Kennedy Space Center in
Florida. Credit: Ken Kremer/kenkremer.com
The SpaceX Crew Dragon as well as
the Boeing Starliner capsules are both being developed under multi-year,
multi-Billion Dollar contracts with NASA's Commercial
Crew Program (CCP) that began in 2010 and were awarded back in September
2014 worth 6.8 $Billion.


Like the Cargo Dragon, the Crew
Dragon will launch on a SpaceX Falcon 9 but in contrast will utilize the most
recent Block 5 upgrade variant.


The first of SpaceX's space-worthy
Crew Dragon spacecraft that will be launched on its maiden unpiloted test
flight has just at last arrived at Cape Canaveral in mid-July to begin a period
of critical testing after years of painstaking research & development &
manufacturing – thereby achieving a significant milestone on the path to flight
– after multiple lengthy delays.
Both vehicles have suffered
repeated postponements to their maiden launch schedules.
Until yesterday, NASA
said the crewed flight would take place by the end of 2018 for both firms.
Those dates have now been adjusted to mid-2019 for both firms.
In fact Boeing
experienced as issue with the abort motor during a recent ground test that will
cause some delays- see my upcoming story.

Following the forced retirement
of NASA's Space Shuttle Program in July 2011 that can be directly traced back to
a lack of funding from both political parties in Congress every American
astronaut since than has had to fly to space on Russian Soyuz capsules.
The current cost is
$80 million per Soyuz seat.
"NASA's

Commercial Crew Program

is
working with the American aerospace industry as companies develop and operate a
new generation of spacecraft and launch systems designed to carry crews safely
to and from low-Earth orbit. The Starliner and Crew Dragon will
launch American astronauts on American-made spacecraft from
American soil to the International
Space Station for the first time since NASA retired its Space
Shuttle Program in 2011."
"Commercial transportation to and from the space
station will enable expanded station use, additional research time and
broader opportunities of discovery aboard the orbiting laboratory. The station
is critical for NASA to understand and overcome the challenges of long-duration
spaceflight, and necessary for a sustainable presence on the Moon and missions
deeper into the solar system, including Mars."
Watch for Ken's continuing onsite coverage of NASA, SpaceX, ULA,
Boeing, Lockheed Martin, Orbital ATK and more space and mission reports direct
from the Kennedy Space Center, Cape Canaveral Air Force Station, Florida and
Wallops Flight Facility, Virginia.

Stay tuned here for Ken's continuing Earth and Planetary science and human
spaceflight news:

www.kenkremer.com


–www.spaceupclose.com – twitter @ken_kremer – email: ken at kenkremer.com
Ken's upcoming outreach events/photos for sale:
Learn more about the upcoming
upcoming/recent

SpaceX Merah Putih & Telstar 19 launches, NASA/ULA
Parker Solar Probe, SpaceX Falcon 9/CRS-15 launch to ISS,

SES-12 comsat
launch,
Falcon Heavy, TESS, GOES-S, Bangabandhu-1,
NASA missions, ULA Atlas & Delta launches, SpySats and more at Ken's
upcoming outreach events at Kennedy Space Center Quality Inn, Titusville, FL,
evenings:
Aug
4-6: "SpaceX Telstar 19 &
Merah Putih Launches, NASA/ULA Parker Solar Probe SpaceX
Dragon CRS-15 resupply launch to ISS, SpaceX Falcon Heavy & Falcon 9
launches, SpaceX SES-12 comsat. ULA Atlas USAF SBIRS GEO 4 missile warning
satellite, SpaceX GovSat-1, CRS-14 resupply launches to the ISS, NRO & USAF
Spysats, SLS, Orion, Boeing and SpaceX Commercial crew capsules, OSIRIS-Rex,
Juno at Jupiter, InSight Mars lander, Curiosity and Opportunity explore Mars,
NH at Pluto and more," Kennedy Space Center Quality Inn, Titusville, FL, evenings. Photos for sale