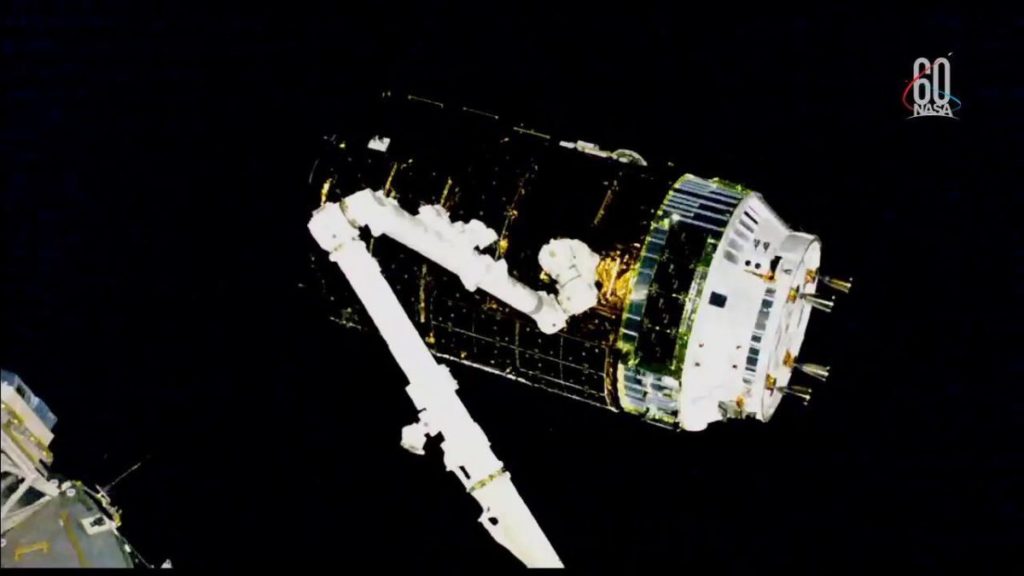 Japan's HTV-7 cargo
ship is pictured shortly after being captured with the Canadarm2 robotic arm by
NASA astronauts on September 27, 2018. Credit: ISS
Ken Kremer

—
SpaceUpClose.com
— 3 October 2018
CAPE CANAVERAL,
FL – The rapid pace of comings and goings continue at the International Space
Station (ISS), following the safe arrival of an unmanned Japanese cargo ship just
days ago and the imminent departure of a Soyuz manned capsule tomorrow – all amidst
the 60th birthday of NASA this week on Oct. 1.
After arriving in the vicinity of the ISS, the
Japan Aerospace Exploration Agency's H-II Transfer Vehicle (HTV-7) was grappled
at 7:34 a.m. EDT, Thursday, Sept. 27 by Canadarm2 robotic arm operated by Expedition
56 Commander

Drew Feustel

and Flight Engineer

Serena Auñón-Chancellor

of NASA.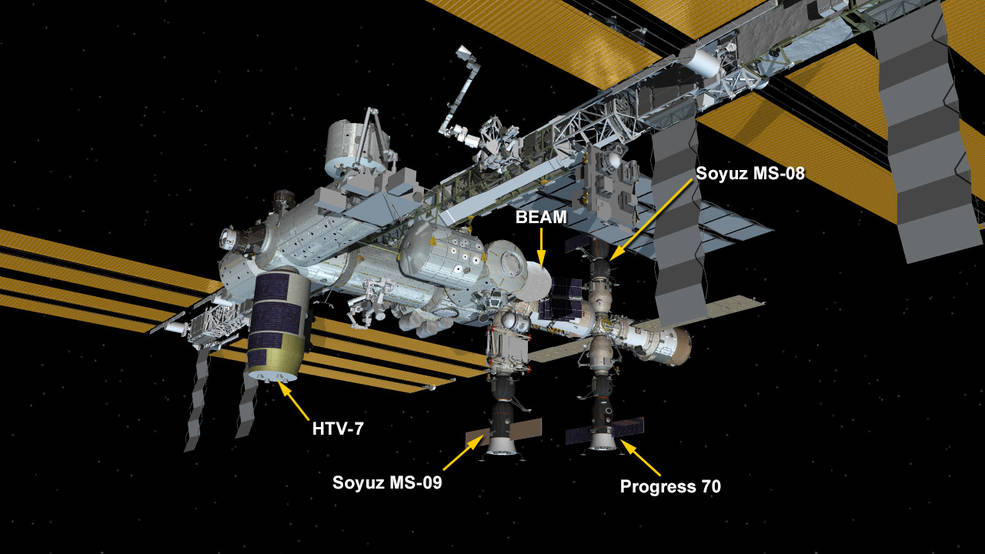 Sept. 27, 2018:
International Space Station Configuration. Four spaceships are parked at the
space station including the HTV-7 and Progress 70 resupply ships and the Soyuz
MS-08 and MS-09 crew ships.

Credit: NASA
The two vehicles were
flying 250 miles above the north Pacific Ocean
at the time of capture.
Ground controllers then took over and
maneuvered the 57 foot long (19 meter) arm to berth the cargo freighter at the Earth-facing
port of the Harmony module at 10:09 a.m. EDT.
The HTV-7 vehicle was loaded with more than 5
tons of supplies and science experiments as well as
water, spare parts.

Also
aboard are six new lithium-ion batteries to continue upgrades to the station's
power system.
Science on
board includes a new sample holder for the Electrostatic Levitation Furnace (
JAXA-ELF
), a
protein crystal growth experiment at low temperatures (
JAXA LT PCG
), an
investigation that looks at the effect of microgravity on bone marrow (
MARROW
), a
Life Sciences Glovebox
,
and additional
EXPRESS Racks
.
The HTV vehicle is also known as 'Kounotori' whose
name means "white stork."
The cargo spacecraft began its space voyage
with a launch by the Japanese H-IIB rocket at 1:52 p.m. EDT
(2:52 a.m. Japan time) on Saturday, Sat. 22 from the Tanegashima
Space Center in southern Japan.
The six-member
Expedition 56 crew gathers together for a team portrait. In the front row, from
left, are NASA astronauts Serena Auñon-Chancellor, Commander Drew Fuestel and
Ricky Arnold. Behind them, from left, are Roscosmos cosmonauts Sergey Prokopyev
and Oleg Artemyev. At the top of the group is astronaut Alexander Gerst of ESA
(European Space Agency).
Meanwhile the next station crew swap is about
to happen.
All this activity
enables hundreds of science and research experiments and showcases the broad multinational
human spaceflight effort ongoing in Earth orbit that will one day lead to human
journeys back to the Moon and Mars starting in a few short years in the next
decade.
Three station crewmates are set to leave the
station in a few hours after a six and a half month stay.
Station commander
Drew Feustel
is preparing to return to
Earth Thursday with two of his crewmates. This is all preplanned and comes
despite a busy schedule of science and maintenance aboard the orbital lab.
He will be accompanied Cosmonaut

Oleg Artemyev
who is
packing the Soyuz MS-08
spacecraft today that he will pilot back to Earth flanked by Feustel and NASA
astronaut
Ricky Arnold
. The trio is due to
land in Kazakhstan
at 7:45 a.m. after 197 days
in space.
They will close the
Soyuz hatches close at 12:55
a.m EDT, Oct 4.
The trio will undock Thursday at 3:57 a.m. in
their Soyuz MS-08 crew ship.
They leave behind a three person crew
comprising German astronaut Alexander Gerst (ESA), who takes command of the ISS
and begins Expedition 57 with Flight Engineers
Serena Auñón-Chancellor
(NASA) and
Sergey
Prokopyev
(Roscosmos).
All these events will be carried live on NASA TV.
"NASA TV's live coverage of the
Expedition 56 departure activities
begins Thursday, Oct. 4 at 12:30 a.m. EDT when the
homebound trio says goodbye and the Soyuz hatches close at 12:55 a.m. NASA TV
will come back on air at 3:30 a.m. for the undocking and then return at 6:30
a.m. for the deorbit burn and landing coverage."
NASA TV Summary: Thursday, Oct. 4
12:30 a.m. – Farewell and hatch closure coverage (hatch closure at 12:55 a.m.)
·
3:30 a.m. – Undocking coverage (undocking scheduled for 3:57 a.m.)
·
6:30 a.m. – Deorbit burn and landing coverage (deorbit burn at 6:51 a.m. and landing at 7:45 a.m.)
This is Gerst's second stay aboard the space
station and his first command. He is the second European to command the outpost
after Belgian astronaut

Frank De Winne

.
The next crew launch is slated for Oct. 11
with a two man Russian/American crew comprising
Alexey
Ovchinin
of Roscosmos and
Nick Hague
of
NASA in the Soyuz MS-10 capsule – which will boost the Expedition 57 crew to 5.
Watch
for Ken's continuing onsite coverage of NASA, SpaceX, ULA, Boeing, Lockheed
Martin, Northrup Grumman (Orbital ATK) and more space and mission reports
direct from the Kennedy Space Center, Cape Canaveral Air Force Station, Florida
and Wallops Flight Facility, Virginia.
Stay tuned here for Ken's continuing Earth and Planetary science and human
spaceflight news:

www.kenkremer.com


–www.spaceupclose.com – twitter @ken_kremer – email: ken at kenkremer.com
Dr.
Kremer is a research scientist and journalist based in the KSC area.
………….
Ken's photos are for sale and he is available for lectures and outreach events