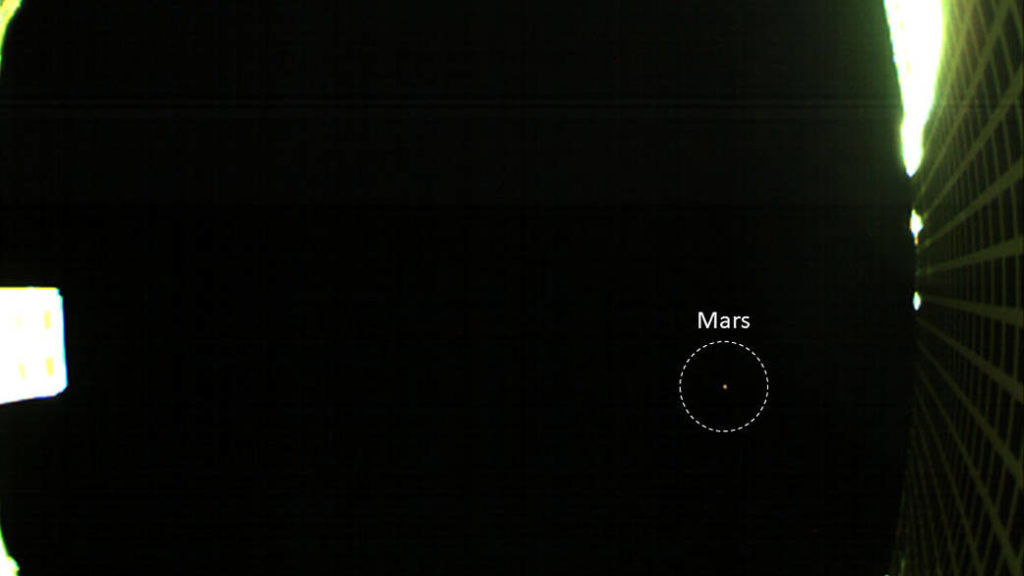 One of NASA's twin MarCO
spacecraft took this image of Mars on October 2, 2018 — the first time a
CubeSat, a kind of low-cost, briefcase-sized spacecraft — has done so.

Credits: NASA/JPL-Caltech
Ken Kremer

—
SpaceUpClose.com
—

22 October 2018
CAPE CANAVERAL,
FL
–

NASA's first ever interplanetary cubesats – named MarCO- have snapped an image
of Mars for the first time ever! – while enroute to
the fourth rock from the sun!
Although tiny by
spacecraft standards, it's a big leap in the demonstrated capabilities of
cubesats which heretofore have only orbited Earth. They are technology
demonstration experiments who's main goal is to try and prove they can survive
the long trip to Mars and transmit data and pave the way for future interplanetary
cubesats to explore the solar
system.
The image released today
by NASA was transmitted by one of the two identical briefcase sized cubesats

–

MarCO-A and MarCO-B – l

aunched to the Red Planet as part of the agency's InSight Mars lander mission which
is

nearing its landing culmination on Nov. 26.
The image, shown above, was snapped on Oct. 3


by MarCO-B

and is "the first image of the Red Planet ever produced by this class of tiny,
low-cost spacecraft," NASA said in a statement.
It

was
taken from a distance of roughly 8 million miles (12.8 million kilometers) from
Mars by the wide angle camera on MarCO which stands for Mars Cube One.
An annotated version is shown below.
One of NASA's twin MarCO
spacecraft took this image of Mars on October 2, 2018 — the first time a
CubeSat, a kind of low-cost, briefcase-sized spacecraft — has done so.

Credits: NASA/JPL-Caltech
The twin CubeSats are officially called MarCO-A
and MarCO-B but nicknamed "EVE" and "Wall-E" by their
engineering team

after characters in the PIXAR film 'Wall-E'.
The successful

camera image
was taken looking straight out from the deck of the CubeSat after several test
images.
Parts of the high-gain antenna are visible. Mars appears as a
small red dot at the right of the image looking like a 'red pinprick'.
The MarCO team "hopes to produce more images as
the CubeSats approach Mars ahead of Nov. 26. That's when they'll demonstrate
their communications capabilities while NASA's InSight spacecraft attempts to
land on the Red Planet. (The InSight mission won't rely on them, however;
NASA's Mars orbiters will be relaying the spacecraft's data back to Earth.)"
"We've been waiting six months to get to
Mars," said Cody Colley, MarCO's mission manager at JPL, in a statement.
"The cruise phase of the mission is always
difficult, so you take all the small wins when they come. Finally seeing the
planet is definitely a big win for the team."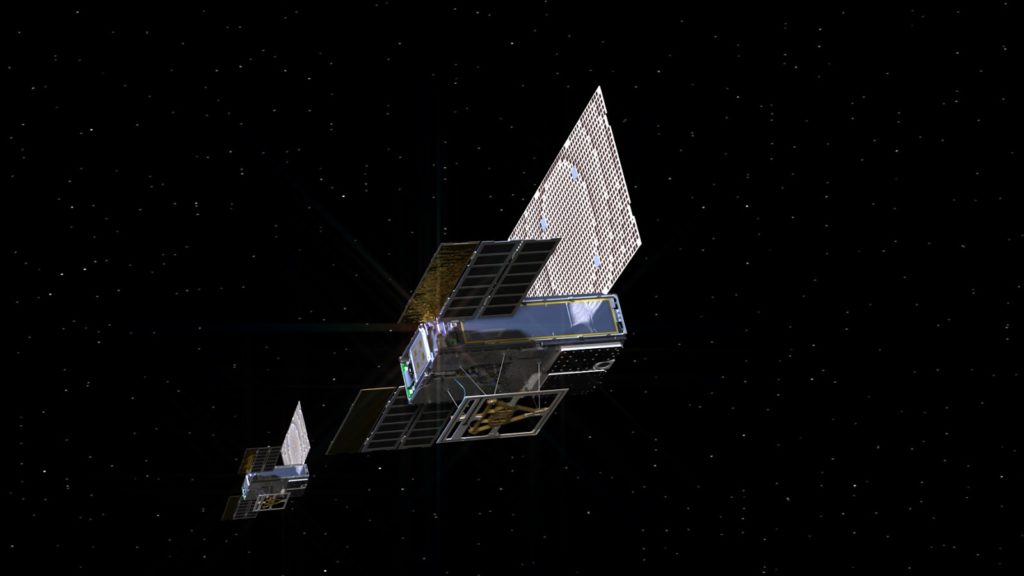 An artist's rendering of
the twin Mars Cube One (MarCO) spacecraft as they fly through deep space. Image
credit: NASA/JPL-Caltech
NASA's
Interior Exploration using Seismic Investigations, Geodesy and Heat Transport
(InSight) Mars mission launched on a United Launch
Alliance Atlas V rocket in the dead of night at 7:05 a.m. EDT (4:05 am PDT) May 5, 2018 from
Vandenberg Air Force Base, California.
Nearly
7 months after liftoff the landing is
scheduled for Nov. 26, 2018 at


Elysium Planitia at

around
3 p.m. EST (noon PST).

The location is about 375 miles away from Gale Crater –
where NASA's Curiosity rover landed in 2012.
MarCO A and B are the first ever interplanetary
cubesats launching beyond Earth orbit and towards the Red Planet. They
are technology demonstration experiments. If they survive the trip they
will relay EDL data from InSight as it plummets down to the Red Planet.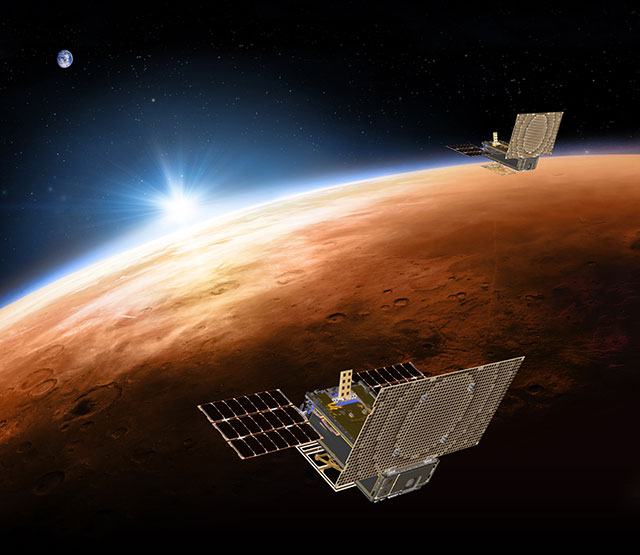 An artist's rendering of the twin Mars Cube One
(MarCO) spacecraft arriving at Mars. Image credit: NASA/JPL-Caltech
Each of the two briefcase sized MarCO cubesat spacecraft
has a mass of 30 pounds (13.5 kilograms).


The MarCO design is a six-unit CubeSat. Each
of the two spacecraft has a stowed size of about 14.4 inches (36.6 centimeters)
by 9.5 inches (24.3 centimeters) by 4.6 inches (11.8 centimeters).


They were loaded inside dispensers mounted on the aft bulkhead carrier of the Centaur
upper stage, not far from the engine. They were successfully deployed about 30 minutes after InSight
separated from the Centaur, and about 1 minute apart after the stage did a 180
degree roll so they would not collide with one another – roughly 1 hour and 28 minutes after
launch.


If all goes well they could potentially pass
the Red Planet at about 2,175 miles (3,500 kilometers) away just as InSight is
landing.


"One could potentially receive transmissions
from InSight and relay status information to Earth about the lander's descent
and touchdown," says NASA.


Watch for Ken's
continuing onsite coverage of NASA, SpaceX, ULA, Boeing, Lockheed Martin,
Orbital ATK and more space and mission reports direct from the Kennedy Space
Center, Cape Canaveral Air Force Station, Florida and Wallops Flight Facility,
Virginia.


Stay tuned here for Ken's continuing Earth and
Planetary science and human spaceflight news: www.kenkremer.com
–www.spaceupclose.com – twitter @ken_kremer – email: ken at kenkremer.com


Dr.
Kremer is a research scientist and journalist based in the KSC area.
………….


Ken's photos are for sale and he is available for lectures and outreach events