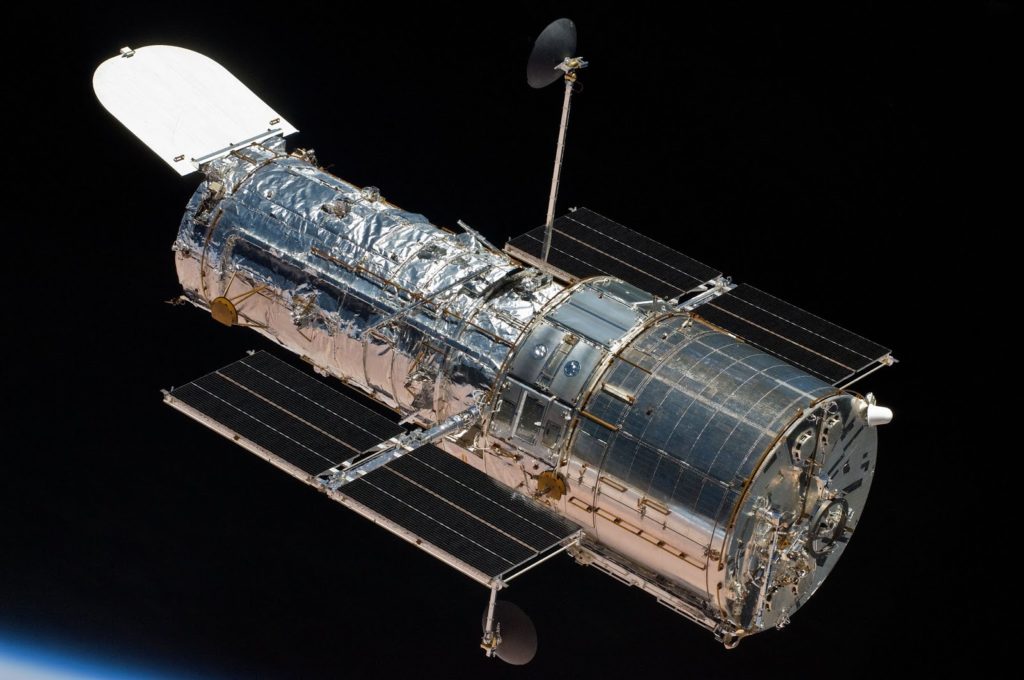 NASA's Hubble Space
Telescope in Earth orbit.

Credit: NASA
Ken Kremer
—
SpaceUpClose.com
—

9 October 2018
TITUSVILLE, FL – NASA's
premiere space observatory, the Hubble Space Telescope, entered safe mode after
suffering a serious glitch with one its onboard gyroscopes this past Friday,
Oct. 5.

One of the current gyros used to
aim and stabilize the telescope has failed.
"
Hubble
entered safe mode after one of the three gyroscopes
(gyros) actively being used to point and steady
the telescope failed," NASA announced in a statement yesterday, Oct. 8.
Hubble is equipped
with a six gyroscopes altogether and they were all replaced during the final
servicing mission (SM-4) by spacewalking Space Shuttle astronauts during five EVA's on
the STS-125 mission launched in 2009.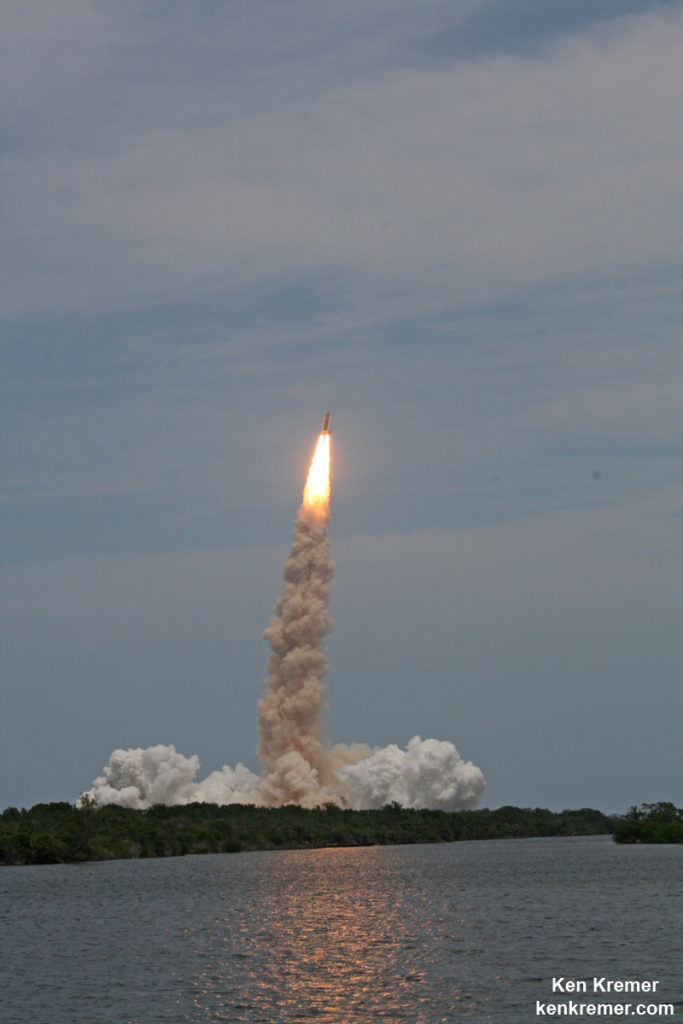 Launch of STS-125 and orbiter Atlantis on the final Space
Shuttle mission (SM-4) to repair and upgrade NASA's Hubble Space Telescope on 11
May 2009. Credit: Ken Kremer/kenkremer.com/spaceupclose.com
The first indication of a problem came over the weekend in a
series of tweets by Dr. Rachel Osten, Deputy
Mission Head for the Hubble Space Telescope at the Space Telescope Science
Institute, on Oct. 7.


"It's true. Very
stressful weekend. Right now HST is in safe mode while we figure out what to
do. Another gyro failed. First step is try to bring back the last gyro, which
had been off, and is being problematic."


However, officials
expect Hubble to resume normal science observations soon as the operations team
works to diagnose the problem, since the telescope is equipped with back up
gyros.


"NASA is working to resume science operations of
the Hubble Space Telescope after the spacecraft entered safe mode on Friday,
October 5, shortly after 6:00 p.m. EDT. Hubble's instruments still are
fully operational and are expected to produce excellent science for years
to come."


Hubble is programmed to enter safe mode and "a
stable configuration until ground control can correct the issue
and return the mission to normal operation".


Normally Hubble operates with three of the six
gyros while holding the others in reserve to conserve them for the future and
extend Hubble's lifetime to the maximum extent possible.


However, engineers have developed procedures to continue
making productive observation with just one.


To date 2 of the 6 gyros have completely failed.
This would make for three if it cant be revived.


The remaining three are all enhanced gyros and redesigned
for longer life – thus the hope for many years of productive science yet to
come.


NASA says that the failed gyro "had been
exhibiting end-of-life behavior for approximately a year, and its failure was
not unexpected; two other gyros of the same type had already failed. The
remaining three gyros available for use are technically enhanced and therefore
expected to have significantly longer operational lives."


"Two of those enhanced gyros are currently
running. Upon powering on the third enhanced gyro that had been held in
reserve, analysis of spacecraft telemetry indicated that it was not performing
at the level required for operations. As a result, Hubble remains in safe mode.
Staff at NASA's Goddard Space Flight Center and the Space Telescope Science
Institute are currently performing analyses and tests to determine what options
are available to recover the gyro to operational performance."


"Science operations with Hubble have been
suspended while NASA investigates the anomaly. An Anomaly Review Board,
including experts from the Hubble team and industry familiar with the design
and performance of this type of gyro, is being formed to investigate this issue
and develop the recovery plan. If the outcome of this investigation results in
recovery of the malfunctioning gyro, Hubble will resume science operations in
its standard three-gyro configuration."


"If the outcome indicates that the gyro is not
usable, Hubble will resume science operations in an already defined
"reduced-gyro" mode that uses only one gyro. While reduced-gyro mode offers
less sky coverage at any particular time, there is relatively limited impact on
the overall scientific capabilities."
STS-125 astronaut crew during walkout to orbiter Atlantis
on the final Space Shuttle mission (SM-4) to repair and upgrade NASA's Hubble
Space Telescope on 11 May 2009. Credit: Ken
Kremer/kenkremer.com/spaceupclose.com
Watch for Ken's
continuing onsite coverage of NASA, SpaceX, ULA, Boeing, Lockheed Martin,
Orbital ATK and more space and mission reports direct from the Kennedy Space
Center, Cape Canaveral Air Force Station, Florida and Wallops Flight Facility,
Virginia.


Stay tuned here for Ken's continuing Earth and Planetary science
and human spaceflight news: www.kenkremer.com –www.spaceupclose.com –
twitter @ken_kremer – email: ken at kenkremer.com


Dr. Kremer is a research
scientist and journalist based in the KSC area.


………….


Ken's photos are for sale and he is available for lectures and outreach events
Ken's upcoming outreach events/photos for
sale:
Learn more about the upcoming upcoming/recent ULA/USAF AEHF-4 milsatcom, NASA/ULA Parker Solar
Probe, SpaceX Merah Putih & Telstar 18 & 19 launches, SpaceX Falcon
9/CRS-15 launch to ISS, Falcon Heavy, NASA TESS, GOES-S, NASA missions,
ULA Atlas & Delta launches, SpySats and more at Ken's upcoming outreach
events at Kennedy Space Center Quality Inn, Titusville, FL, evenings.
Oct 13, 15-17
: "ULA/USAF AEHF-4 milsatcom, NASA/ULA Parker
Solar Probe launch, SpaceX Merah Putih & Telstar 18v & 19v Launches,
SpaceX Dragon CRS-15 resupply launch to ISS, SpaceX Falcon Heavy & Falcon 9
launches, SpaceX SES-12 comsat. ULA Atlas USAF SBIRS GEO 4 missile warning
satellite, NRO & USAF Spysats, SLS, Orion, Boeing and SpaceX Commercial
crew capsules, OSIRIS-Rex, Juno at Jupiter, InSight Mars lander, Curiosity and
Opportunity explore Mars, NH at Pluto and more," Kennedy Space Center Quality
Inn, Titusville, FL, evenings. Photos for sale