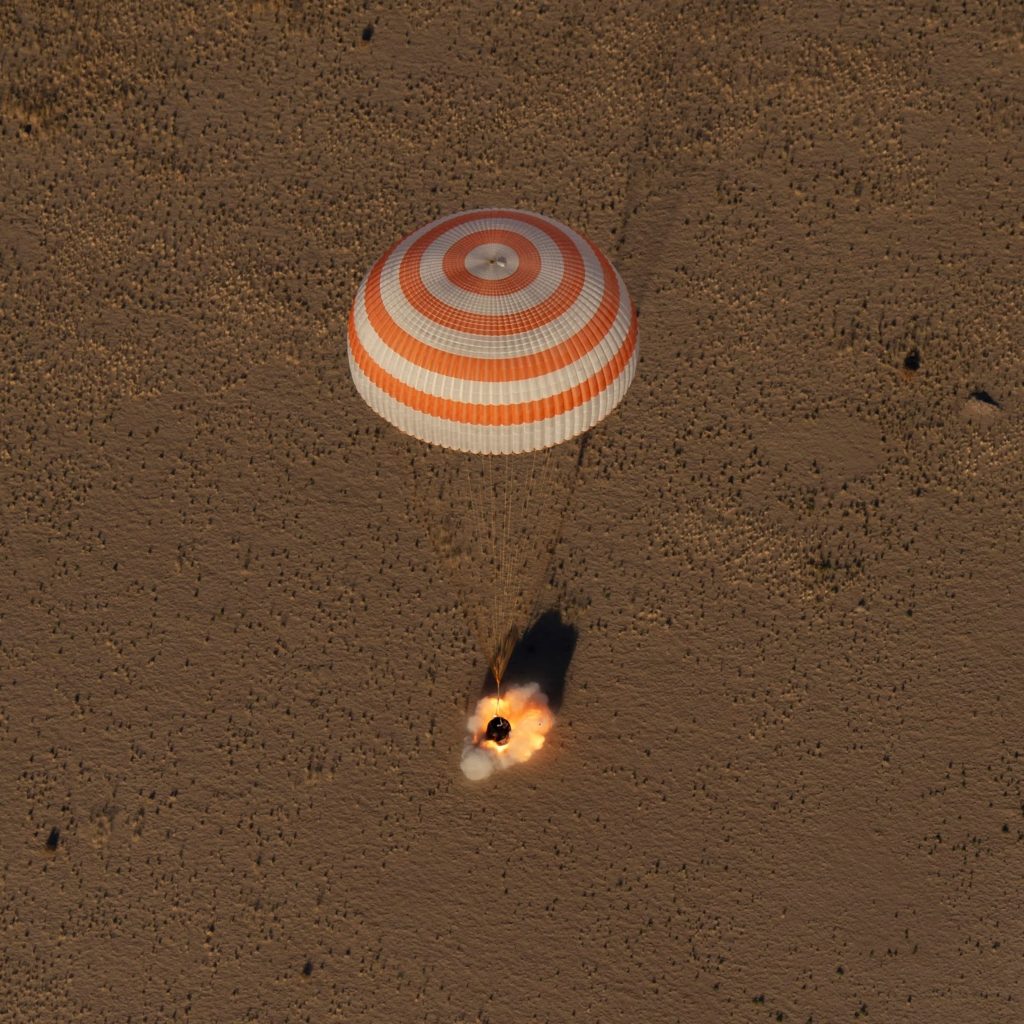 The Soyuz MS-08
spacecraft is seen as it lands with Expedition 56 Commander Drew Feustel and
Flight Engineer Ricky Arnold of NASA, along with Flight Engineer and Soyuz
Commander Oleg Artemyev of Roscosmos near the town of Zhezkazgan, Kazakhstan,
Oct. 4, 2018. Feustel, Arnold, and Artemyev spent 197 days in space where they
served as members of the Expedition 55 and 56 crews onboard the International
Space Station.

Credits: NASA/Bill Ingalls
Ken Kremer

—
SpaceUpClose.com
— 4 October 2018
CAPE CANAVERAL,
FL – After a productive 197 days in space, a Russian/American trio of cosmonauts and astronauts departed the International Space Station (ISS) early today, Oct.
4, and landed safely back on Earth.
Seated inside their Russian Soyuz MS-08 capsule, the trio comprising
NASA astronauts

Drew Feustel


and

Ricky Arnold

,
and cosmonaut

Oleg Artemyev


of the Russian space agency Roscosmos landed at 7:44 a.m. EDT (5:44 p.m. in
Kazakhstan)

Thursday, Oct. 4,

southeast of the remote town of Dzhezkazgan in Kazakhstan.
Their soft touchdown
in Kazakhstan capped the conclusion to the 197 day long Expedition 56 mission
to the orbiting research complex.
"Three members of the Expedition 56 crew
returned safely to Earth Thursday from the International Space Station, where
they spent months providing hands-on support for scientific research in
low-Earth orbit, working to keep the orbiting laboratory fully operational, and
performing three spacewalks," said NASA.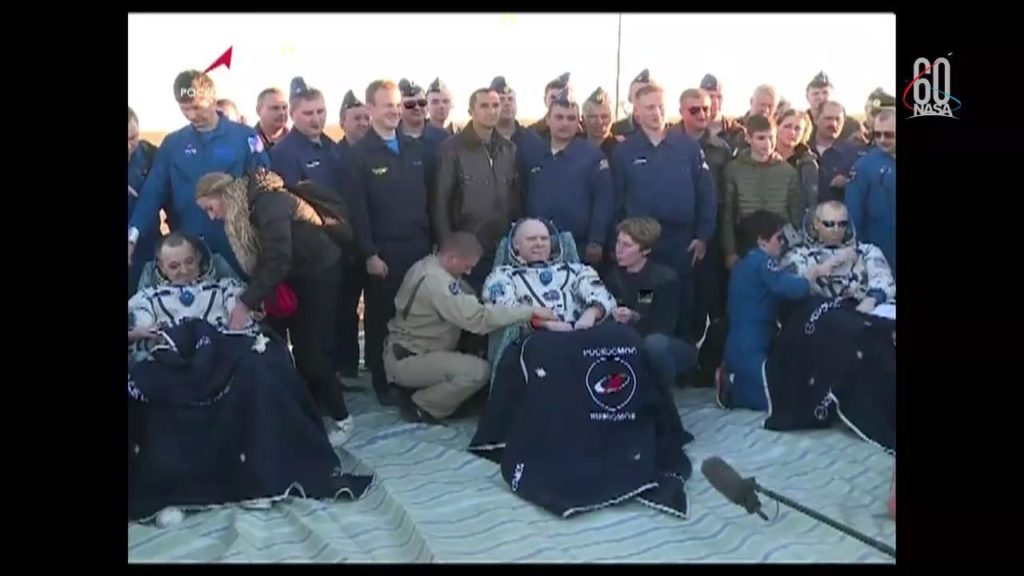 Three members of the
Expedition 56 crew, NASA astronauts Drew Feustel and Ricky Arnold, and
cosmonaut Oleg Artemyev of the Russian space agency Roscosmos, returned to
Earth after months abroad the International Space Station and landed safely at
7:44 a.m. EDT (5:44 p.m. in Kazakhstan) on Oct. 4, 2018 southeast of the remote
town of Dzhezkazgan in Kazakhstan.

Credits: NASA
"The crew completed hundreds of experiments
during its 197-day expedition in space. Highlights included an investigation to
study ultra-cold
quantum gases using the first commercial
European facility for microgravity research, and a system that uses
surface forces to accomplish liquid-liquid
separation."
"The crew also welcomed five

cargo spacecraft

,
which delivered several tons of supplies and research experiments. The 14th
SpaceX Dragon flight was the first to arrive at the station, in April, shortly
after the three crew members did, bringing supplies and equipment. It was
followed by the 15th Dragon, which arrived in July with additional supplies.
The ninth Northrop Grumman Cygnus resupply spacecraft arrived in May before the
end of Expedition 55. In August, a Russian Progress completed a record rapid
rendezvous of less than four hours. And, in September, the seventh Japanese
Konotouri cargo craft arrived just a week before the Expedition 56 trio
departed for home."
Members of the ISS Expedition 56 crew landing back on Earth on
Oct. 4, 2018. Credit: Roscosmos
They closed the
Soyuz hatches to the
station at 12:55 a.m. EDT, Oct. 4.
The trio undocked Thursday at 3:57 a.m. in
their Soyuz MS-08 crew ship.
They leave behind a three person crew
comprising German astronaut Alexander Gerst (ESA), who takes command of the ISS
and begins Expedition 57 with Flight Engineers

Serena Auñón-Chancellor

(NASA) and Sergey
Prokopyev (Roscosmos).
All these
events were carried live on NASA TV.
This is Gerst's second stay aboard the space
station and his first command. He is the second European to command the outpost
after Belgian astronaut

Frank De Winne

.
The next crew launch is slated for Oct. 11
with a two man Russian/American crew comprising
Alexey Ovchinin
of Roscosmos and
Nick Hague
of
NASA in the Soyuz MS-10 capsule – which will boost the Expedition 57 crew to
5.
All this activity
enables hundreds of science and research experiments and showcases the broad
multinational human spaceflight effort ongoing in Earth orbit that will one day
lead to human journeys back to the Moon and Mars starting in a few short years
in the next decade.
Watch
for Ken's continuing onsite coverage of NASA, SpaceX, ULA, Boeing, Lockheed
Martin, Northrup Grumman (Orbital ATK) and more space and mission reports
direct from the Kennedy Space Center, Cape Canaveral Air Force Station, Florida
and Wallops Flight Facility, Virginia.
Stay tuned here for Ken's continuing Earth and Planetary science and human
spaceflight news:

www.kenkremer.com

–www.spaceupclose.com – twitter
@ken_kremer – email: ken at kenkremer.com
Dr.
Kremer is a research scientist and journalist based in the KSC area.
………….

Ken's photos are for sale and he is available for lectures and outreach events