This pre-dust storm panoramic mosaic view was one
of the last ones taken by NASA's Opportunity rover and shows the spectacular
view from her approximate current position as of June 2018 after traveling
halfway down the fluid carved slope of Perseverance Valley – while peeing into
the interior of vast Endeavour Crater.

This navcam camera photo mosaic was assembled by Ken
Kremer and Marco Di Lorenzo from raw images taken on Sol 5074

(3 May 2018) and colorized. Credit:
NASA/JPL/Cornell/Ken Kremer/kenkremer.com/Marco Di Lorenzo
Ken Kremer — SpaceUpClose.com — 29 October 2018


CAPE CANAVERAL,
FL – With the famous but aged solar-powered Opportunity Mars rover "still silent" over 4 months after a global dust
storm interrupted all communications, NASA is focusing resources on the imminent arrival of InSight – its next Red Planet mission scheduled to land in 4 weeks –
just days after Thanksgiving.


"No word back
from Mars from Opportunity," NASA Chief Scientist Jim Green told Space UpClose today
Oct. 29 in an up to the minute report – confirming the unfortunate reality of continuing
dead silence.


Not a chirp has
been heard from the nearly 15 year old gold cart-sized Red Planet robot since the last signal – and sign of life
– was received on June 10.


"Still
No Signal From Opportunity" the JPL (Jet Propulsion Laboratory) team – which
manages the mission for NASA – wrote in the latest mission status update.


Thus NASA is marshalling its forces towards InSight –
speeding to Mars and a 'do or die' landing on Nov. 26. There are no second
chances or scrub turnarounds.


"We have to turn our attention soon to safely
landing InSight," Green told me.


"That has to be our top
priority!"


NASA is maximizing the chances for a successful
touchdown of this crucial mission which will listen for the 'heartbeat' of the Red
Planet.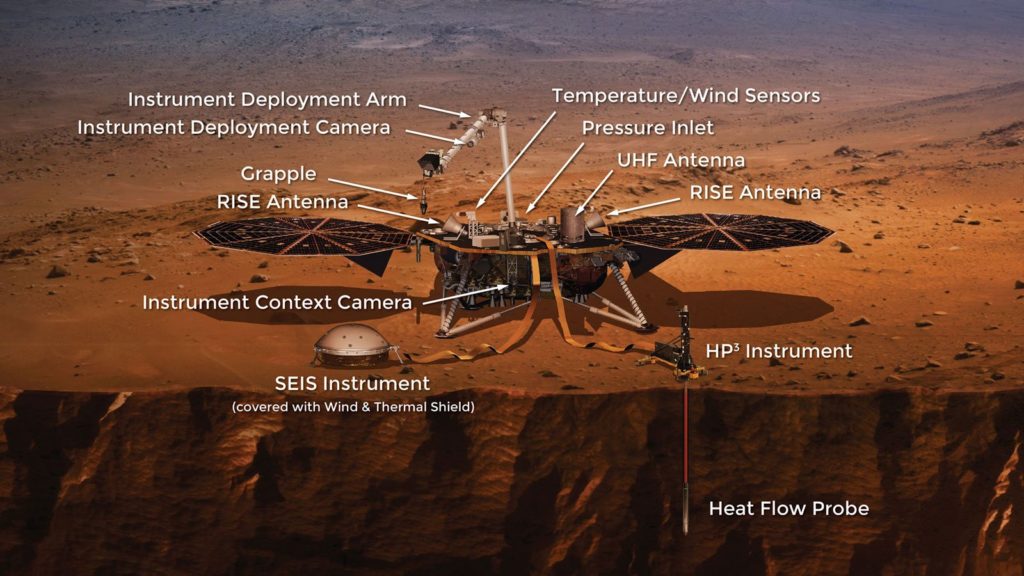 Artist's rendering annotated of the NASA's Interior Exploration using Seismic
Investigations, Geodesy and Heat Transport (InSight) lander on Mars launched on May 5, 2018 from Vandenberg Air Force Base, Calif. Credits: NASA
Simultaneously NASA

is not forgetting about Opportunity –

will also keep listening for signals
because a potentially favorable "w
indy period on Mars — known to Opportunity's team as
"dust-clearing season" — occurs in the November-to-January time
frame and has helped clean the rover's panels in the past.
"
"After a review of the
progress of the listening campaign, NASA will continue its current strategy for
attempting to make contact with the Opportunity rover for the foreseeable
future. Winds could increase in the next few months at Opportunity's location
on Mars, resulting in dust being blown off the rover's solar panels. The agency
will reassess the situation in the January 2019 time frame,"
NASA said in a new statement issued today.

Opportunity rover looks south
from the top of Perseverance Valley along the rim of Endeavour Crater on Mars
in this partial self portrait including the rover deck and solar panels.
Perseverance Valley descends from the right and terminates down near the crater
floor. This navcam camera photo mosaic was assembled from raw images taken on
Sol 4736 (20 May 2017) and colorized. Credit: NASA/JPL/Cornell/Marco Di
Lorenzo/Ken Kremer/kenkremer.com
The global
Martian dust storm that gradually encircled the Red Planet started in late May whipping
up dust that blocked Opportunity's solar arrays from generating power and
charging the life-giving batteries – thereby cutting off all communications
with Earth from the essentially dead robot.
Meanwhile the dust finally began to subside in September
when NASA began an active listening campaign scheduled to last 45 days.

NASA has now extended the sweep and beep
campaign while giving "top priority' to ensuring a successful InSight touchdown.
Thus the question
is can she rise from the dead like Lazarus and 'phone home'? Or is she
permanently silenced?
Furthermore Opportunity's current health is
unknown as is the amount of accumulated dust on the solar panels.
The team has been listening and send signals regularly
and multiple times per day – a

process
known as 'sweep and beep' – hoping the six wheeled robot will wake up.
"JPL engineers are
employing a combination of listening and commanding methods in case Opportunity
is still operational," NASA said in a statement.
"It's possible that
a layer of dust deposited on the rover's solar panels by the recent global dust
storm is blocking sunlight that could recharge its batteries. No one can tell
just how much dust has been deposited on its panels."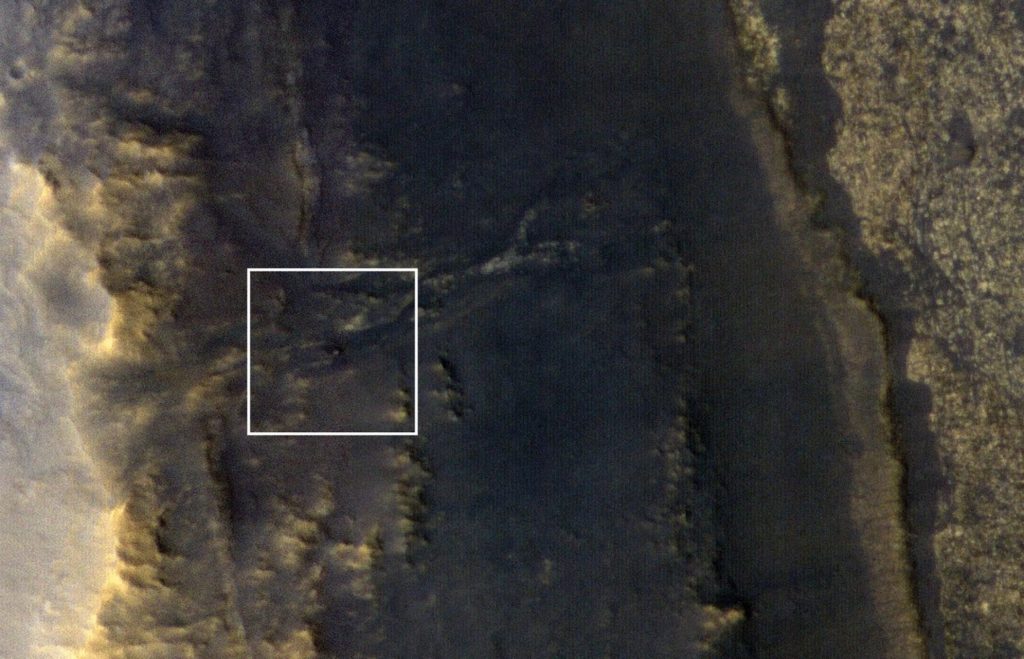 NASA's Opportunity rover appears as a blip in
the center of this square. This image taken on Sept. 20, 2018 by HiRISE, a
high-resolution camera onboard NASA's Mars Reconnaissance Orbiter, shows the
dust storm over Perseverance Valley has substantially cleared. Image Credit: NASA/JPL-Caltech/Univ. of Arizona
The only good
news is that NASA's long-lived Opportunity rover finally emerged as a tiny blip
in a new view taken from orbit as the global Martian dust storm that encircled
the Red Planet and cut off all communications with Earth since June, gradually
subsides.

The view has clarified just
enough for the golf cart sized robot to at last be seen again.
The HiRISE image, shown herein, was captured from Mars orbit
on Sept. 20, 2018 from an altitude of about 166
miles (267 kilometers) above the Martian surface. The white box marks a
154-foot-wide (47-meter-wide) area centered on the rover which is barely
noticeable as a small whitish splotch against the dark red contours of the Red
Planet.
When the massive planet-encircling dust storm hit Opportunity had
been descending down and exploring Perseverance
Valley located along the eroded western rim of the gigantic 22-km diameter (14
mi) impact crater named Endeavour.
The long lived robot was launched
in 2003, landed in 2004 and has been making breakthrough science and
exploration discoveries regarding flowing liquid water and habitable
environments potentially conducive to life on Mars ever since during its
utterly remarkable 14.5-year-long overland trek across
the 4th planet from the sun.
By June 10 the dust storm grew so
enormously that it covered more than 15.8 million square miles (41 million
square kilometers) – about the area of North America and Russia combined.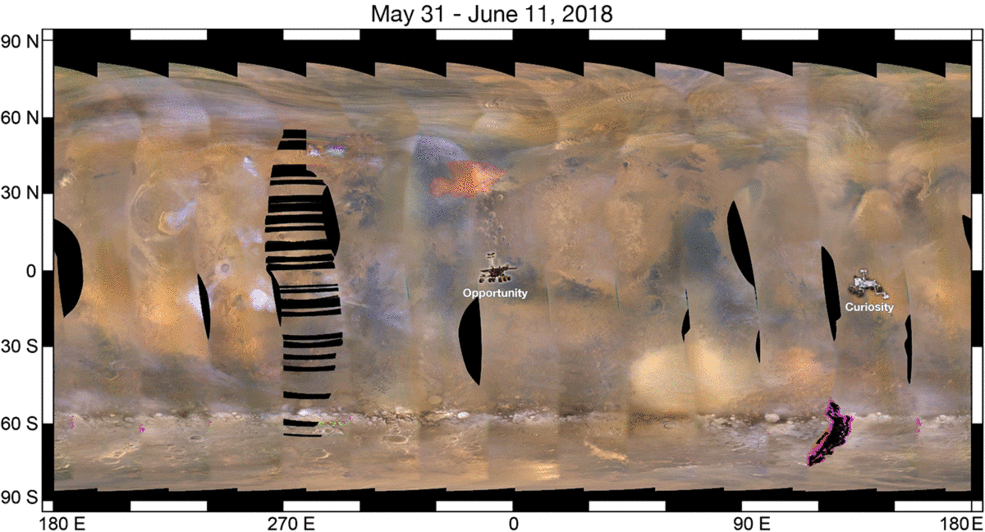 This set of images from NASA's Mars
Reconnaissance Orbiter (MRO) shows a fierce dust storm kicking up on Mars in
June 2018, with NASA's Opportunity and Curiosity rovers on the surface
indicated as icons.
Credits: NASA/JPL-Caltech/MSS
It blocked out so much sunlight
that it effectively turned day into night for Opportunity, which is located
near the center of the storm, inside Mars' Perseverance Valley.


Because the solar
powered Opportunity rover charges her batteries, instruments and heaters via
sunlight impinging on her solar arrays, No sunlight means no production of
electrical power to run her systems and subsystems.


Although Opportunity was only warrantied
for "90 Sols" of operation, it was enjoying its 15th year of
continuous operations on the frigid alien world – until the dust storm!


"Perseverance Valley" is an
ancient fluid-carved valley "possibly water-cut" that could hold groundbreaking
clues to the potential origin and evolution of life on Mars – if it ever
existed.

NASA's Opportunity rover acquired
this Martian panoramic view from a promontory that overlooks Perseverance
Valley below – scanning from north to south. It is centered on due East and
into the interior of Endeavour crater. Perseverance Valley descends from the
right and terminates down near the crater floor in the center of the panorama.
The far rim of Endeavour crater is seen in the distance, beyond the dark floor.
Rover deck and wheel tracks at right. This navcam camera photo mosaic was
assembled from raw images taken on Sol 4730 (14 May 2017) and colorized.
Credit: NASA/JPL/Cornell/Ken Kremer/kenkremer.com/Marco Di Lorenzo
As of today October 29,
2018, long lived Opportunity has survived or experienced over 5250 Sols (or
Martian days) roving the harsh environment of the Red Planet.
Opportunity has taken over
228,771 images and traversed over
28.06 miles (45.16 kilometers)
– more than a marathon.
Watch for Ken's continuing onsite coverage of NASA, SpaceX, ULA,
Boeing, Lockheed Martin,

Northrop Grumman

and more space and mission reports direct
from the Kennedy Space Center, Cape Canaveral Air Force Station, Florida and
Wallops Flight Facility, Virginia.
Stay tuned here for Ken's continuing Earth and Planetary science and human
spaceflight news:

www.kenkremer.com


–www.spaceupclose.com – twitter @ken_kremer – email: ken at kenkremer.com


Dr. Kremer is a research scientist and journalist based in the
KSC area.

Ken's photos are for sale and he is available for lectures and outreach events
14 Year Traverse Map for NASA's Opportunity
rover from 2004 to 2018. This map shows the entire 45 kilometer (28 mi) path the
rover has driven on the Red Planet during over 14.5 Earth years (7.5 Mars
years) and more than a marathon runners distance for over 5250 Sols, or Martian
days, since landing inside Eagle Crater on Jan 24, 2004 – to current location
at Perseverance Valley at the western rim of Endeavour Crater. The rover
reached Perseverance Valley in May 2017 and descended about halfway by June
2018.
Its likely a water carved Martian
gully. Opportunity surpassed Marathon distance on Sol 3968 after reaching 11th
Martian anniversary on Sol 3911. Opportunity discovered clay minerals at
Esperance – indicative of a habitable zone – and searched for more at Marathon
Valley. Credit: NASA/JPL/Cornell/ASU/Marco Di Lorenzo/Ken Kremer/kenkremer.com