Illustration of SpaceX's
Crew Dragon spacecraft launching atop the company's Falcon 9 rocket from
historic Launch Complex 39A at NASA's Kennedy Space Center in Florida, targeted
for January 2019.

Credits: SpaceX
Ken Kremer

—
SpaceUpClose.com &
RocketSTEM
–21 November 2018
CAPE
CANAVERAL,
FL –

NASA and SpaceX announced January
7, 2019 as the targeted launch date for the first unpiloted test flight of the commercial
Crew Dragon spacecraft – under development to once again ferry American astronauts to the International Space Station (ISS) from American soil on American rockets to end our sole reliance on the Russian Soyuz since the forced shutdown of NASA's space shuttles in 2011.
The private SpaceX
crew dragon will fly on the Demo-1 mission to the ISS and was developed under
the auspices of NASA's Commercial Crew Program. Although no
astronauts will be aboard this test flight, two crew members will soar to orbit
on the follow-up Demo-2 test flight several months later in June 2019 – according
to current projections.
"The launch of SpaceX's Falcon 9 rocket and Crew
Dragon spacecraft is targeted for Jan. 7, 2019, from historic Launch
Complex 39A at NASA's Kennedy Space Center in Florida," NASA said in a
statement.
"SpaceX's
Demo-1 uncrewed flight test to the International
Space Station is part of NASA's
Commercial Crew Program."
"Human spaceflight is the core mission of our
company," a
SpaceX spokesperson told Space UpClose in response to the Demo-1 announcement.
"There is nothing more important to SpaceX than this endeavor."
SpaceX's Crew Dragon
undergoes thermal vacuum and acoustic testing to verify flight worthiness at
NASA's Plum Brook Station in Ohio during June 2018.

Credit: NASA/SpaceX
Altogether 4 absolutely critical tests flights involving
NASA's human spaceflight aspirations are planned for 2019.
"Next
year, our
@CommercialCrew
program returns human spaceflight to American soil! Our
partners
@BoeingSpace
and
@SpaceX
are scheduled to launch two uncrewed and two crewed demo
flights, beginning with the
@SpaceX
Crew
Dragon liftoff Jan. 7, 2019," NASA tweeted.
Demo-1 will fly in a fully automated mode with
no astronauts aboard this time. It will also launch on the newest version of
the Falcon 9 – the upgraded Block 5 variant which first launched in May of this
year from Launch Complex 39A.
"This will be the first uncrewed test flight of
the Commercial Crew Program and will provide data on the performance of the
Falcon 9 rocket, Crew Dragon spacecraft, and ground systems, as well as
on-orbit, docking and landing operations," said NASA.
"The flight test also will provide valuable data
toward NASA certifying SpaceX's crew transportation system for carrying
astronauts to and from the space station."
SpaceX will launch the Crew Dragon in Jan 2019 from KSC Launch Complex 39A atop the upgraded Block 5 version of their Falcon 9 rocket – see here in its maiden launch in May 2018. Credit:
Ken Kremer/kenkremer.com/spaceupclose.com
SpaceX expects that the Demo-1 hardware will be completely
tested and ready for liftoff sometime in December – with the launch processing
flow tracking to Jan. 7, 2019 as the earliest possible launch date accounting
for vehicle traffic and station crew availability.


The Falcon
9 Demo-1 liftoff is tracking for approximately 11:57 p.m. EST.


Crew Dragon will dock at the forward facing port
on the Harmony module where NASA's space shuttles previously docked. The docking port has been outfitted with a specially
designed new adapter to accommodate the commercial crew vehicles from SpaceX
and Boeing – known as IDA-2 or International Docking Adapter-2.


IDA-2 was previously launched to the space
station inside the unpressurized trunk section of the SpaceX cargo Dragon and
installed by station crew members using the Canadian build Canadarm-2.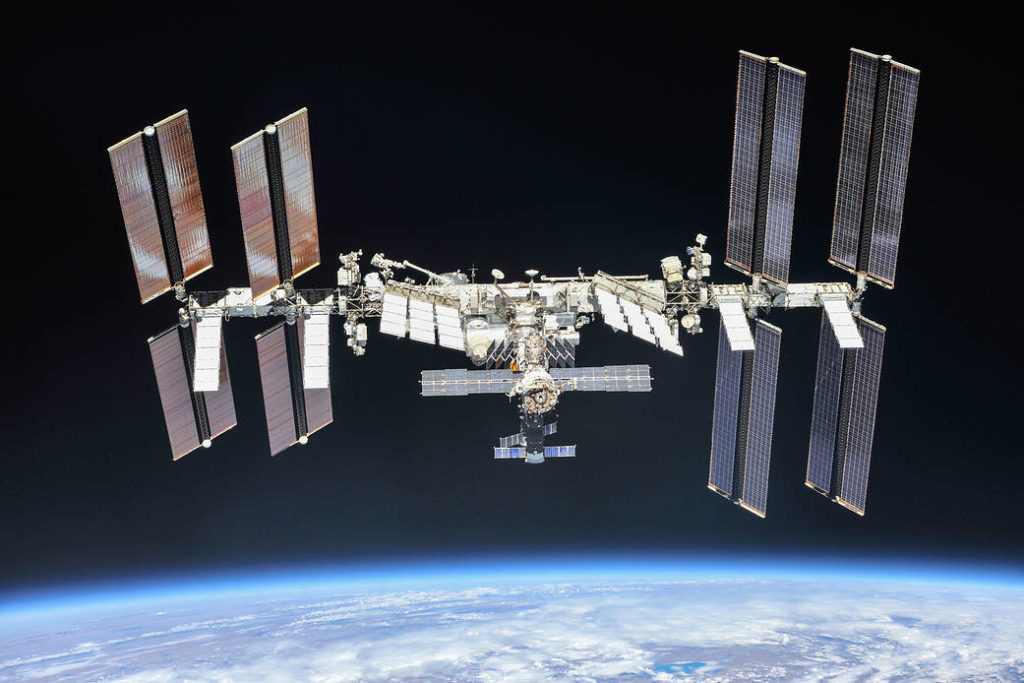 The International Space Station photographed by
Expedition 56 crew members from a Soyuz spacecraft after undocking
on
Oct. 4, 2018.

NASA astronauts Andrew Feustel and Ricky
Arnold and Roscosmos cosmonaut Oleg Artemyev executed a fly around of the
orbiting laboratory to take pictures of the station before returning home after
spending 197 days in space. The station will celebrate the 20th anniversary of
the launch of the first element

Zarya

in
November 2018. Credit: NASA/Roscosmos
If all goes well two
veteran
NASA astronauts Robert Behnken and Douglas Hurley
will fly on the next Crew Dragon mission in mid-2019
named Demo-2 which is slated for the June timeframe.
The SpaceX Crew Dragon as well as
the Boeing Starliner capsules are both

being built and manufactured under

multi-year,
multi-Billion Dollar contracts with NASA's Commercial Crew Program (CCP) that
began in 2010 and were awarded back in September 2014 worth $6.8 Billion.
Under the contracts SpaceX
received $2.6 Billion to build Crew Dragon and Boeing received the lions share
of $4.2 Billion – thus almost 50% more!
Yet Boeing despite its head start
with a century of vaunted aerospace experience and heritage from prior NASA
human spaceflight programs is actually behind SpaceX with respect to targeted launch
dates for both the uncrewed and crewed test flights.
Both vehicles have also suffered
repeated postponements to their maiden launch schedules.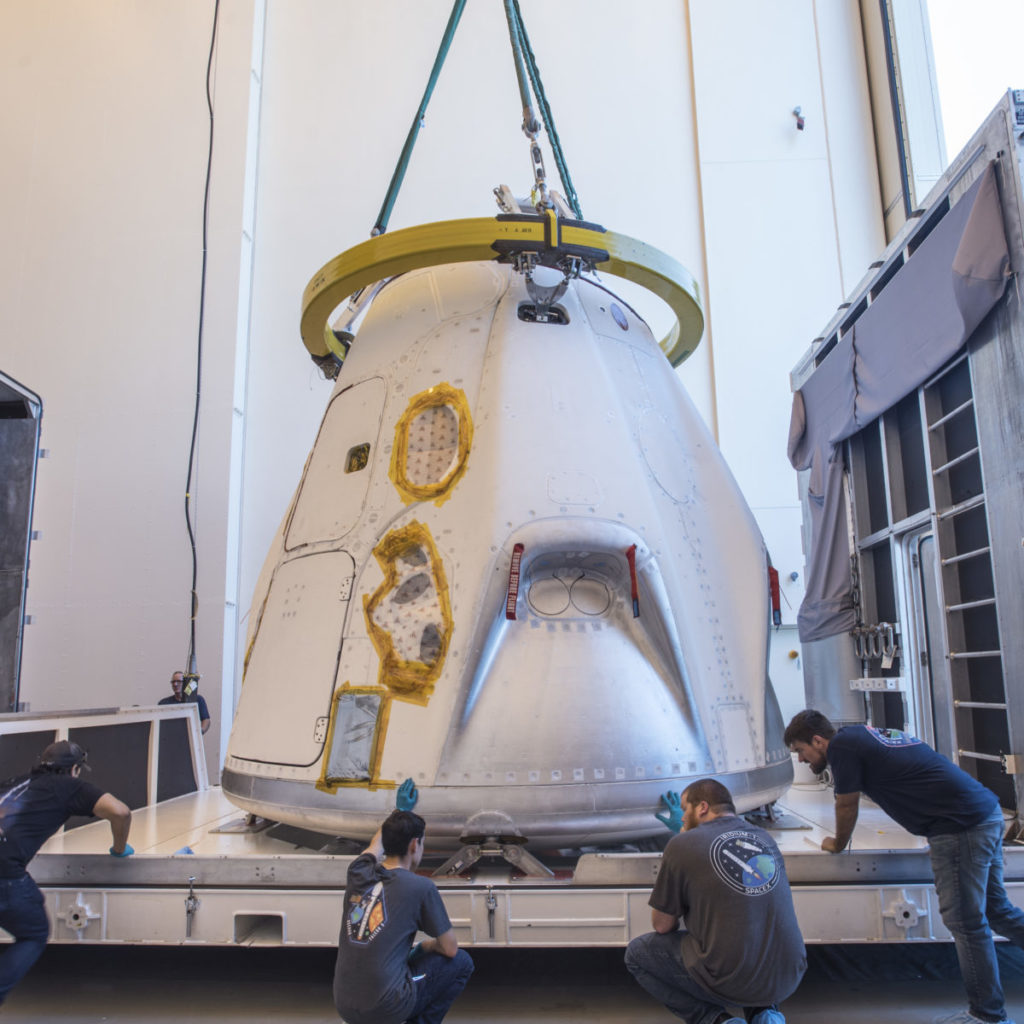 The
SpaceX Crew Dragon spacecraft that will be used on the first uncrewed flight
test, known as Demonstration Mission 1 arrived to Cape Canaveral Air Force
Station in Florida in mid-July 2018 after shipment from NASA's Plum Brook
Station in Ohio. Credit: SpaceX/NASA
Demo-1 is the first of SpaceX's space-worthy
Crew Dragon spacecraft – now nearly ready for launch on its maiden unpiloted test flight to the
space station in roughly 6 weeks time.


The spaceship arrived at Cape
Canaveral earlier this year in July 2018 to begin a period of critical testing
after years of painstaking research & development & manufacturing –
thereby achieving a significant milestone on the path to flight – after multiple
lengthy delays.


This
inaugural SpaceX Crew Dragon arrived in Florida after shipment from NASA's Plum
Brook Station in Ohio where the vehicle underwent rigorous thermal vacuum and
acoustic testing to verify its flight worthiness ahead of
its first flight.


After being manufactured
at SpaceX Headquarters in Hawthorne, CA, the Demo-1 Crew Dragon was shipped to NASA's Plum Brook Station in Ohio for
extensive testing in the facilities In-Space
Propulsion Facility —"the world's only facility capable of testing
full-scale upper-stage launch vehicles and rocket engines under simulated
high-altitude conditions," says NASA.


The goal of NASA's Commercial Crew Program is to restore America's capability to
launch human spaceflight missions
from the U.S. to low Earth orbit (LEO) and the International Space Station
(ISS) on American capsules with American rockets from American soil – and
thereby end our 100% reliance on the Russian Soyuz capsules.


The US became solely dependent
on Russia due to the forced shutdown of NASA's Space Shuttles back in 2011 when
both political parties failed to provide sufficient US Federal budget funding
support to NASA's human spaceflight programs.


Target timelines for return US
human spaceflight capability have been pushed back repeatedly since 2015 due to
endless mindless political squabbling as well as technical challenges.


SpaceX's next launch from
Florida is slated for no earlier than Dec. 4 on the Dragon CRS-16 cargo resupply
mission for NASA to the International Space Station (ISS).


The CRS-16 mission will fly on
the initial cargo version of the SpaceX Dragon spacecraft from Space Launch
Complex-40 on Cape Canaveral Air Force Station, FL.


Watch for Ken's continuing onsite coverage of NASA, SpaceX, ULA,
Boeing, Lockheed Martin, Northrop Grumman and more space and mission reports
direct from the Kennedy Space Center, Cape Canaveral Air Force Station, Florida
and Wallops Flight Facility, Virginia.


Stay tuned here for Ken's continuing Earth and Planetary science
and human spaceflight news: www.kenkremer.com –www.spaceupclose.com – twitter
@ken_kremer – email: ken at kenkremer.com


Dr. Kremer is a research
scientist, journalist and photographer based in the KSC area.
………….

Ken's photos are for sale and he is available for lectures and outreach events