In the Integration
Facility at the Baikonur Cosmodrome in Kazakhstan, Expedition 58 crew members
Anne McClain of NASA (left), Oleg Kononenko of Roscosmos (center) and David
Saint-Jacques of the Canadian Space Agency (right) pose for pictures Nov. 20,
2018 in front of their Soyuz MS-11 spacecraft.

Launch slated for Dec. 3, 2018.

Credits:
NASA/Victor Zelentsov
Ken Kremer

—
SpaceUpClose.com &
RocketSTEM
–2 December 2018
CAPE CANAVERAL, FL – The first launch of a crew aboard a
Russian Soyuz capsule from the Baikonur Cosmodrome since October's failed
launch and harrowing emergency abort less than two months ago is set for liftoff to the International Space
Station (ISS) early Monday morning Dec. 3.
The multinational trio of
Anne McClain

of
NASA, David Saint-Jacques of the Canadian Space Agency, and Oleg
Kononenko of Roscosmos
are slated to launch aboard the Soyuz MS-11
spacecraft Dec. 3 at 6:31 a.m. EST, 1131
GMT

(5:31 p.m. Kazakhstan time).
T
he rocket rolled out to the launch pad No. 1 on Sat. Dec. 1 and is
standing vertical.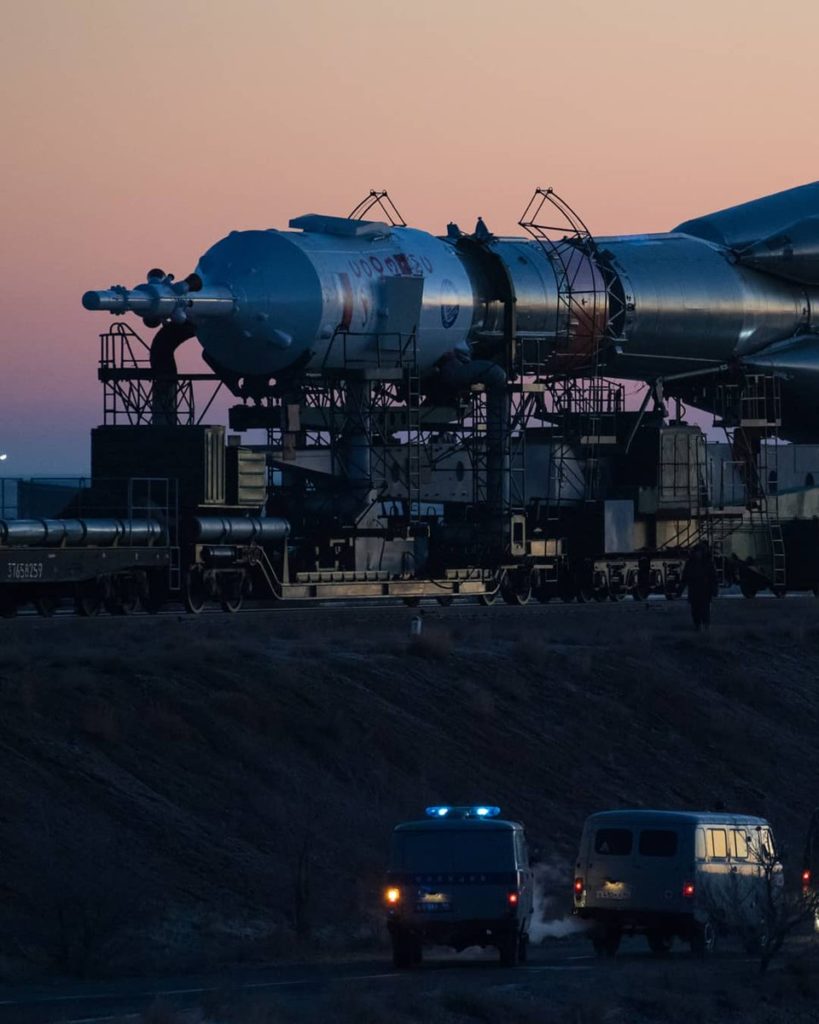 Watch this Roscosmos video:
https://youtu.be/3fe28gFkVoI
The last launch of a two person Russian-American
crew on Oct. 11 ended in failure two minutes after liftoff with the sudden triggering of
an emergency abort separation of the Soyuz MS-10 capsule from the Soyuz FG
carrier rocket due to a deformed sensor on the core stage.
Both crewmates comprising
Russian
commander Alexey Ovchinin and NASA flight engineer Nick Hague
survived without injury and excellent health
when the Soyuz soft landed safely by parachute.

That was the first Soyuz crew launch failure since 1983.
Meanwhile the SpaceX Dragon cargo launch remains
on track for launch on Tuesday, Dec. 4 at 1:38 p.m. EST. Space UpClose will be covering
the launch events at KSC.
The US, Canadian and
Russia trio of 2 rookies and 1 veteran space flyer
are scheduled to launch on Monday, Dec. 3 on
a rapid paced four orbit six-hour journey to the

International Space Station

for a lengthy six-and-a-half
month mission.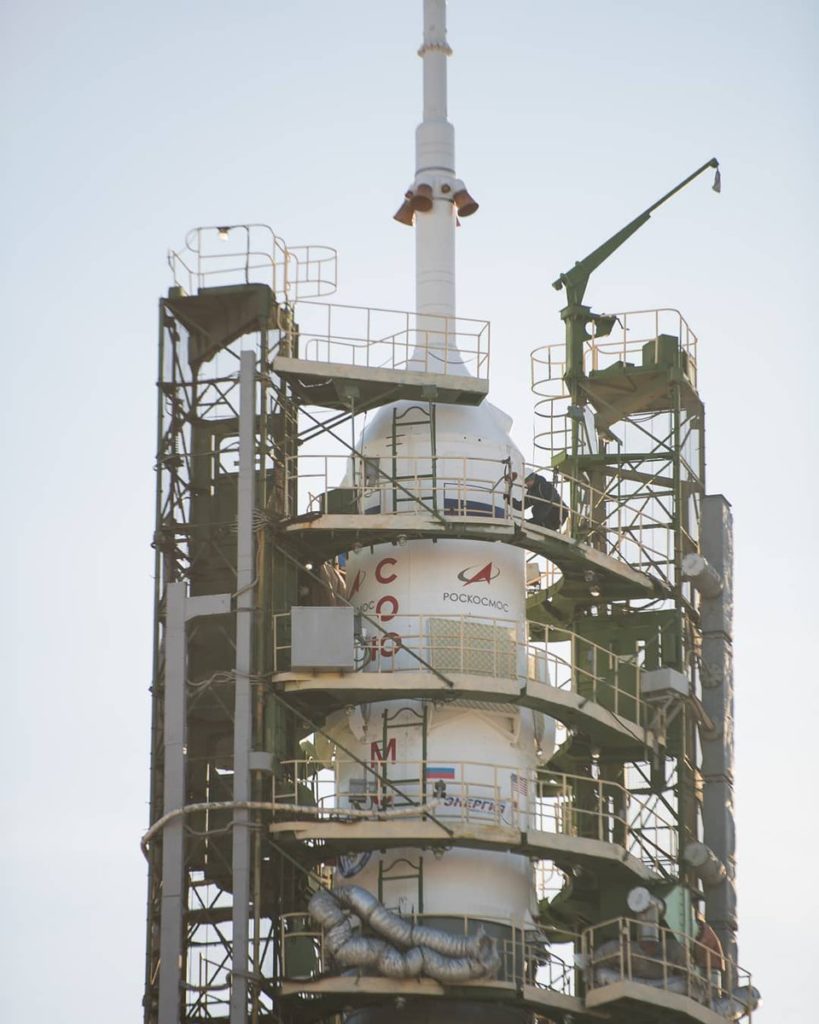 They are scheduled to dock the Soyuz to the
station's Poisk module at 12:35 p.m. to begin their mission on the orbital
laboratory as members of the Expedition 58 crew.


Kononenko will be making his fourth long term
trip to the station. McClain and Saint-Jacques will be their first flights
each.


Live coverage of the launch and docking activities
will air on NASA Television and the agency's website: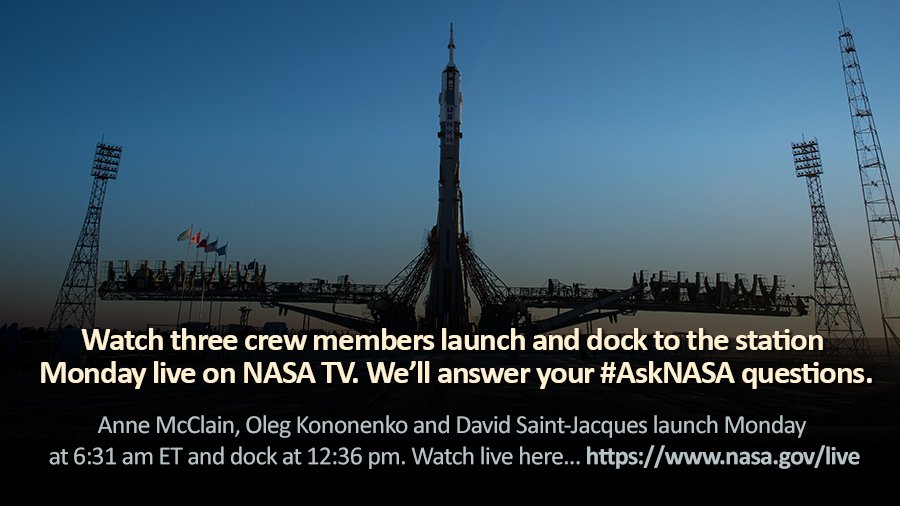 Here's the NASA TV schedule (all times EST):


Monday, Dec. 3


5:30 a.m. – Soyuz MS-11
launch coverage (launch at 6:31 a.m.)
·
11:45 a.m. – Docking
coverage (docking scheduled for 12:35 p.m.)
·
1:45 p.m. – Hatch
opening (expected at about 2:35 p.m.) and welcome coverage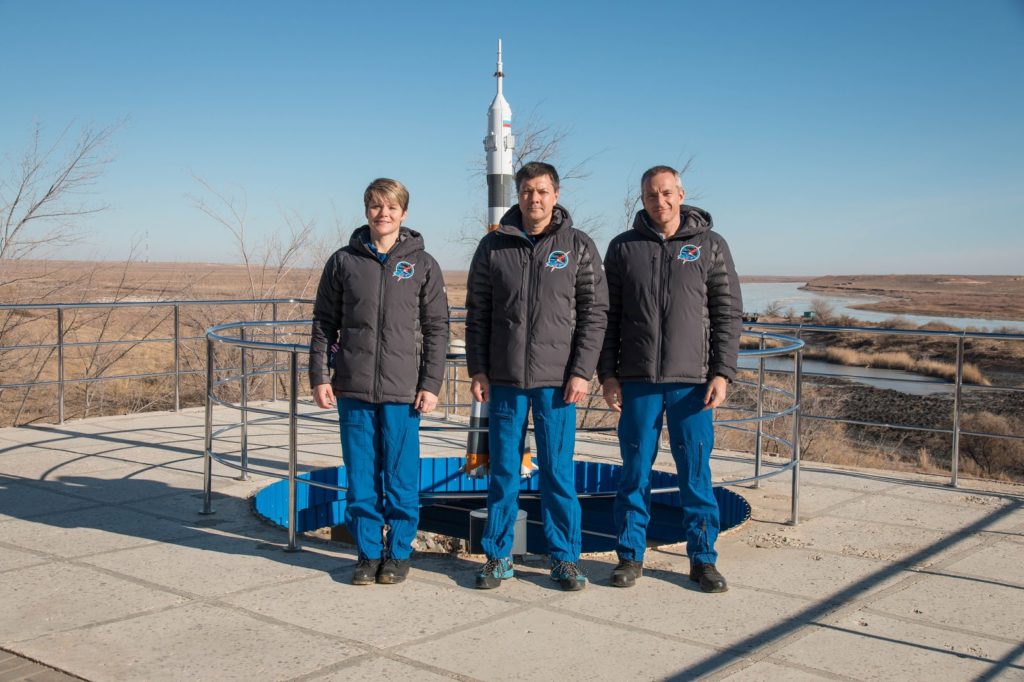 At their Cosmonaut
Hotel crew quarters in Baikonur, Kazakhstan, Expedition 58 crew members Anne
McClain of NASA (left), Oleg Kononenko of Roscosmos (center) and David
Saint-Jacques of the Canadian Space Agency (right) pose for pictures Nov. 27 as
part of traditional pre-launch activities. They will launch Dec. 3 on the Soyuz
MS-11 spacecraft from the Baikonur Cosmodrome in Kazakhstan for a
six-and-a-half month mission on the International Space Station…NASA/Victor
Zelentsov
#SoyuzMS11
: The State Commission at the Baikonur launch site
approved the list of the main crew of the Soyuz MS-11 spacecraft:
cosmonaut Oleg Kononenko (Roscosmos);
astronaut David Saint-Jacques (
@csa_asc
);
astronaut Anne McClain (
@NASA
).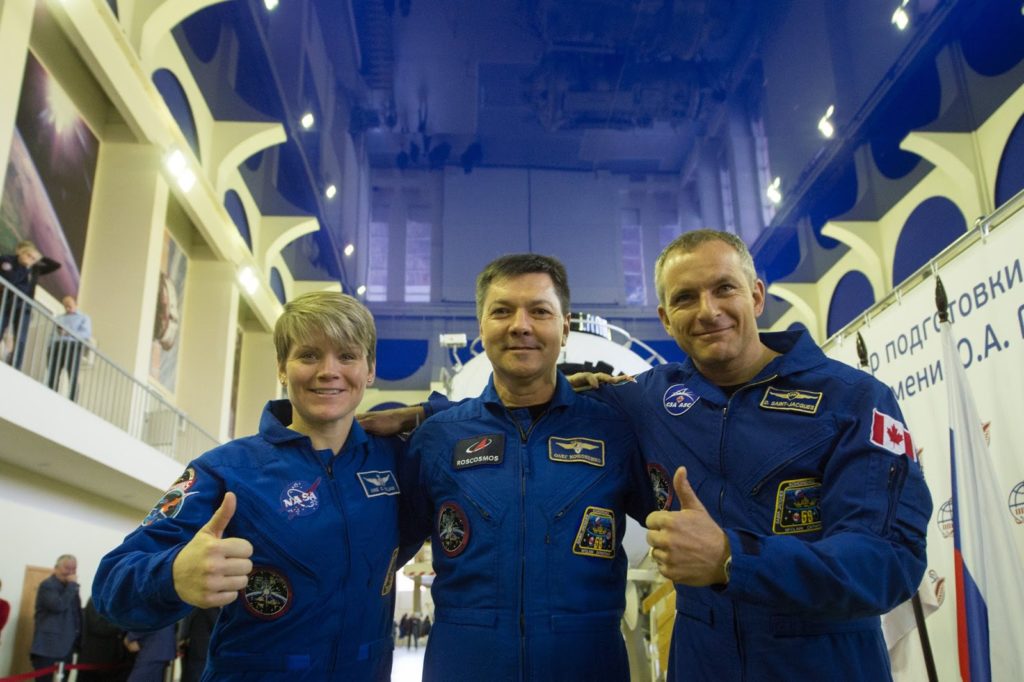 Less than two hours after docking, hatches between
the Soyuz and the station will open, and the current crew, Expedition 57
Commander Alexander Gerst of
ESA (European Space Agency), NASA Flight Engineer Serena
Auñón-Chancellor and Roscosmos Flight Engineer Sergey Prokopyev, who
have been in orbit since June, will greet them.


Watch for Ken's
continuing onsite coverage of NASA, SpaceX, ULA, Boeing, Lockheed Martin,
Northrop Grumman and more space and mission reports direct from the Kennedy Space
Center, Cape Canaveral Air Force Station, Florida and Wallops Flight Facility,
Virginia.
Stay tuned here for Ken's continuing Earth and Planetary science
and human spaceflight news:

www.kenkremer.com

–www.spaceupclose.com – twitter
@ken_kremer – email: ken at kenkremer.com
Dr. Kremer is a research
scientist, journalist and photographer based in the KSC area.
………….


Ken's photos are for sale and he is available for lectures and outreach events
Learn more about the upcoming
upcoming/recent

SpaceX Falcon 9/CRS-16 launch to ISS,

NASA missions, ULA Atlas & Delta
launches, SpySats and more at Ken's upcoming outreach events at Kennedy Space Center Quality Inn,
Titusville, FL, evenings:
Dec
3,4
: "SpaceX Dragon CRS-16
resupply launch to ISS, SpaceX Falcon Heavy & Falcon 9 launches, upcoming SpaceX
Falcon 9 USAF GP3 3-01, NRO & USAF Spysats, SLS, Orion, Boeing and SpaceX Commercial
crew capsules, OSIRIS-Rex, Juno at Jupiter, InSight Mars lander, Curiosity and
Opportunity explore Mars, NH at Pluto, Kuiper Belt and more," Kennedy Space
Center Quality Inn, Titusville, FL, evenings.
Photos for sale