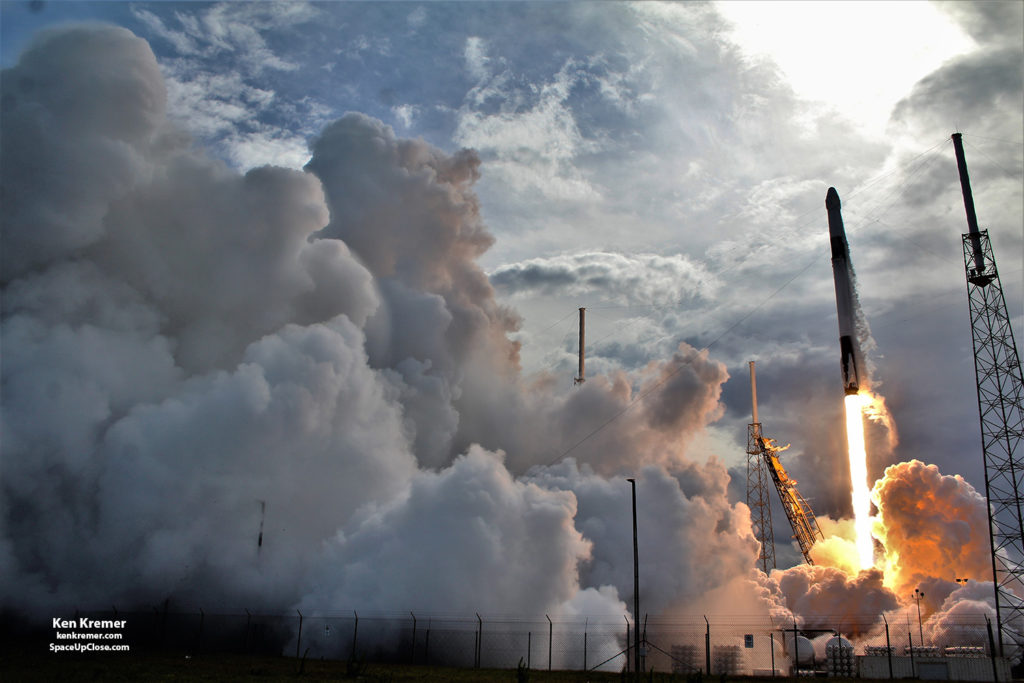 Blastoff of SpaceX Falcon 9
rocket on prior Dragon CRS-14 cargo ship mission to the ISS from Space Launch
Complex-40 on Cape Canaveral Air Force Station, FL, on April 2, 2018 at 4:33 pm
EDT. CRS-16 launch reset to Dec. 5 at 1:16 p.m. EST. Credit: Ken Kremer/kenkremer.com/spaceupclose.com
Ken Kremer

—
SpaceUpClose.com &
RocketSTEM
–3 December 2018
KENNEDY SPACE CENTER, FL –

The late breaking discovery
of what amounts to moldy mouse meals getting ready to be flown to space aboard a
commercial Dragon cargo ship bound for the International Space Station (ISS) has
forced NASA and SpaceX to delay the liftoff on the Falcon 9 carrier rocket from
Florida's Space Coast by 24 hours from Tuesday to Wednesday afternoon, Dec. 5.
The silver lining is
that the weather prognosis shifts drastically from not great on Tuesday to
excellent on Wednesday.
So Tuesday's launch opportunity
was very far from a good bet anyway with respect to weather outlook.
Dragon is delivering over

5,600 pounds (about 2,500 kilograms) on its 16th flight to the ISS
known as CRS-16.
After finding mold contamination
on food bar packages needed to nourish 40 preselected rodentonauts for their glorious
gallop to the great beyond, NASA officials decided to pull all their diet supplements
from the Dragon manifest and replace them with new ones that have to be
airlifted special delivery cross country from California to the Cape.


News of the moldy meal
issue was revealed at the pre-launch briefing by Deputy ISS Program Manager
Joel Montelbano, Monday afternoon, Dec. 3 – when the Falcon 9 liftoff was still
slated for Tuesday Dec. 4 at 1:38 p.m. EST.
"Today, when we were in the process of preparing the rodents to be
loaded on-board the vehicle, we were looking at some of the food bars that are
necessary for the rodents," said Montalbano. "They were contaminated with some
mold on there. So we have to go ahead and remove those."


The fear is that all
the food bars being loaded as cargo destined for the space station are moldy
and would thus ruin any data gleaned as part of the experiment to be run as Rodent
Research 8.


Initially there was a
slim hope that the food packets would arrive in the nick of time from NASA's
Ames Research Center in California – but the timing was really "tight" Montelbano
indicated.


"We're working hard with the SpaceX team. But
it's going to be tight," Montelbano
explained.


Technicians would have
to work overnight to get the new food bar packes loaded on Dragon.
'We're having some
hardware flown from the Ames Research Center which will arrive later this
evening. That team will come down here and we'll process it and gwet it loaded
in the vehicle with the goal of making the launch time tomorrow [Tuesday].
Luckily the mold was
found before handing over to SpaceX for loading onto Dragon.
However, the other
stores of rodent food might also be contaminated. So its all being swapped out.
"We're assuming all the food is suspect.

Not only the food that was loaded today, but
the food we already had loaded."
"So we're going to replace all of that food. Rodents
are one of our primary mission objectives, so it's important enough for us that
if we're not ready to go with the rodents, we'll go ahead and delay a day."
Ultimately a few
hours later NASA officials decided near midnight Monday night that time was up
and to forgo a Tuesday launch attempt – "
To allow for time to replace parts of an
@ISS_Research

experiment."


"NASA and SpaceX are now targeting Wednesday,
Dec. 5 for launch of the 16th SpaceX cargo resupply mission to the
International Space Station. The launch was moved to Wednesday after mold was
found on food bars for a rodent investigation prior to handover to SpaceX," NASA
said in a statement.


"Teams will use the extra day to replace the food bars."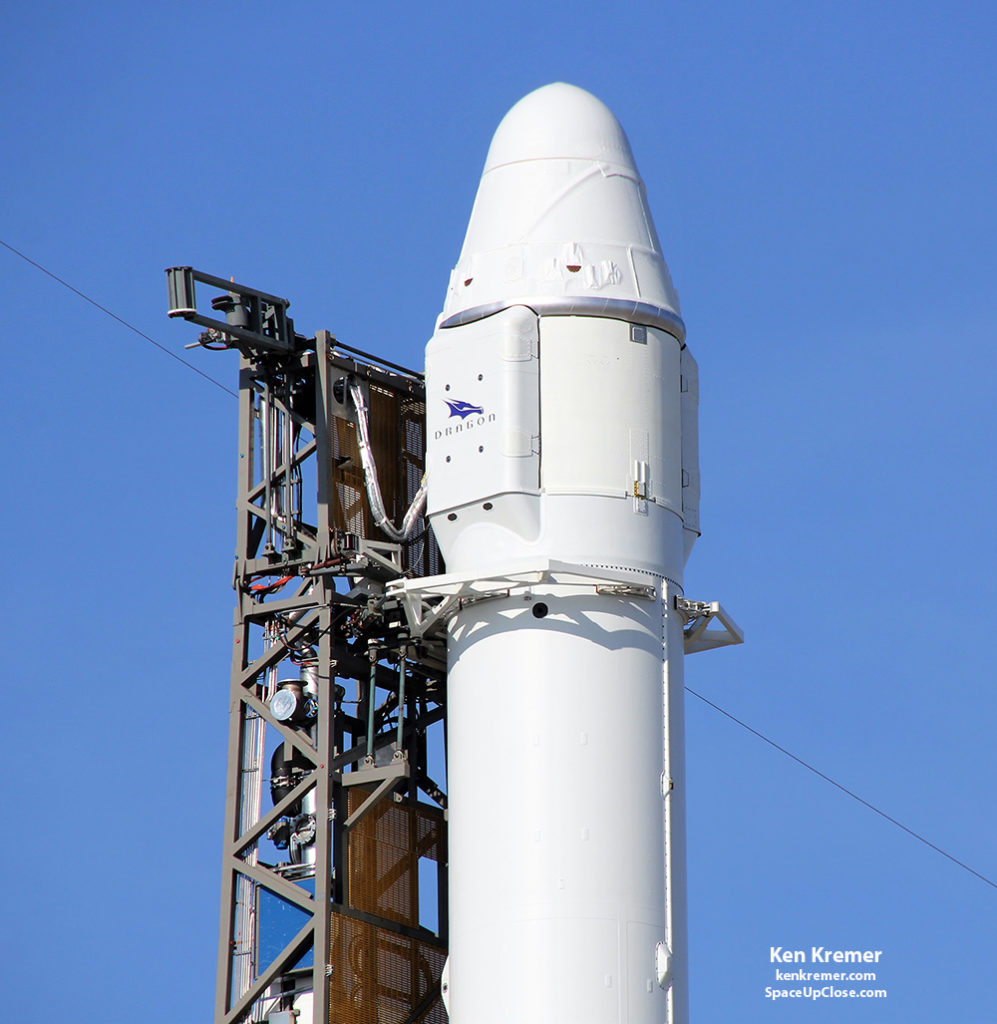 Up close
view of recycled SpaceX Dragon CRS-14 vessel loaded with 5800 pounds of science
and supplies that launched to the International Space Station
from Space Launch
Complex-40 on Cape Canaveral Air Force Station, FL, on April 2, 2018
.

Credit: Ken Kremer/kenkremer.com/spaceupclose.com
Blastoff of the new SpaceX Falcon 9 and Dragon CRS-16
commercial cargo freighter is now slated for Wednesday afternoon December 5 at 1:16 p.m. EST (1816 GMT) from Space Launch Complex 40 at Cape Canaveral Air Force Station in
Florida.


SpaceX plans
to recover this Block 5 with a thrilling soft landing back at the Cape at
Landing Zone 1 some eight minutes after liftoff.
A backup launch opportunity is available on
Friday, December 7 at 12:28 p.m. EST, or 17:28 GMT.
Dragon CRS-16 is
loaded with nearly 3 tons of science and supplies for the newly expanded six person
Expedition 57 crew currently living and working aboard the ISS including the three
new crewmembers launched Dec. 3 on a Russian Soyuz rocket and spacecraft from
Baikonur.
Dragon will deliver supplies and payloads, including
materials to directly support dozens of the science and research investigations
that will occur during the space station's Expeditions 57 and 58.
Highlights of the

payloads on board include:
T
he

Robotic Refueling Mission 3

, or RRM3, to test
refueling techniques in microgravity and the

Global Ecosystem Dynamics Investigation lidar

,
or GEDI for global forest measurement and crystallization experiments for
Parkinsons disease.
Watch for Ken's
continuing onsite coverage of NASA, SpaceX, ULA, Boeing, Lockheed Martin, Northrop
Grumman and more space and mission reports direct from the Kennedy Space Center,
Cape Canaveral Air Force Station, Florida and Wallops Flight Facility,
Virginia.
Stay tuned here for Ken's continuing Earth and Planetary science
and human spaceflight news:

www.kenkremer.com

–www.spaceupclose.com – twitter
@ken_kremer – email: ken at kenkremer.com
Dr. Kremer is a research scientist,
journalist and photographer based in the KSC area.
………….

Ken's photos are for sale and he is available for lectures and outreach events
Learn more about the upcoming
upcoming/recent

SpaceX Falcon 9/CRS-16 launch to ISS,

NASA missions, ULA Atlas & Delta
launches, SpySats and more at Ken's upcoming outreach events at Quality Inn Kennedy Space Center, Titusville,
FL, evenings:
Dec
4, 5: "SpaceX Dragon CRS-16
resupply launch to ISS, SpaceX Falcon Heavy & Falcon 9 launches, upcoming SpaceX
Falcon 9 USAF GP3 3-01, NRO & USAF Spysats, SLS, Orion, Boeing and SpaceX Commercial
crew capsules, OSIRIS-Rex, Juno at Jupiter, InSight Mars lander, Curiosity and
Opportunity explore Mars, NH at Pluto, Kuiper Belt and more," Kennedy Space
Center Quality Inn, Titusville, FL, evenings.
Photos for sale