This image of Bennu was
taken by the OSIRIS-REx spacecraft from a distance of around 50 miles (80 km).

Credits: NASA/Goddard/University of Arizona
Ken Kremer —SpaceUpClose.com &
RocketSTEM –10 December 2018


KENNEDY SPACE CENTER,
FL – After a two year and over two billion kilometer (1.2 billion mile) interplanetary journey NASA's Origins, Spectral
Interpretation, Resource Identification, Security-Regolith Explorer
(OSIRIS-REx) spacecraft arrived at its destination, asteroid Bennu, on Monday,
Dec. 3, 2018.


The spacecraft executed a maneuver that transitioned
it from flying toward Bennu to operating around the asteroid at an initial
distance of about 11.8 miles (19 kilometers) from Bennu's Sun-facing surface, NASA
officials said.


The arrival event was broadcast live on NASA TV
on a day that included a Soyuz crew launch to the ISS and prelaunch preparations
for the SpaceX Falcon 9 Dragon CRS-16 resupply mission to he station.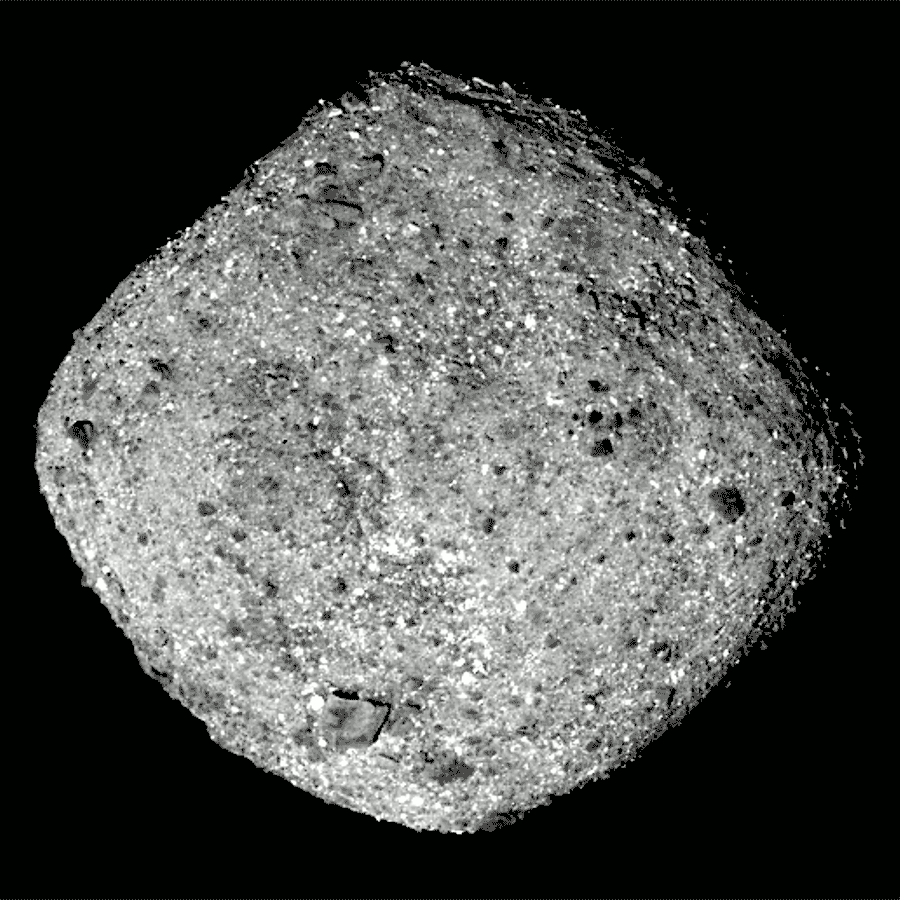 This series of images
taken by the OSIRIS-REx spacecraft shows Bennu in one full rotation from a
distance of around 50 miles (80 km). The spacecraft's PolyCam camera obtained
the thirty-six 2.2-millisecond frames over a period of four hours and 18
minutes.

Credits: NASA's Goddard Space Flight
Center/University of Arizona
"The OSIRIS-REx team is proud to cross
another major milestone off our list — asteroid arrival," said Dante Lauretta, OSIRIS-REx
principal investigator at the University of Arizona, Tucson, in a statement.


"Initial data from the approach phase show this
object to have exceptional scientific value. We can't wait
to start our exploration of Bennu in earnest. We've
been preparing for this moment for
years, and we're ready."

This picture shows the
OSIRIS-REx spacecraft's view of Bennu during the final phase of its journey to
the asteroid. From Aug. 17 through Nov. 27 the spacecraft's PolyCam camera
imaged Bennu almost daily as the spacecraft traveled 1.4 million miles (2.2
million km) toward the asteroid. The final images were obtained from a distance
of around 40 miles (65 km). During this period, OSIRIS-REx completed four
maneuvers slowing the spacecraft's velocity from approximately 1,100 mph (491
m/sec) to 0.10 mph (0.04 m/sec) relative to Bennu, which resulted in the slower
approach speed at the end of the video.

Credits: NASA's
Goddard Space Flight Center/University of Arizona
The probe will now begin a preliminary survey of
the asteroid using its suite of five science instruments – leading towards the
ultimate goal of collecting soil and rock samples at a safe and scientifically
interesting site for return to Earth September 2023.


"The spacecraft will commence flyovers of
Bennu's north pole, equatorial region, and south pole, getting as close as
nearly 4 miles (7 kilometers) above Bennu during each flyover."


"The primary science goals of this survey are to
refine estimates of Bennu's mass and spin rate, and to generate a more precise model
of its shape. The data will help determine potential sites for later sample
collection."


"OSIRIS-REx's mission will help scientists
investigate how planets formed and how life began, as well as improve our
understanding of asteroids that could impact Earth. Asteroids are remnants of
the building blocks that formed the planets and enabled life. Those like Bennu
contain natural resources, such as water, organics and metals. Future space
exploration and economic development may rely on asteroids for these materials."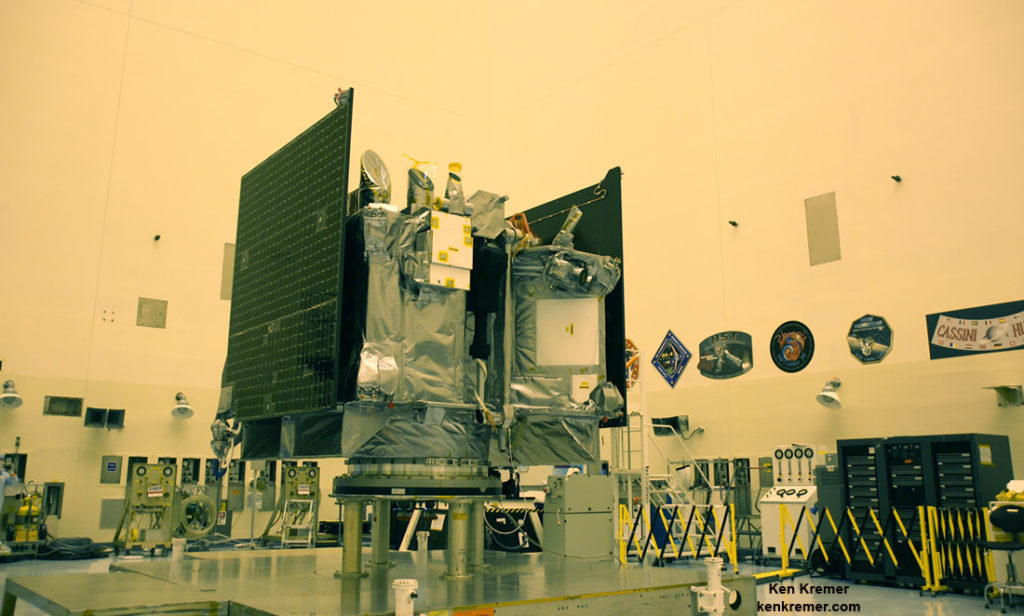 OSIRIS-Rex spacecraft in KSC cleanroom prior to
launch Sept 2016 from pad 41 on Cape Canaveral Air Force Station, FL. Credit:
Ken Kremer/kenkremer.com/spaceupclose.com
Following the successfully arrival at Bennu, the
spacecraft will spend the first month performing flybys of Bennu's north pole,
equator and south pole, at distances ranging between 11.8 and 4.4 miles (19 and
7 km) from the asteroid. These maneuvers will allow for the first direct
measurement of Bennu's mass as well as close-up observations of the surface.
These trajectories will also provide the mission's navigation team with
experience navigating near the asteroid.
"Bennu's low gravity provides a unique challenge
for the mission," said Rich Burns, OSIRIS-REx project manager at NASA's
Goddard Space Flight Center in Greenbelt, Maryland. "At roughly 0.3 miles
[500 meters] in diameter, Bennu will be the smallest object that any spacecraft
has ever orbited."
The spacecraft will extensively survey the
asteroid before the mission team identifies two possible sample sites. Close
examination of these sites will allow the team to pick one for sample
collection, scheduled for early July 2020. After sample collection, the spacecraft
will head back toward Earth before ejecting the Sample Return Capsule for
landing in the Utah desert in Sept. 2023.
Check back soon for my follow-up articles about the initial science results.
Watch for Ken's
continuing onsite coverage of NASA, SpaceX, ULA, Boeing, Lockheed Martin,
Northrop Grumman and more space and mission reports direct from the Kennedy Space
Center, Cape Canaveral Air Force Station, Florida and Wallops Flight Facility,
Virginia.
Stay tuned here for Ken's continuing Earth and Planetary science
and human spaceflight news:

www.kenkremer.com

–www.spaceupclose.com – twitter
@ken_kremer – email: ken at kenkremer.com
Dr. Kremer is a research scientist,
journalist and photographer based in the KSC area.
………….

Ken's photos are for sale and he is available for lectures and outreach events
Learn more about the upcoming
/recent
SpaceX Falcon 9/USAF GPS 3-01, NASA Mars
InSight Lander, SpaceX Falcon 9/CRS-16 launch to ISS,

NASA missions, ULA Atlas & Delta
launches, SpySats and more at Ken's upcoming outreach events at Quality Inn Kennedy Space Center, Titusville,
FL, evenings:
Dec
15/17
: "SpaceX Dragon CRS-16
resupply launch to ISS, SpaceX Falcon GPS 3-01, SpaceX Falcon Heavy &
Falcon 9 launches, upcoming SpaceX Falcon 9 USAF GP3 3-01, NRO & USAF
Spysats, SLS, Orion, Boeing and SpaceX Commercial crew capsules, OSIRIS-Rex,
Juno at Jupiter, InSight Mars lander, Curiosity and Opportunity explore Mars,
NH at Pluto, Kuiper Belt and more," Kennedy Space Center Quality Inn, Titusville,
FL, evenings. Photos for sale