NASA's Parker Solar completed its first orbit
around the Sun and begun its second on Jan. 19, 2019. Credit: NASA
Ken Kremer — SpaceUpClose.com & RocketSTEM — 31
January 2019


CAPE CANAVERAL, FL – NASA's history making Parker
Solar Probe is in great shape and returning reams of data to scientists back on
Earth as she officially completed her first orbit around the sun and begun her
second solar orbit days ago on Jan. 19, just 161 days after a spectacular
nighttime blastoff on a ULA Delta IV Heavy rocket from Cape Canaveral Air Force
Station in Florida, NASA officials announced.


With "All Systems GO" Parker has begun the
second of at least 24 solar orbits and is on track for the second perihelion,
or closest approach to the Sun, on April 4, 2019.


On Jan. 19, Parker "completed its first
orbit of the Sun, reaching the point in its orbit farthest from our star,
called aphelion."


The spacecraft has now begun the second of
24 planned orbits, on track for its second perihelion, or closest approach to
the Sun, on April 4, 2019.


To date Parker
has beamed back over 17 gigabits of science data to eagerly waiting scientists
back on Earth via the Deep Space Network (DSN).


Parker Solar
Probe entered full operational status (known as Phase E) on New Years Day, Jan.
1," with all systems online and operating as designed," according to the team.


During this 1st solar perihelion flyby by Parker,
the $1.5 Billion science probe plunged to within a record breaking 15 million
miles (24
million kilometers) of the suns blazing hot surface and
intense radiation – while speeding by at a truly phenomenal and likewise record
breaking velocity of 213,200
miles per hour (343,112 km/h).


The full
dataset from the first orbit will be downloaded by April, say officials.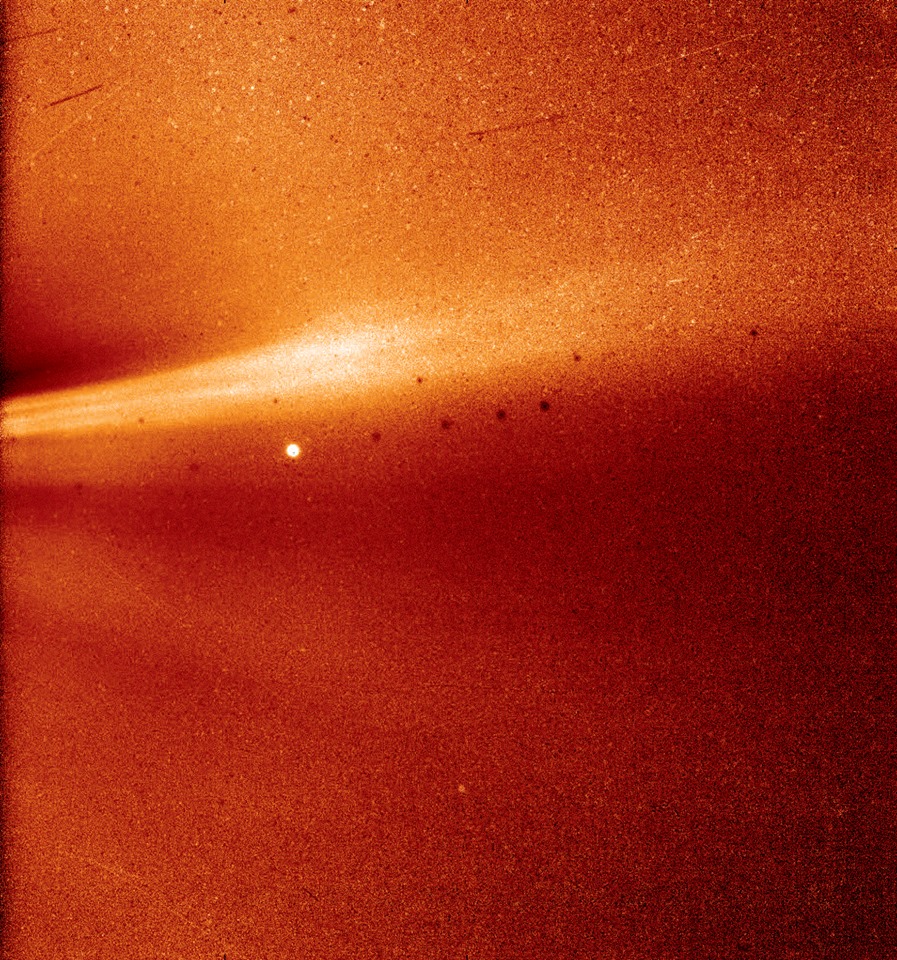 This image from Parker
Solar Probe's WISPR (Wide-field Imager for Solar Probe) instrument shows a
coronal streamer, seen over the east limb of the Sun on Nov. 8, 2018, at 1:12
a.m. EST. Coronal streamers are structures of solar material within the Sun's atmosphere,
the corona, that usually overlie regions of increased solar activity. The fine
structure of the streamer is very clear, with at least two rays visible. Parker
Solar Probe was about 16.9 million miles from the Sun's surface when this image
was taken. The bright object near the center of the image is Mercury, and the
dark spots are a result of background correction.

Credits: NASA/Naval Research Laboratory/Parker
Solar Probe
"It's been an illuminating and fascinating first orbit," said
Parker Solar Probe Project Manager Andy Driesman, of the Johns Hopkins
University Applied Physics Laboratory, in a statement.


"We've
learned a lot about how the spacecraft operates and reacts to the solar
environment, and I'm proud to say the team's projections have been very
accurate." APL designed, built, and manages the mission for NASA.
NASA Parker Solar Probe's position, speed
and round-trip light time as of Jan. 28, 2019. Credit: NASA
"We've always said that we don't know what to expect until we
look at the data," said Project Scientist Nour Raouafi, also of APL. "The data
we have received hints at many new things that we've not seen before and at
potential new discoveries. Parker Solar Probe is delivering on the mission's
promise of revealing the mysteries of our Sun."


Meanwhile,
the science and engineering team is already preparing the spacecraft and
science instruments for the second close solar perihelion flyby just two months
away.


"In
preparation for that next encounter, the spacecraft's solid state recorder is
being emptied of files that have already been delivered to Earth. In addition,
the spacecraft is receiving updated positional and navigation information
(called ephemeris) and is being loaded with a new automated command sequence,
which contains about one month's worth of instructions."
The right side of this
image — from WISPR's inner telescope — has a 40-degree field of view, with its
right edge 58.5 degrees from the Sun's center. The left side of the image is
from WISPR's outer telescope, which has a 58-degree field of view and extends
to about 160 degrees from the Sun. There is a parallax of about 13 degrees in
the apparent position of the Sun as viewed from Earth and from Parker Solar
Probe. Credit: NASA/Naval
Research Laboratory/Parker Solar Probe
Parker is equipped with four on-board science
instruments suites. Because of the probes proximity to the sun it will take several
weeks before the science data begins
downlinking to scientists on Earth.


The key goals are to try and
answer fundamental questions about the nature of the sun and develop an
understanding of how the sun works – such as why is the solar corona so hot.
Its much hotter than the suns surface.


Scientists also want to know
why the solar wind is accelerated to supersonic speeds.


The mission will conduct 7 Venus flyby's to
set up 24 perihelion close encounters with the sun through 2024. The Venus
flyby's will precisely
set its trajectory toward the Sun and slow the probe down instead of speeding
it up.


The $1.5 Billion mission began with a dazzling
middle-of-the-night blastoff of the mighty Delta IV Heavy rocket in the wee
hours of the morning, Aug. 12 – and delivered the car sized spacecraft to its
intended trajectory towards Venus and the Sun.


The 23-story tall triple barreled United
Launch Alliance Delta IV Heavy rocket successfully launched at 3:31 a.m. EDT
Aug. 12 from the Florida Space Coast and put on a brilliant display of fire
power with 2.1 million pounds of thrust spewing forth from the trio of liquid
oxygen/liquid hydrogen RS-68A main engines that quickly turned night into day a
few hours before the natural sunrise under nearly cloud-free skies.

The United Launch Alliance Delta IV Heavy rocket launches NASA's Parker
Solar Probe to touch the Sun and dive into the corona, Sunday, Aug. 12, 2018, at
3:31 a.m. EDT from Space Launch Complex 37 at Cape Canaveral Air Force Station,
Florida. From camera at pad.
Credit:
Ken Kremer/kenkremer.com/spaceupclose.com
Watch for Ken's continuing onsite coverage of NASA, SpaceX, ULA,
Boeing, Lockheed Martin, Orbital ATK and more space and mission reports direct
from the Kennedy Space Center, Cape Canaveral Air Force Station, Florida and
Wallops Flight Facility, Virginia.
S
tay tuned here for Ken's continuing Earth and Planetary science and human
spaceflight news:

www.kenkremer.com


–www.spaceupclose.com – twitter @ken_kremer – email: ken at kenkremer.com
Dr. Kremer is a research scientist and journalist based in the
KSC area
.
.
……….

Ken's photos are for sale and he is available for lectures and outreach events
Ken's
upcoming talks:
Apr
3:

"Exploring Mars; The Search for Life & A Journey in 3-D."

7 PM, Lawton C
Johnson Middle School, Summit, NJ. Open to the public. Details upcoming.
Latest results from Mars & Ultima Thule