NASA's Commercial Crew
Program is working with the American aerospace industry as companies develop a
new generation of spacecraft and launch systems to carry crews safely to and
from low-Earth orbit – the SpaceX Crew Dragon and Boeing CST-100 Starliner. Initial
test launches for both have slipped to 2019.

Credits: NASA
Ken Kremer —
SpaceUpClose.com & RocketSTEM
— 6
February 2019
CAPE CANAVERAL, FL – The first unpiloted commercial
crew test launches of the Crew Dragon and CST-100 Starliner capsules to
the International Space Station (ISS) have again
been postponed by NASA, SpaceX and Boeing the agency announced late today, Feb.
6.
The new launch targets have slipped by roughly
several weeks from those most recently announced and further delays are always a possibility.


Launch of the
SpaceX Crew Dragon on its uncrewed Demo-1 test flight has slipped from
mid-February to March 2. Launch of Boeing's uncrewed Orbital Flight Test has
slipped from March to no earlier than April.
NASA's Commercial Crew
Program is working with the American aerospace industry as companies develop a
new generation of spacecraft and launch systems to carry crews safely to and
from low-Earth orbit – the SpaceX Crew Dragon and Boeing CST-100 Starliner. Initial
test launches for both have slipped to 2019.
Credits: NASA
"NASA and its Commercial Crew Program providers Boeing and
SpaceX have agreed to move the target launch dates for the upcoming inaugural
test flights of their next generation American spacecraft and rockets that will
launch astronauts to the International
Space Station," NASA announced in a statement.


This latest
delay was expected and follows numerous postponements suffered by the Commercial
Crew Program (CCP) as a result of both daunting technical challenges faced by
both aerospace firms and funding shortfalls caused by near endless political squabbling
between both parties in Washington, D.C.
The SpaceX Demo-1 launch overall has
slipped 2 months since November 2018 when NASA announced a launch target date
of Jan. 7, that then slipped to Jan 17 and then February during the recent
nonsensical partial shutdown of the U.S. Government.
Before that NASA had hoped for launches to
occur in 2017 and 2018 – but nothing happened after repeated delays because both
spaceships are still undergoing manufacture and testing to ensure reliability
and robustness and astronaut safety. Those earlier launch targets have proven to be entirely unrealistic for both companies.
In the meantime, SpaceX did complete a
critical milestone when they conducted a static hot fire test of the first
integrated SpaceX Falcon 9 rocket and SpaceX Crew Dragon on Launch Complex 39A at
NASA's Kennedy Space Center, Fl, on Jan. 24 – witnessed by Space UpClose. Checkout our story and photos here
.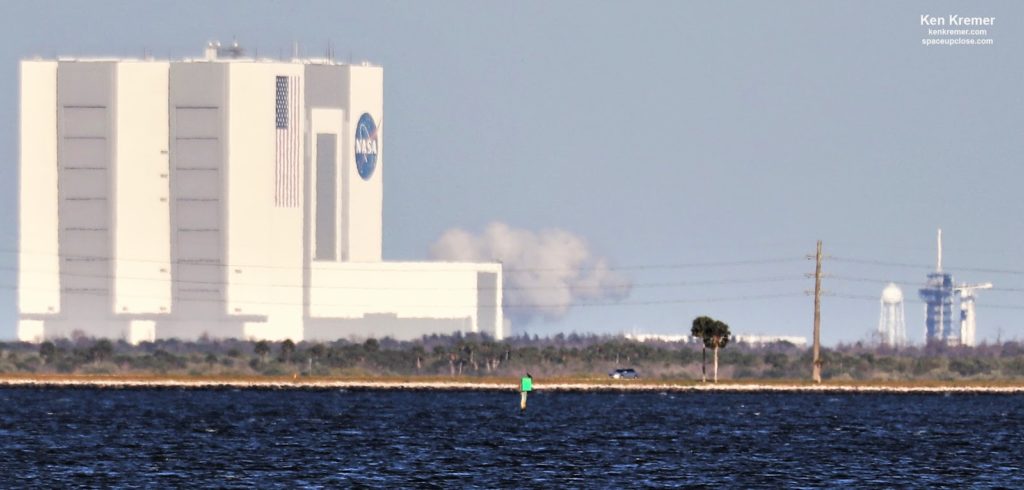 SpaceX conducted critical hold down static fire test of
first integrated Falcon 9 and Crew Dragon at 4 PM ET, Jan. 24, 2019 for Demo-1
mission raised vertical at historic Launch Complex 39A in Florid, preparing to
return human spaceflight capabilities to the United States with 1st
uncrewed test flight NET March 2, 2019.

Credit: Ken Kremer/kenkremer.com/spaceupclose.com
NASA says
these latest launch target delays are necessary to "allow for completion of
necessary hardware testing, data verification, remaining NASA and provider
reviews, as well as training of flight controllers and mission managers."


The goal of NASA's commercial crew program is to restore America's
capability to launch humans to the International Space Station (ISS) from
American soil for the first time since the shuttles were prematurely retired in
2011 and end our sole reliance on the Russian Soyuz for trips to space.


But NASA's last contracted Soyuz astronaut seat is set for liftoff
in July.


And fears are growing that neither of the private providers will
be ready to launch NASA astronauts.


"The uncrewed
flight tests are a great dry run for not only our hardware, but for our team to
get ready for our crewed flight tests," said Kathy Lueders, Commercial Crew
Program manager, in a statement.


"NASA has
been working together with SpaceX and Boeing to make sure we are ready to
conduct these test flights and get ready to learn critical information that
will further help us to fly our crews safely. We always learn from tests."
Boeing's CST-100 Starliner
manufacture
The unpiloted test flights represent just the first step.


"There still
are many critical steps to complete before launch and while we eagerly are
anticipating these launches, we will step through our test flight preparations
and readiness reviews," said Lueders.


"We are
excited about seeing the hardware we have followed through development,
integration, and ground testing move into flight."


Next up for both are the maiden crewed flight with astronauts for
both firms – if all goes well.


Launch targets have slipped for these as well.



The crewed SpaceX Demo-2 mission is slated for liftoff in July 2019 with a two NASA astronauts; Robert Behnken and Douglas Hurley. That's delayed about a month from June.


The crewed Boeing Crew Flight Test mission is slated for liftoff NET August 2019 with a trio of astronauts whose
makeup was recently changed –as we reported here.


Veteran NASA astronaut Eric Boe has been pulled from the maiden
test flight of Boeing's Starliner commercial crew mission.


Another veteran NASA Astronaut Mike Fincke has been assigned in
place of Boe.


"Boe is unable to fly due to medical reasons," NASA announced in a
statement.


"NASA astronaut E. Michael
"Mike" Fincke has been added to the crew of the Boeing CST-100
Starliner's Crew Flight Test, scheduled to launch later this year," NASA said.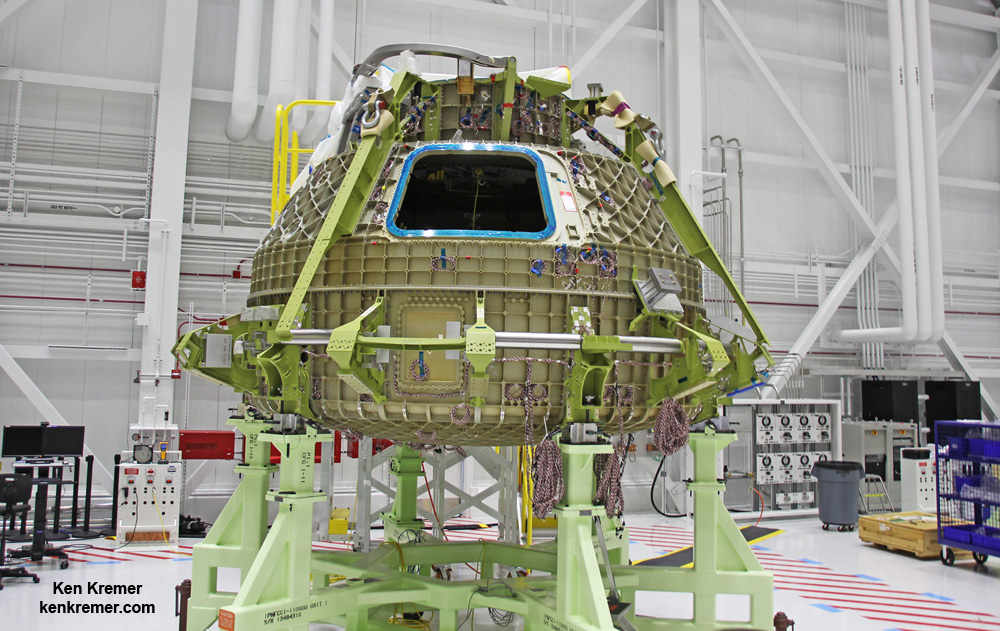 Hull of the Boeing
CST-100 Starliner Structural Test Article (STA)- the first Starliner to be
built in the company's modernized Commercial Crew and Cargo Processing Facility
high bay at NASA's Kennedy Space Center in Florida. Credit: Ken
Kremer/kenkremer.com/spaceupclose.com
Watch for Ken's continuing onsite coverage of NASA, SpaceX, ULA,
Boeing, Lockheed Martin, Orbital ATK and more space and mission reports direct
from the Kennedy Space Center, Cape Canaveral Air Force Station, Florida and
Wallops Flight Facility, Virginia.
Stay tuned here for Ken's continuing Earth and Planetary science and human
spaceflight news:

www.kenkremer.com


–www.spaceupclose.com – twitter @ken_kremer – email: ken at kenkremer.com
Dr. Kremer is a research scientist and journalist based in the
KSC area.
………….


Ken's photos are for sale and he is available for lectures and outreach events