NASA astronauts Nick
Hague and Anne McClain work to swap batteries in the Port-4 truss
structure during March 22, 2019 spacewalk. Credit: NASA
K
en Kremer

—
SpaceUpClose.com &
RocketSTEM
–25 March 2019
CAPE CANAVERAL, FL –

A pair of NASA astronauts completed a swap out
of batteries during a spacewalk, Friday, March 22, that will enable a power upgrade
to the International Space Station (ISS).
During the six-hour, 39-minute spacewalk conducted
by

Expedition 59

Flight Engineers

Nick Hague

and

Anne McClain

of NASA, the high flying
pair successfully replaced nickel-hydrogen batteries with newer, more powerful
lithium-ion batteries for the power channel on one pair of the station's
solar arrays.
The March 22 excursion was the first spacewalk
by both Hague and McClain and the first of a trio of upcoming spacewalks on the
space stations exterior planned over the next 2 weeks by alternating pairs of
astronauts – that was to include the first one populated only with women
astronauts.
NASA astronauts Nick
Hague (top) and Anne McClain work to swap batteries in the Port-4 truss
structure during March 22, 2019 spacewalk. Credit: NASA
Meanwhile NASA
announced today the agency nixed plans to carry out the first all female
spacewalk planned for the second EVA of the series trio due to issues with the
spacesuits.


That all female spacewalk
was to be carried out next week by McClain and flight engineer Christina Koch – who just arrived at the
station in mid-March aboard the most recent Russian Soyuz launch.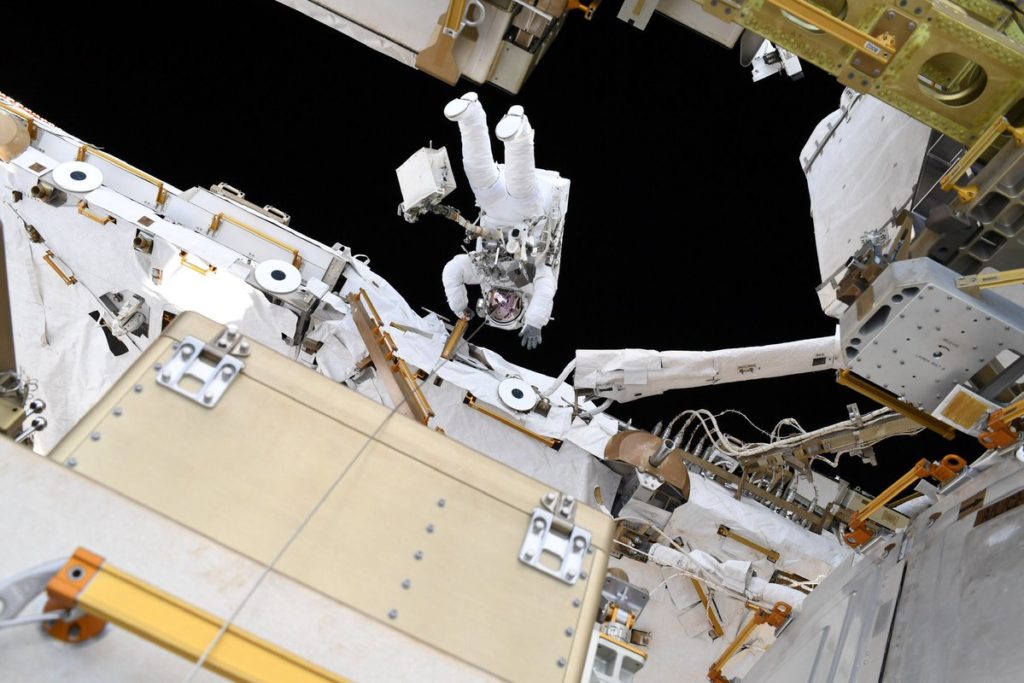 NASA astronauts Nick
Hague and Anne McClain work to swap batteries in the Port-4 truss
structure during March 22, 2019 spacewalk. Credit: NASA
The new lithium-ion replacement batteries installed
March 22 on the Port 4 truss segment were hauled to orbit by the Japanese HTV unmanned
resupply vessel last September.


McClain and Koch "were to work on a second set
of battery replacements on a different power channel in the same area of the
station."


"These new batteries provide an improved power
capacity for operations with a lighter mass and a smaller volume than the
nickel-hydrogen batteries," says NASA.


The second spacewalk slated for March 29 will now be
carried out by Hague and Koch essentially because NASA does not have enough spacesuits
available on the station.


"After consulting with McClain and Hague
following the first spacewalk, mission managers decided to adjust the
assignments, due in part to spacesuit availability on the station," NASA
announced late today, March 25.


"McClain learned during her first spacewalk
that a medium-size hard upper torso – essentially the shirt of the spacesuit –
fits her best. Because only one medium-size torso can be made ready by Friday,
March 29, Koch will wear it."


"McClain now is tentatively scheduled to
perform her next spacewalk – the third in this series – on Monday, April 8 with
Canadian Space Agency astronaut David Saint-Jacques. Assignments for this
spacewalk will be finalized following completion of the second spacewalk."


During the first spacewalk of the series, on
March 22, McClain became the 13th woman to perform a spacewalk. Koch will
become the 14th on March 29.


There have been 214
spacewalks at the International Space Station since December 1998.

Credits: NASA
To date space station crew members have
conducted 214 spacewalks in support of assembly and maintenance
of the orbiting laboratory, according to NASA.


"Spacewalkers have now spent a total of 55
days, 21 hours and 39 minutes working outside the station."
ISS
soars over Titusville, FL hours after completion of March 22, 2019 spacewalk by
2 crew members to upgrade exterior truss batteries.

Credit: Ken Kremer/kenkremer.com/spaceupclose.com
NASA astronauts Nick Hague
and Christina Koch
of NASA and Alexey Ovchinin
of the Russian space agency Roscosmos launched to the ISS on board the Soyuz MS-12
spacecraft at 3:14 p.m. EDT on March 14 and in the middle of the night (12:14
a.m. Friday Baikonur time) from the Baikonur Cosmodrome in Kazakhstan.


Hague, Koch and Ovchinin docked to the space
station's Rassvet module at 9:01 p.m. EST March 14 after a fast track four-orbit,
six-hour journey.


The ISS crew instantly doubled in size to a full
complement of 6. The multinational crew of six stems from the US, Russia and
Canada.


Hague, Koch, and Ovchinin will spend
six-and-a-half months living and working aboard the International Space Station.


Watch for Ken's
continuing onsite coverage of NASA, SpaceX, ULA, Boeing, Lockheed Martin,
Northrop Grumman and more space and mission reports direct from the Kennedy
Space Center, Cape Canaveral Air Force Station, Florida and Wallops Flight
Facility, Virginia.


Stay tuned here for Ken's continuing Earth and
Planetary science and human spaceflight news: www.kenkremer.com –www.spaceupclose.com – twitter @ken_kremer
– email: ken at kenkremer.com


Dr. Kremer is a research scientist and journalist based in the
KSC area, active in outreach and interviewed regularly on TV and radio about
space topics.



………….

Ken's photos are for sale and he is available for lectures and outreach events
Ken's
upcoming talks: