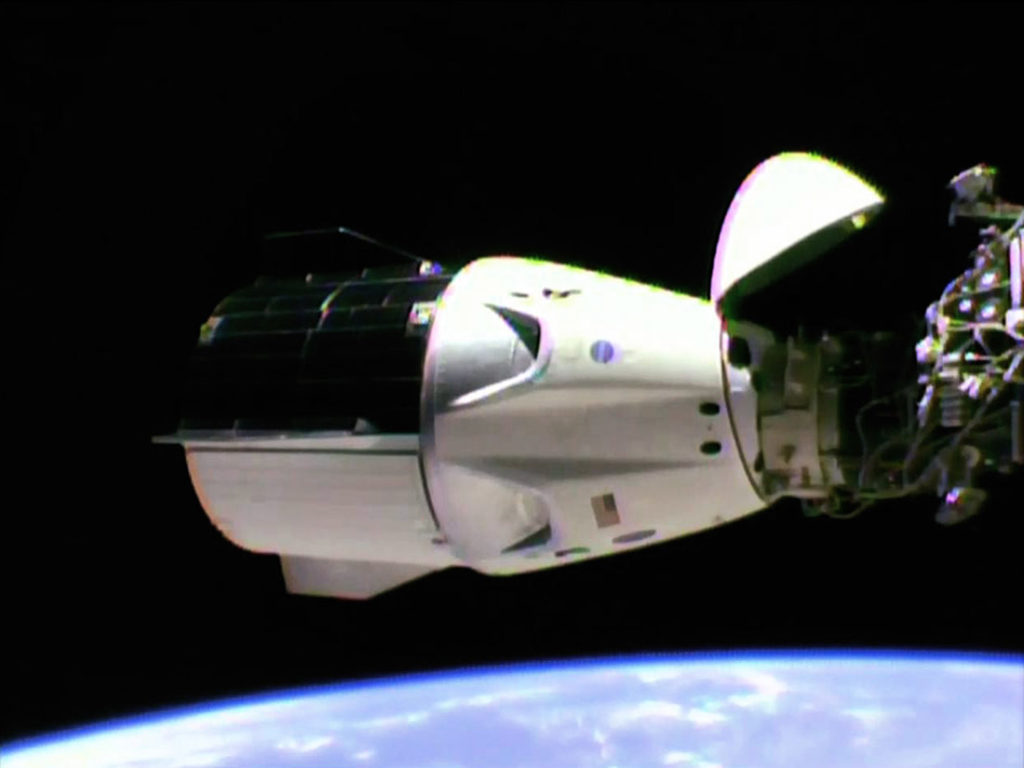 The SpaceX Crew Dragon
is docked to the station's international docking adapter (IDA) on March 3, 2019
which is attached to the forward end of the Harmony module on the International
Space Station (ISS). Credit: NASA TV
Ken Kremer — SpaceUpClose.com & RocketSTEM – 3 March
2019


KENNEDY SPACE CENTER, FL – Barely 24 hours after blastoff from the
Florida Space Coast SpaceX's maiden Crew Dragon spacecraft successfully docked
at the International Space station (ISS) – blazing a new trail to orbit and opening
a new train for astronauts to reach the Earth orbiting research complex by
privately built vessels lifting off from American soil on American rocket seated
inside an American capsule.


The day long rendezvous and docking procedure
for the Demo-1 mission came off with out a hitch as the commercially built SpaceX
Crew Dragon capsule closed in on the ISS on its maiden unpiloted mission.


And just three hours later the multinational
station crew of three astronauts and cosmonauts opened the hatch and 'Entered the
Dragon.'



Everything went flawlessly.

Crew Dragon is the first commercially built
American spacecraft designed to carry humans to the orbiting laboratory that
has actually docked.


If all continues to go well two NASA
astronauts will climb aboard next time for the first test flight with humans on
the Demo-2 mission tentatively targeted for launch to the ISS later this summer
from NASA's Kennedy Space Center in Florida.


The Demo-1 Crew Dragon successfully attached
to the forward facing port on the International
Space Station's Harmony module for a "soft capture" Sunday, March 3,
at 5:51 a.m. EST while the station was traveling more than 250 miles over the
Pacific Ocean, just north of New Zealand.
The gumdrop shaped vessel operated in a fully autonomous
mode after completing 18 orbits of Earth since launching in the middle of the
night Saturday morning.


"As the spacecraft approached the space
station, it demonstrated its automated control and maneuvering capabilities by
arriving in place at about 492 feet (150 meters) away from the orbital
laboratory then reversing course and backing away from the station to 590 feet
(180 meters) before the final docking sequence from about 65 feet (20 meters)
away," NASA said in a statement.


Some 10 minutes later Dragon completed its 'hard
dock' to the station at 6:02 a.m. EST – "thus accomplishing the first
autonomous docking of any U.S. spacecraft to the International Space Station."


The forward port on Harmony is the same port previously
utilized by NASA's visiting Space Shuttle orbiters that were retired following
the final flight in July 2011 on the STS-135 mission.


But the Harmony port has been upgraded with a
new International Docking Adapter or IDA hauled to orbit in the trunk of the
prior SpaceX CRS-9 Cargo Dragon resupply mission and installed using the station's
Canadian built Canadarm-2 and a spacewalk by station astronauts
in August 2016.
Anne McClain and the Earth plush toy inside Crew Dragon. Credit: NASA
Some three hours later following standard leak
checks and pressurization the Expedition 58 crew members opened the hatch to
the Crew Dragon.
The Expedition 58 trio crew

currently aboard station comprises NASA
astronaut

Anne McClain

,

David Saint-Jacques

of the Canadian Space
Agency, and Russian cosmonaut and Expedition 58 commander Oleg
Kononenko.
They opened the hatch between the Crew Dragon
and the orbital laboratory at 8:07 a.m. EST.
Earth plush toy floating inside the Cupola. Credit: NASA
Loaded on board was Ripley, seated inside Dragon
as a simulated astronaut as what NASA dubs "an anthropomorphic test device"
named after the protagonist in the movie 'Alien."
Ripley is outfitted with sensors to provide
data about potential effects on future astronauts who will travel in the Crew
Dragon.
The cargo included more than "400 pounds of
crew supplies and equipment to the space station, including bulk overwrap bags
containing more than 1,000

food and drink

packages for the crew."
Also aboard was an Earth plush toy that became
instantly famous when shown off by Anne McClain.
Expedition 58 crew members Anne McClain, David Saint-Jacques and Oleg
Konenenko welcome the SpaceX Crew Dragon to the International Space Station
after a successful docking on March 3, 2019, ushering in the era of NASA's
Commercial Crew Program. Image Credit: NASA TV
Under normal circumstances Dragon can launch
with a crew of four and up to 220 pounds of supplies thus "enabling the
expansion of the inhabitants of the space station, increasing the time
dedicated to research in the unique microgravity environment,
and returning more science back to Earth."


SpaceX's Crew Dragon lifted off on its maiden
test flight dubbed Demo-1 atop a SpaceX Falcon 9 rocket at 2:49 a.m. EST (0749 GMT) Saturday from historic Launch Complex-39A at NASA's Kennedy Space
Center in Florida.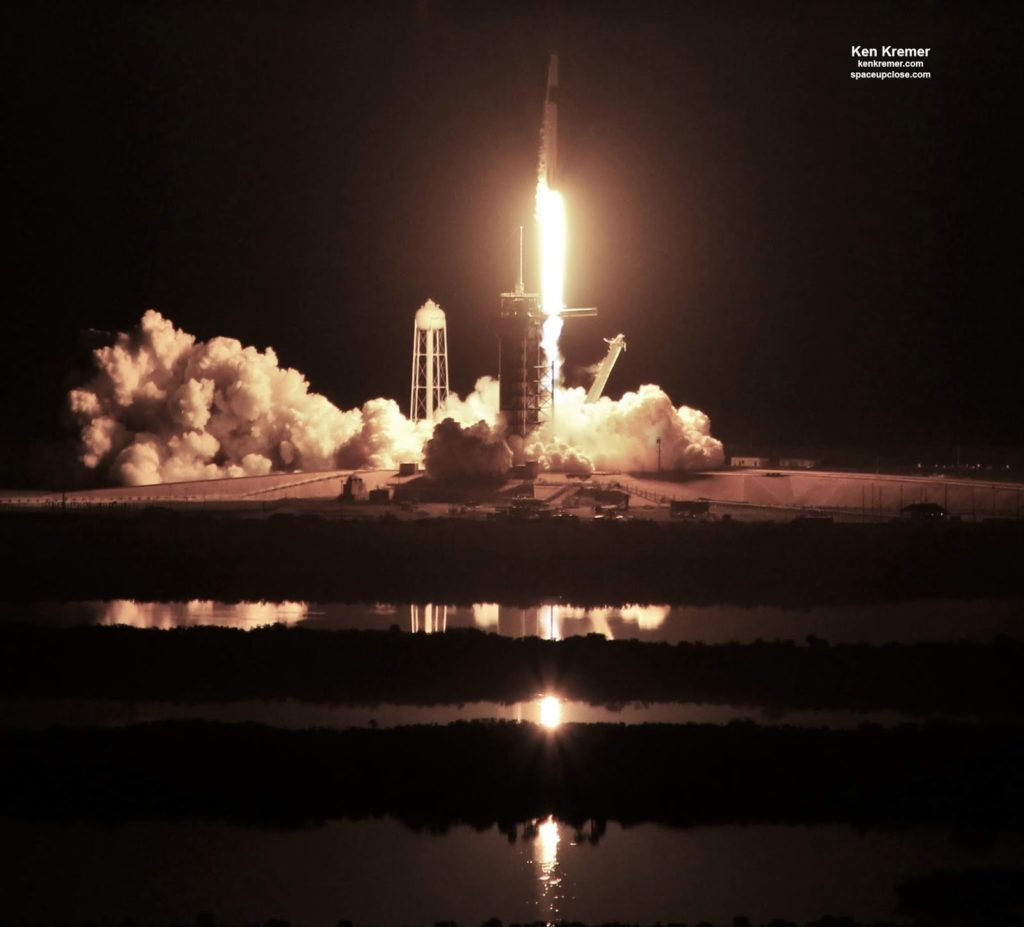 Water reflection launch view as SpaceX
Falcon 9 soars off Launch Complex 39A at
NASA's Kennedy Space Center in Florida at 2:49 a.m. EST Saturday,
March 2, 2019
carrying the company's first
commercially-built and operated Crew Dragon
spacecraft
to orbit for docking with the
International Space Station
(ISS) – as seen from VAB roof.
Credit: Ken
Kremer/kenkremer.com/spaceupclose.com
That moment coincides with the time when Earth's rotation carries the rocket into the plane
of the space station to enable a successful rendezvous and docking with the
fuel on board.
Crew Dragon thus began a six day orbital mission
on a ferry flight bound for the International Space Station (ISS) and back.


The Crew Dragon is scheduled to undock Friday,
March 8 at 2:31 a.m. EST from the IDA.


It will end with a parachute assisted splashdown
in the Atlantic Ocean around 8:45 a.m. EST.


NASA TV will cover
all the activities live.


On
future missions Dragon can remain docked for up to 210 days.


The launch event was transformational because for
the first time in the Space Age private companies – not NASA – are responsible
for designing, testing, manufacturing and launching human rated space ships.


Boeing is building a competing capsule dubbed
Starliner also under contract to and with funding from NASA to ferry American
and partner astronauts to Low Earth Orbit (LEO and the ISS and safely back home.



Watch for Ken's ongoing onsite mission coverage
of SpaceX Demo-1 mission at the Kennedy Space Center.
Watch for Ken's continuing
onsite coverage of NASA, SpaceX, ULA, Boeing, Lockheed Martin, Northrop Grumman
and more space and mission reports direct from the Kennedy Space Center, Cape
Canaveral Air Force Station, Florida and Wallops Flight Facility, Virginia.
Stay tuned here for Ken's continuing Earth and
Planetary science and human spaceflight news:

www.kenkremer.com

–www.spaceupclose.com – twitter @ken_kremer
– email: ken at kenkremer.com
Dr. Kremer is a research scientist and journalist based in the KSC
area, active in outreach and interviewed regularly on TV and radio about space
topics.
………….

Ken's photos are for sale and he is available for lectures and outreach events
Learn more about the upcoming
/recent
ULA Delta 4 WGS-10, SpaceX Demo-1, Falcon 9
Nusantara Satu launch,
USAF GPS 3-01, SpaceX Falcon 9/CRS-16 launch
to ISS,

NASA missions, ULA Atlas &
Delta launches, SpySats and more at Ken's upcoming outreach events at Quality Inn Kennedy Space Center,
Titusville, FL, evenings:
Mar
9/12
: "ULA Delta 4 WGS-10
launch, SpaceX Falcon 9 Demo-1 and
Nusantara Satu launch,
Dragon CRS-16 resupply launch to ISS, SpaceX
Falcon GPS 3-01, SpaceX Falcon Heavy & Falcon 9 launches, upcoming SpaceX
Falcon 9 USAF GP3 3-01, NRO & USAF Spysats, SLS, Orion, Boeing and SpaceX
Commercial crew capsules, OSIRIS-Rex, Juno at Jupiter, InSight Mars lander, Curiosity
and Opportunity explore Mars, NH at Pluto, Kuiper Belt and more," Kennedy Space
Center Quality Inn, Titusville, FL, evenings.
Photos for sale
Ken's
upcoming talks:
Apr 3:
"Exploring
Mars; The Search for Life & A Journey in 3-D."

7 PM, Lawton C
Johnson Middle School, Summit, NJ. Open to the public. Details upcoming.
Latest results from Mars & Ultima Thule