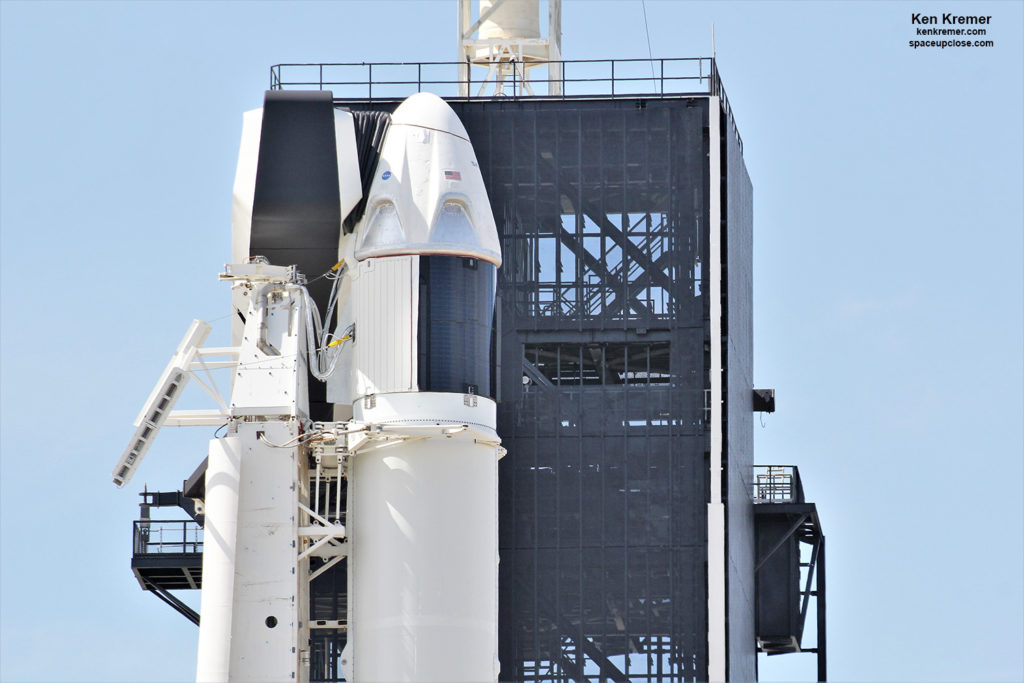 Up Close view of SpaceX
Crew Dragon spacecraft bolted atop Falcon 9 rocket with
Crew Access Arm astronaut walkway in position after being raised vertical at
NASA's historic Launch Complex 39A in Florida on March 1, 2019 ahead of scheduled
maiden liftoff March 2 at 2:49 a.m. EST on critical unpiloted test flight on Demo-1
mission. This vehicle apparently destroyed during static fire test anomaly
failure on Apr. 20, 2019 on Landing Zone-1 at Cape Canaveral Air Force Station,
FL.

Credit: Ken Kremer/kenkremer.com/spaceupclose.com
Ken
Kremer —
SpaceUpClose.com &
RocketSTEM
– 27 April 2019
CAPE CANAVERAL/KENNEDY SPACE CENTER, FL

– NASA and SpaceX officials are releasing few
details into the nature of exactly what happened and the cause of a devastating anomaly suffered last weekend by the
recently
flown and recovered SpaceX Crew Dragon Demo-1 vehicle that was undergoing
critical testing of the crafts SuperDraco engines.
NASA and SpaceX immediately
formed an investigation task force and are methodically carefully combing through
and reviewing "
all of the data collected during the test, including high speed
imagery and detailed spacecraft telemetry data," NASA said in a statement to
Space UpClose – as investigators seek t
o determine the root cause of the apparently catastrophic accident
that took place at Landing Zone 1 at Cape Canaveral Air Force Station on
Saturday April 20.
"SpaceX is leading the mishap investigation, and NASA is
participating in and supporting it. NASA has full insight into the results
of the mishap investigation," NASA told Space UpClose.
The investigation will include "reviewing all of the data
collected during the test, including high speed imagery and detailed spacecraft
telemetry data and will include analysis of the recovered hardware from the
test."
SpaceX engineers had been conducting
static fire testing operations using the SuperDraco thrusters aboard the Demo-1
Crew Dragon when the mishap occurred – and sent smoke billowing into the skies without
warning over Cape Canaveral.
My colleague Craig Bailey of
Florida Today captured photos of the mishap while covering a local surfing
event showing unsuspecting Cape Canaveral beachgoers frolicking in the
foreground and thick clouds of orange smoke rising uncontrollably in the
background.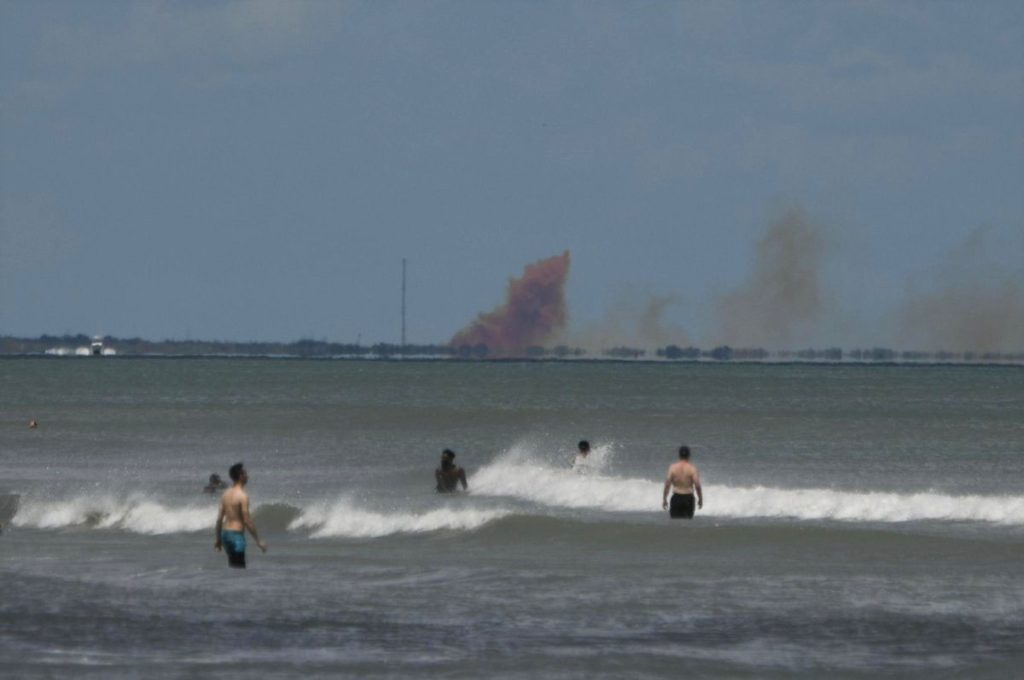 SpaceX static fire testing anomaly April 20,
2019 impacted Demo-1 Crew Vehicle sends smoke billowing into the skies over
Cape Canaveral, FL. Credit:
Craig Bailey/Florida Today
It's not clear at what point
the failure during the Static Fire Test actually occurred – whether it was
before or during the firing of the vehicles eight SuperDraco engines.
However it appears that the
failure occurred at the start of the SuperDraco portion of the engines tests
that day.
All the prior successful engine
testing on April 20 involved only the Draco engines.
"The event occurred during a static fire test
conducted prior to the in-flight abort test," said Patricia Sanders, chair or NASA's
Aerospace Safety Advisory Panel, that held a previously scheduled public meeting on Thursday, April 25
at
NASA's Marshall Space Flight Center
.
"The firing was intended to demonstrate
integrated system Super Draco performance at two times vehicle level
vibro-acoustic life for abort environments. Firing of 12 service section Dracos
were successfully performed."
"Firing of eight Super Dracos resulted in an
anomaly," said Sanders. This took place as the last one following the service
section Draco engine tests.
"SpaceX is leading the investigation with
active NASA participation. Early efforts are focused on site saving, data
collection and reduction and development of the anomaly timeline."
The team will create a fault tree analysis to
aid in determination of root cause.
Among many items, investigators
will be looking at any commonalities between the Dracos and SuperDracos for
clues and clearing the Cargo Dragon variant for resupply mission to the ISS.
The precise fate of Demo-1
has also not been divulged although it apparently suffered potentially
catastrophic destruction on the test stand during static
fire testing operations involving the SuperDraco thrusters.
SpaceX engineers
had been preparing Demo-1 for another important
test flight – namely the InFlight Abort Test –

in hopes of paving the path for eventual human
missions starting with the Demo-2 Crew Dragon.
However that goal now seems
more distant – pending the accident investigation results which are ongoing.
The Super Draco abort engines are intended to
save the astronauts lives in case of a catastrophic rocket emergency by quickly
pulling the Crew Dragon vehicle away from the failing rocket in a split second before
they are killed or injured.
In order to carry out the InFlight Abort test,
SpaceX will need to replace the Demo-1 capsule with either a boilerplate capsule
or another Crew Dragon such as Demo-2 or another vessel.
SpaceX and NASA must apply
lessons learned from the accident investigation and fix what's wrong to ensure
the safety of the lives of our brave astronaut crews before they ever board the
maiden crew test flight on the Demo-2 mission.
"Safety is a top priority
for NASA and our commercial providers," NASA told me.

"We will work with our partners to fly our
crew members when their systems are ready.
"
"
We don't yet know what impact this will have to our target
schedules.
Additional information will
be released as it is available."
The failed test will almost certainly delay the
inaugural astronaut launch on the SpaceX Demo 2 mission previously planned
for NET (no earlier than) this summer from Launch Complex 39A at NASA's
Kennedy Space Center.
That launch had
been expected to slip into the fall even before the mishap as SpaceX works to
complete all the vehicle manufacturing and qualification testing as well as
implement all the configuration upgrades required for example to the life support
and environmental contrail systems to be installed for a crewed flight with NASA
astronauts aboard.
"The investigation will take time before the
root cause analysis is completed and will determine the impact to the Demo 2
and the in-flight abort test," said Sanders.
Up Close view of SpaceX Crew Dragon spacecraft bolted atop Falcon 9 rocket with Crew Access Arm astronaut
walkway in position after being raised vertical at NASA's historic Launch
Complex 39A in Florida on March 1, 2019 ahead of scheduled maiden liftoff March
2 at 2:49 a.m. EST on critical unpiloted test flight on Demo-1 mission. This vehicle
apparently destroyed during static fire test anomaly failure on Apr. 20, 2019
on Landing Zone-1 at Cape Canaveral Air Force Station, FL.

Credit: Ken Kremer/kenkremer.com/spaceupclose.com
The SuperDracos are fueled
by toxic hypergolic propellants hydrazine
and nitrogen tetroxide which ignite when mixed together. The
chemical burned during the mishap creating the acrid orange vapor cloud.
Altogether
there are 8 SuperDracos ringing the Crew Dragon that p
roduce up to 16,000 pounds of thrust and are
designed to restart multiple times as needed in an emergency.



The commercial Crew Dragon vehicle is being
developed under a contract awarded to SpaceX by NASA back in 2014 with the goal
of restoring US human spaceflight capabilities in a safe, reliable and cost
effective manner and ending our sole reliance on the Russian Soyuz capsule.


That capability to launch humans to space was
lost since the forced retirement of NASA's Space Shuttle fleet in 2011.


Boeing is also developing the Starliner crew
capsule under a similar commercial crew contract with NASA.


Both capsules have suffered repeated delays.


The SpaceX Crew Dragon was intended to launch
American astronauts to the International Space Station (ISS) from US soil later
this year- for the first time since NASA's space shuttles were retired in 2011.


Those plans by NASA and SpaceX may now be
delayed, but the exact impact is unclear at this time pending the results of an
investigation.


Watch my SpaceX Demo-1 Crew Dragon launch
video here:
Video Caption: Maiden launch of SpaceX Falcon 9
carrying unpiloted commercially-built Crew
Dragon on Demo-1 test flight for NASA to the International Space Station. Crew Dragon lifted off at 2:49
a.m. EST, March 2, 2019 from Launch Complex-39A on NASA's Kennedy Space Center
in Florida – as seen in this video camera stationed at the
pad. Credit: Ken Kremer/kenkremer.com/spaceupclose.com


The next SpaceX launch to the ISS on the
Dragon CRS-17 resupply mission for NASA is targeting May 1.


Watch my commentary at Fox 35 TV News Orlando about the
SpaceX Crew Dragon testing failure here and the implications for delay in
future Crew Dragon test flights here:


http://www.fox35orlando.com/news/local-news/spacex-capsule-that-is-expected-to-be-the-future-of-manned-missions-suffers-an-explosion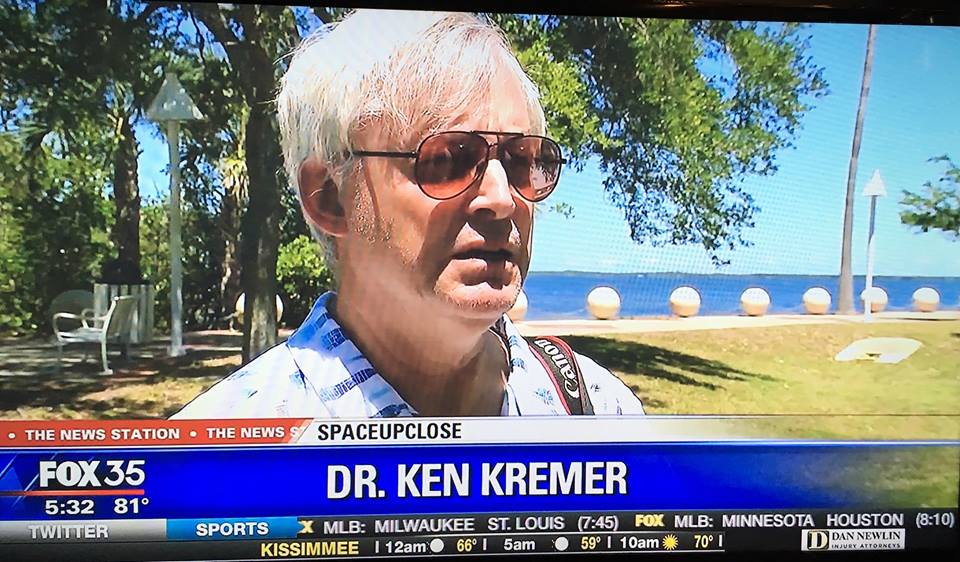 Dr. Ken Kremer/Space UpClose interviewed on
Fox 35 WOFL TV News on 22 April about the SpaceX Crew Dragon Demo-1 vehicle
Super Draco engine testing failure that took place on 20 April 2019.
Screenshot: Ken Kremer/WOFL
Watch for Ken's continuing
onsite coverage of NASA, SpaceX, ULA, Boeing, Lockheed Martin, Northrop Grumman
and more space and mission reports direct from the Kennedy Space Center, Cape
Canaveral Air Force Station, Florida and Wallops Flight Facility, Virginia.
Stay tuned here for Ken's continuing Earth and
Planetary science and human spaceflight news:

www.kenkremer.com

–www.spaceupclose.com – twitter @ken_kremer
– email: ken at kenkremer.com
Dr. Kremer is a research scientist and journalist based in the
KSC area, active in outreach and interviewed regularly on TV and radio about
space topics.
………….

Ken's photos are for sale and he is available for lectures and outreach events
Ken's upcoming outreach events:
Learn more about the upcoming
/recent
SpaceX Falcon 9/CRS-17
launch to ISS, Falcon Heavy, SpaceX Demo-1 launch/test failure, SpaceX Beresheet

launch,
NASA missions, ULA Atlas & Delta launches,
Northrop Grumman Antares, SpySats and more at Ken's upcoming outreach events at
Quality Inn Kennedy Space Center,
Titusville, FL, evenings:
Apr
29/30 May 1
: "SpaceX Falcon 9 CRS-17
resupply launch to ISS, Demo-1, Beresheet
launches,
SpaceX Falcon Heavy launches, upcoming SpaceX Falcon 9, ULA, NRO
& USAF Spysats, SLS, Orion, Boeing and SpaceX Commercial crew capsules,
OSIRIS-Rex, InSight Mars lander, Curiosity and Opportunity explore Mars, NH at
Pluto, Ultima Thule and more," Kennedy Space Center Quality Inn, Titusville,
FL, evenings. Photos for sale