Super Draco static engine test firing. Credit: SpaceX
Ken
Kremer — SpaceUpClose.com &
RocketSTEM – 20 April 2019


KENNEDY SPACE CENTER, FL – A SpaceX Crew Dragon test vehicle suffered a
significant anomaly failure during static fire engine testing this afternoon, Saturday,
April 20, at Landing Zone 1 that sent orange colored smoke rising and billowing
into the skies that was visible for many miles around the Cape Canaveral
region.


The incident was first reported by Florida
Today late this afternoon and confirmed to Space UpClose by both the 45th
Space Wing of the US Air Force and SpaceX a short time later.

Fortunately, there were no injuries according
to the Air Force during today's incident which took place during a static test
firing sequence involving the vehicles Super Draco abort engines at Landing
Zone 1 at Cape Canaveral Air Force Station in Florida.


"On April 20, 2019, an anomaly occurred
at Cape Canaveral Air Force Station during the Dragon 2 static test fire,"
45th Wing Spokesperson Jim Williams told Space UpClose.


"The anomaly was contained and there
were no injuries."



Whether or not an explosion occurred is not
known at this time based on the official statements released.
This tweet from Florida Today shows a photo
of the billowing smoke taken from the beach with sunbathers – taken
by staff photographer Craig
Bailey

https://twitter.com/EmreKelly/status/1119721013166657536
SpaceX anomaly April 20, 2019. Credit: Craig
Bailey
The commercial Crew Dragon is being developed
under a contract awarded to SpaceX by NASA back in 2014.
Up Close view of SpaceX Crew Dragon spacecraft bolted atop Falcon
9 rocket with Crew Access Arm astronaut walkway in position after being raised
vertical at NASA's historic Launch Complex 39A in Florida on March 1, 2019 ahead
of scheduled maiden liftoff March 2 at 2:49 a.m. EST on critical unpiloted test
flight on Demo-1 mission. This will lead to return human spaceflight capabilities
to the United States on Demo-2 mission with 2 NASA astronauts later this year.

Credit: Ken Kremer/kenkremer.com/spaceupclose.com
The Super Draco abort engines are intended
to save the astronauts lives in case of a catastrophic rocket emergency by quickly
pulling the crew Dragon vehicle away in a split second.


The SpaceX Crew Dragon was intended to launch
American astronauts to the International Space Station (ISS) from US soil later
this year- for the first time since NASA's space shuttles were retired in 2011.


Those plans by NASA and SpaceX may now be
delayed, but the exact impact is unclear at this time pending the results of an
investigation.


"Earlier today, SpaceX
conducted a series of engine tests on a Crew Dragon test vehicle on our test
stand at Landing Zone 1 in Cape Canaveral, Florida," a SpaceX
spokesperson told Space UpClose.


"The initial tests completed
successfully but the final test resulted in an anomaly on the test stand."


"Ensuring that our systems meet rigorous safety standards and
detecting anomalies like this prior to flight are the main reasons why we test.
Our teams are investigating and working closely with our NASA partners."


N
evertheless this is a significant setback
that will almost certainly delay upcoming test flights of the Crew Dragon to the ISS as
NASA and SpaceX investigate to determine the cause of the anomaly and instituted
changes based on the results of the investigation.
Later this evening NASA issued the following

statement from
NASA Administrator Jim Bridenstine on the Sat., April 20 SpaceX
Static Fire Test:
"The NASA and SpaceX teams are assessing
the anomaly that occurred today during a part of the Dragon Super Draco
Static Fire Test at SpaceX Landing Zone 1 in Florida. This is why we test. We
will learn, make the necessary adjustments and safely move forward with our
Commercial Crew Program."
"NASA
has been notified about the results of the

@SpaceX


Static Fire Test and the anomaly that occurred during the final test. We will
work closely to ensure we safely move forward with our Commercial Crew Program."
The Super Dracos are fueled by hypergolic
propellants
hydrazine and nitrogen tetroxide propellants

which ignite when mixed together.
Altogether there are 8 Super Dracos ringing the
Crew Dragon that produce up to 16,000 pounds of thrust and are designed to restart multiple
times as needed in an emergency.
The exact identity of the Crew Dragon test
vehicle is not known. It could possibly be the Demo-1 Crew Dragon that recently
carried out a flawless unpiloted test flight to the ISS and back in March.
Or it could be another test vehicle or boilerplate
capsule.
The Demo-1 vehicle was splashed down safely
in the Atlantic Ocean at the end of the mission and was retrieved and returned
to Port Canaveral.

Scorched SpaceX Crew Dragon capsule on deck of GO Searcher
recovery ship arrives into Port Canaveral, FL late evening March 9, 2019 some
35 hours after splashdown at 8:45 a.m. EST March 8, in the Atlantic Ocean
approximately 230 miles northeast
of Cape Canaveral, Florida and hoisting on deck
.
C
redit: Ken Kremer/kenkremer.com/spaceupclose.com
Demo-1
was intended to be re-used for a critical in
flight abort test, or high altitude abort test, scheduled for no earlier than
June.
If Demo-1 was the test vehicle that failed
today and was destroyed the consequences and delays could be rather severe.
That abort test must be carried out successfully
before the Demo-2 mission launches with 2 NASA's astronauts aboard- namely v
eteran space shuttle astronauts Bob Behnken and Doug Hurley
.
The Demo-2 was slated for no earlier than
late July but had been expected to slip to the fall even before todays anomaly.
SpaceX previously conducted a successful Pad
Abort Test of a prototype Crew Dragon with the Super Dracos in May 2015.
Further details as they become known.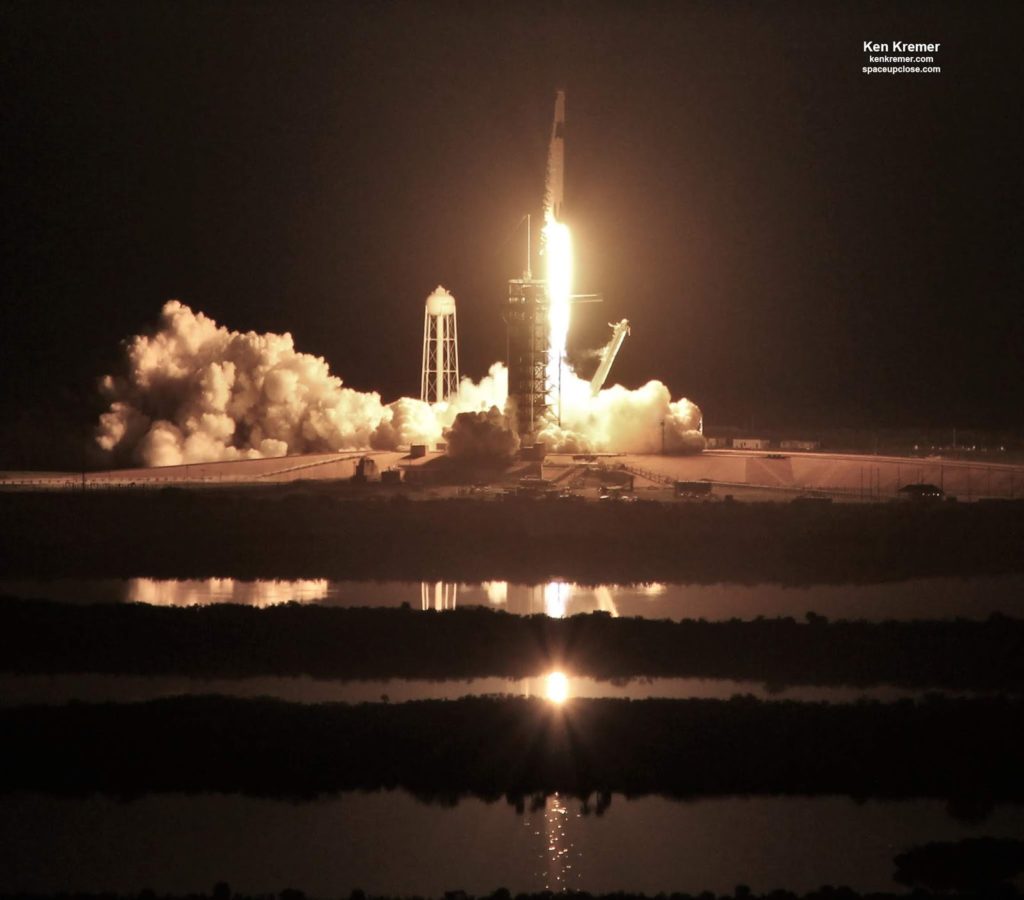 Water reflection launch view as SpaceX Falcon
9 soars off Launch Complex 39A at
NASA's Kennedy Space Center in Florida at 2:49 a.m. EST, March 2,
2019
carrying the company's first
commercially-built and operated Crew Dragon
spacecraft
to orbit for docking with the
International Space Station
(ISS) – as seen from VAB roof.
Credit: Ken
Kremer/kenkremer.com/spaceupclose.com
Boeing is also under contract to NASA to develop
a commercial crew space taxi to ferry astronauts to the ISS.


Known as Starliner it is also slated to launch
on unpiloted and piloted test missions later this year.
Watch for Ken's continuing
onsite coverage of NASA, SpaceX, ULA, Boeing, Lockheed Martin, Northrop Grumman
and more space and mission reports direct from the Kennedy Space Center, Cape
Canaveral Air Force Station, Florida and Wallops Flight Facility, Virginia.
Stay tuned here for Ken's continuing Earth and
Planetary science and human spaceflight news:

www.kenkremer.com

–www.spaceupclose.com – twitter @ken_kremer
– email: ken at kenkremer.com
Dr. Kremer is a research scientist and journalist based in the
KSC area, active in outreach and interviewed regularly on TV and radio about
space topics.
………….

Ken's photos are for sale and he is available for lectures and outreach events