UpClose look at payload fairing housing 60 Starlink-1
satellites for launch on SpaceX Falcon 9 reset to May 23, 2019 at Space Launch
Complex-40 on Cape Canaveral Air Force Station, FL.

Credit: Ken
Kremer/kenkremer.com/spaceupclose.com
Ken
Kremer —
SpaceUpClose.com &
RocketSTEM
– 21 May 2019
CAPE CANAVERAL AIR FORCE STATION, FL –

SpaceX's Starlink constellation of next generation
broadband satellites could revolutionize the way the world accesses and uses the
internet in the next few years – slashing prices and broadening coverage to hard
to reach places across the globe with a network of thousands of low Earth orbiting (LEO) satellites – said SpaceX CEO and billionaire founder Elon Musk in his first detailed
explanation.
Developing and building the first 60 Starlink
satellites "is
one of the hardest engineering projects I've ever seen done [and SpaceX has
ever undertaken]," Musk said as he outlined his first detailed vision of the firms
Starlink broadband constellation in a media conference call on May 15 – just
hours prior to the original target launch date that eventually was scrubbed
minutes before liftoff due to powerful upper altitude winds.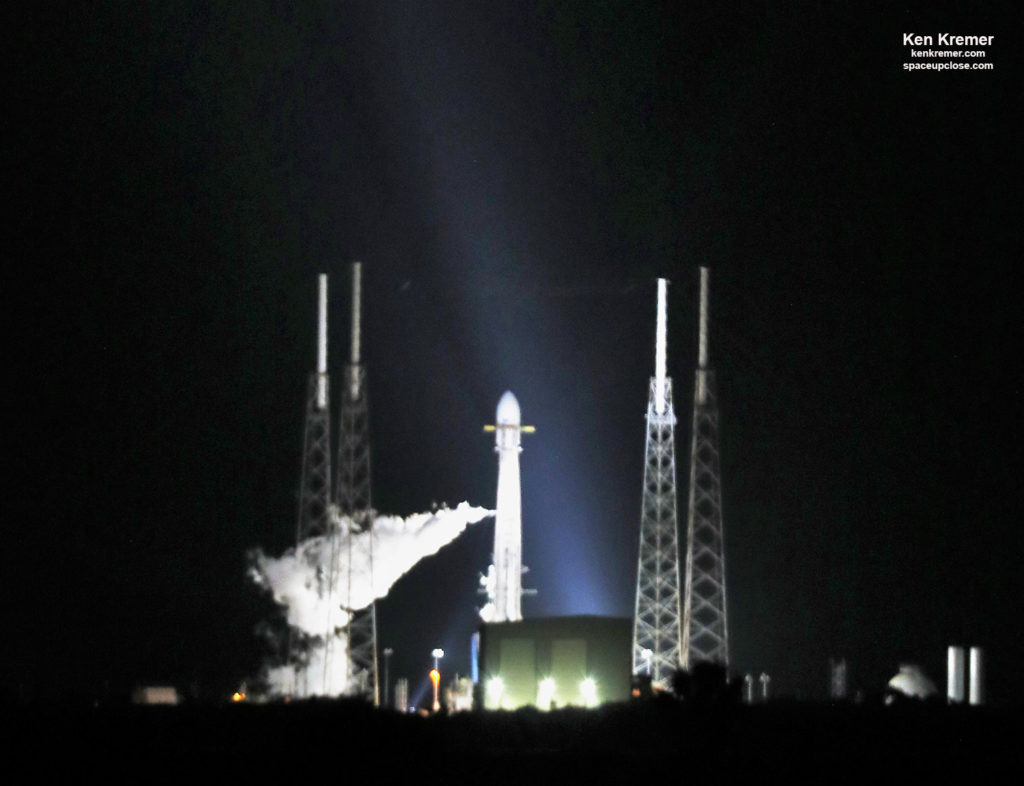 Vigorous venting of LOX from SpaceX Falcon 9 just
minutes before Starlink 1 launch scrub on May 15, 2019
on
Cape Canaveral Air Force Station, FL.
Launch reset to May 23.
Credit: Ken
Kremer/kenkremer.com/spaceupclose.com
"The goal of the Starlink system is to provide high
bandwidth, low latency connectivity, ideally throughout the world that will offer an alternative to expensive services
and also provide internet options to places where no connectivity is currently
available."


However the entire concept of Starlink remains highly
experimental.


"I think it is important to acknowledge that
there is a lot of new technology here. So it's possible that some of these
satellites may not work. In fact, there's a small possibility that all of the
satellites will not work," Musk explained during the telecon.


To date none of the LEO constellation systems
have worked Musk noted, citing the original Iridium broadband version 1 system "which
did not succeed."





"It is very
difficult and far from a sure thing."




Nevertheless Musk's team is aspiring to make
Starlink a huge success.
More than 1000 satellites must be orbited to get
good coverage – which is initially aimed for the US Market.
To accomplish that will require
more than 15 Falcon 9 launches – of which Starlink 1 is the maiden mission to get the program literally off the ground.
They will maneuver, maintain altitude and
deorbit using
Hall thrusters. The ion thruster are powered by Krypton gas
– as opposed to Xenon.
"The Starlink mission will be the heaviest SpaceX
payload ever at 18.5 tons for either the Falcon 9 or Falcon Heavy."
Each Starlink satellite weighs
approximately
227 kg (500 pounds) for a total mass of 13,600 kg (29,964 pounds).
The Starlink-1 launch has been reset to May
23 following a second straight scrub on May 16- this time after Musk's team
decided they needed to update the software on the Starlink satellites.
"Standing down to update satellite software
and triple-check everything again. Always want to do everything we can on the
ground to maximize mission success, next launch opportunity in about a week," SpaceX
tweeted about three hours before the planned May 16 liftoff.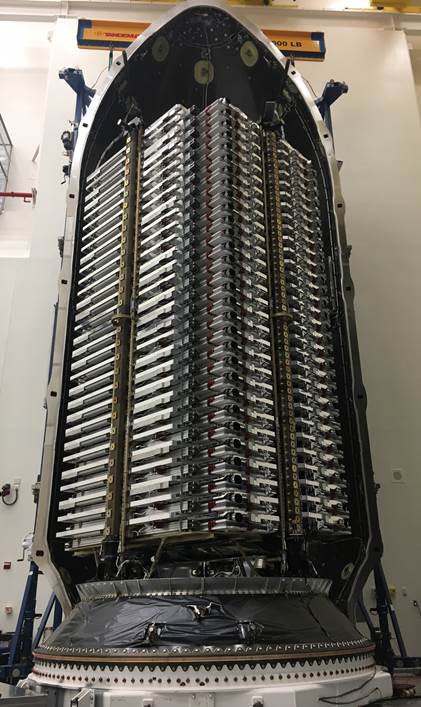 1st 60 SpaceX Starlink satellites loaded inside payload
fairing for launch on Falcon 9 rocket on Starlink-1 mission targeted for launch
May 23, 2019 at 10:30 p.m. EDT from Cape Canaveral Air Force Station, FL.

Credit: SpaceX
The Starlink satellites feature a flat-panel
design with multiple high-throughput antennas and a single solar array. They
are mass produced in SpaceX's Redmond, Washington facility.


"When you add all the solar panels together
the output is about 50% more than the solar arrays on the International Space
Station," said Musk.


Initially Starlink will be aimed at the US
market where regulatory approval has been received from the U.S. Federal Communications Commission. Then it will spread
to the rest of the world.


Musk says that 6 more launches of about 60
satellites each will be required to enable initial coverage and start service in the US.


That involves 7 launches and approximately
420 Starlink satellites.


Good US coverage will be achieved after a
dozen launches.


24 launches are needed for good global
coverage and 30 for nearly complete worldwide service.
SpaceX Falcon 9 rocket raised vertical and poised for liftoff
at Space Launch Complex-40 on Cape Canaveral Air Force Station, FL on Starlink-1
mission retargeted for launch May 23, 2019 at 10:30 p.m. EDT.

Credit: Ken Kremer/kenkremer.com/spaceupclose.com

The Starlink satellites will be deployed starting approximately
one hour and two minutes after liftoff – at an altitude of 440 kilometers.


They will then use the onboard Krypton ion thrusters as propulsion
to reach the operational altitude of 550 km – that's lower than SpaceX
initially planned 1,150 km (741 mi)
altitude.


"We chose the lower orbit to minimize chances
of orbital debris," said Musk.
Each spacecraft is equipped with a Startracker navigation
system based on heritage
design from the Dragon spacecraft that allows SpaceX to point the satellites with precision, says SpaceX.
"The Starlink satellites are capable of tracking on-orbit
debris and autonomously avoiding collision using the Hall thrusters with NORAD tracking."
"Its a good solution for collision avoidance. There is very little risk to the public."
"They are designed to burn up on reentry," Musk
elaborated.
"Additionally, 95 percent of all components of this design
will quickly burn in Earth's atmosphere at the end of each satellite's
lifecycle—exceeding all current safety standards—with future iterative designs
moving to complete disintegration," SpaceX says.
The deployment procedure is also experimental.
They will be deployed as the payload rotates.
"It will be somewhat like spreading a deck of
cards," Musk elaborated.
There are no springs. There are not 60 separate
deployment mechanisms."
They will simply drift away and possible jostle
in contact with one another during the initial release and hopefully not suffer
any significant damage.
SpaceX engineers should make contact with the Starlink
satellites "about 2 to 3 hours after deployment or about 3 to 4 hours after
launch," Musk

confirmed.
"To manufacture and launch a constellation of such scale,
SpaceX is using the same rapid iteration in design approach that led to the
successes of Falcon 1, Falcon 9, Falcon Heavy, and Dragon. As such, Starlink's
simplified design is significantly more scalable and capable than its first
experimental iteration," SpaceX wrote in a press kit.
"This mission will push the operational capabilities of the
satellites to the limit. SpaceX expects to encounter issues along the way, but
our learnings here are key to developing an affordable and reliable broadband
service in the future."
Musk and SpaceX do hope and expect that Starlink will generate
significant revenue in the multi Billions – some of which can be funneled into development
of his heavy lift reusable Starship program to send humans to the Moon and Mars
at vastly lower prices
"We see this as a way forward to generate
revenue that can be used to develop more advanced rockets and spaceships," he
said at the telecon. "And that, we think, is a key steppingstone on the way
toward establishing a self-sustaining city on Mars and a base on the moon."

Note: Story in progress
You can watch the launch on a SpaceX dedicated
webcast that starts about 15 minutes
prior to the opening of the nominal
launch window:
www.spacex.com/webcast
Watch my SpaceX launch commentary and rocket photos at this Fox 35
Orlando report from May 16 launch attempt:
http://www.fox35orlando.com/home/spacex-trying-again-for-launch-of-falcon-9-rocket
Dr. Ken Kremer/Space
UpClose commentary about SpaceX Starlink-1 launch with Fox 35 WOFL Orlando TV
News
Watch for Ken's continuing
onsite coverage of NASA, SpaceX, ULA, Boeing, Lockheed Martin, Northrop Grumman
and more space and mission reports direct from the Kennedy Space Center, Cape
Canaveral Air Force Station, Florida and Wallops Flight Facility, Virginia.


Stay tuned here for Ken's continuing Earth and
Planetary science and human spaceflight news: www.kenkremer.com –www.spaceupclose.com – twitter @ken_kremer
– email: ken at kenkremer.com


Dr. Kremer is a research scientist and journalist based in the
KSC area, active in outreach and interviewed regularly on TV and radio about
space topics.
………….


Ken's photos are for sale and he is available for lectures and outreach events
Ken's upcoming outreach events:
May 22-24
: Quality Inn Kennedy Space Center, Titusville,
FL, evenings.

Learn more about the upcoming
/recent NASA
2024 Moon landing goal, SpaceX Starlink-1,
SpaceX Falcon 9/CRS-17 launch to ISS, Falcon Heavy, SpaceX Demo-1
launch/test failure, SpaceX Beresheet
launch,
NASA missions, ULA Atlas & Delta launches, Northrop Grumman Antares,
SpySats and more