Stunning blastoff of triple barreled SpaceX
Falcon Heavy on April 11, 2019 at 6:35 PM ET from Launch Complex-39A at the
Kennedy Space Center, FL carrying the Arabsat-6A telecommunications satellite
to Earth orbit, on 1st commercial launch of Falcon Heavy. From
my remote camera placed at pad 39a. Launch of the 3rd Falcon
Heavy on STP-2 mission for the U.S. Air Force is slated for June 24
Ken
Kremer —
SpaceUpClose.com &
RocketSTEM
– 24 June 2019
KENNEDY SPACE CENTER, FL –

The
first ever nighttime liftoff of the SpaceX Falcon Heavy is now poised for blastoff
on only its third launch ever later today Monday June 24

after workers raised the 23 story tall rocket
vertical at NASA's Kennedy Space Center.
Liftoff of the
Space Test Program-2
(STP-2) mission

paid for by the

Department
of Defense (DoD) and managed by the

U.S Air Force

Space
and Missile Systems Center (SMC) is now targeted for launch on June 24, 2019 at
11:30 p.m. EDT from Launch Complex 39A at the Kennedy Space Center in Florida.
The mission was ordered by the U.S. Air Force
and is the "most difficult launch ever" for SpaceX says SpaceX CEO and
billionaire founder Elon Musk.
STP-2 is the first ever Falcon Heavy mission for the DOD and
includes science, research and military research and technology payloads for
the US Air Force as well as four satellites for NASA, six satellites for

NOAA, also a number for Universities, Industry

and
one for the Planetary Society and human ashes too.
You can watch the launch live on NASA TV.
It will air on NASA Television and the
agency's
website

starting 30 minutes before liftoff

.
SpaceX will also provide a live webcast starting about 20
minutes before liftoff: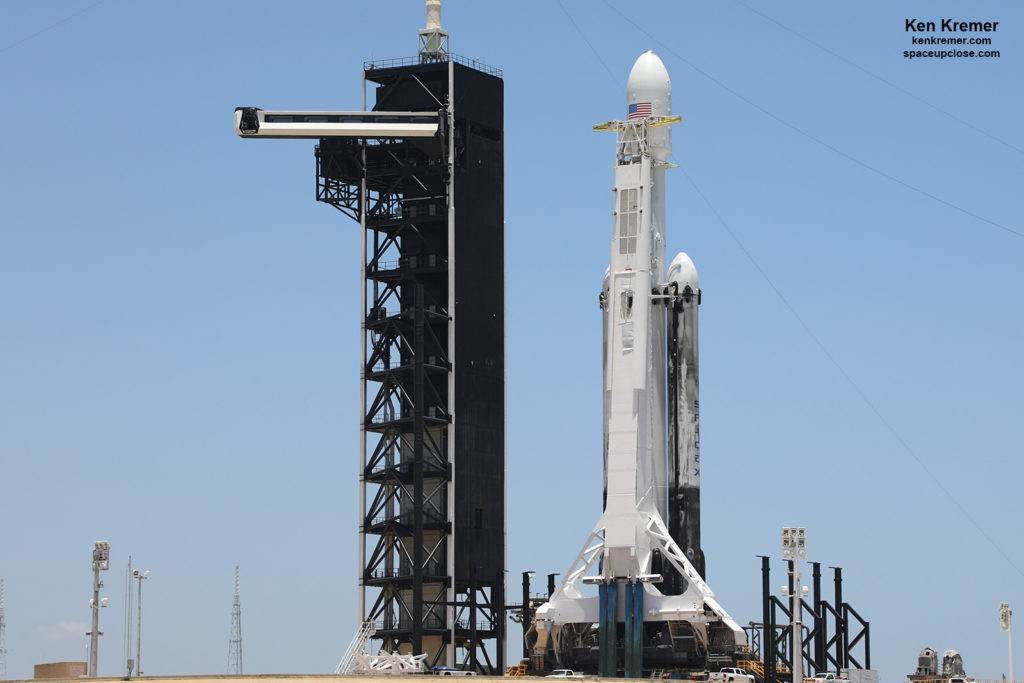 The triple stick Falcon Heavy will deliver 24 science, research,
technology development and military research satellites to space into 3 separate
orbits and inclinations as the second stage is fired for a record 4 separate times
in another test scoping out the range of its capabilities.
Furthermore the mission duration for the 4 second stage
engine firings to enable the 24 satellite deployments is a record breaking 6
hours.
And on top of that t
he STP-2
mission will also feature a breathtaking attempt by SpaceX to recover all 3
booster cores by land and by sea.
The two side boosters will land back at the Cape 8 minutes
after launch and the center core will touchdown at sea on the OCISLY droneship.

The 24 satellites have a total payload mass of 3700 kg.
With the dispenser that rises to 5000 kg.
Included on the manifest are four NASA payloads
investigating technologies that will help improve future spacecraft design and
performance in space.
The NASA payloads
aboard the
Space Test Program-2 flight
include:
-the

Deep Space Atomic Clock

for vastly improved
interplanetary navigation that could change how we navigate on the Moon, to
Mars and beyond,
– the

Green Propellant Infusion Mission
to a test cleaner and new much less toxic
green
propulsion system could
take the small satellite revolution beyond what it is today,
and
– the
Enhanced Tandem Beacon Experiment
involving
six satellites to study irregularities in Earth's upper atmosphere
that interfere with GPS and communications signals.
NOAA along with NASA, the USAF and others are
sponsoring the Constellation Observing System for Meteorology Ionosphere &
Climate-2, or
COSMIC-2
system– a
constellation of 6 satellites. They will orbit 322 miles above Earth with a
mass of 250 kg.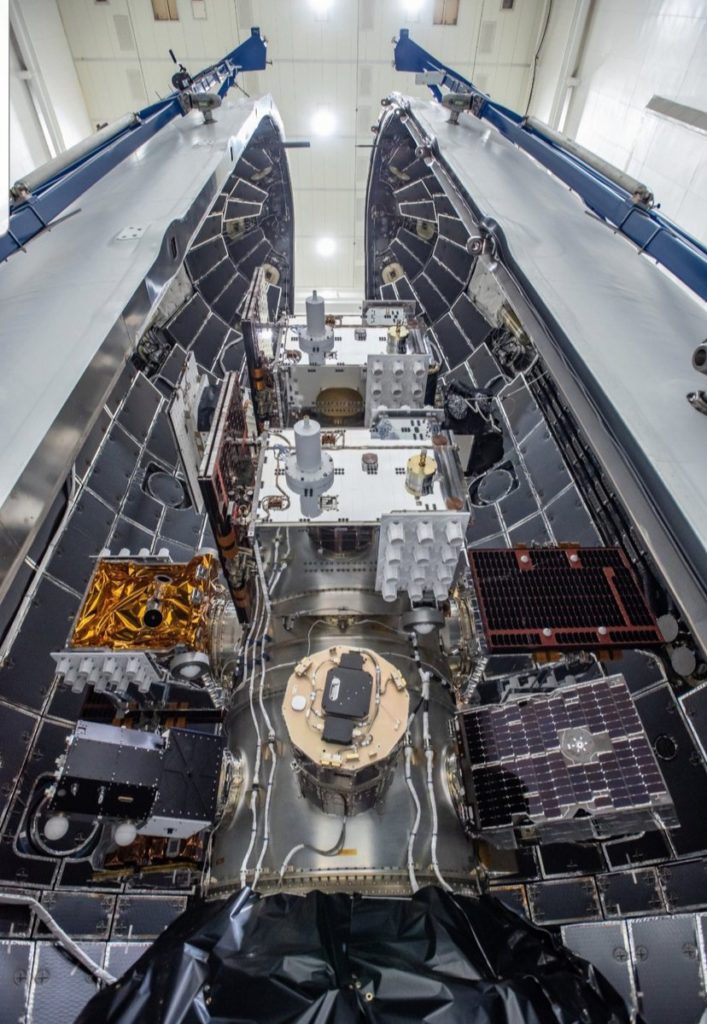 The 24 satellite payload and dispenser launching on SpaceX
Falcon Heavy STP-2 mission on June 24 from Launch Complex 39A at the Kennedy
Space Center. Credit: SpaceX/USAF
The Falcon Heavy first stage is comprised of
three Falcon 9 cores. The center core is new and plumbed differently from the twin
pair of side cores – which are recycled from the Arabsat 6A launch in mid-
April.
The Falcon Heavy measures 229.6 feet (70 m)
tall and 39.9 feet (12.6 m) wide with a mass of 3,125,735 lb
(1,420,788 kg).
Watch my commentary about the Falcon Heavy
launch at News 6 Orlando here: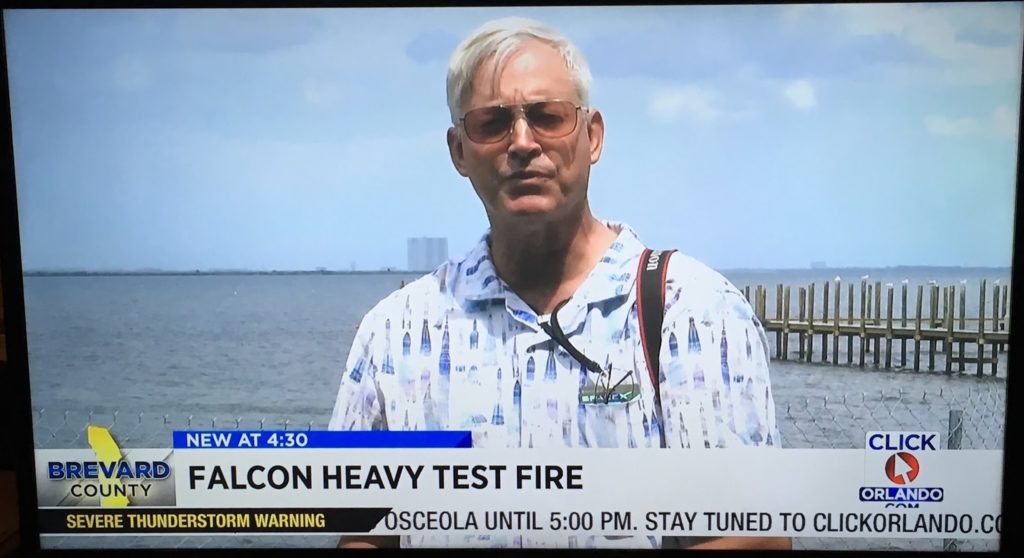 Dr. Ken
Kremer/Space UpClose interviewed by CBS 6 Orlando TV News WKMG on June 19, 2019
about the Falcon Heavy STP-2 launch targeted for June 24. Credit: CBS 6
WKMG/Ken Kremer screenshot
Ken will be onsite at the Kennedy Space Center
for liive coverage of the SpaceX Falcon Heavy STP-2 launch.
Watch for Ken's continuing
onsite coverage of NASA, SpaceX, ULA, Boeing, Lockheed Martin, Northrop Grumman
and more space and mission reports direct from the Kennedy Space Center, Cape
Canaveral Air Force Station, Florida and Wallops Flight Facility, Virginia.
Stay tuned here for Ken's continuing Earth and
Planetary science and human spaceflight news:

www.kenkremer.com

–www.spaceupclose.com – twitter @ken_kremer
– email: ken at kenkremer.com
Dr. Kremer is a research scientist and journalist based in the
KSC area, active in outreach and interviewed regularly on TV and radio about
space topics.
………….

Ken's photos are for sale and he is available for lectures and outreach events
Ken's upcoming outreach events:
Jun 24/25
: Quality Inn Kennedy Space Center, Titusville,
FL, evenings.

Learn more about the upcoming
/recent
Falcon Heavy,
NASA 2024 Moon landing
goal, SpaceX Starlink-1,
SpaceX Falcon 9/CRS-17
launch to ISS, SpaceX Demo-1 launch/test failure, SpaceX Beresheet
launch,
NASA missions, ULA Atlas & Delta launches,
Northrop Grumman Antares, SpySats and more
Ken's will display his photos for sale