Stunning blastoff of triple barreled SpaceX Falcon Heavy on April 11, 2019 at 6:35 PM ET from Launch Complex-39A at
the Kennedy Space Center, FL carrying the Arabsat-6A telecommunications satellite
to Earth orbit, on 1st commercial launch of Falcon Heavy.

From my remote camera placed at pad 39a.

Launch on the 3rd Falcon Heavy on STP-2
mission for the U.S. Air Force is slated for June 24, 2019 at 11:30 p.m. EDT.
Credit: Ken Kremer/kenkremer.com/spaceupclose.com
Ken
Kremer —
SpaceUpClose.com &
RocketSTEM
– 22 June 2019
CAPE CANAVERAL/MERRITT ISLAND NATIONAL WILDLIFE REFUGE, FL –

Good weather is currently forecast for the
first ever nighttime blastoff of the SpaceX Falcon Heavy just before midnight
Monday, June 24, from Florida's Space Coast.
Air Force meteorologists with the 45th
Space Wing say the weather outlook for Monday evening is rather favorable –
currently
forecast as a 70% percent chance of favorable conditions at launch time.
Liftoff of the
Space Test Program-2
(STP-2) mission
paid for by the
Department
of Defense (DoD) and managed by the
U.S Air Force
Space
and Missile Systems Center (SMC) is now targeted for launch on June 24, 2019 at
11:30 p.m. EDT from Launch Complex 39A at the Kennedy Space Center in Florida –
following the good outcome of the hold down static fire test.
The launch window opens at 11:30 p.m. EDT and extends four
hours to 3:30 a.m. June 25.
In case of any delay the next launch opportunity is
Tuesday, June 25 with the same launch window.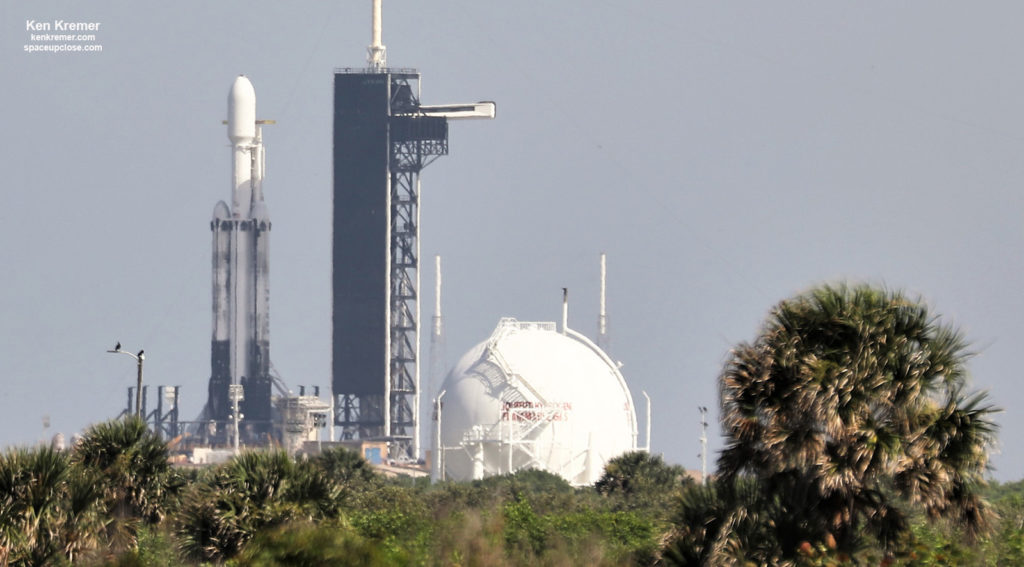 The full
SpaceX Falcon Heavy with a payload fairing
attached stands vertical at Launch Complex 39A at the Kennedy Space Center in
this wide angle view following successful static fire test.

Launch on the STP-2 mission for the U.S. Air
Force is slated for June 24, 2019 at 11:30 p.m. EDT. See 2 sooty side
boosters recycled from Arabsat 6A launch in April 2019. Credit: Ken
Kremer/kenkremer.com/spaceupclose.com
Here is the detailed forecast from the 45th
Space Wing – Jun 23 update:


"An upper-level ridge over the Southeast US
will keep the shower and thunderstorm activity over Central Florida below
seasonal norms. The surface ridge axis is south of the Space Coast however,
which will keep the isolated afternoon convection along the Space Coast. This
southwesterly flow will also bring high temperatures in the 90s over the
Spaceport. The primary weather concerns for a launch attempt overnight Monday
are lingering anvil and thick layer clouds from the isolated afternoon
convection."


"On Tuesday,
the upper-level ridge will begin moving east, allowing a storm system to drop
into Florida. Thus, the coverage of showers & storms will increase, while
the launch weather concerns remain the same."

45th Weather Squadron facility
inside the Morrell Operations Center on Cape Canaveral Air Force Station. Credit: Ken
Kremer/kenkremer.com/spaceupclose.com
This 3rd launch of the SpaceX Falcon
Heavy marks the 1st ever mission of the triple stick rocket for the
US Air Force and the first reuse of previously flown boosters on the world's most
powerful rocket.


The extremely complex mission is being conducted in joint
partnership with NASA and NOAA and will deliver two dozen military and science satellites
to a variety of orbits.


The Air Force is paying for this Falcon Heavy
mission launch and using it to certify the rocket for future launches of US
National Security missions including using reused booster hardware.


The STP-2 mission will also feature a breathtaking attempt by SpaceX to recover all 3 booster cores by land and by
sea.
The two side boosters will land back at the Cape 8 minutes
after launch and the center core will touchdown at sea on the OCISLY droneship.

The path to launch was cleared after SpaceX
engineers successfully completely a critical hold down nighttime test firing of
the mammoth Falcon Heavy, shortly before midnight Wednesday, June 19 – thereby paving
the path for the first ever nighttime blastoff of the beast generating 5
million pounds of thrust on what is certain to be an absolutely magnificent spectacle
on Florida's Space Coast Monday evening June 24.
SpaceX conducted
a short Static Fire Test of the Falcon Heavy rockets 1st 27 first
stage engines with a payload fairing attached and standing vertical at Launch
Complex 39A at the Kennedy Space Center at 11:32 p.m. EDT June 19, 2019. Launch
of the STP-2 mission for the U.S. Air Force is slated for June 24, 2019 at
11:30 p.m. EDT. Credit: Ken Kremer/kenkremer.com/spaceupclose.com
The Falcon Heavy will deliver 24 science and military satellites
to space on the first ever mission for the DOD that also includes four
satellites for NASA and more for NOAA, a number of
Universities, Industry and one for the Planetary Society.
The 24 satellites will be delivered to 3 separate orbits and
inclinations as the second stage is fired for a record 4 separate times in
another test of its capabilities.
Included on the manifest are four NASA payloads
investigating technologies that will help improve future spacecraft design and
performance in space.
The NASA payloads
aboard the
Space Test Program-2 flight
include:
-the

Deep Space Atomic Clock

for vastly improved
interplanetary navigation that could change how we navigate on the Moon, to
Mars and beyond,
– the

Green Propellant Infusion Mission
to a test cleaner and new much less toxic
green
propulsion system could
take the small satellite revolution beyond what it is today,
and
– the
Enhanced Tandem Beacon Experiment
involving
six satellites to study irregularities in Earth's upper atmosphere
that interfere with GPS and communications signals.
NOAA along with NASA, the USAF and others are
sponsoring the Constellation Observing System for Meteorology Ionosphere &
Climate-2, or
COSMIC-2
system– a
constellation of 6 satellites.
The Falcon Heavy first stage is comprised of
three Falcon 9 cores. The center core is new and plumbed differently from the twin
pair of side cores – which are recycled from the Arabsat 6A launch in mid-
April.
The Falcon Heavy measures 229.6 feet (70 m)
tall and 39.9 feet (12.6 m) wide with a mass of
3,125,735 lb
(1,420,788 kg).
Watch my commentary about the Falcon Heavy
launch at News 6 Orlando here:
https://www.clickorlando.com/news/space-news/third-falcon-heavy-launch-targeted-on-the-space-coast
Dr. Ken
Kremer/Space UpClose interviewed by CBS 6 Orlando TV News WKMG on June 19, 2019
about the Falcon Heavy STP-2 launch targeted for June 24. Credit: CBS 6
WKMG/Ken Kremer screenshot
Ken will be onsite at the Kennedy Space Center
for liive coverage of the SpaceX Falcon Heavy STP-2 launch.
Watch for Ken's continuing
onsite coverage of NASA, SpaceX, ULA, Boeing, Lockheed Martin, Northrop Grumman
and more space and mission reports direct from the Kennedy Space Center, Cape
Canaveral Air Force Station, Florida and Wallops Flight Facility, Virginia.
Stay tuned here for Ken's continuing Earth and
Planetary science and human spaceflight news:

www.kenkremer.com

–www.spaceupclose.com – twitter @ken_kremer
– email: ken at kenkremer.com
Dr. Kremer is a research scientist and journalist based in the
KSC area, active in outreach and interviewed regularly on TV and radio about
space topics.
………….

Ken's photos are for sale and he is available for lectures and outreach events
Ken's upcoming outreach events:
Jun 22-24
: Quality Inn Kennedy Space Center, Titusville,
FL, evenings.

Learn more about the upcoming
/recent
Falcon Heavy,
NASA 2024 Moon landing
goal, SpaceX Starlink-1,
SpaceX Falcon 9/CRS-17
launch to ISS, SpaceX Demo-1 launch/test failure, SpaceX Beresheet
launch,
NASA missions, ULA Atlas & Delta launches,
Northrop Grumman Antares, SpySats and more
Ken's will display his photos for sale