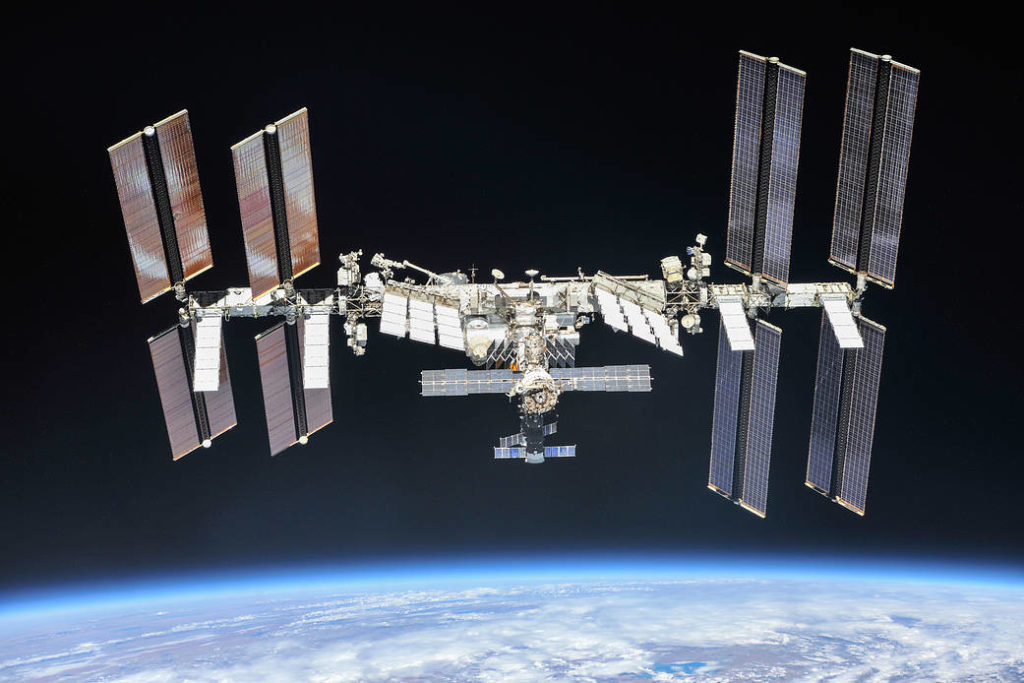 The International Space Station photographed by the departing
Expedition 56 crew members in the Soyuz MS-08 crew capsule on Oct. 4, 2018.
Credit: Roscosmos/NASA
Ken
Kremer —
SpaceUpClose.com &
RocketSTEM
– 7 June 2019
CAPE CANAVERAL, FL – From the business capital of the world
at Nasdaq in New York City NASA officials today, June 7, announced a
significant expansion in commercial activities aboard the International
Space Station opening it up to U.S. industry with the goal of
driving innovation and ingenuity that "can accelerate a thriving commercial
economy in low-Earth orbit" and allowing private astronauts to visit for the
first time for up to month, starting in 2020.
NASA will also permit
the docking of a commercial research module onto the end of the Harmony module
to carry out R&D, manufacturing and marketing activities for profit.
The goal is to stimulate
a robust economy in Low Earth Orbit at the ISS starting now and at future free
flying space stations in the future.
The new near-term, five-part
plan was outlined in detail during a live broadcast on NASA TV direct from NASDAQ
NYC on Friday, June 7 with top NASA managers including the agency's Chief
Financial Officer Jeff DeWit, Bill Gerstenmaier, associate administrator,
NASA's Human Exploration and Operations Mission Directorate, and Robyn Gatens,
deputy director, International Space Station, all at NASA Headquarters.
"We're reaching out to the private sector to see if you can push
the economic frontier into space," said Bill Gerstenmaier, NASA director of
space operations, at the breifing. "This is a shift for NASA that will be
beneficial for the American economy and for the American citizens.
"The commercialization of
low-Earth orbit will enable NASA to focus resources to land the first woman and
the next man on the moon by 2024 as the first phase in creating a sustainable
lunar presence and preparing for missions to Mars."
"The five-point plan will enable commercial and marketing
activities aboard the International Space Station, with a long-term goal to
achieve a robust economy in low-Earth orbit from which NASA can purchase
services as one of many customers."
The International Space Station photographed by the departing
Expedition 56 crew members in the Soyuz MS-08 crew capsule on Oct. 4, 2018.
Credit: Roscosmos/NASA
It's important to note that the new plan is truly an expansion of
commercial R&D work already ongoing at the ISS – NOT the start.


"We need to think of a different way of
doing business," said Gerstenmaier. "We have no idea what kinds of creativity
and literally out-of-this-world ideas can come from private industry."


This new plan goes far beyond the existing ISS National Lab
(CASIS) setup.


50 commercial companies are already conducting commercial research
and development activities via the International
Space Station U.S. National Laboratory.


Furthermore, "NASA has worked with 11 different companies to
install 14 commercial facilities on the station that support research and
development projects for NASA and the ISS National Lab."


NASA's five point plan as described by Robyn
Gatens involves:


-enabling use of government resources for
commercial activities. It allows profits,


-creating the opportunity for private astronaut
missions to the space station, up to 2 per year starting in 2020,


-enabling commercial destinations in low-Earth
orbit, including the forward port on the Harmony module,


-identifying and pursuing activities that foster
new and emerging markets, and opportunities for long term growth and
sustainable demand for using microgravity,


-and quantifying NASA's long-term demand for activities
in low-Earth orbit via a NASA white paper.


And
you will need to have a good scientific, commercial or educational reason to be
approved to journey to orbit as a private astronaut to the ISS.


You cant
just go up as a 'space tourist' on a 'joy ride.'


The NASA
outline documents specifically mandates
the commercial activities require the microgravity environment for research and
development activities and requires it serves NASA's broader goals of space
exploration.


"To qualify, commercial and marketing activities
must either:


·
require the unique
microgravity environment to enable manufacturing, production or development of
a commercial application;


·
have a connection to
NASA's mission; or


·
support the development
of a sustainable low-Earth orbit economy."





To help enable a competitive commercial LEO economy
NASA is "initially

making available


five percent of the agency's annual allocation of crew resources and cargo
capability, including 90 hours of crew time and 175 kg of cargo launch
capability, but will limit the amount provided to any one company."
The use of NASA astronauts will be regulated "to
conduct coordinated, scheduled and reimbursable commercial and marketing
activities consistent with government ethics requirements aboard the station."
Marketing efforts involving NASA astronauts will
be permitted so long as they are "behind the camera."
Of
course it wont be cheap for those private astronauts lucky enough to secure a ride
to the orbiting lab complex.
Private
astronauts will need to pay NASA a cool $35,000 per night for life support and to
use ISS facilities – and that's above and beyond the approximately $60 million ticket
cost for a seat they'll be required to purchase first to be able to soar to
space by launching aboard either the Boeing Starliner or SpaceX Crew Dragon space
taxis under development as part of

NASA's
commercial crew program.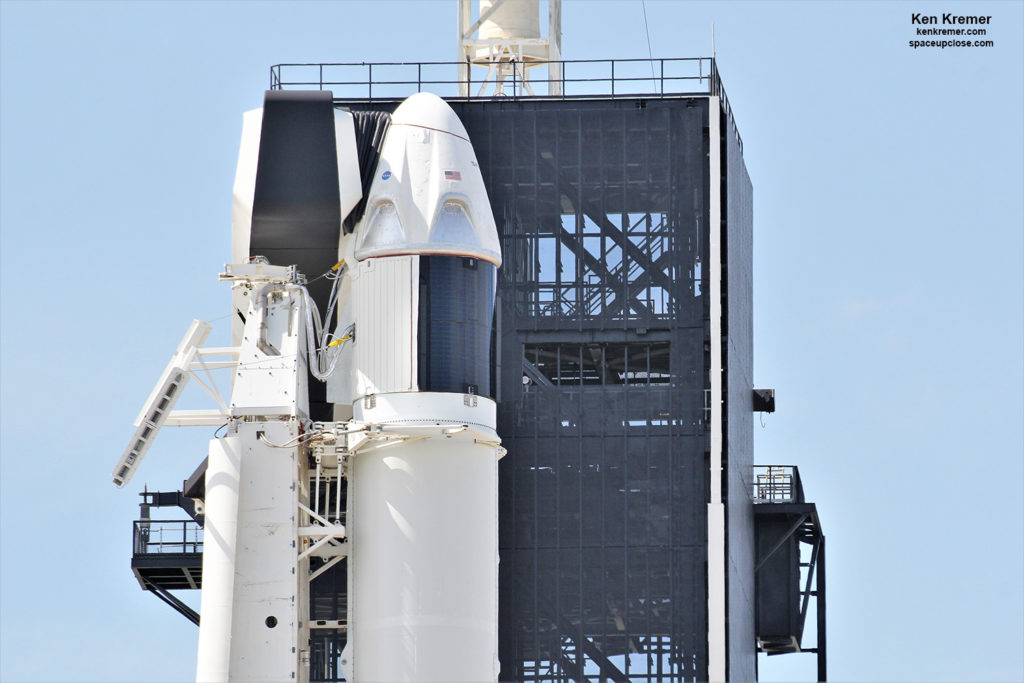 Up Close view of SpaceX Crew Dragon
spacecraft bolted atop Falcon 9 rocket with Crew Access Arm astronaut walkway
in position after being raised vertical at NASA's historic Launch Complex 39A
in Florida on March 1, 2019 ahead of maiden liftoff March 2 at 2:49 a.m. EST on
critical unpiloted test flight on Demo-1 mission. This vehicle was destroyed
during static fire test anomaly failure on Apr. 20, 2019 on Landing Zone-1 at
Cape Canaveral Air Force Station, FL.
Credit: Ken Kremer/kenkremer.com/spaceupclose.com
Boeing
and SpaceX are expected to charge NASA about $58 million per seat for NASA
astronauts.


This is
lower than the approximately $85+ million per seat the Russians currently change NASA for seats
aboard their Soyuz spacecraft which currently remains the only path for humans
to travel to the ISS and back – since the forced shutdown of NASA's Space Shuttles
back in 2011.


"We're going to re-evaluate the pricing every
six months," said Jeff DeWit, NASA's chief financial officer. "If a private
astronaut is on station, they'll have to pay us while they're there for the
life support, the food, the water, things of that nature."


So a one month stay aboard the ISS will cost roughly
$1 million – payable to NASA.


"I would expect the cost to be in that range [around $58 million] for private astronauts," DeWit said.


"The two companies right now
that can do it are Boeing and SpaceX. And so, they would have to contract with
them and whatever prices Boeing and SpaceX set is on them. But when they get to
station, there will be a cost. It will be roughly about $35,000 a night per
astronaut.


"But it won't come with any
Hilton or Marriott points," he added jokingly.



NASA
says they can support up to two private astronaut missions per year.


Theoretically
this could involve as many as a dozen passenger astronauts using a seven seat
spaceship with one pilot and six private astronaut crew members.
The United Launch Alliance Atlas V rocket that will launch
the first astronaut crew aboard the Boeing Starliner commercial crew vehicle to
the ISS later this year has arrived at Cape Canaveral Air Force Station after rolling
off the Delta Mariner cargo ship on June 5, 2019.

Credit: Ken Kremer/kenkremer.com/spaceupclose.com
Boeing
and SpaceX will be responsible for all private astronaut training and selection.


"We're looking to the private sector to do the
training, to do the transportation, to work out the accommodations, to be the
interface between the individuals that want to fly the private astronauts and
us," Gerstenmaier said.


"So we expect the private sector companies to
do all that."


The ULA
Atlas V rocket for the 1st Boeing Starliner crew capsule that will
launch astronauts just arrived at Cape Canaveral Air Force Station this week.
Read our prior story with eyewitness photos here.


The first crew trio will fly on the Crew Flight Test (CFT)
mission hopefully late this year.


CFT will comprise Boeing astronaut and former NASA astronaut
Chris Ferguson and
NASA astronauts Mike Fincke and Nicole Mann who will
fully demonstrate Starliner and Atlas V's ability to safely carry crew to and
from the orbiting laboratory.


Back in March the unmanned Crew Dragon launched on the flawless
Demo-1 mission to the ISS and SpaceX seemed on track to be the first American
company to launch astronauts to the ISS on a private spaceship funded by NASA.


However the recovered Demo-1 capsule was completely destroyed by
a sudden explosion in mid-April during a static test fire of the SuperDraco
abort engines at the Cape's Landing Zone-1. Those abort engines are required to
save the astronauts lives in case of a catastrophic rocket emergency.


Thus it is not known at this time when SpaceX will get back on
track with their crewed Demo-2 mission.


The ISS itself is currently funded by NASA and its partners
through 2024.


NASA is no longer seeking to halt funding thereafter as the
agency was ordered to do last year by the Trump Administration- in an about
face following heavy bipartisan criticism in Congress.


This is important because no company will invest money in a
facility if a shutdown is looming in just a few years.


"There will be no gap in
human spaceflight in low Earth orbit," said Gatens.


"We're hoping that new
capabilities can develop that can one day take over for the space station, and
we will begin to do that transition when those capabilities become available."


Watch
my commentary at ABC and Fox local TV News Orlando about the ULA Atlas V
arrival and offloading and the future of astronauts rising to space aboard commercial vehicles like the Boeing
Starliner crew capsule at these stories from June 5 here:


http://www.fox35orlando.com/news/local-news/ula-rocket-arrives-on-space-coast-from-alabama-factory
Watch for Ken's continuing
onsite coverage of NASA, SpaceX, ULA, Boeing, Lockheed Martin, Northrop Grumman
and more space and mission reports direct from the Kennedy Space Center, Cape
Canaveral Air Force Station, Florida and Wallops Flight Facility, Virginia.
Stay tuned here for Ken's continuing Earth and
Planetary science and human spaceflight news:

www.kenkremer.com

–www.spaceupclose.com – twitter @ken_kremer
– email: ken at kenkremer.com
Dr. Kremer is a research scientist and journalist based in the
KSC area, active in outreach and interviewed regularly on TV and radio about
space topics.
………….

Ken's photos are for sale and he is available for lectures and outreach events