Artist concept of the
logistics module docked to Gateway in lunar orbit. NASA will seek solicitations
from American companies to deliver cargo and other supplies to the lunar
outpost that will support human exploration of the Moon by 2024.

Credits: NASA
Ken
Kremer —
SpaceUpClose.com &
RocketSTEM
– 17 June 2019
CAPE CANAVERAL, FL –
As NASA continues the rapid ramp up for Project Artemis to land the next
American astronauts on the Moon by 2024, the agency announced a solicitation requesting
commercial resupply providers for the Lunar Gateway station that crews will
visit on trips to and from the lunar surface.
On June 14 NASA issued a draft
solicitation request for proposals (RFP) to industry "seeking
comments for a future opportunity for American companies to deliver cargo and
other supplies to the Gateway in lunar orbit."
The program would deliver science experiments, hardware,
gear, cargo and crew supplies to the Gateway station in lunar orbit by 2024 – similar to how commercial resupply providers Northrop Grumman and SpaceX deliver these
services to the International Space Station in low Earth orbit

via Cygnus and Cargo Dragon respectively.
"We're
asking U.S. companies to provide thoughts on innovative ways to supply
#Artemis
Moon missions, beginning with the first delivery of
supplies to the lunar Gateway by 2024," tweeted NASA Administrator Jim
Bridenstine.
NASA's goal is to establish a sustainable
presence on and around the Moon by 2028 under the Trump Administration plan.
Gateway will serve as a "base camp" for astronaut
crews and function as a reusable command and service module for missions to the
lunar surface.
"The first logistics service to the orbital
outpost is expected to deliver science, cargo and other supplies in support of
the agency's new

Artemis


lunar exploration program, which includes sending the first woman and the next
man to the surface of the Moon by 2024." according to NASA officials.
NASA has set a deadline of July 14 to receive
comments back from interested industry partners.
In the meantime NASA has organized in Industry
Day forum at the Kennedy Space Center, FL on June 26 "to answer questions and
explain the proposed approach for logistic deliveries. Additional details about
that opportunity for industry are available

online

."
"The Gateway, and specifically our logistics
supply requirements, enables the deep space supply chain, taking the next step
toward further commercialization of space," said Mark Wiese, NASA's Gateway
logistics element manager at Kennedy Space Center in Florida.
"In addition to delivering cargo, science and
other supplies to the Gateway with these services, there's potential for an
extension to industry to deliver other elements of our lunar architecture with
this solicitation."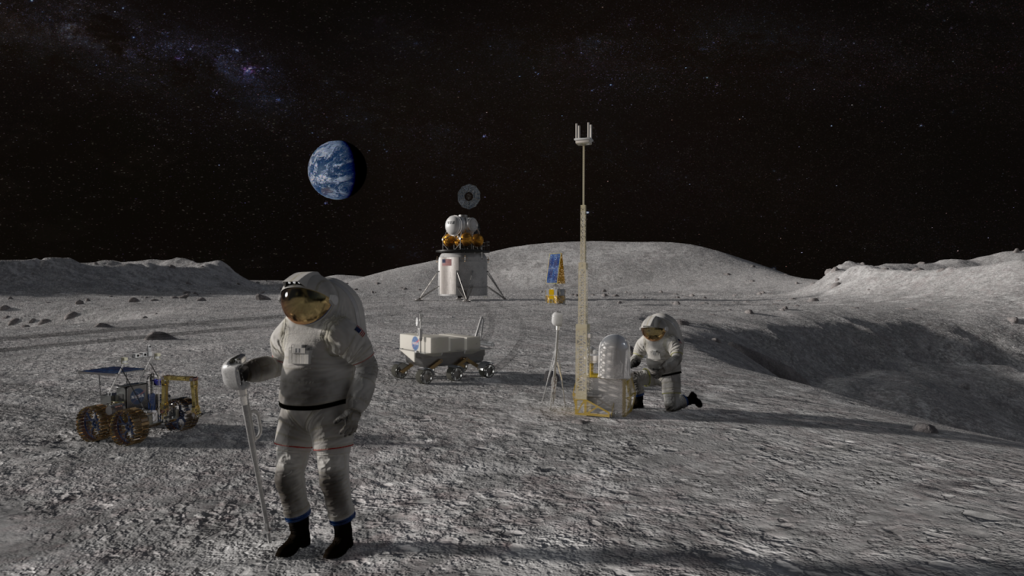 Artists concept for NASA's human return to
the Moon's surface by 2024 under Project Artemis. Credit: NASA
NASA plans to issue a formal solicitation for a
firm-fixed price contract is expected this summer and the contract for Gateway services
will be valued at $7 billion for a period of 15 years.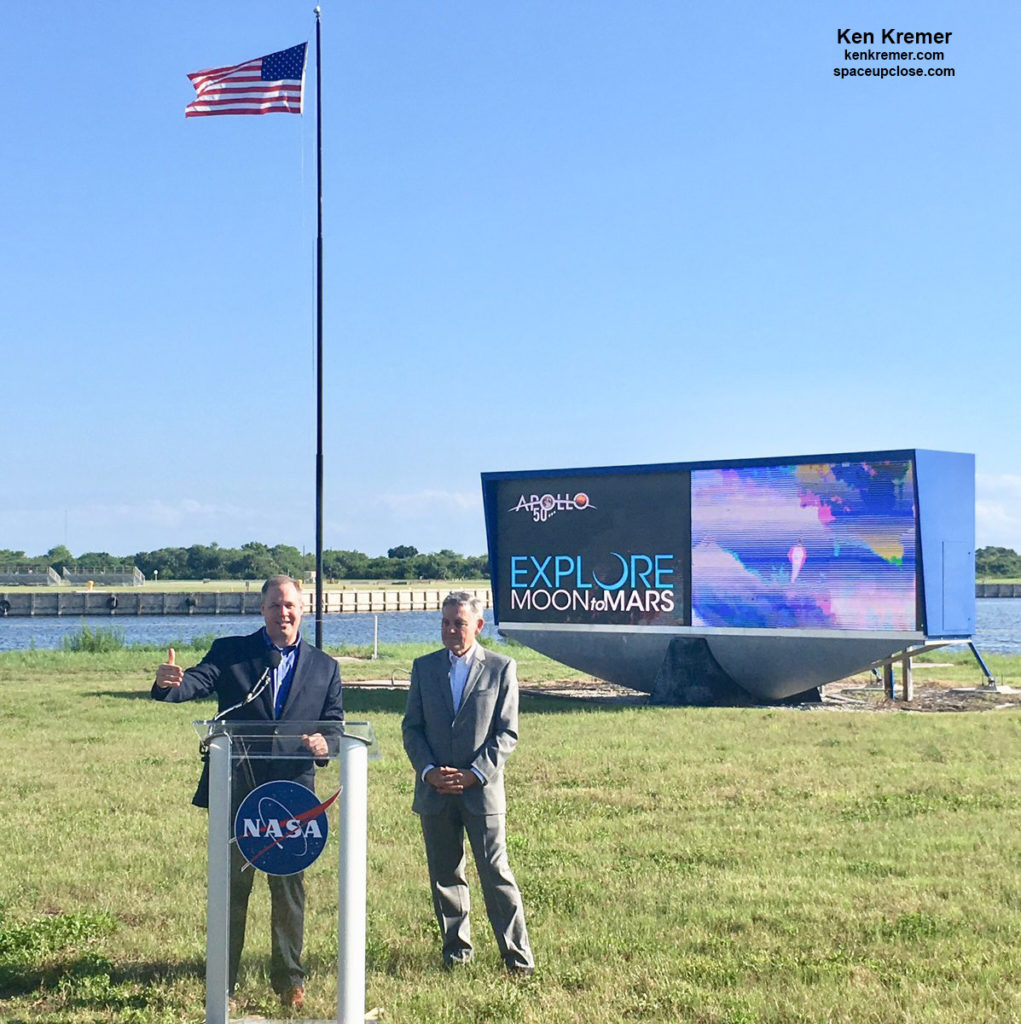 NASA Administrator Jim Bridenstine and KSC
Director Bob Cabana outline NASA's Lunar Gateway and Project Artemis lunar landing
program by the countdown clock at the Kennedy Space Center on May 23, 2019. Credit:
Ken Kremer/kenkremer.com/spaceupclose.com
On May 23
NASA Administrator Jim Bridenstine announced that
Maxar Technologies has been chosen to build the
first core element of the Artemis programs Lunar

Gateway


project – namely the Power and Propulsion Element or PPE – that will power the future
lunar orbiting mini station.
"The power and propulsion element is the
foundation of Gateway and a fine example of how partnerships with U.S.
companies can help expedite NASA's return to the Moon with the first woman and
next man by 2024," said NASA Administrator Jim Bridenstine during a May 23 speech
at the Florida Institute of Technology, Melbourne, FL.
The PPE module is scheduled for launch by late
2022 on a commercial rocket that is yet to be selected.
NASA can significantly cut costs by using
commercial providers for both hardware and launch services – just as they do with the ISS commercial cargo providers.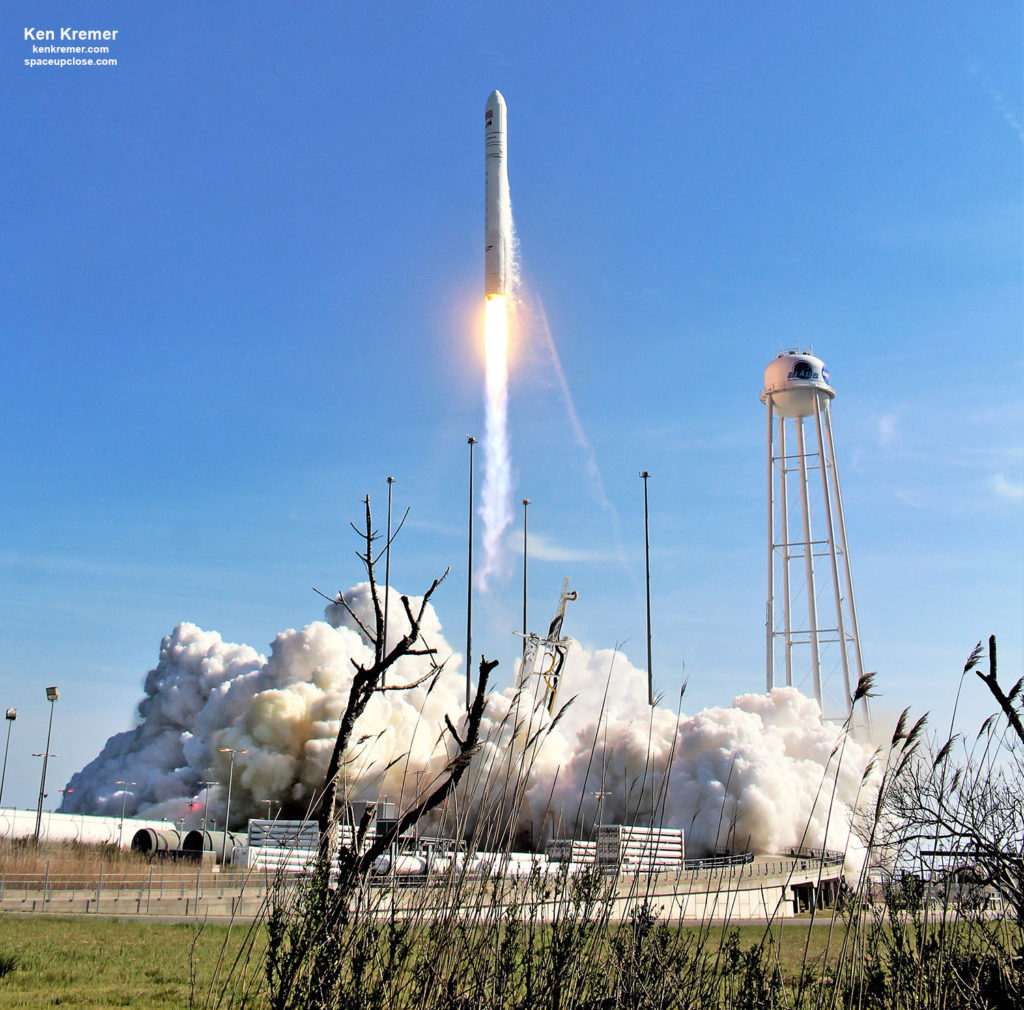 Cygnus NG-11 cargo ship launches to the ISS in April 2019. Credit:
Ken Kremer/kenkremer.com/spaceupclose.com
"As a
mobile command and service module, the Gateway provides a communications relay
for human and robotic expeditions to the lunar surface, starting at the Moon's
South Pole."
NASA is also in the process of contracting for
the second Gateway element – a small habitation and utilization module with
multiple docking ports.
"Charged with returning to the Moon within five
years, NASA's lunar exploration
plans are based on a two-phase approach: the first is focused
on speed – landing on the Moon by 2024 – while the second will establish a
sustained human presence on and around the Moon by 2028. We then will use what
we learn on the Moon to prepare to send astronauts to Mars."
Watch for Ken's continuing
onsite coverage of NASA, SpaceX, ULA, Boeing, Lockheed Martin, Northrop Grumman
and more space and mission reports direct from the Kennedy Space Center, Cape
Canaveral Air Force Station, Florida and Wallops Flight Facility, Virginia.
Stay tuned here for Ken's continuing Earth and
Planetary science and human spaceflight news:

www.kenkremer.com

–www.spaceupclose.com – twitter @ken_kremer
– email: ken at kenkremer.com
Dr. Kremer is a research scientist and journalist based in the
KSC area, active in outreach and interviewed regularly on TV and radio about
space topics.
………….

Ken's photos are for sale and he is available for lectures and outreach events