A pathfinder test article for NASA's SLS core stage rests beside the B-2 test stand at the Stennis Space Center in Mississippi that will be used for the 'Green-Run' static fire test. Credit: NASA
Ken Kremer — SpaceUpClose.com & RocketSTEM – 27 July 2019
KENNEDY SPACE CENTER, FL/MICHOUD ASSEMBLY FACILITY,LA  – After months of
deliberating back and forth NASA Administrator Jim Bridenstine announced July 25 that he has 'greenlighted' the "Green Run" full duration engine test of the agency's core stage for the mammoth Space Launch System (SLS) moon rocket next year at NASA's Stennis Space Center – ahead of the upcoming Artemis 1 lunar mission launch.
Bridenstine had considered curtailing and even cancelling the 8 minute long full duration core stage engine test until recently in favor of a much shorter duration static test fire lasting only a few seconds on the launch pad at the Kennedy Space Center – but ultimately cited astronaut safety and rocket reliability as the top reasons for his decision to give the 'Go Ahead' to the 'Green Run'

The decision to conduct the 'Green Run' test was announced by Bridenstine by tweet and by NASA in a statement on July 25.

"@NASA will do a Green Run test for @NASA_SLS prior to #Artemis1. Here's why: -Astronaut
safety is our #1 priority -Increases probability of a successful Moon Landing in 2024 -Its important to discover issues earlier rather than later"
The "Green Run" test involves conducting a full duration eight minute long static fire test of the 212 foot long (64.6 m) SLS core stage at the B-2 Test Stand at NASA's Stennis Space Flight enter near Bay St. Louis, Mississippi.
The test would be run at some point next year and pave the way to the first Artemis lunar mission set to blastoff on the uncrewed Artemis-1 test flight perhaps by late 2020 or more likely in 2021.
By therein lies the crux of the matter. The "green run" test campaign could take as long as six months and would make it very difficult to achieve the Artemis-1 launch by the end of 2020- before the end of Presidents Trump's current term in office.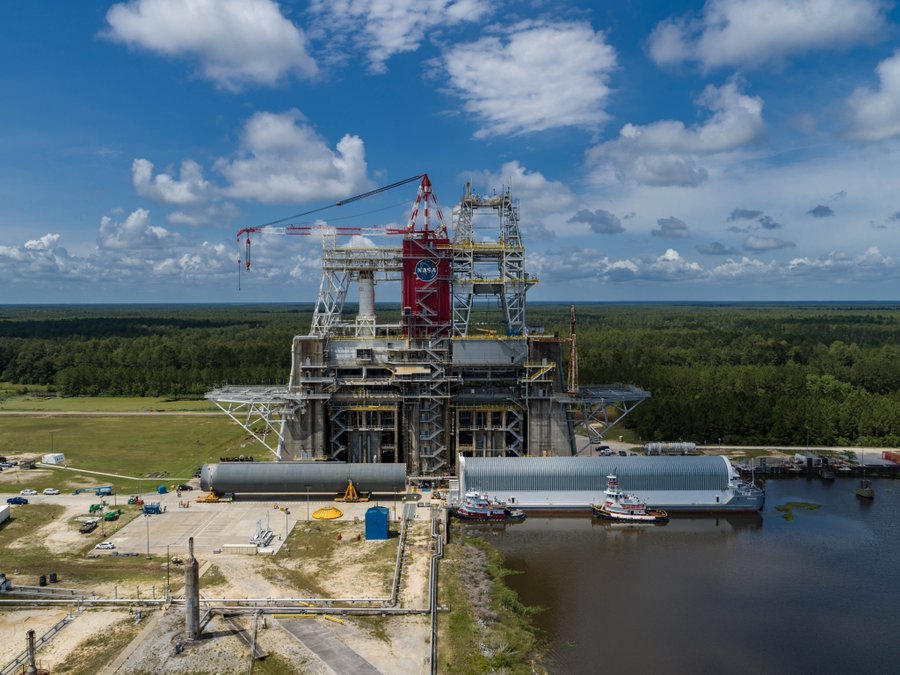 A pathfinder test article for NASA's SLS core stage arrives at the B-2 test stand
at the Stennis Space Center in Mississippi that will be used for the 'Green-Run'
static fire test. Credit: NASA
Back in March, Vice President Mike Pence challenged NASA to accelerate plans to return to the Moon and announced the Trump Administrations new goal of achieving an American lunar landing by 2024 at the south pole with the first woman and next man from NASA's astronaut corps.

 
That 2024 landing target is four years earlier then NASA's prior goal of 2028 and would

 

take place on the Artemis-3 mission.

 

The recently renamed program derives from Artemis being the twin sister of Apollo – NASA's original Moon landing program begun by President Kennedy. 
While there is significant support for returning to the lunar surface sooner, there has been much pushback from both politicians and engineers on cutting the Green Run test- specifically citing safety and reliability issues. 
The "Green Run" test has been a full, integral part of NASA's SLS plans from the beginning
of the program back in 2011.  
The SLS

core stage 

consists of two huge liquid propellant tanks that collectively hold 733,000
gallons of liquid oxygen and liquid hydrogen as well as associated state-of-the-art avionics, miles of cables and propulsion systems that power the four RS-25 engines in the engine section at the base of the structure.
Collectively they will produce more than 2 million pounds of thrust firing for over 8 minutes to help send Artemis 1 and NASA's Orion deep space capsule beyond Earth's orbit to the Moon beginning with the maiden SLS launch from NASA's Kennedy Space Center on historic Launch
Complex 39B.
"While the rocket is designed to evolve over time for different mission objectives, the core stage design will remain basically the same. The Green Run acceptance test gives NASA the confidence needed to know the new core stage will perform again and again as it is intended," Lisa Bates, SLS deputy stages manager said in a statement. 
"The SLS core stage is an engineering feat that includes not only the largest rocket propellant tanks ever built but also sophisticated avionics and main propulsion systems." 
The massive core stage for the first flight of NASA's mammoth
Space Launch System
(SLS)
rocket and the Orion deep space crew capsule for the

Artemis 1 

mission to the moon and back is finally taking shape at NASA's sprawling Michoud Assembly Facility (MAF) in New Orleans – recently visited by Space UpClose.

 

Read our article/photos.
NASA Deputy Administrator James Morhard speaks
with media in front of flight hardware for

Artemis 1

during his first visit to NASA's
Michoud Assembly Facility in New Orleans Friday, June 28, 2019. Michoud is
manufacturing the core stage for NASA's Space Launch
System (SLS) rocket.
Credit: Ken
Kremer/kenkremer.com/spaceupclose.com
The SLS core stage and test articles are shipped to various NASA centers on NASA's fortified and lengthened Pegasus barge. 


After the 'green run' test campaign is successfully completed, Core Stage-1 will travel by boat inside Pegasus from Stennis to KSC. 


NASA's Pegasus barge ready to haul an SLS LOX structural test article on June 28, 2019
from NASA Michoud to NASA Marshall for structural testing. Credit: Ken
Kremer/kenkremer.com/spaceupclose.com
Orion Artemis 1 being manufactured by prime contractor Lockheed Martin at KSC is moving forward and seems likely to be able to support a 2020 launch atop SLS.


In fact earlier this month NASA conducted the critical Ascent Abort-2 (AA-2) test on July 2 and confirmed that the launch abort system tower can successfully pull Orion away in a split second in case of a catastrophic rocket failure.
See our AA-2 articles and photos.
NASA's Ascent Abort-2 mission successfully launched at 7 a.m. EDT July
2, 2019 from Space Launch Complex 46 at Cape Canaveral Air Force Station in
Florida on a critical test of the Launch Abort System (LAS) with a test version
of the Orion crew module in this remote camera view.
Credit: Ken Kremer/kenkremer.com/spaceupclose.com
And the ground systems for SLS are also on track at NASA's Kennedy Space Center in Florida.


The refurbished and enhanced SLS Mobile Launcher was rolled out late June to the top of Launch Complex 39B from which it will launch. See our photos.
NASA's SLS Mobile Launcher rolls out at sunrise along the crawlerway to Launch Complex 39B at NASA's Kennedy Space Center in Florida on Jun. 27, 2019 for the final trip with no rocket atop time for key final testing and checkouts. I
ts next roll to the pad will be with the 1st Space Launch System rocket and integrated Orion
spacecraft in preparation for the debut launch of Artemis 1
slated for NET late
2020.
Credit: Ken Kremer/kenkremer.com/spaceupclose.com
 Thus the Artemis 1 launch date hinges on completion and certification of SLS Core Stage-1.
Watch for Ken's continuing onsite coverage of NASA, SpaceX, ULA, Boeing, Lockheed Martin, Northrop Grumman and more space and mission reports direct from the Kennedy Space Center, Cape Canaveral Air Force Station, Florida and Wallops Flight Facility, Virginia.
Stay tuned here for Ken's continuing Earth and Planetary science and human spaceflight
news:
www.kenkremer.com

–www.spaceupclose.com – twitter @ken_kremer – email: ken at kenkremer.com
Dr. Kremer is a research
scientist and journalist based in the KSC area, active in outreach and interviewed
regularly on TV and radio about space topics.
………….

Ken's photos are for sale and he is available for lectures and outreach events