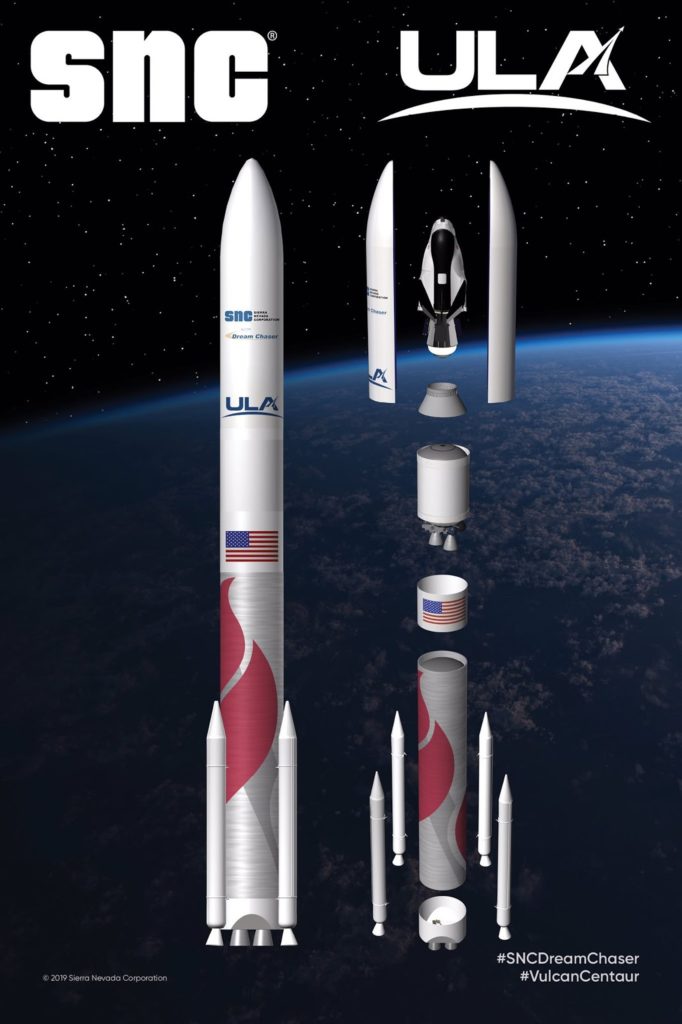 ULA Vulcan Centaur rocket will launch

Sier
ra Nevada Corporation
Dream Chaser on cargo resupply mission for NASA to the International Space Station in this artists concept. Credit: ULA/

Sier
ra Nevada Corporation
Ken Kremer —
SpaceUpClose.com & RocketSTEM
– 14 August 2019
CAPE CANAVERAL, FL – Sier
ra Nevada Corporation (SNC) announced today, Aug 14, the selection of the United Launch Alliance (ULA) new Vulcan Centaur rocket as the launch vehicle provider for the Dream Chaser® spacecraft's for cargo resupply mission for NASA missions to the International Space Station (ISS) starting in late 2021. 
The ULA Vulcan Centaur rocket now under development as a replacement for the Atlas V and Delta IV rocket families will launch all six of SNCs Dream Chaser cargo missions under terms of the
NASA's Commercial Resupply Services 2 (CRS-2) contract awarded in 2016.
The Vulcan launches of the Dream Chaser spaceplane will take place from Space Launch Complex-41 on Cape Canaveral Air Force in Florida – current home to the Atlas V.

 
"I am so excited. In this very competitive launch vehicle market, we feel privileged that SNC chose to launch this block of six missions to the ISS with ULA," said Tory Bruno, ULA president and CEO, at a media briefing today at Sierra Nevada's Space Systems division headquarters in
Louisville, Colorado.
"This is one of the first contracts for our new Vulcan Centaur rocket, and the first of the six
missions will serve as the rocket's second certification flight. We are excited to bring our more than 120 years of combined launch experience with our Atlas and Delta rockets, which
build on a progressive history of technology development and advancement, to Vulcan Centaur." 
"SNC selected ULA because of our strong collaboration on the Dream Chaser program, their proven safety record and on-time performance.  This is bringing America's spaceplane and America's rocket together for best-of-breed innovation and exploration," said SNC CEO Fatih Ozmen.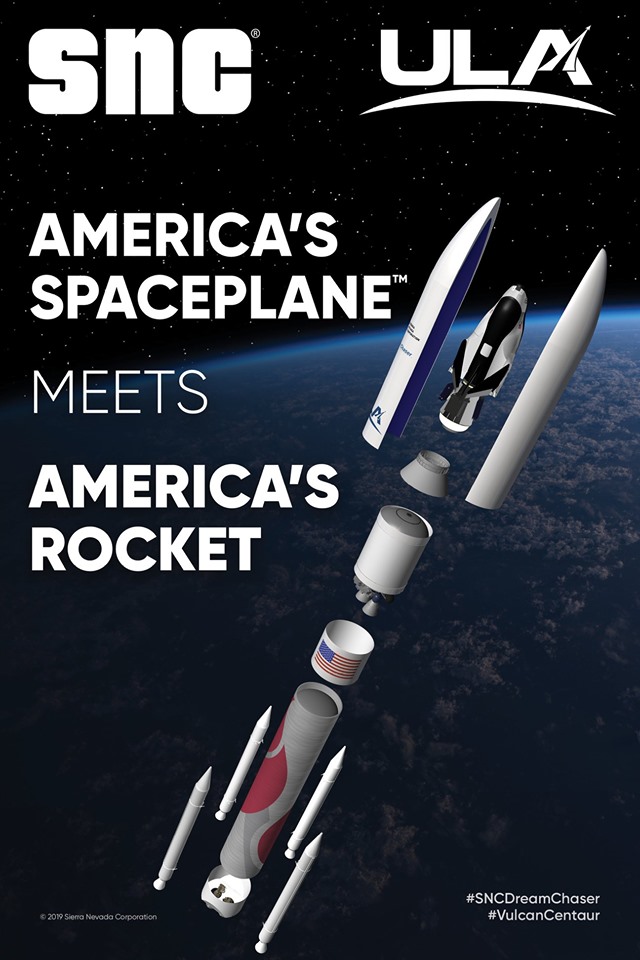 ULA Vulcan Centaur rocket will launch

Sier
ra Nevada Corporation
Dream Chaser on cargo resupply mission for NASA to the International Space Station in this artists concept.
Credit: ULA/

Sier
ra Nevada Corporation
ULA has launched 134 successful missions to date – the most recent being the AEHF-5 military comsat for the USAF last week on Aug. 8. Read our articles.
"We have never failed. We will not fail you," Bruno stated emphatically. 

Dream Chaser will launch on a Vulcan inside a 5 meter diameter payload fairing, with 4 strap on SRBs for the first stage and a two engine RL-10C Centaur upper stage.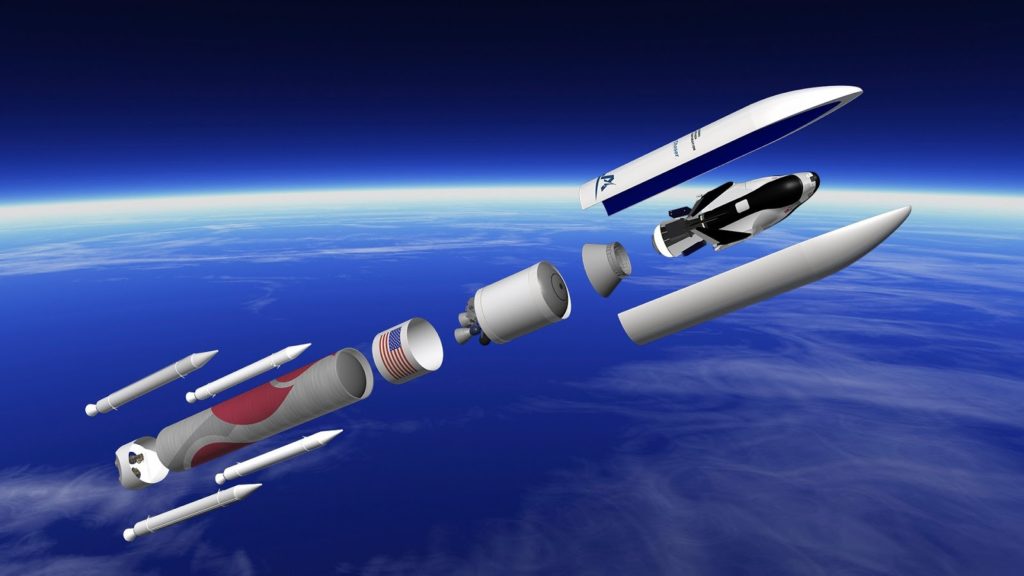 The Dream Chaser spaceplane is essentially a mini-shuttle. On return from Earth it will make runway landings  at Kennedy Space Center's Shuttle Landing Facility- just like NASA's Space Shuttle orbiters.  

With that Vulcan Centaur lifting power, "the Dream Chaser will deliver more than 12,000 pounds (5450 kg) of pressurized and unpressurized cargo to the space station and remains attached
for up to 75 days as an orbiting laboratory.  Once the mated mission is complete, the Dream Chaser disposes about 7,000 pounds (3200 kg) of space station trash and returns large quantities of critical science, accessible within minutes after a gentle runway landing."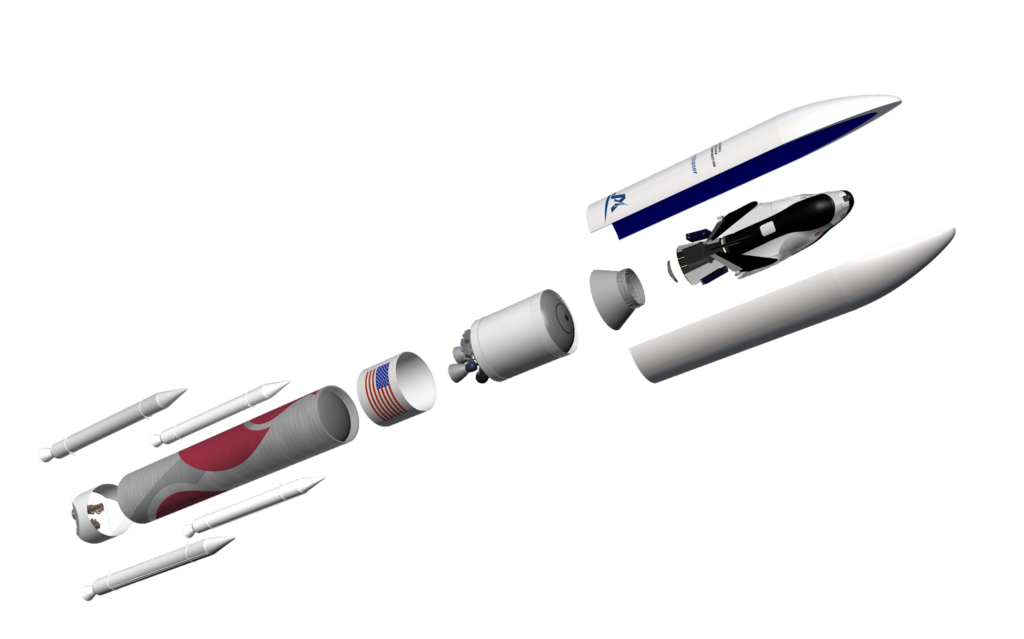 ULA Vulcan Centaur rocket will launch

Sier
ra Nevada Corporation
Dream Chaser on cargo resupply
mission for NASA to the International Space Station in this artists concept.
Credit: ULA/

Sier
ra Nevada Corporation
The first Dream Chaser mission will launch on only the second certification mission for the
Vulcan.

If  Vulcan is not ready, Bruno stated that Dream Chaser can launch on the existing Atlas
V.  
Many of the Vulcan components will be flown on the Atlas V first to reduce risk for Dream
Chaser. 
SNC joins Northrop Grumman and SpaceX as the 3rd ISS cargo provider for
NASA.
Watch for Ken's continuing onsite coverage of NASA, SpaceX, ULA, Boeing, Lockheed Martin,
Northrop Grumman and more space and mission reports direct from the Kennedy Space Center, Cape Canaveral Air Force Station, Florida and Wallops Flight Facility, Virginia.


Stay tuned here for Ken's continuing Earth and Planetary science and human spaceflight news: www.kenkremer.com –www.spaceupclose.com – twitter
@ken_kremer – email: ken at kenkremer.com


Dr. Kremer is a research scientist and journalist based in the KSC area, active in outreach and interviewed regularly on TV and radio about space topics.
………….

Ken's photos are for sale and he is available for lectures and outreach events
Ken's upcoming outreach events:
Aug 30, 7 PM
: Skyscrapers Inc Astronomical Society,
Seagrave Memorial Observatory, 47 Peeptoad Road, North Scituate, 
Rhode Island
"Exploring Mars and the Search for life – 3D" – Learn all about NASA's Curiosity Mars rover illustrated with Ken's custom created Mars rover panoramas from Curiosity, Spriit and
Opportunity and up close clean room and launch pad views. Plus brief presentation
from Space Shuttle seamstress Jean Wright. Free and open to public. 
Ken's Space/Rocket/Marsimagery for sale to support his outreach
Website:

 
http://www.theskyscrapers.org/