CAPE CANAVERAL, FL –  The first aircraft set to fly on another planet – namely NASA's Mars Helicopter – has now been attached to the belly of NASA's 2020 rover which will deliver it to the surface of the Red Planet during a soft landing via the skycrane maneuver targeted for Jezero Crater in Feb. 2021.
"Engineers attached NASA's Mars Helicopter, which will be the first aircraft to fly on another planet, to the belly of the Mars 2020 rover today in the High Bay 1 clean room at the Jet Propulsion Laboratory in Pasadena, California," NASA said in a Aug 28 statement. 
"The twin-rotor, solar-powered helicopter was connected, along with the Mars Helicopter Delivery System, to a plate on the rover's belly that includes a cover to shield the helicopter from debris during entry, descent and landing."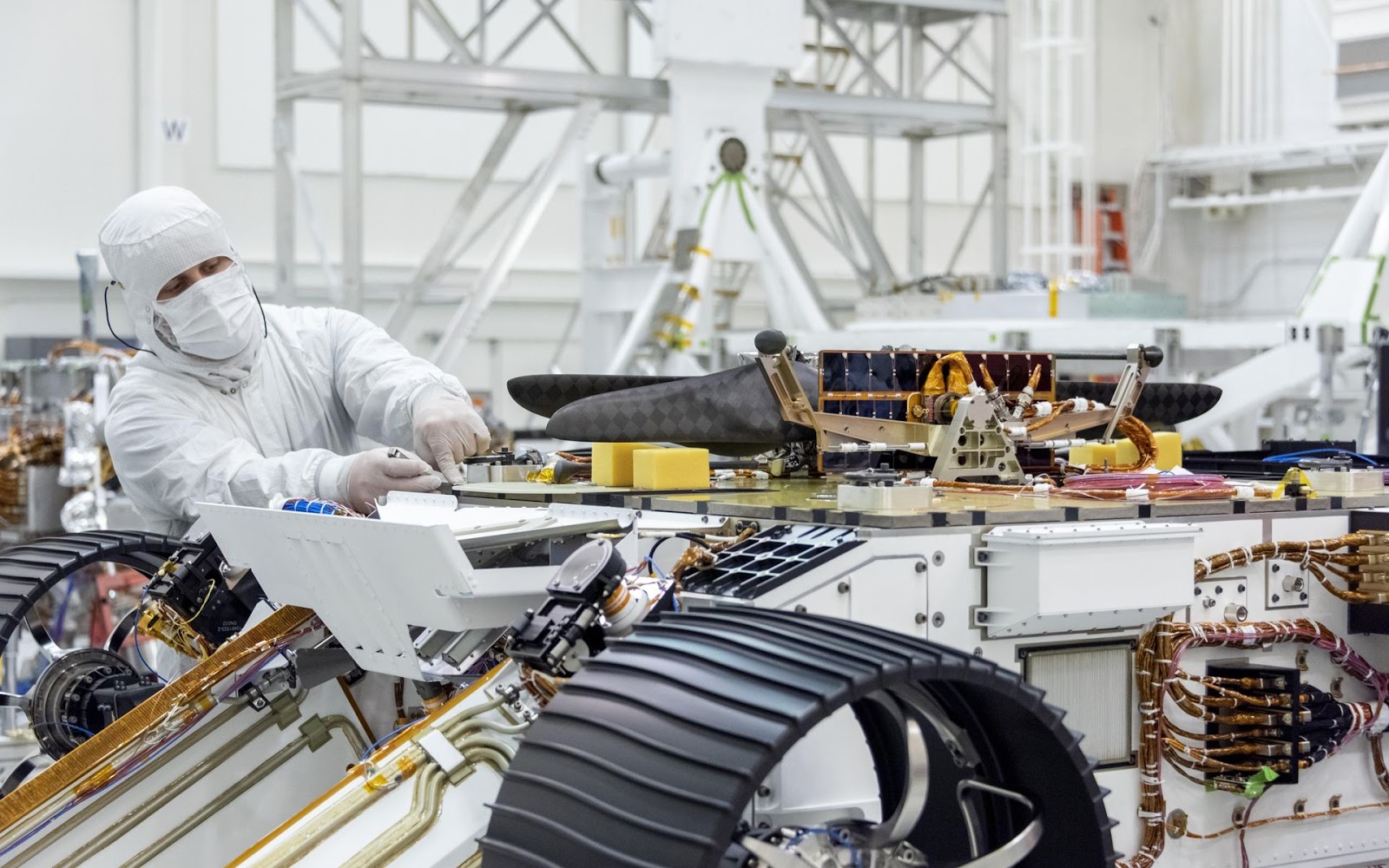 "The Wright Brothers flew the first airplane at Kitty Hawk, North Carolina, but they built it in Dayton," said NASA Administrator Jim Bridenstine, in a statement. 
"The Mars Helicopter, destined to be the first aircraft to fly on another world, was built in Pasadena, California. Joined now to the 2020 rover, it is yet another example of how NASA's

Artemis

generation is expanding humanity's reach in our solar system."
The helicopter will remain encapsulated below the rover belly during the entire terrifying Entry,

 

Descent and Landing (EDL) phase and only emerge following a successful touchdown.
So we will have to be patient and wait for the history making 1st flight on another planet.
It will be deployed "only after a suitable are to conduct test flights is found" at Jezero crater.
Watch this very cool video to see the Mars helicopter tested in flight by the team to make sure its ready to ride with NASA's

Mars 2020 rover

:
Video Caption: The laws of physics may say it's near impossible to fly on Mars, but actually flying a heavier-than-air vehicle on the Red Planet is much harder than that. NASA's Mars 2020 mission will deliver a technology demonstration that will put the idea to the test — a helicopter that will perform controlled flight on Mars.Credit: NASA/JPL
"In 2021, the small, autonomous helicopter will be the first vehicle in history to attempt to establish the viability of heavier-than-air vehicles flying on another planet," says NASA.
"Its purpose is to confirm that powered flight in the tenuous Martian atmosphere (which has 1% the density of Earth's) is possible and that it can be controlled from Earth over large interplanetary distances."
The Mars Helicopter weighs 4-pound (1.8-kilogram) and will be attached to the belly of the Mars 2020 rover during launch and interplanetary cruise before deploying it onto the surface of Mars after landing.
It carries no science instruments since it is a technology demonstration experiment but will be equipped with a high resolution camera to scout the local alien terrain. 
If it successfully flies on Mars the science team will use the chopper to help assess which route the rover will be routed to as she journeys across the Red Planet. 
Furthermore – don't forget that NASA is inviting the public to send their name along for the journey that begins with blastoff of the '2020 Rover' in July 2020.
From now until Sept. 30, you can send your name to Mars by adding it to a chip to be loaded on board for the journey.
You can sign up and obtain a souvenir boarding pass to Mars here: https://go.nasa.gov/Mars2020Pass
Over 7.0 million people have already signed up to place their names on the chips as of today, June 12.
I was fortunate to visit with Curiosity in the KSC clean room back in 2011, 3 weeks before liftoff.A memory I'll always cherish !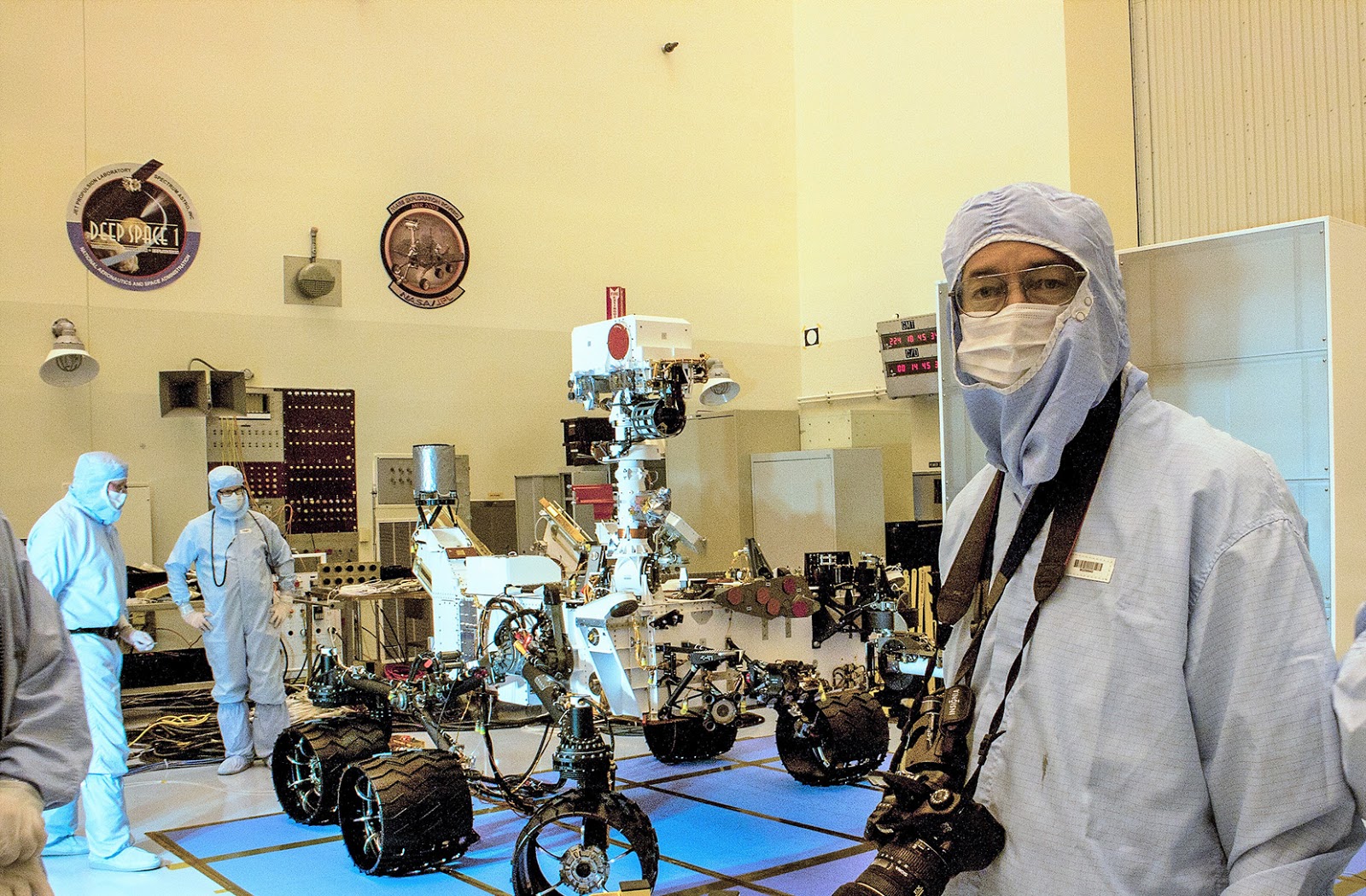 The 1 ton rover (2,300 pounds, 1,000 kilograms) is nearly a copy of the NASA's Curiosity Mars Science Lab rover still operating on Mars – but with a completely new suite of science instruments and cameras as well as the 1st Mars Helicopter.
The Mars 2020 rover will launch on a United Launch Alliance (ULA) Atlas V rocket from Space Launch Complex 41 at Cape Canaveral Air Force Station, Florida.
The launch window opens in July 2020  
It is being targeted to touch down at Jezero Crater on Feb. 18, 2021.
Mars 2020 will search for signs of past microbial life, characterize the planet's climate and geology, collect samples for future return to Earth, and pave the way for human exploration of the Red Planet. 
---
Ken's upcoming outreach events:
Sep 21: 1 PM
:
American Space Museum
, 308 Pine Street, Titusville, Florida
"Exploring Mars and the Search for life – 3D" – Learn all about NASA's Curiosity Mars rover illustrated with Ken's custom created Mars rover panoramas from Curiosity, Spirit and Opportunity and up close clean room and launch pad views. Free and open to public.  Ken's Space/Rocket/Mars imagery for sale to support his outreach
Website: 
http://spacewalkoffame.org/event/museum-day-2019
Sep 20: 7 PM
Launch update and Sep 21 Mars rover talk preview. Quality Inn Kennedy Space Center, Titusville, FL
Oct 15:
AIAA, Columbia, SC.
Details upcoming
"Exploring Mars and the Search for life – 3D" – Learn all about NASA's Curiosity Mars rover illustrated with Ken's custom created Mars rover panoramas f
rom Curiosity, Spirit and Opportunity and up close clean room and launch pad views