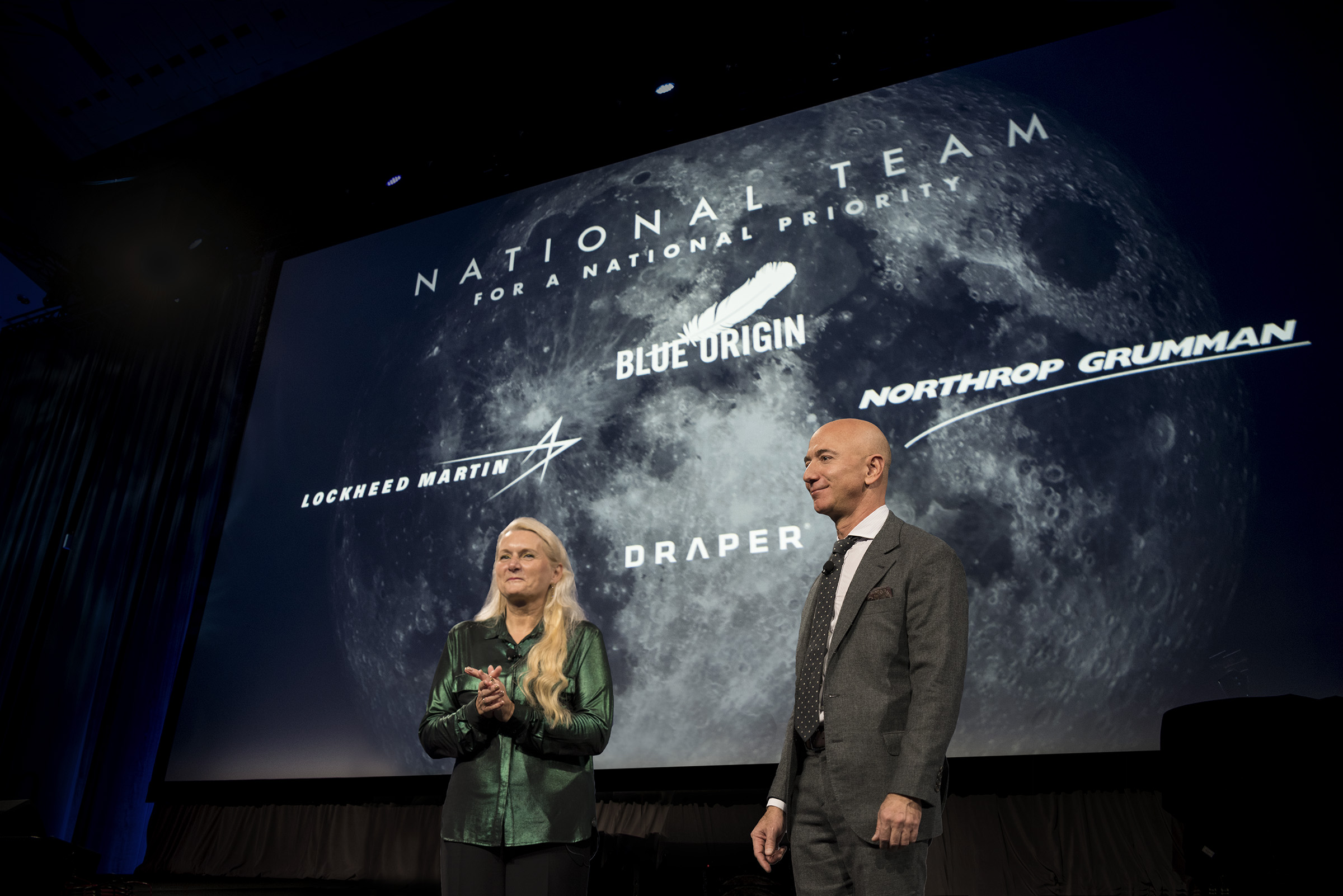 For SpaceUpClose.com & RocketSTEM
CAPE CANAVERAL, FL- The race to develop a human lunar lander for NASA's new Artemis program to a great leap forward this week when Blue Origin's founder billionaire Jeff Bezos announced the formation of a 'national team' of four highly experienced US industrial giants – including Lockheed Martin, Northrop Grumman, Draper Labs and Blue Origin – aiming to win NASA's contract to build the new three stage vehicle for NASA – at the 2019 International Astronautical Congress in Washington, D.C. on Oct 22, 2019.
"This is a national team for a national priority," said Bezos announcing the national team members.
NASA's Artemis moon exploration program aims to land US astronauts on the lunar south pole by 2024 – including the first woman ever as well as the next man.
"We are going forward to the Moon, sustainably and to stay, with commercial and international partners," said NASA Administrator Jim Bridenstine at the opening of the International Astronautical Congress in Washington, D.C.
So – there is absolutely no time to waste if NASA wants to achieve the lunar south pole human landing by 2024.
The lander builds significantly on Blue Origin's 'Blue Moon' robotic lunar lander announced by Bezos in May this year.
It comprises three elements; an ascent stage, a transfer stage and a descent stage.
Jeff Bezos made the exciting announcement during a discussion on stage at the 2019 IAC meeting.
"I'm excited to announce we have put together a national team to go back to the Moon."
"Blue Origin is the prime contractor. Lockheed Martin is building the ascent stage. Northrop Grumman is building the transfer element. Draper lab is doing the GNC [guidance, navigation and control]. We could not ask for better partners. Blue Origin, in addition to being the prime, is going to build the descent element."
"This is a national team for a national priority."
"And this is the kind of thing [Artemis] that is so ambitious it needs to be done with partners."
"This is the only way to get back to the Moon fast!"
"And this time we are not going back to the Moon to visit. We are going back to the Moon to stay!"
Bezos tweeted the announcement of the Artemis national team as well.
"It's time to go back to the moon to stay. @LockheedMartin @northropgrumman @DraperLab @blueorigin"
It's time to go back to the Moon, this time to stay. @LockheedMartin @northropgrumman @DraperLab @blueorigin #gradatimferociter pic.twitter.com/SMEUdriJhh

— Jeff Bezos (@JeffBezos) October 22, 2019
Blue Origin will submit this proposal to try and win the NASA contract competition to build the Artemis human lunar lander.
NASA announced the human lunar lander competition on Sept. 30 – on a fast track schedule.
Industry proposals are due by Nov. 1. But they have already been engaging with NASA.
"Nov 1 is an ambitious timeline consistent with the sequence of events leading to this point—however, companies have been preparing for, reviewing, and commenting on several drafts of NASA's broad agency announcement since mid-July and should be ready for this tight timeline," says NASA.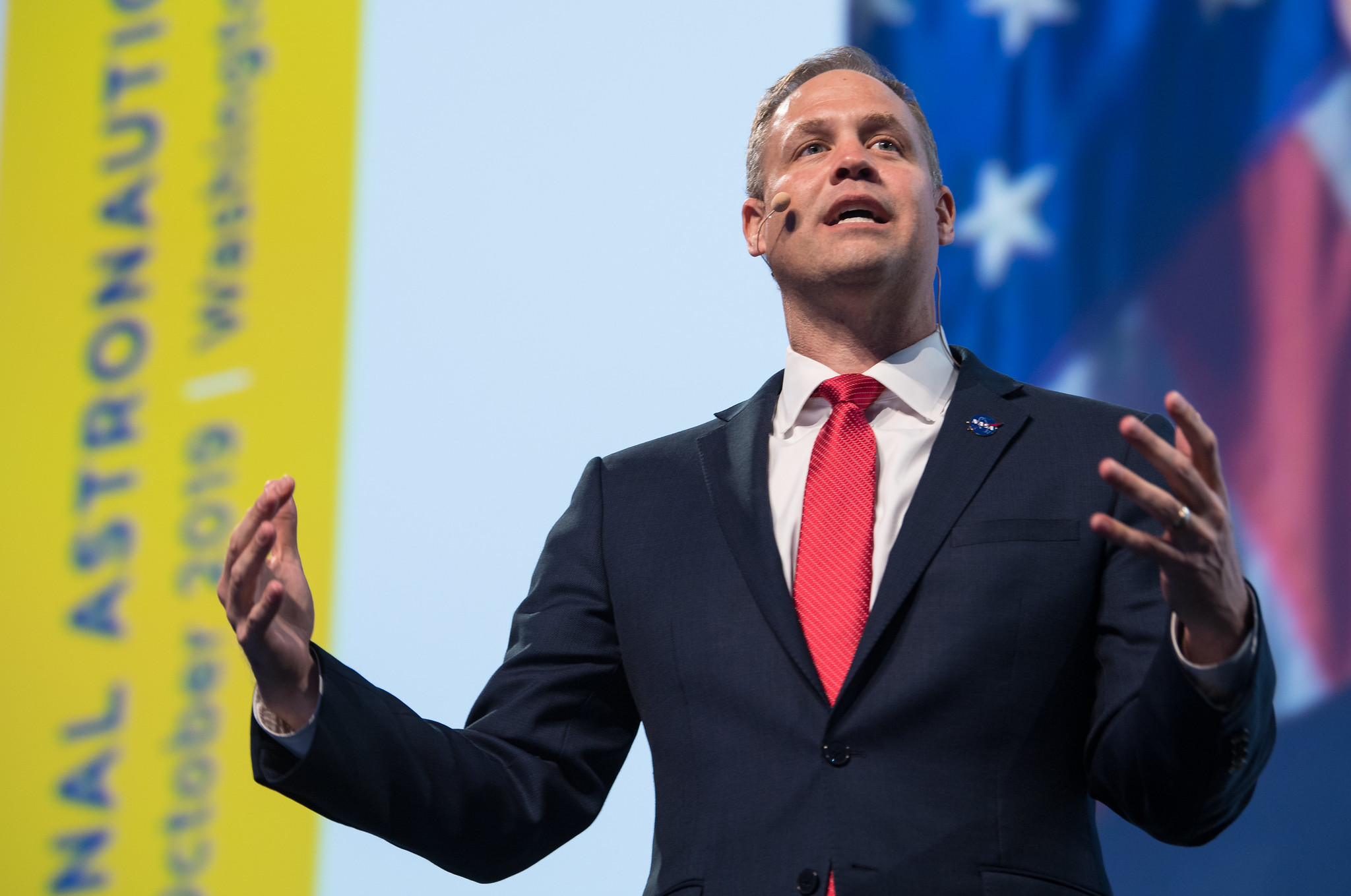 Other competitor proposals are expected to bid in addition to Bezos Blue Origin 'National Team.'
Lockheed Martin is already building the Orion deep space crew capsule to send our astronauts back to the Moon and then on to Mars and elements will be incorporated into the ascent stage.
Northrop Grumman is already building the SLS solid rocket boosters that will propel Orion to the Moon.
Northrop Grumman is also building the habitation module for NASA's Gateway lunar outpost at which Orion will dock for trips to the lunar surface and back.
Grumman built all of NASA's Apollo lunar module landers used in the 1960s and 1970s.
"Blue Origin is proud to announce a national team to offer a Human Landing System for NASA's Artemis program to return Americans to the lunar surface by 2024, the company said in a statement.
"Blue Origin has signed teaming agreements with Lockheed Martin, Northrop Grumman and Draper. These partners have decades of experience supporting NASA with human space flight systems, launch vehicles, orbital logistics, deep-space missions, interplanetary navigation and planetary landings."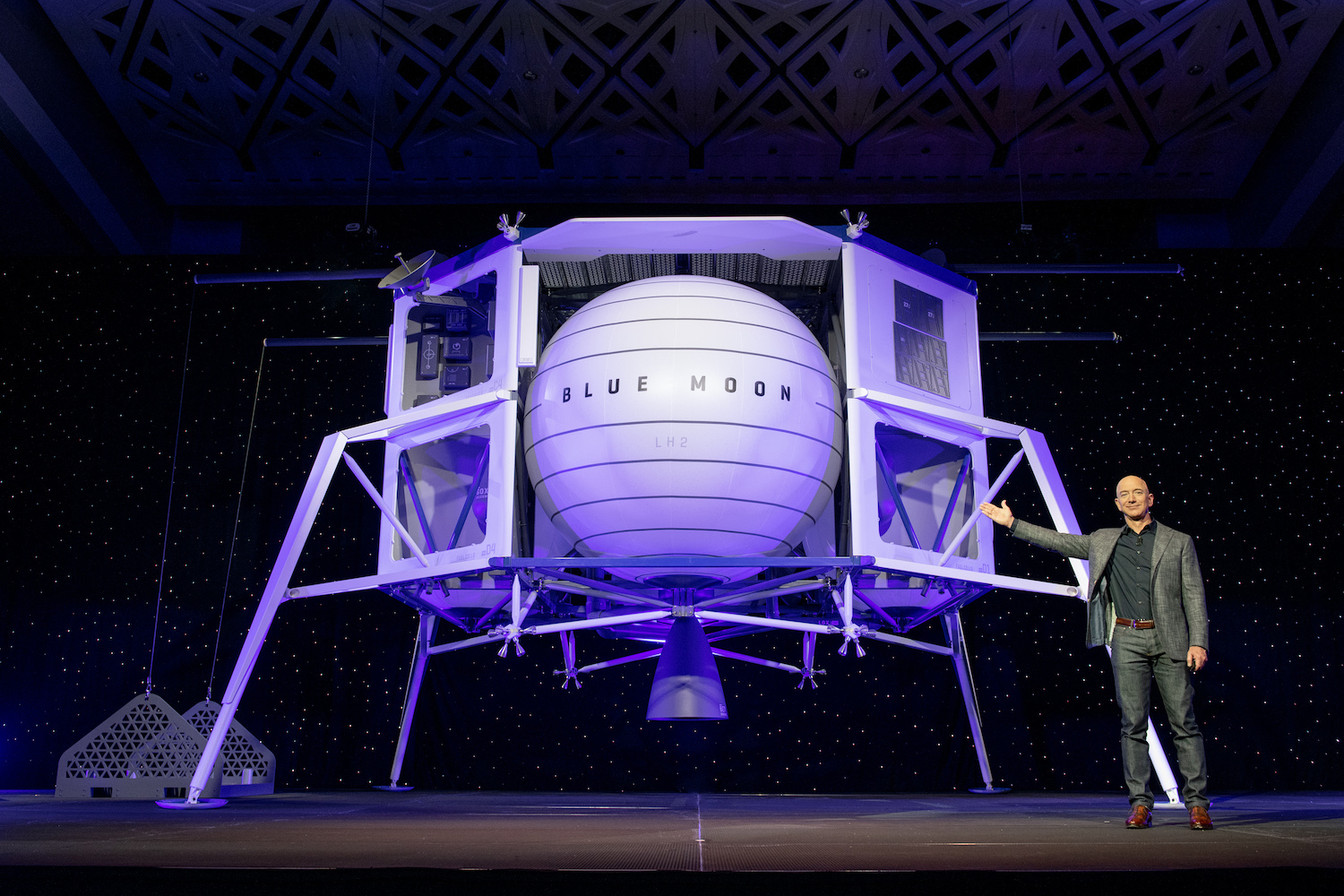 Here is how Blue Origin proposes to divide up the mighty task ahead which will not be easy and definitely requires a focused team effort in my opinion.
"Our combined experience is uniquely positioned to meet NASA's needs for the Artemis program. Each partner will bring their industry leading solutions to the following roles:
• Blue Origin, as prime contractor, leads program management, systems engineering, safety and mission assurance, and mission engineering while providing the Descent Element that is based on the multi-year development of the Blue Moon lunar lander and its BE-7 engine.
• Lockheed Martin develops the reusable Ascent Element vehicle and leads crewed flight operations and training.
• Northrop Grumman provides the Transfer Element vehicle that brings the landing system down towards the Moon.
• Draper leads descent guidance and provides flight avionics.
"National challenges call for a national response. We are humbled and inspired to lead this deeply committed team that will land NASA astronauts on the Moon," said Bob Smith, CEO, Blue Origin, in a statement. "Combining our partners' heritage with our advance work on the Blue Moon lunar lander and its BE-7 engine, our team is looking forward to working with NASA in support of the Artemis program."
"Lockheed Martin has been honored to help NASA explore space for more than 50 years, providing deep space robotic missions, planetary landers, space shuttle heritage and the Orion exploration spacecraft," said Rick Ambrose, executive vice president, Lockheed Martin Space. "We value Blue Origin's thoughtful approach to developing human-rated flight systems, and are thrilled to be part of a national team with this mix of innovation and experience. We look forward to safely and sustainably returning our nation to the surface of the Moon by 2024."
Lockheed Martin will incorporate significant elements from the Orion spacecraft program.
"I'm very proud that we are a part of this capable team that Blue Origin has formed," Lisa Callahan, VP & GM for Commercial Civil Space, Lockheed Martin Space, told Space UpClose.
"Lockheed Martin is developing the reusable ascent element, or you could call it the ascent crew module, the part of the lander where astronauts will fly and also live in while on the surface. We're also leading the crewed flight operations and training."
The Artemis 1 Orion spaceship is nearly complete and undergoing final assembly at NASA's Kennedy Space Center.
"We strongly believe the best way to safely and quickly accomplish a lunar landing is to leverage existing human-rated deep space technology from Orion for the ascent crew module," Callahan added.
"By using Orion avionics, software, life support, crew interfaces, mission operations, astronaut training and an established world-class supply chain—and through four Orion test flights—we can accelerate the timeline, save cost and most importantly provide the safest solution. Using existing, proven Orion systems will allow NASA to capture economies of scale and ensure compatibility with other elements of the Artemis architecture"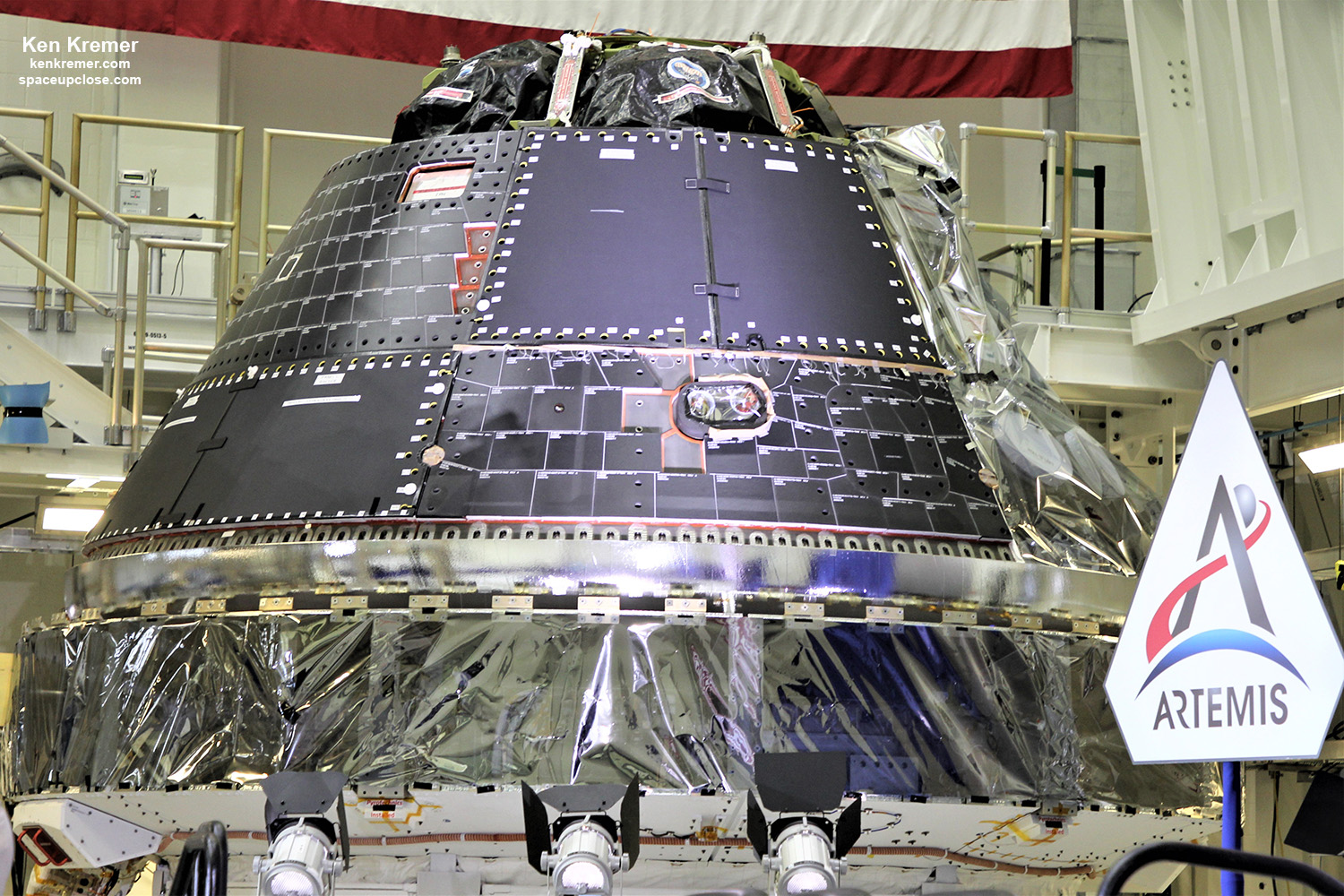 The first launch of the integrated Orion and SLS is slated for no sooner than late 2020 and more likely 2021.
"Northrop Grumman's commitment to put Americans back on the moon dates back over 50 years ago with the delivery of the first lunar lander for the historic Apollo Program," said Blake Larson, corporate vice president and president of Innovation Systems, Northrop Grumman, in a statement. "Along with our ongoing work on the Space Launch System boosters, astronaut escape system, and the Gateway habitat, we are proud to be a part of the Blue Origin national team to support NASA's Artemis program and the ambitious goal to return to the moon by 2024."
"When the nation needs precision guidance, it calls on Draper," said Kaigham J. Gabriel, President and CEO, Draper, in a statement. "We guided Apollo to the moon and back nearly 50 years ago. We're ready to do it again with the Blue Origin team for Artemis."
The NASA and contractor team at the Kennedy Space Center is hard at work readying Launch Complex 39B where thet recently completed the final water flow test.
See our articles and photos.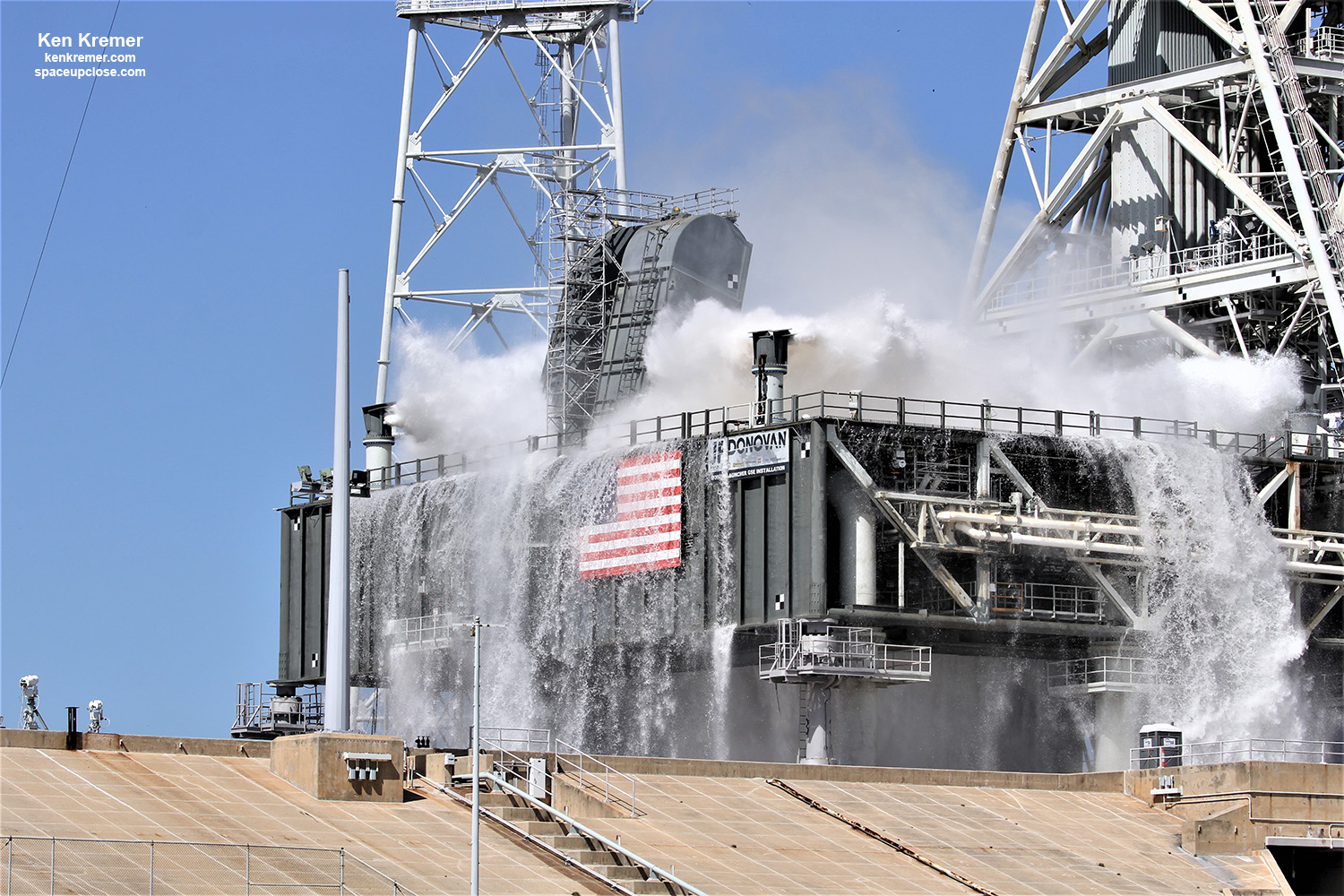 The team is also practicing lifting operations with the SLS core stage Pathfinder replica inside the Vehicle Assembly Building where SLS and Orion will be assembled for moon missions.
See our articles and photos.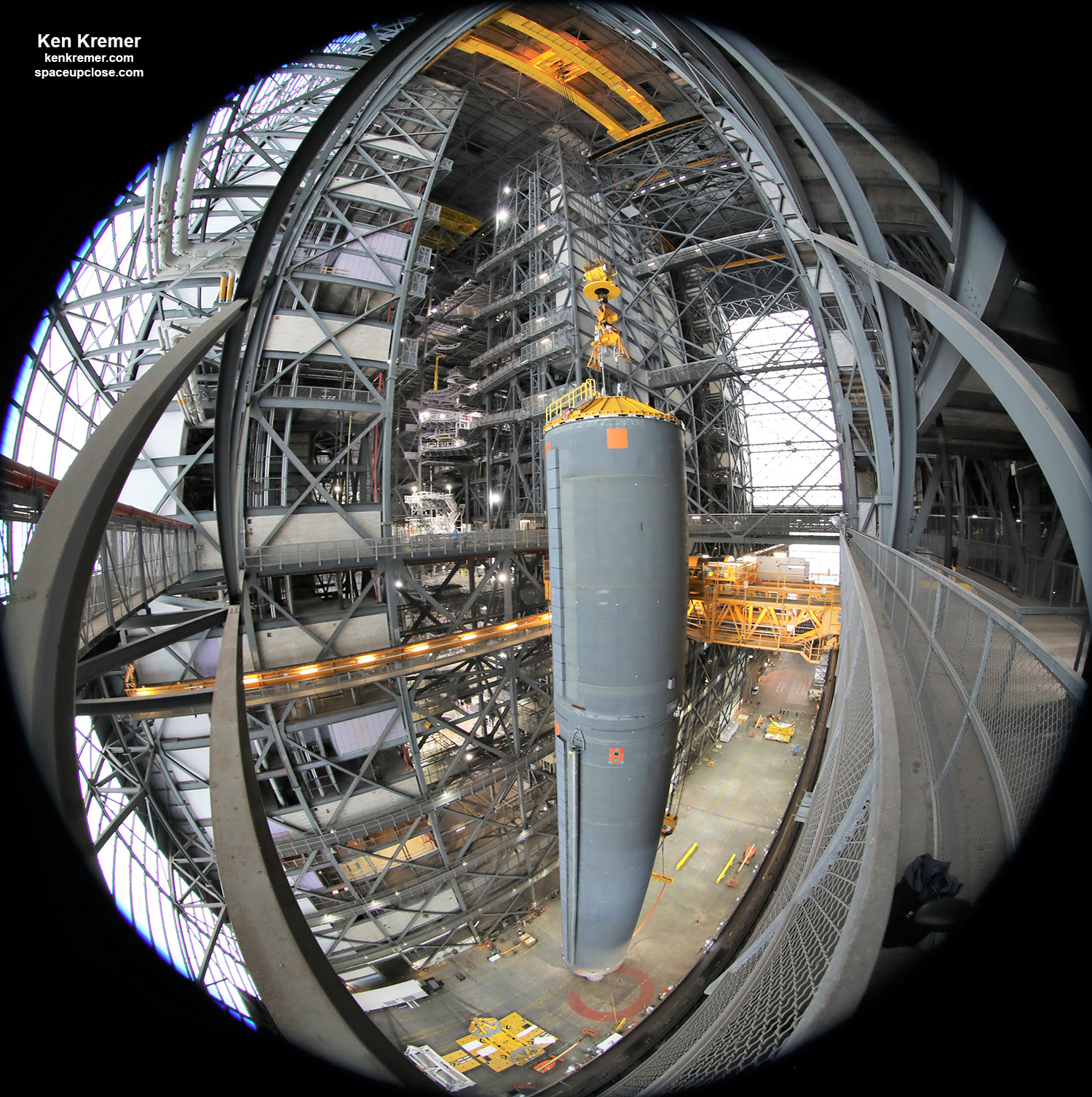 Stay tuned here for Ken's continuing Earth and Planetary science and human spaceflight news: www.kenkremer.com –www.spaceupclose.com – twitter @ken_kremer – email: ken at kenkremer.com
Dr. Kremer is a research scientist and journalist based in the KSC area, active in outreach and interviewed regularly on TV and radio about space topics.
………….
Ken's photos are for sale and he is available for lectures and outreach events