For SpaceUpClose.com & RocketSTEM
KENNEDY SPACE CENTER/CAPE CANAVERAL AIR FORCE STATION – At last after years of development effort and delays its finally getting real as all the key flight hardware for the maiden uncrewed test flight of the Boeing Starliner commercial crew capsule is coming together for its first blastoff on a shakedown cruise to the International Space Station (ISS) on a contracted mission under NASA's commercial Crew Program (CCP) initiative – just before the Christmas holiday season.
NASA has officially announced that the launch of Boeing's Starliner spacecraft on a United Launch Alliance (ULA) Atlas V rocket is targeted for Dec. 17 from Space Launch Complex 41 at Cape Canaveral Air Force Station (CCAFS) in Florida.
No astronauts will be flying aboard the mission dubbed OFT or Orbital Test Flight since its serving as a proving ground to test out all the spacecraft systems and ensure its safe to fly our precious human astronauts.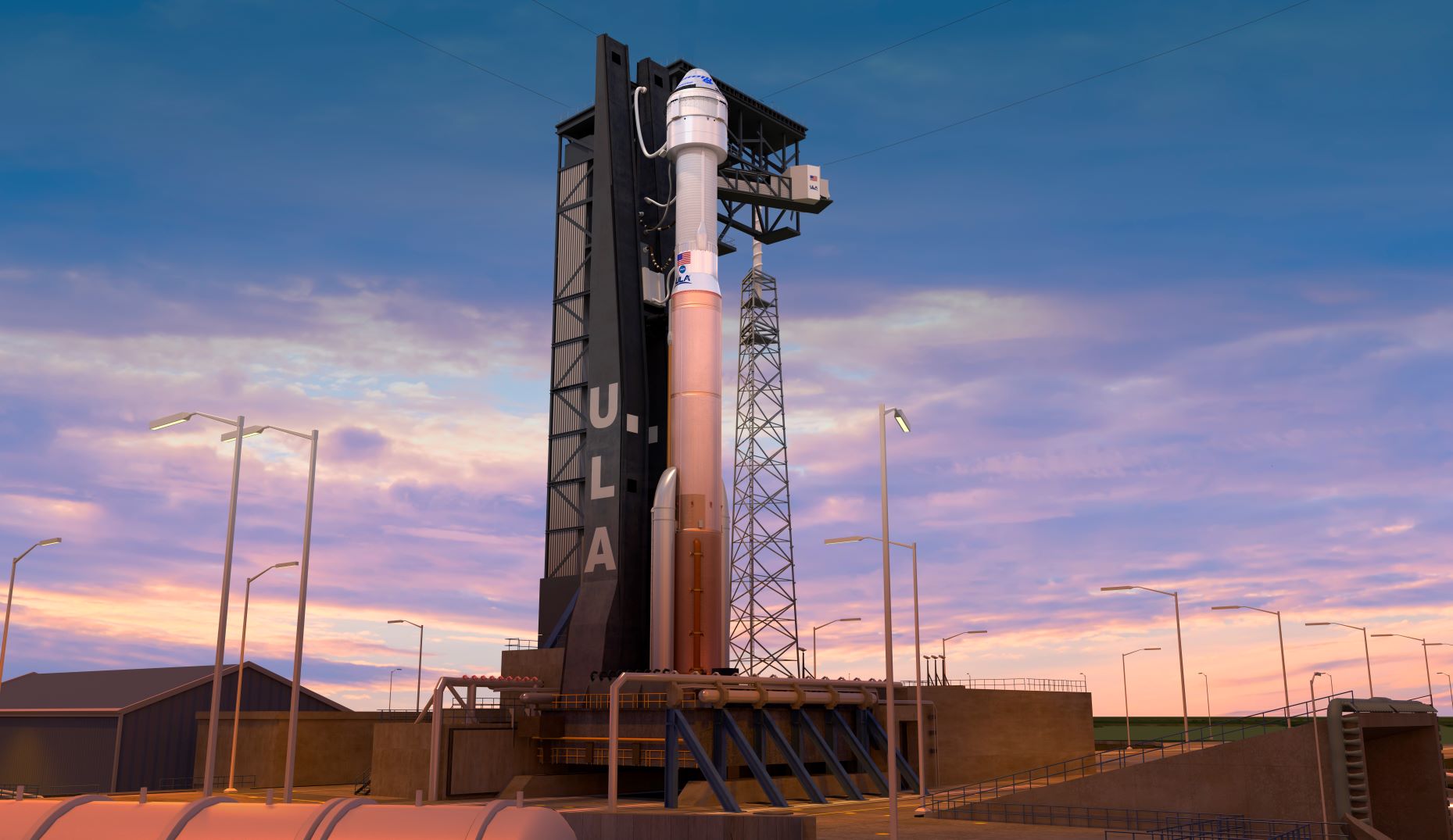 This Boeing Starliner uncrewed OFT launch with no astronauts aboard will serve as a full dress rehearsal test flight to the ISS and back.
"The flight test will provide valuable data on the end-to-end performance of the Atlas V rocket, Starliner spacecraft, and ground systems, as well as in-orbit, docking, and landing operations," said NASA officials.
"The data will be used as part of NASA's process of certifying Boeing's crew transportation system for carrying astronauts to and from the space station."
The SpaceX Crew Dragon commercial crew capsule successfully flew an equivalent unpiloted test flight for NASA on the DM-1 mission in March – see our articles and photos.
However if all goes well the OFT mission will pave the path to restoring America's capability to launch American astronauts to space once again on American capsules from American soil – something that has not happened since the forced retirement of NASA's Space Shuttle orbiters over 8 years ago in 2011.
The goal of the Commercial Crew Program is to end our 100% reliance on the Russian Soyuz capsule for launches to the ISS at a cost of more than $80 million per astronaut seat.
The Boeing Starliner astronaut crew capsule was mated with the Starliner service module last week, the company tweeted.
"We're counting down to launch! Our #Starliner team mated the Orbital Flight Test Crew Module to the Service Module. Getting ready to be stacked on #AtlasV!"
We're counting down to launch!
Our #Starliner team mated the Orbital Flight Test Crew Module to the Service Module. Getting ready to be stacked on #AtlasV! pic.twitter.com/6CzcYRn1l2

— Boeing Space (@BoeingSpace) October 17, 2019
Starliner is being manufactured by Boeing at the Kennedy Space Center nearby the Vehicle Assembly Building in the Commercial Crew and Cargo Processing Facility (C3PF) facility formerly used to process NASA's space shuttles.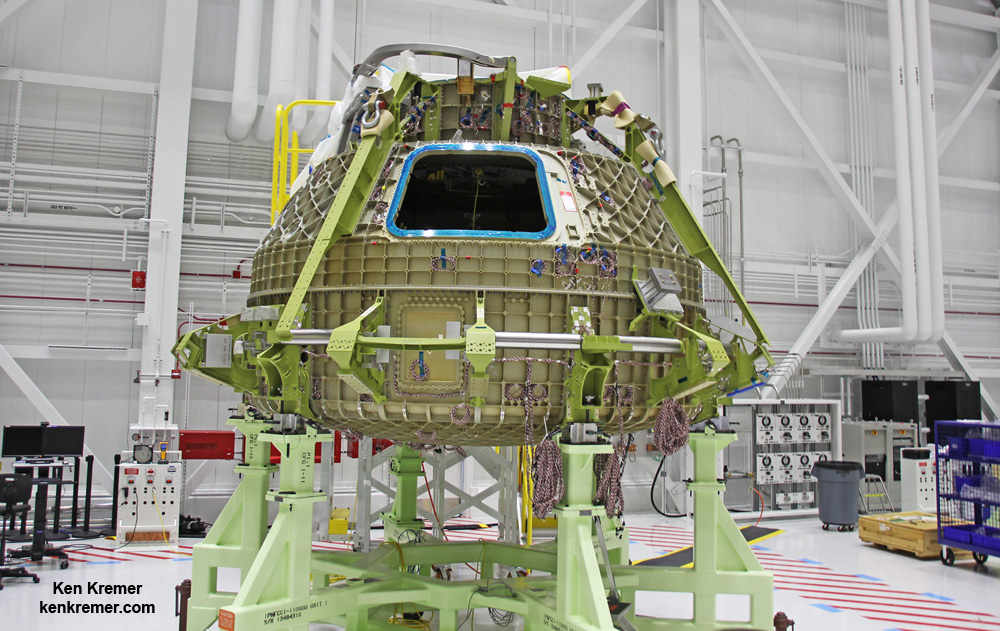 The Boeing Starliner commercial crew vehicle will launch on a ULA Atlas V rocket augmented with two solid rocket boosters on astronaut ferry flight to and from the ISS for NASA.
The Atlas V for OFT arrived at the Cape months ago and is being processed and assembled for flight inside the Vertical Assembly Facility (VIF) at pad 41.
After all C3PF activities are complete Starliner will be transported to pad 41 and stacked on top of the Atlas V.
The ULA Atlas V will blastoff from Space Launch Complex-41 on Cape Canaveral Air Force Station, FL.
After all the analysis of the OFT test is complete and certified as safe and reliable to the satisfaction of NASA, review boards and all concerned the next step will be to launch astronauts on the Crew Test Flight or CFT mission – as soon as a few months later in early 2020.
The crew trio on the CFT mission was announced some time ago and will comprise Boeing astronaut and former NASA astronaut Chris Ferguson and NASA astronauts Mike Fincke and Nicole Mann who will fully demonstrate Starliner and Atlas V's ability to safely carry crew to and from the orbiting laboratory.
The Atlas V and Centaur upper stage for CFT have also arrived at the Cape this past summer and I observed it at the time in Port Canaveral and the ULA Atlas Space Operations Facility (ASOC) – in anticipation of the 2020 launch. Read our articles and photos.
They will likewise be processed and assembled for flight at pad 41.
Under contracts with NASA, both Boeing and SpaceX are competing to be the first private company to launch the 1st Americans to low Earth orbit in nearly eight years since NASA's space shuttle orbiters were forcibly retired back in 2011.
SpaceX is also developing the Crew Dragon to ferry NASA astronauts to and from the ISS.
But the launches by both providers have been postponed multiple times due to a Congress cutting the budget request for NASA's Commercial Crew Program by 50% for several years resulting in reduced development efforts – delaying the maiden launch from 2015 to 2017 and now 2020.
Technical challenged also contributed to the delays to a lesser extent.
Thus NASA hs been forced to procures more Soyuz seats.
The last seat for US and US partners is set for Spring 2020.
But NASA will likely have to buy additional seats – to avoid a calamitous situation with no NASA astronauts on board the ISS for the first time.
"As commercial crew providers, Boeing and SpaceX, begin to make regular flights to the space station, NASA will continue to advance its mission to go beyond low-Earth orbit and establish a human presence on the Moon with the ultimate goal of sending astronauts to Mars," says NASA.
Boeing engineers also completed a lengthy series of hot fire tests on the propulsion system of Starliner crew test article involving the vehicle's in-space maneuvering system as well as the critical launch abort system that will help pave the way to the first test flight with astronauts in support of NASA's Commercial Crew Program. Read our prior story.
"NASA's Commercial Crew Program is working with the American aerospace industry through public-private partnerships to launch astronauts on American rockets and spacecraft from American soil for the first time since 2011," according to a NASA outline.
"The goal of the program is safe, reliable and cost-effective human space transportation to and from the International Space Station, which could allow for additional research time aboard the station and increase the opportunity for discovery aboard humanity's testbed for exploration."
Watch my commentary at ABC and Fox local TV News Orlando about the Atlas V arrival and offloading and the future of astronauts rising to space aboard commercial vehicles like the Boeing Starliner crew capsule at these stories from June 5 here:
http://www.fox35orlando.com/news/local-news/ula-rocket-arrives-on-space-coast-from-alabama-factory
https://www.wftv.com/news/local/first-booster-for-boeings-human-rated-starliner-spacecraft-arrives-at-space-coast/955667616
Stay tuned here for Ken's continuing Earth and Planetary science and human spaceflight news: www.kenkremer.com –www.spaceupclose.com – twitter @ken_kremer – email: ken at kenkremer.com
Dr. Kremer is a research scientist and journalist based in the KSC area, active in outreach and interviewed regularly on TV and radio about space topics.
………….
Ken's photos are for sale and he is available for lectures and outreach events