For SpaceUpClose.com & RocketSTEM
NASA WALLOPS FLIGHT FACILITY, VA – After mid-week torrential downpours cleared out hordes of space enthusiasts witnessed a gorgeous liftoff of the most powerful version of the Northrop Grumman commercial Antares rocket and Cygnus cargo freighter from NASA's mid-Atlantic launch base on Virginia's eastern shore to the International Space Station on Saturday, Nov. 2 carrying a space cookie oven, a crew of micetonauts and newly developed EVA tools for spacewalking astronauts needed to extend the life of the critical AMS dark matter experiment attached to outposts truss.
The breakfast time blastoff of the Antares Cygnus NG-12 mission on Northrop Grumman's 12th commercial resupply mission to the space station from Virginia Space's Mid-Atlantic Regional Spaceport occurred right on time at NASA's Wallops Flight Facility seaside pad 0A at 9:59 a.m. EDT Saturday, Nov. 2, 2019 from launch pad 0A.
Weather was absolutely outstanding for Northrop Grumman's 12th commercial resupply mission to the space station from Virginia Space's Mid-Atlantic Regional Spaceport at NASA's Wallops Flight Facility dellivering over 4 tons of research investigations and supplies to the six person multinational crew currently living and working about station.
Hordes of launch fans gathered to watch from local sights under picture perfect sky conditions – although the sun glare was intense.
Nevertheless I watched from the media viewing site approx. 1.8 miles away and we watched as the rocket ascended with a very loud and exciting rush.
Enjoy our gallery of eyewitness gallery of Space UpClose imagery from the media site and remote cameras set up ringing pad 0A.
It arced over eastwards to Africa on its way to orbit and we saw the exhaust plume approaching the horizon in the distance.
The Wallops Visitor Center was jam packed by 715 a.m. and closed when it reached capacity of well over 850 spectators- who were all thrilled to watch from the nations most populated region.
For the first time ever NG-12 flew in its upgraded and most powerful 230+ configuration where the Russian-made Energomash RD-181 engines were not throttled down at Max Q in order to maintain core integrity – as in the past.
Today's Antares 230+ soared aloft while maintaining 100% throttle for the first time since the rocket was enhanced with a structurally strengthened intertank and forward bay and core to withstand the maximum dynamic pressures.
This enables Cygnus to deliver about 800 more pounds of payload to orbit.
The solar arrays deploy as planned about 2.5 h after liftoff providing power to the spacecraft which is healthy.
Cygnus spacecraft will now carry out two days of carefully choreographed orbit raising maneuvers to rendezvous with the space station Monday, Nov. 4 at about 5:45 a.m.
The spacecraft's approach and arrival will begin at 2:45 a.m. with live coverage on NASA Television and the agency's website.
The plan then is for Expedition 61 NASA astronaut Jessica Meir to grapple the SS Alan Bean spacecraft using the station's 57 foot long Canadian built robotic arm.
Meir will be backed up by NASA astronaut Christina Koch. NASA's Andrew Morgan will monitor telemetry.
After Cygnus capture, ground controllers will command the station's arm to rotate and install Cygnus on the bottom of the station's Unity module.
The spacecraft is scheduled to stay at the space station until January.
But before Cygnus could berth the Japanese HTV-8 cargo ship had to first depart successfully on Friday, Nov. 2 to provide clearance.
This was the first cargo mission flown under Northrop Grumman's CRS-2 contract with NASA starting this fall of 2019. Under Northrop Grumman's Commercial Resupply Services 1 contract, the company flew 11 missions to the ISS.
Under the CRS-2 contract Northrop Grumman will fly at least 6 Cygnus missions through 2024.
The next launch of NG-13 is slated for February 2020.
The Cygnus NG-12 spacecraft is loaded with 8,168 pounds (3705 kg) of research, crew supplies, and hardware – the heaviest ever load launched by an Antares from Wallops.
Among the research hardware is an oven to bake the first 'Cookies in Space' , the AstroRad radiation protection vest, the Made in Space recycler for 3D printing as well as gear and EVA spacewalk tools to repair the Alpha Magnetic Spectrometer experiment looking back to the origins of the Universe.
For this mission Northrop Grumman technicians carried our installation of late cargo load items consisting of science experiments and biological samples including mice which must be loaded about 24 hours before liftoff to ensure they stay preserved and do not degrade before ISS arrival.
Technicians used a mobile cleanroon on Friday, Nov.1 that was wheeled up to the Cygnus nose cone which is equipped with a portal that can be opened for access to the spacecraft to caary out the late of about ¼ of the total cargo- amounting to over 2000 pounds.
Here is NASA's outline of are some of the scientific investigations Cygnus is delivering to the space station:
More Probing of Mysteries of the Universe
This mission carries components needed to prolong the operational life of Alpha Magnetic Spectrometer-02 (AMS-02). In a series of spacewalks planned in the coming weeks, astronauts will cut and reconnect fluid lines on the instrument, a feat not done before in space, which could prove valuable for future missions at NASA's upcoming lunar Gateway for the Artemis program or missions to Mars.
Testing Personal Protective Equipment for Astronauts
The AstroRad Vest tests a special garment designed to protect astronauts from radiation caused by unpredictable solar particle events. Astronauts will provide input on the garment as they wear it while performing daily tasks. Use of the vest could protect crew members on missions to the Moon and Mars.
Food Fresh from the Oven
The Zero-G Oven examines heat transfer properties and the process of baking food in microgravity. It uses an oven designed specifically for use aboard the space station, and may have application on future long-duration missions by offering a way to increase variety in flavor and nutrition of food for crew members.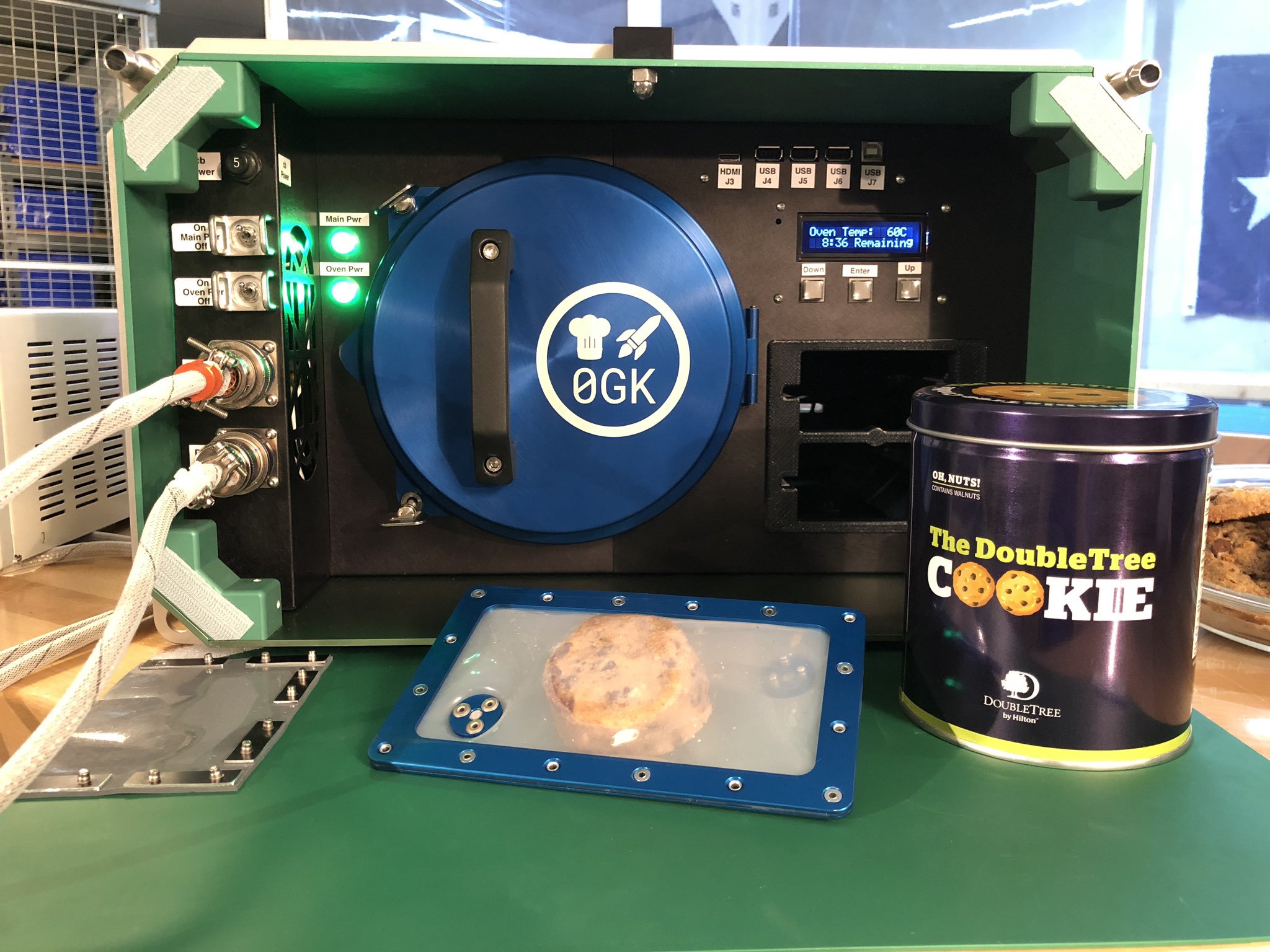 3D Printing with Recycled Materials
The Made in Space Recycler will test systems needed to reprocess plastic into 3D printing filament that can then be transferred for use to the Made in Space Manufacturing Device, a 3D printer that has operated on the orbiting laboratory since 2016. This has implications for space conservation and deep space missions.
These are just a few of the hundreds of investigations currently happening aboard the orbiting laboratory in the areas of biology and biotechnology, physical science, and Earth and space science. Advances in these areas will help to keep astronauts healthy during long-duration space travel and demonstrate technologies for future human and robotic exploration beyond low-Earth orbit to the Moon and Mars.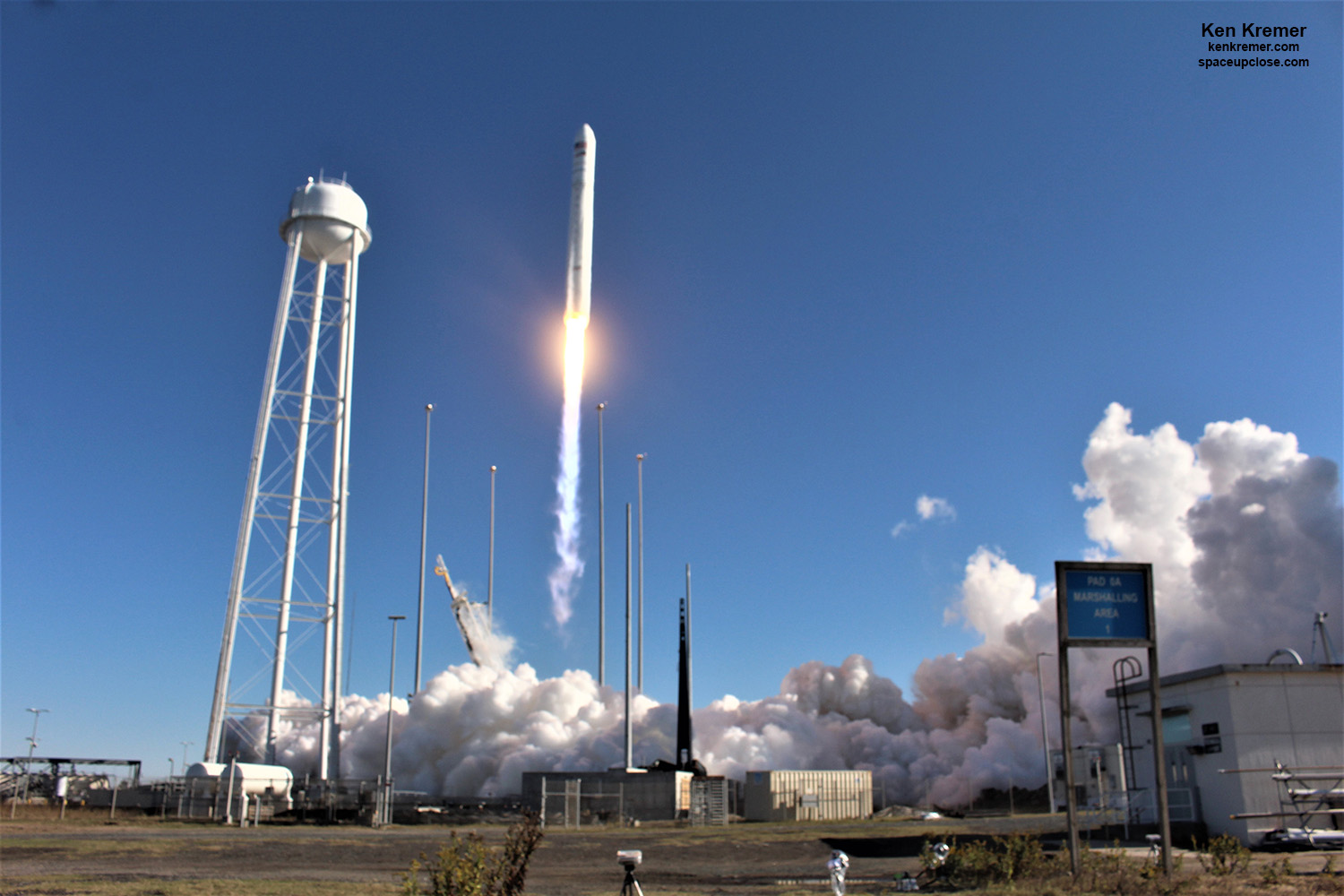 Watch my BBC World TV News post launch interview here:
The two stage Antares measures 139 feet (42.5 m) tall and 13 feet (3.9 m) in diameter.
The 14 story tall commercial expendable Antares launch vehicle is launching in the upgraded and more powerful re-engined 230+ configuration rocket compared to the original version.
The first stage is powered by two newly built Russian-built NPO Energomash RD-181 engines with independent thrust vectoring and fires for 3 minutes and 35 seconds before separating from the upper stage. They are test fired by Energomash in Russia and shipped to Wallops.
They produce about 860,000 pounds of thrust, roughly 100,000 more thrust than the original Antares 100 configuration. In the past they are throttled down at Max Q to maintain core integrity.
The second stage comprises the Castor 30XL solid rocket motor producing approximately 107,000 pounds of thrust. It burns for about 156 seconds.
The Cygnus spacecraft, dubbed the SS Alan Bean, is named after the late Apollo and Skylab astronaut who died on May 26, 2018, at the age of 86.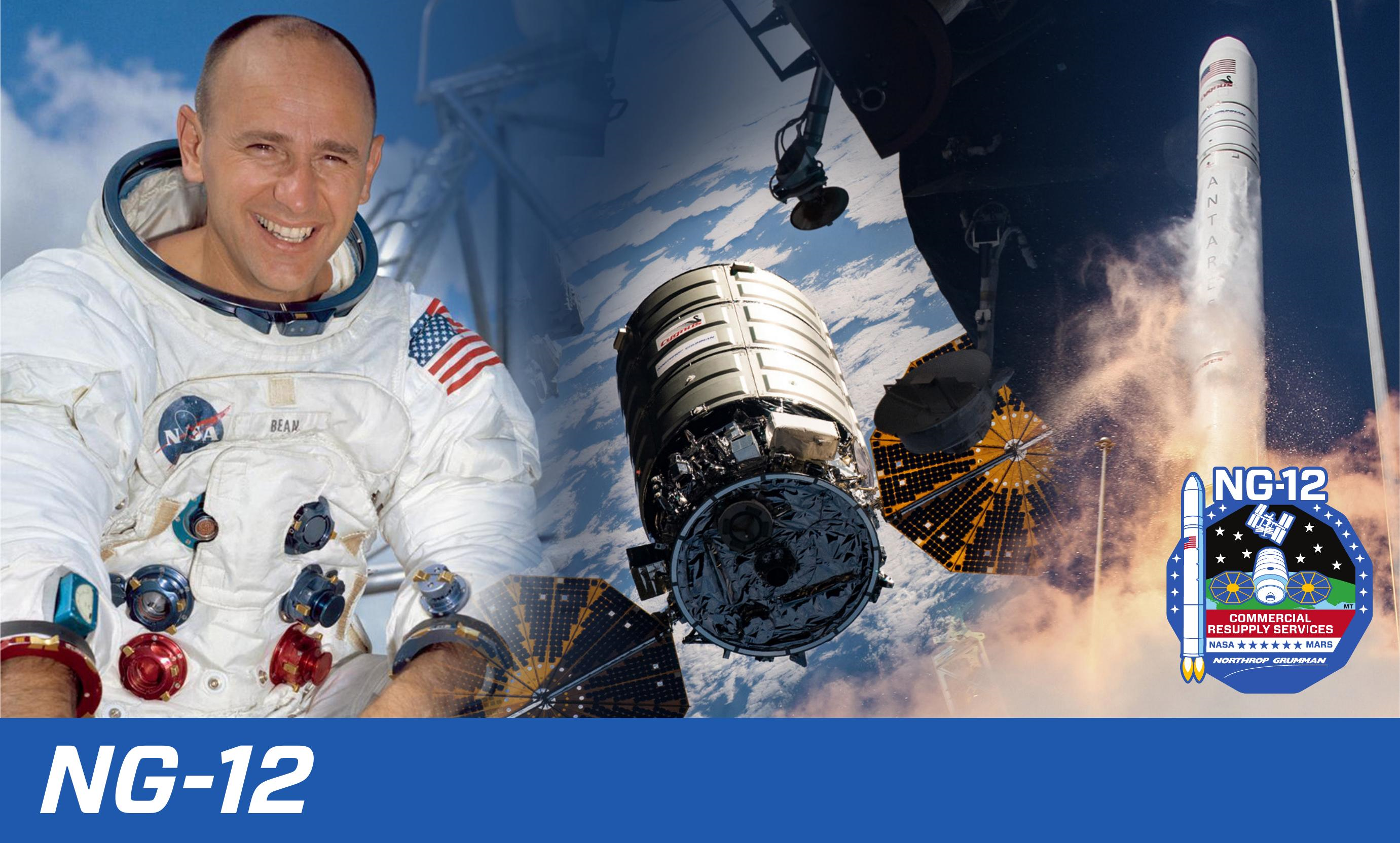 Watch for Ken's continuing onsite coverage of the NG-12 mission from onsite at NASA Wallops
Stay tuned here for Ken's continuing Earth and Planetary science and human spaceflight news: www.kenkremer.com –www.spaceupclose.com – twitter @ken_kremer – email: ken at kenkremer.com
Dr. Kremer is a research scientist and journalist based in the KSC area, active in outreach and interviewed regularly on TV and radio about space topics.
………….
Ken's photos are for sale and he is available for lectures and outreach events
Nov 23, 1 PM, Titusville, FL: "50th Anniversary Apollo 12 and NASA Return to the Moon with Project Artemis" at American Space Museum, Titusville, FL. Lecture free. Open to the public.
Website: www.spacewalkoffame.org