For SpaceUpClose.com & RocketSTEM
CAPE CANAVERAL, FL – SpaceX completed a critical static test firing of the Crew Dragon emergency SuperDraco abort thrusters on a ground stand at Cape Canaveral this afternoon, Nov. 13 under dreary weather conditions of the same system that triggered the explosive destruction of a similar spacecraft seven months ago in April – thereby hopefully achieving a major milestone towards accomplishing a human spaceflight launch of NASA astronauts to the International Space Station (ISS) sometime by mid-2020.
The apparently successful ground test firing carried out at approximately 3:08 p.m. EST (2008 GMT) today by SpaceX Landing Zone-1 (LZ-1) at Cape Canaveral Air Force Station, Florida seems to indicate an apparently successful resolution to the unexpected issue with a high-flow helium pressurization system valve that caused a catastrophic failure during the previous test firing on April 20.
SpaceX UpClose witnessed the test firing of the Crew Dragon SuperDraco abort thrusters from nearby in Cape Canaveral. Enjoy our series of photos.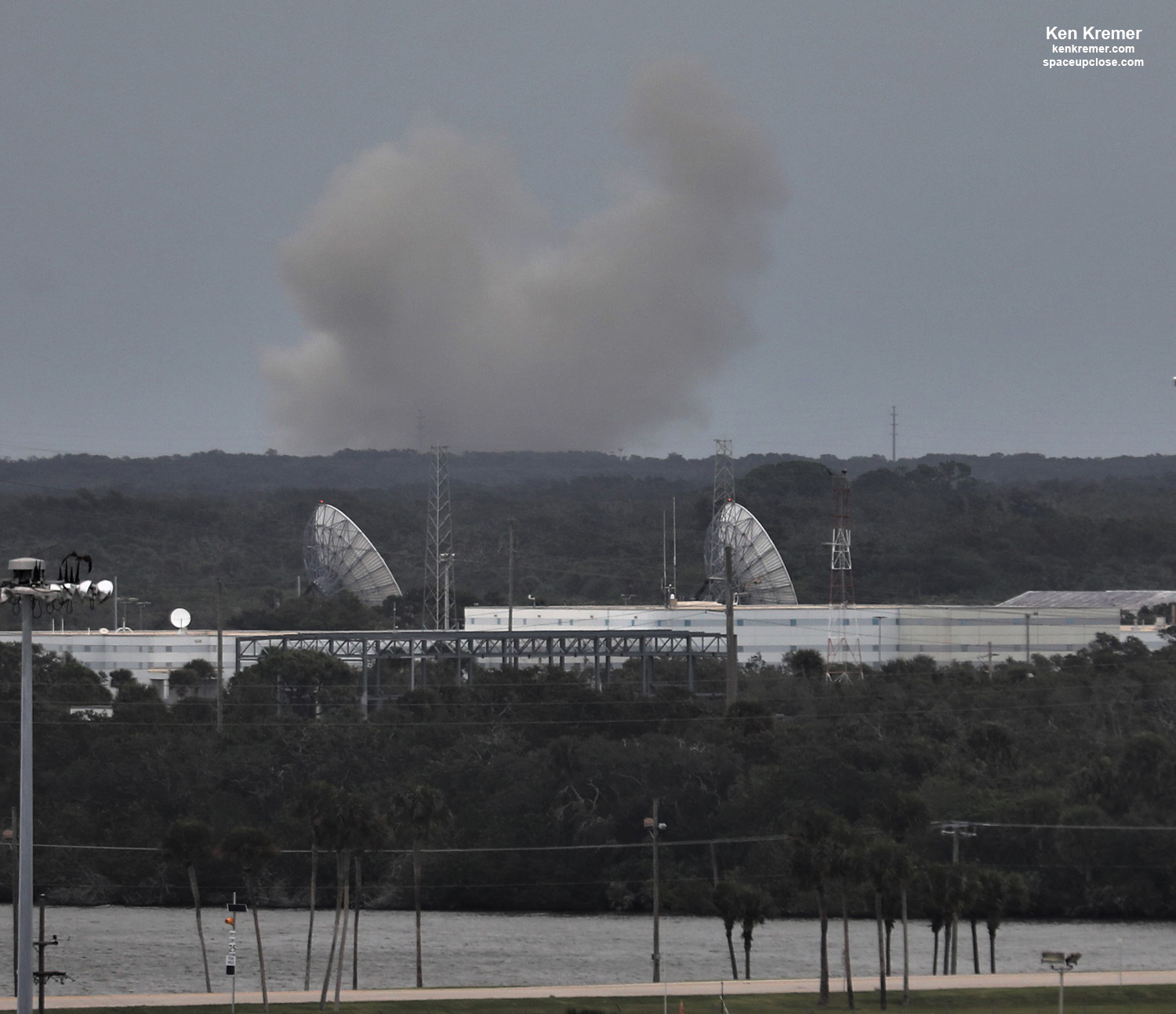 A billowing exhaust plume cloud suddenly appeared in the vicinity over Landing Zone-1 as the Crew Dragons 8 SuperDraco thrusters fired and generated a combined 120,000 pounds of thrust.
In a launch emergency the thrusters would rapidly fire to separate the crew capsule with astronauts from a failing rocket.
The off-white grayish colored exhaust cloud dissipated quickly within a minute or so due to strong wind gusts over the Cape.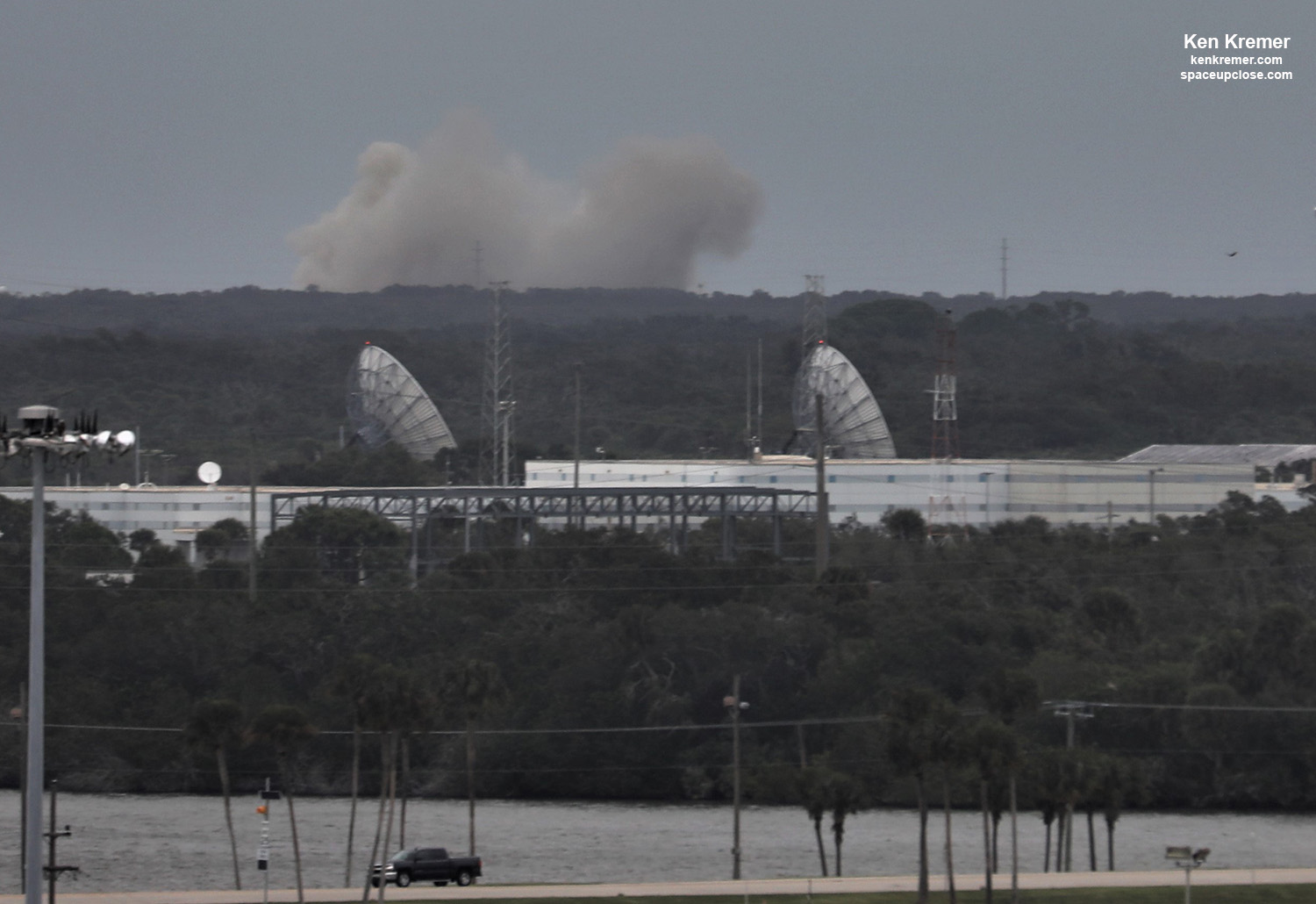 Nevertheless the cloud was much bigger than I had expected.
The Super Draco abort thruster engines that are intended to save the astronauts lives during a launch emergency instead exploded while undergoing static fire ground testing on the LZ-1 test stand at Cape Canaveral Air Force Station – that resulted in an explosion and fire that completely consumed the DM-1 Crew Dragon capsule that flew to the ISS in March.
A combined NASA and SpaceX team is now pouring over the voluminous test data obtained from the full duration 9-second-long static test firing of the Crew Dragon SuperDraco thrusters to truly confirm a positive result from today's test run.
If all goes well today's work will pave the path towards the next critical milestone – the demonstration launch of the In-Flight Abort (IFA) test flight to prove out the emergency escape capabilities of the SuperDraco thrusters.
The In Flight Abort test is a critical test hurdle SpaceX must successfully pass to prove that a Crew Dragon spacecraft will be pulled away safely in a split second in case of a catastrophic failure of the Falcon 9 rocket in flight and save the astronauts lives using the Super Draco abort engines mounted on the side wall of the spaceship Crew Dragon – before NASA will permit its astronauts to be launched.
The IFA will be triggered during the period of maximum aerodynamic pressure.
The in-flight abort test will demonstrate whether the capsule can survive an abort of the Falcon 9 rocket through "one of the harshest moments of launch: max Q, or maximum aerodynamic pressure."
At about 1 minute into flight SpaceX engineers will intentionally trigger an abort when the Falcon 9 and Crew Dragon reach Max Q.
The IFA test will utilize this Crew Dragon tested today – and designated as Demo-2 since Demo-1 was destroyed.
NASA and SpaceX both announced this evening that the test was completed.
However they did not announce todays test ahead of time.
"Full duration static fire test of Crew Dragon's launch escape system complete – SpaceX and NASA teams are now reviewing test data and working toward an in-flight demonstration of Crew Dragon's launch escape capabilities," SpaceX tweeted two and a half hours later.
Full duration static fire test of Crew Dragon's launch escape system complete – SpaceX and NASA teams are now reviewing test data and working toward an in-flight demonstration of Crew Dragon's launch escape capabilities pic.twitter.com/CMHvMRBQcW

— SpaceX (@SpaceX) November 13, 2019
"Today, SpaceX completed a series of static fire engine tests of the Crew Dragon spacecraft in advance of an in-flight launch escape demonstration, known as the In-Flight Abort Test," NASA wrote in a blog post and tweet.
NASA described some details about todays test campaign which included both the Draco maneuvering thrusters and the SuperDraco abort engines.
First up were the Draco's which involved "two burns for a duration of one-second each for two of Crew Dragon's 16 Draco thrusters. The Draco thrusters are used for on-orbit maneuvering and attitude control, and would also be used for re-orientation during certain in-flight launch escapes."
"Following these initial Draco thruster burns, the team completed a full-duration firing for approximately nine seconds of Crew Dragon's eight SuperDraco engines. The SuperDraco engines are designed to accelerate Dragon away from the F9 launch vehicle in the event of an emergency after liftoff."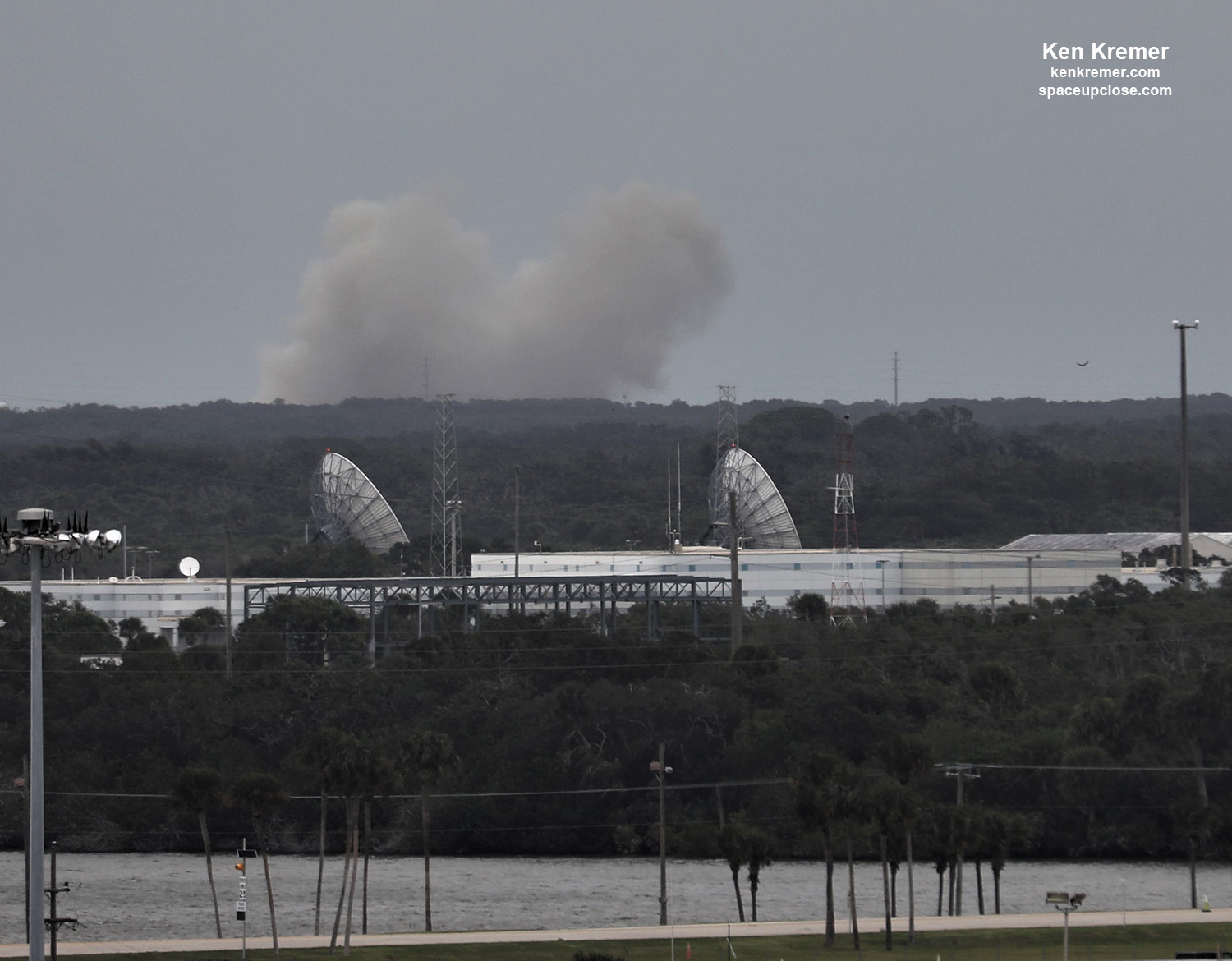 The Dracos then fired again to reorient the Crew Dragon capsule as they would during a real emergency.
"In quick succession, immediately after the SuperDracos shut down, two Dracos thrusters fired and all eight SuperDraco flaps closed, mimicking the sequence required to reorient the spacecraft in-flight to a parachute deploy attitude and close the flaps prior to reentry."
"The full sequence, from SuperDraco startup to flap closure, spanned approximately 70 seconds," said NASA.
At first glance todays test appears successful – in contrast to Aprils test involving a similar set of engine tests on the DM-1 spacecraft that "experienced an anomaly which led to an explosion and loss of the vehicle."
NASA and SpaceX set up an Anomaly Investigation Team to investigate the root cause and implement corrective active to prevent a recurrence.
The Anomaly Investigation Team "determined that a slug of liquid propellant in the high-flow helium pressurization system unexpectedly caused a titanium ignition event resulting in an explosion."
"Based on that investigation's findings and months of testing, SpaceX redesigned components of the system to eliminate the possibility of slugs entering the high-flow pressurization system."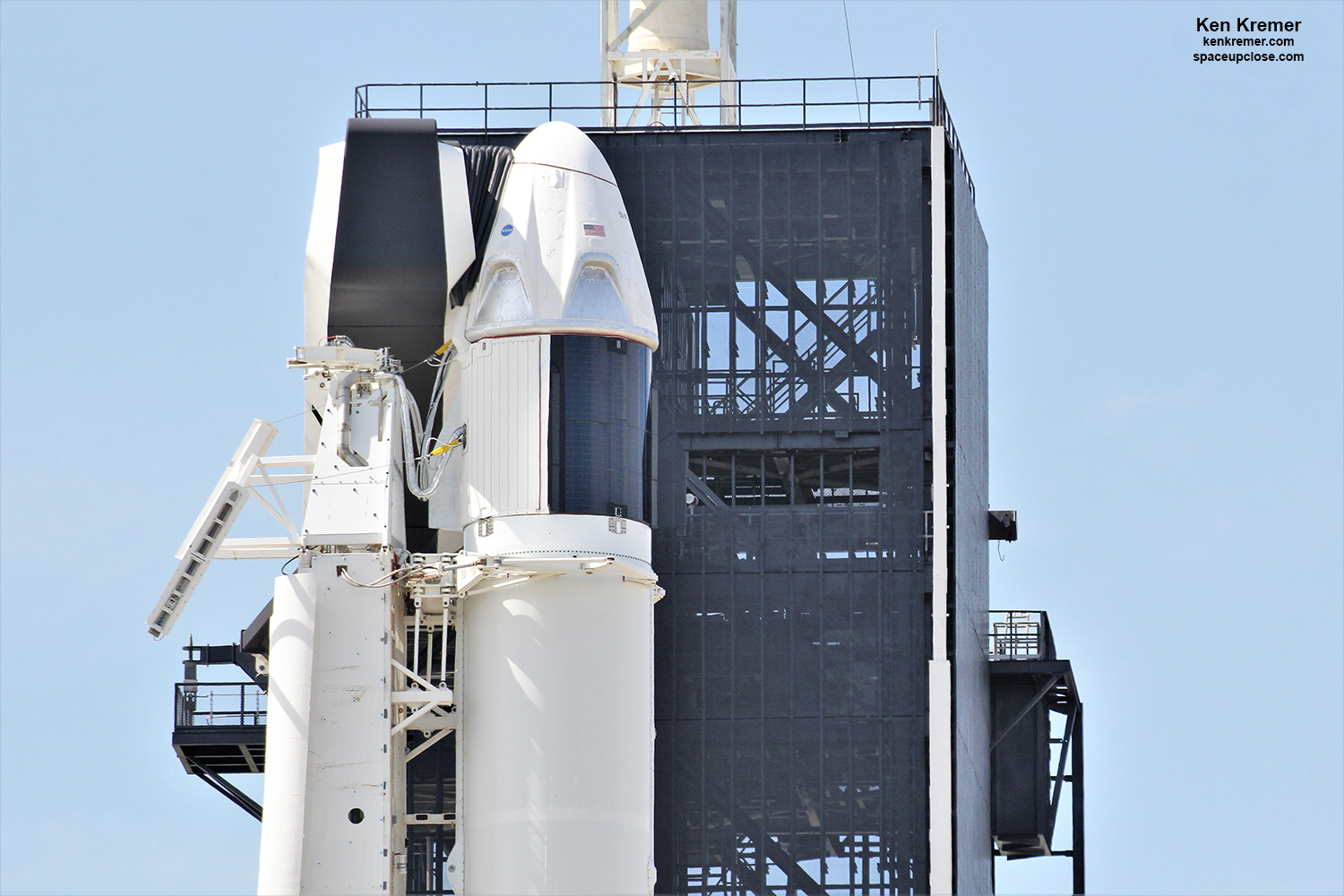 The key spaceflight test hardware required for SpaceX's next step to eventually launch NASA astronauts to the International Space Station (ISS) as part of the agency's Commercial Crew Program – namely for the Crew Dragon In-Flight abort test – has already arrived at the Kennedy Space Center (KSC) in Florida in early October. Read our story.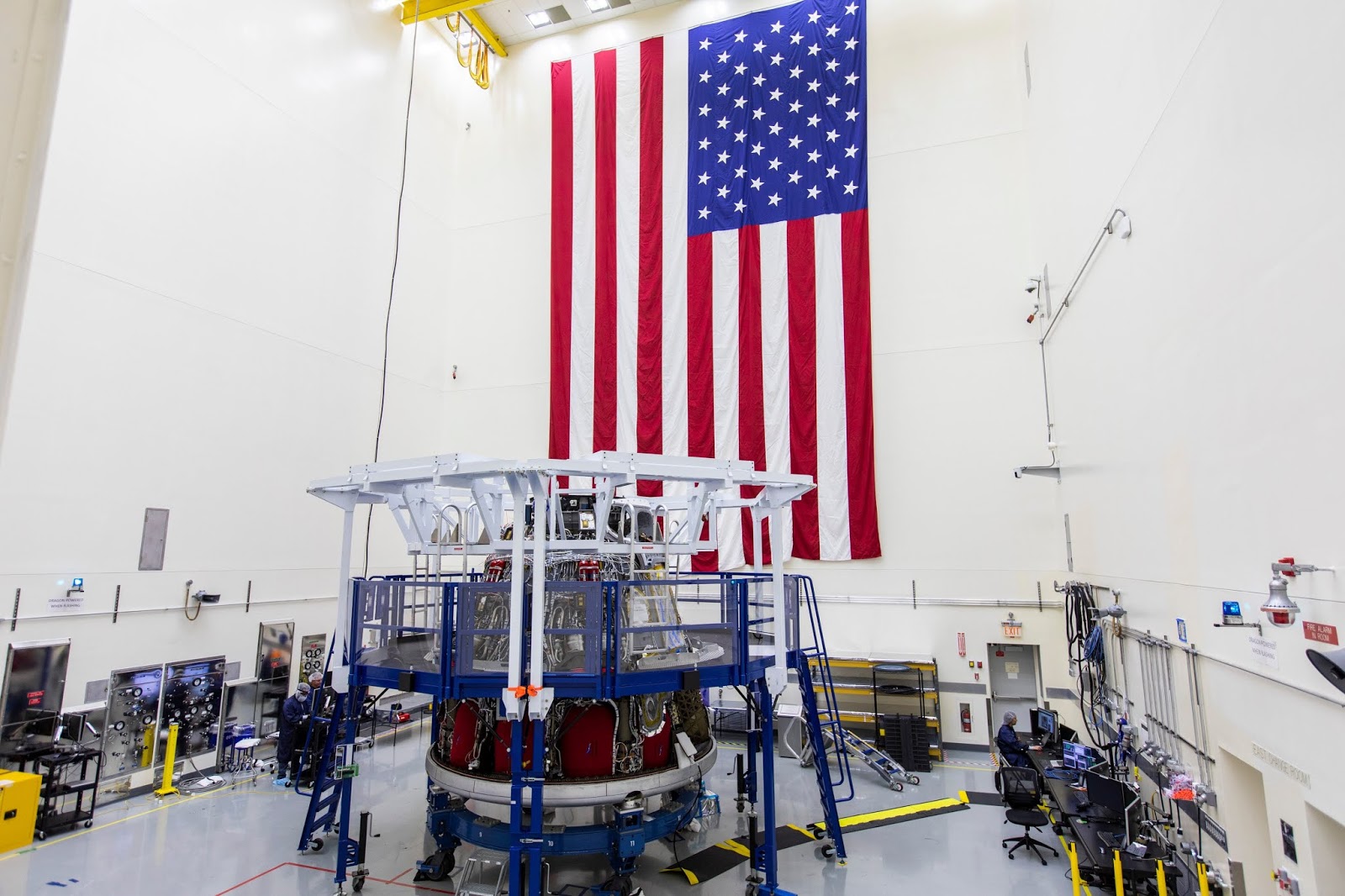 After fully analyzing todays test results and determining that the results are satisfactory, NASA and SpaceX will set a target launch date for IFA – perhaps by years end or early in 2020.
Two NASA astronauts Bob Behnken and Doug Hurley will fly aboard the Crew-1 Crew Dragon whenever it does launch.
Watch my CBS News 6 Orlando TV News interview on Nov. 13 with my commentary about the abort thruster test firing:
https://www.clickorlando.com/news/2019/11/13/spacex-fires-crew-dragon-engines-ahead-of-abort-test/
The commercial Crew Dragon vehicle is being developed under a contract awarded to SpaceX by NASA back in 2014 valued at more than $3.1 Billion with the goal of restoring US human spaceflight capabilities in a safe, reliable and cost effective manner and ending our sole reliance on the Russian Soyuz capsule.
That capability to launch humans to space was lost since the forced retirement of NASA's Space Shuttle fleet in 2011.
Boeing is also developing the Starliner crew capsule under a similar commercial crew contract with NASA.
Both capsules have suffered repeated delays.
NASA's final Soyuz contracted seat is set for launch on Spring 2020.
Thus it is urgent that one of the commercial crew providers launch our astronauts as soon as possible to the ISS in order to maintain a US presence on the station.
Stay tuned here for Ken's continuing Earth and Planetary science and human spaceflight news: www.kenkremer.com –www.spaceupclose.com – twitter @ken_kremer – email: ken at kenkremer.com
Dr. Kremer is a research scientist and journalist based in the KSC area, active in outreach and interviewed regularly on TV and radio about space topics.
………….
Ken's photos are for sale and he is available for lectures and outreach events
Ken's upcoming outreach events:
Nov 23, 1 PM, Titusville, FL: "50th Anniversary Apollo 12 and NASA's Human Return to the Moon with Project Artemis" at American Space Museum, Titusville, FL. Lecture free. Open to the public.
Website: www.spacewalkoffame.org
Dec 3/4: 7 PM, Quality Inn Kennedy Space Center, Titusville, FL. "SpaceX CRS-19 Launch to ISS Dec 4." Free in hotel lobby