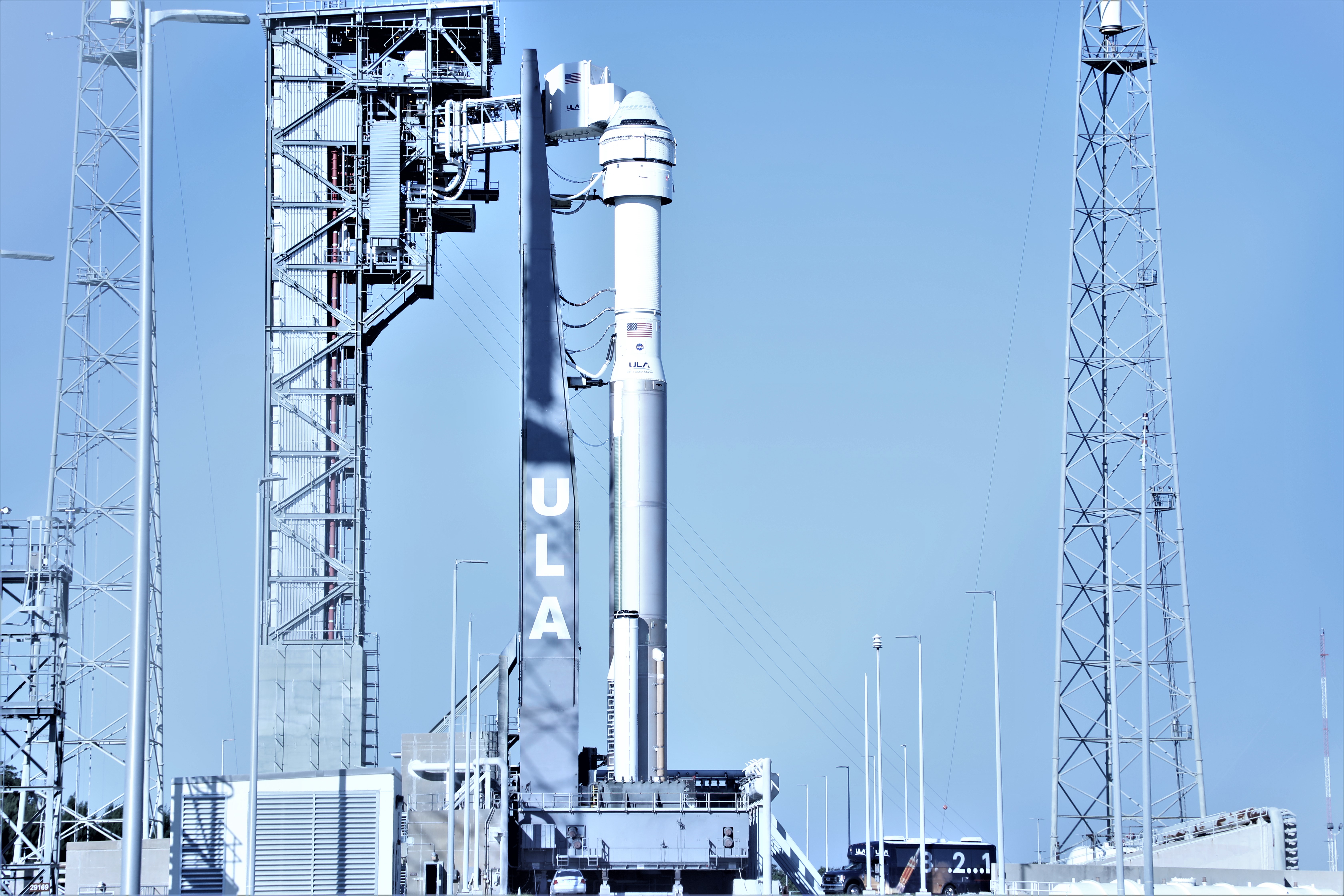 For SpaceUpClose.com & RocketSTEM
KENNEDY SPACE CENTER/CAPE CANAVERAL AIR FORCE STATION, FL – The 1st commercial Starliner astronaut space taxi reached the launch pad this morning, Wednesday, Dec 18, and is poised for liftoff of the human-rated spaceships readiness for the critical uncrewed Orbital Flight Test (OFT) demonstration journey to space on Friday morning Dec. 20 that will pave the way to human missions with NASA astronauts by mid-2020, if all goes well.
Starliner is the first flight worthy version of the commercial astronaut ferry ship.
Launch of the CST-100 Starliner spacecraft atop a United Launch Alliance Atlas V rocket is scheduled for 6:36 a.m. EST (1136 GMT) Friday, Dec. 20, from Space Launch Complex 41 on Cape Canaveral Air Force Station – roughly the moment Earth's rotation brings Cape Canaveral Launch Complex 41 under the space station's orbital plane.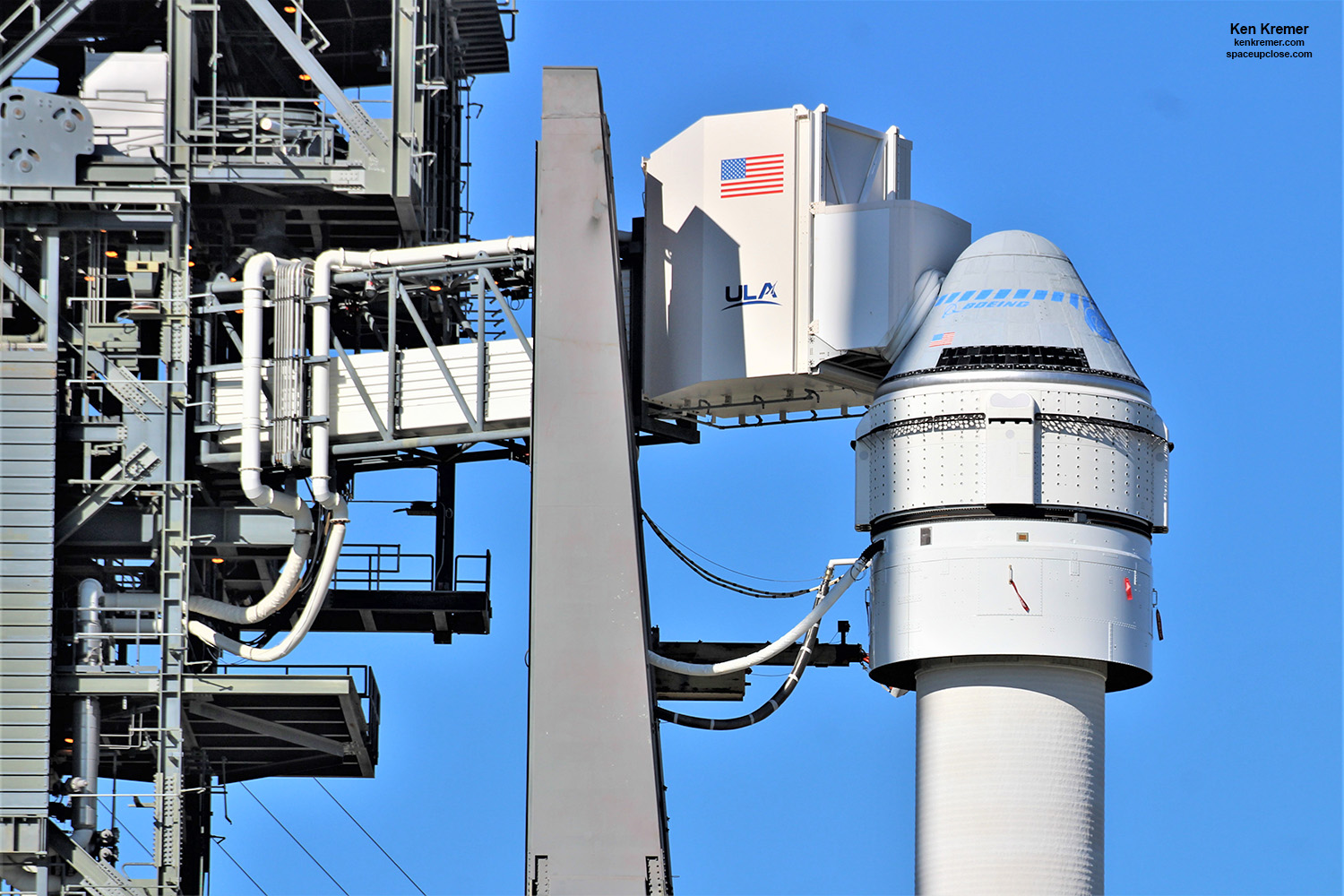 Starliner, and the competing Crew Dragon spacecraft from SpaceX, were both developed with funding under NASA's Commercial Crew Program (CCP) started nearly a decade ago.
Both of the astronaut ferry ships are finally coming to fruition after years of delays from funding shortfalls and technical hurdles.
The uncrewed OFT flight test will be Starliner's maiden mission to the International Space Station for NASA's Commercial Crew Program.
Starliner will be delivered to orbit bolted atop the United Launch Alliance (ULA) Atlas V rocket and are now in the final stages of pre-launch preparations at Cape Canaveral from Launch Pad 41 on Friday, Dec 20.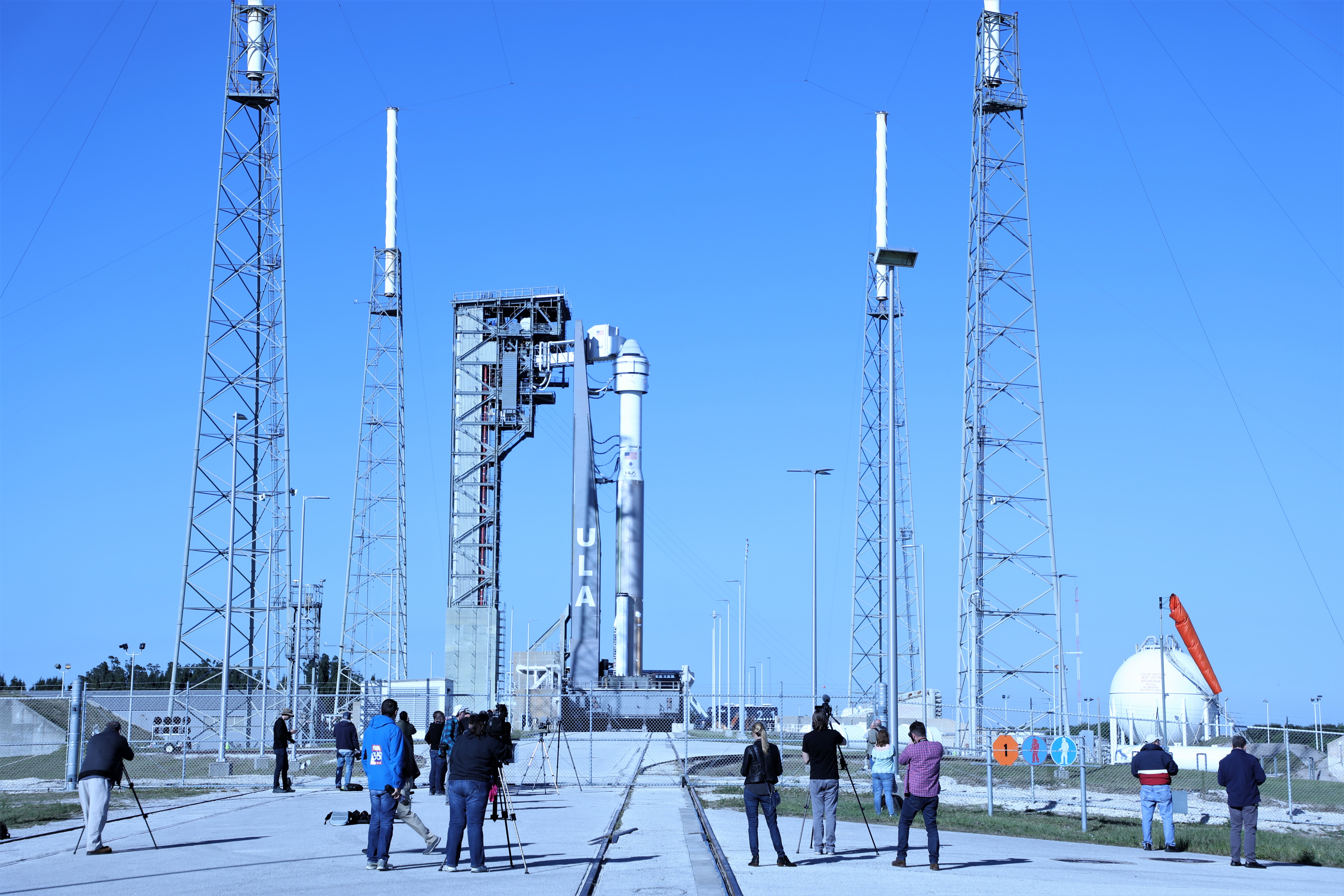 Both the Boeing capsule and the ULA Atlas V rocket are ready for liftoff with no issues at this time.
"We are actually tracking no spacecraft anomalies right now," John Mulholland, Boeing's Starliner program manager, said after a media briefing at the Kennedy Space Center press site Tuesday following the Launch Readiness Review (LRR) "The spacecraft is in really good shape."
"The United Launch Alliance team is just thrilled to be a part of this," said John Elbon, ULA's chief operating officer at the media briefing.
"We've launched a lot of important payloads . But there's just something special about launching humans, and to be a part of the program that's going to do that is a really big deal for us!"
The last time a human launched on an Atlas rocket was beck in 1962 on a Mercury capsule.
The integrated Atlas V and Starliner stack were moved on top of the ULA Mobile Launch – pushed by a pair of trackmobiles about 1800 feet from the VIF to launch complex 41.
All went well said ULA CEO Tory Bruno by tweet.
Atlas and MLP are hard down at the pad. Successful roll #OFT is very, very, very near

— Tory Bruno (@torybruno) December 18, 2019
The goal of the Commercial Crew Program is to end our 100% reliance on the Russian Soyuz capsule for launches to the ISS at a cost of more than $85 million per astronaut seat.
I watched the Starliner/Atlas V rollout from the Kennedy Space Center Press Site as it took place starting at about 9 a.m. this morning as it emerged from the Vertical Integration Facility at complex 41.
The media including Space UpClose also enjoyed an up close photo op visit to the Starliner/Atlas V stack at Launch Complex 40 on Dec. 4, 2019 after a rollout for the wet dress rehearsal (WDR) fueling and countdown test
Enjoy my Space UpClose photo gallery from the rollouts and pad photo op Dec. 4.
Starliner will launch uncrewed this time on its maiden space flight atop the ULA Atlas V rocket on the Orbital Test Flight (OFT) to low Earth orbit (LEO) and docking at the ISS on its first test flight on the OFT mission to the ISS.
The Atlas V rocket that will carry Starliner to orbit comprises a ULA built 1st stage booster powered by a Russian-made RD-180 main engine, a dual-engine Centaur upper stage, as well as a pair of Aerojet Rocketdyne AJ-60 strap-on first stage solid rocket boosters.
This marks a new configuration for the Atlas V designated as "N22" because these is no payload fairing surrounding the Starliner and includes the dual engine Centuar upper stage with two Aerojet Rocketdyne RL10A-4-2 engines and two strap-on boosters.
The Atlas 5's Russian-made RD-180 main engine and two Aerojet Rocketdyne solid rocket boosters will power the launcher off the pad. A dual-engine Centaur upper stage will power the Starliner into space and deploy the capsule on a preliminary suborbital trajectory. The capsule's own thrusters will fire about a half-hour after liftoff to reach a stable orbit and begin its pursuit of the station.
With Starliner the completely Atlas V rocket stack stands 172 feet (52.4 meters) tall and will weigh 979,223 pounds when fully fueled for liftoff.
The ULA Atlas V rocket generates about 1.6 million pounds of liftoff thrust at launch and enjoys a 100% success record since 2002.
Details about the Atlas V and the ULA launch blog can be found here:
LAUNCH ALERT! #AtlasV will be launching the @BoeingSpace #Starliner Orbital Flight Test next Friday, Dec. 20 from Cape Canaveral, Florida. The instantaneous launch window is 6:36amEST (1136 UTC). Follow the action live on our blog: https://t.co/1zR8ToeFl6 pic.twitter.com/4K8jI7TEsA

— ULA (@ulalaunch) December 13, 2019
If Starliner launches on Friday, Dec. 20 it will reach its preliminary orbit about 31 minutes after launch and arrive a day later at the ISS for an automated rendezvous and docking at the Harmony Module on Dec. 21 at approximately 8:08 a.m. EST (1308 GMT) Saturday, Dec. 21.
Hatch opening by the Expedition 61 crew is targeted for 10:45 a.m. EST. They will enter to celebrate the historic milestone and retrieve some supplies and special items including Christmas and holiday presents.
Back up launch days are available on Dec. 21 and Dec. 23 and then on Christmas and after from Dec. 25 to Dec, 28 if needed for any delays due to weather or technical issues, said NASA's Phil McAlister.
Watch Ken's continuing reports onsite for live reporting of the upcoming Starliner OFT mission & recent SpaceX JCSAT launch at the Kennedy Space Center and Cape Canaveral Air Force Station.
Stay tuned here for Ken's continuing Earth and Planetary science and human spaceflight news: www.kenkremer.com –www.spaceupclose.com – twitter @ken_kremer – email: ken at kenkremer.com
Dr. Kremer is a research scientist and journalist based in the KSC area, active in outreach and interviewed regularly on TV and radio about space topics.
………….
Ken's photos are for sale and he is available for lectures and outreach events
Ken's upcoming outreach events:
Dec 19/20: 7 PM, Quality Inn Kennedy Space Center, Titusville, FL. "Boeing Starliner Launches to ISS & SpaceX JCSAT launch." Free. In hotel lobby. Photos for sale