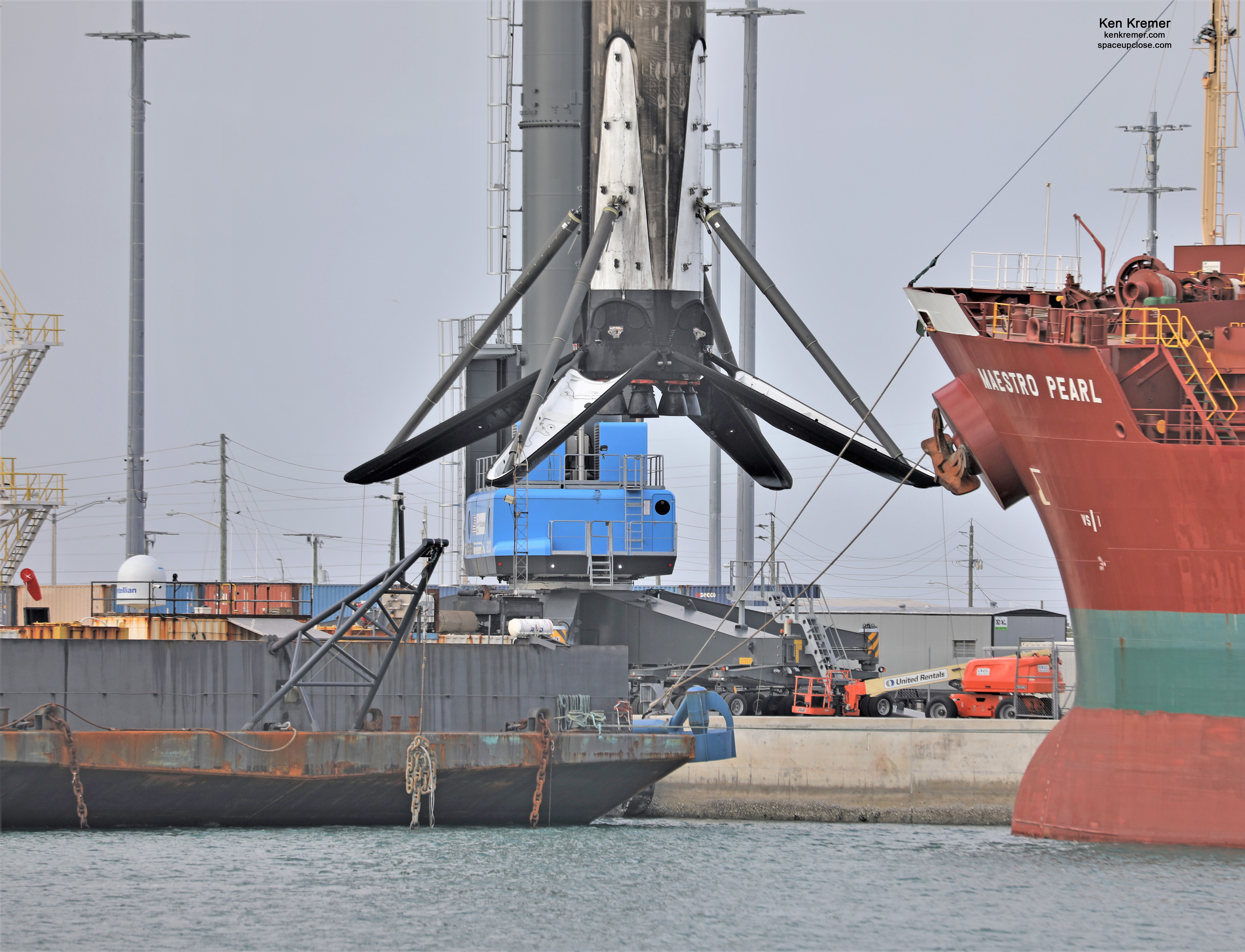 For SpaceUpClose.com & RocketSTEM
PORT CANAVERAL/CAPE CANAVERAL AIR FORCE STATION, FL – Just about 22 hours after sailing back into Port Canaveral yesterday afternoon, Thursday, Jan. 9 the second quadruply launched & landed SpaceX Falcon 9 first stage booster from the Starlink 2 mission was craned off the "Of Course I Still Love You" (OCISLY) droneship mid-afternoon Friday, Jan. 10 in a craning operation that utilized the new workhorse German-built Liebherr Mobile Harbor Crane – that only recently came into use on the prior Starlink booster return in November 2019 on the first quadruply recycled Falcon 9 booster.
The hoisting of the 156 foot tall recovered Falcon 9 first stage 1049.4 took place starting at about 3 p.m. EST docked at the droneships normal northside berthing port – some 2 hours after the booster hoisting cap was attached lunchtime Friday.
The crane crew had attached the hi tech hoisting device to the top of the 16 story tall booster with 4 deployed landing legs at approximately 1 p.m. Friday – setting the stage for the craning.
Rather notably for the first time ever I observed the workers quite thoroughly hosing down the recycled boosters 4 landing legs – one by one they methodically shot a fire hefty stream of water to wash each strut and landing pad for several minutes each – gradually circling around to all four legs – with the booster still standing upright on the OCISLY droneship.
Perhaps the crane crew were rinsing the leg mechanisms of accumulated sprays of sea salt, chemicals contaminants, greases, oils and assorted FOD and more.
Presumably the landing leg cleansings will assist in enabling the difficult leg retractions work as the strut piston segments are closed in.
During the leg retraction work I have often seen the workers halt in fits and starts to inspect the strut pistons and wipe them clean.
Sometimes the wiping works and the leg is fully retracted- and other times the retraction fails for an unknown host of reasons.
The bottom line is SpaceX still has many lessons to learn and new experiments and procedures to try in order to make the leg retractions more robust – which clearly they are not at this time.
Enjoy our Space UpClose photo gallery of the hoisting cap attachment and craning from sea to land of Falcon 9 booster 1049.4
Check back as our gallery grows.
We unofficially nickname the hoisting cap as the BLLRD or Booster Lift and Leg Retraction Device – which is bolted on top of the core standing on OCISLY by the SpaceX crane work crew.
The hoisting cap was outfitted again with cables and pullies to at least attempt leg retractions.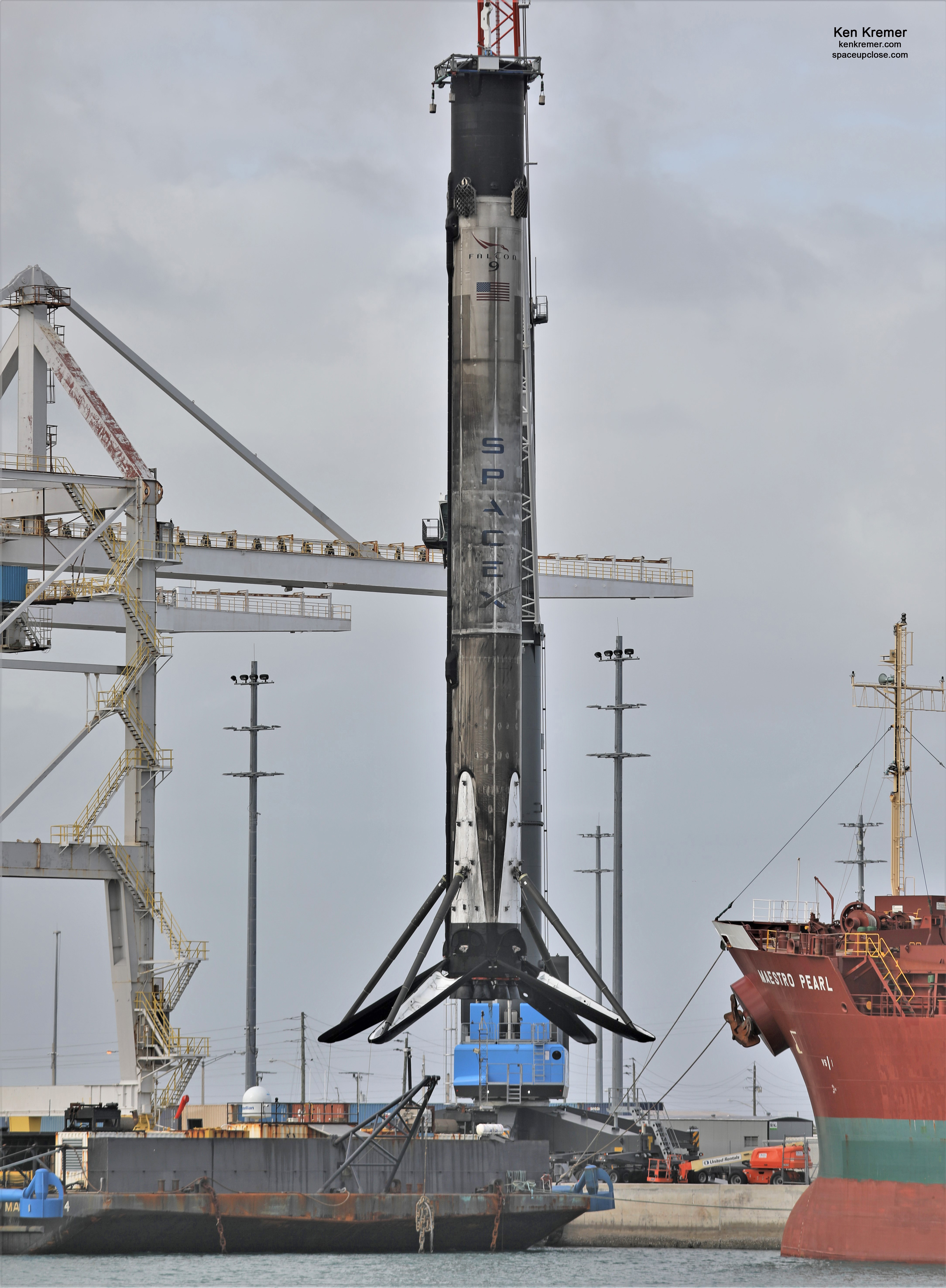 Booster 1049.4 arrived into Port Canaveral Thursday late afternoon Jan. 9 barely three days after the thrilling first blastoff of 2020 streaked to orbit Monday night Jan. 6 from the Florida Space Coast on only the second quadruply launched SpaceX Falcon 9 booster.
It launched on the 3rd Starlink mission carrying 60 broadband internet satellites.
The quadruply recovered 1st stage booster sailed into Port Canaveral atop the OCISLY droneship Thursday during a rare late afternoon arrival Jan. 9 under picture perfect sunlight accompanied by crashing waves for an exciting arrival into Jetty Park Pier and Port Canaveral, Florida.
See also our earlier Port Canaveral arrival story and photos.
The craning off OCISLY away from the clutches of the octograbber and onto the regular land pedestal started at about 3 p.m. EST took about 30 minutes – overall about the same length of time as with the old yellow crane prior to the Liebherr.
Liftoff of the 3rd Starlink mission – officially designated as Starlink 2 – on this fourth time recycled Falcon 9 took place during an instantaneous launch window at 9:19 p.m. EST Monday, Jan. 6 (0219 GMT Tuesday, Jan. 7) from Space Launch Complex-40 (SLC-40) on Cape Canaveral Air Force Station, FL.
SpaceX then successfully soft landed the Falcon 9 first stage for the fourth time – in this case on the "Of Course I Still Love You" (OCISLY) droneship deployed some 400 miles (620 km) downrange in the Atlantic Ocean off the Carolinas coast.
Enjoy our Space UpClose gallery of images of Monday's spectacular blastoff.
In another major milestone in rocket recycling the mission marks only the second time use of a reused first stage booster for the fourth time.
The first 4th flown booster was used on the prior Stalink mission launched on November 11, 2019.
This counts as the 48th successful booster landing recovery by sea or by land.
Thus the booster is set up to launch for a record fifth time perhaps later this year.
To date it flew on three prior missions on Starlink 1 in May 2019 as well as Iridium-8 and the Telstar 18 VANTAGE mission.
The Block 5 Falcon 9 first stages are designed to launch 10 times each with minimal refurbishment between flights.
The two stage Falcon 9 rocket stands 229 feet (70 meters) tall.
The next steps are to detach or retract the landing legs and then lower it horizontal on a transported for shipment back to the Cape and presumably a 5th flight – still TBD.
My commentary and photos about the SpaceX Starlink launch and SpaceX Force were featured on WESH 2 News NBC TV News Orlando, WFTV Channel 9 ABC TV News Orlando and Channel 6 CBS News Orlando on the Jan. 6, 7 and 8 evening and overnight news programs multiple times.
wftv.com https://wesh.com
https://www.wftv.com/news/local/brevard-county/falcon-9-rocket-set-launch-cape-canaveral/K5XCONPOLNAAFJPP27XFGNTBAQ/
Watch my Channel 6 CBS TV News Orlando comments here on Starlink sighting opportunities and potential harm to astronomical observations:
Look up, see a lot of satellites ??
What a time to be alive. #SpaceX #Starlink @news6wkmg @AmSpaceMuseum @ken_kremer pic.twitter.com/m4gBaBiy5T

— James Sparvero (@News6James) January 9, 2020
Watch Ken's continuing reports onsite for live reporting of upcoming SpaceX and ULA launches in Jan/Feb 2020 at the Kennedy Space Center and Cape Canaveral Air Force Station.
Stay tuned here for Ken's continuing Earth and Planetary science and human spaceflight news: www.kenkremer.com –www.spaceupclose.com – twitter @ken_kremer – email: ken at kenkremer.com
Dr. Kremer is a research scientist and journalist based in the KSC area, active in outreach and interviewed regularly on TV and radio about space topics.
………….
Ken's photos are for sale and he is available for lectures and outreach events