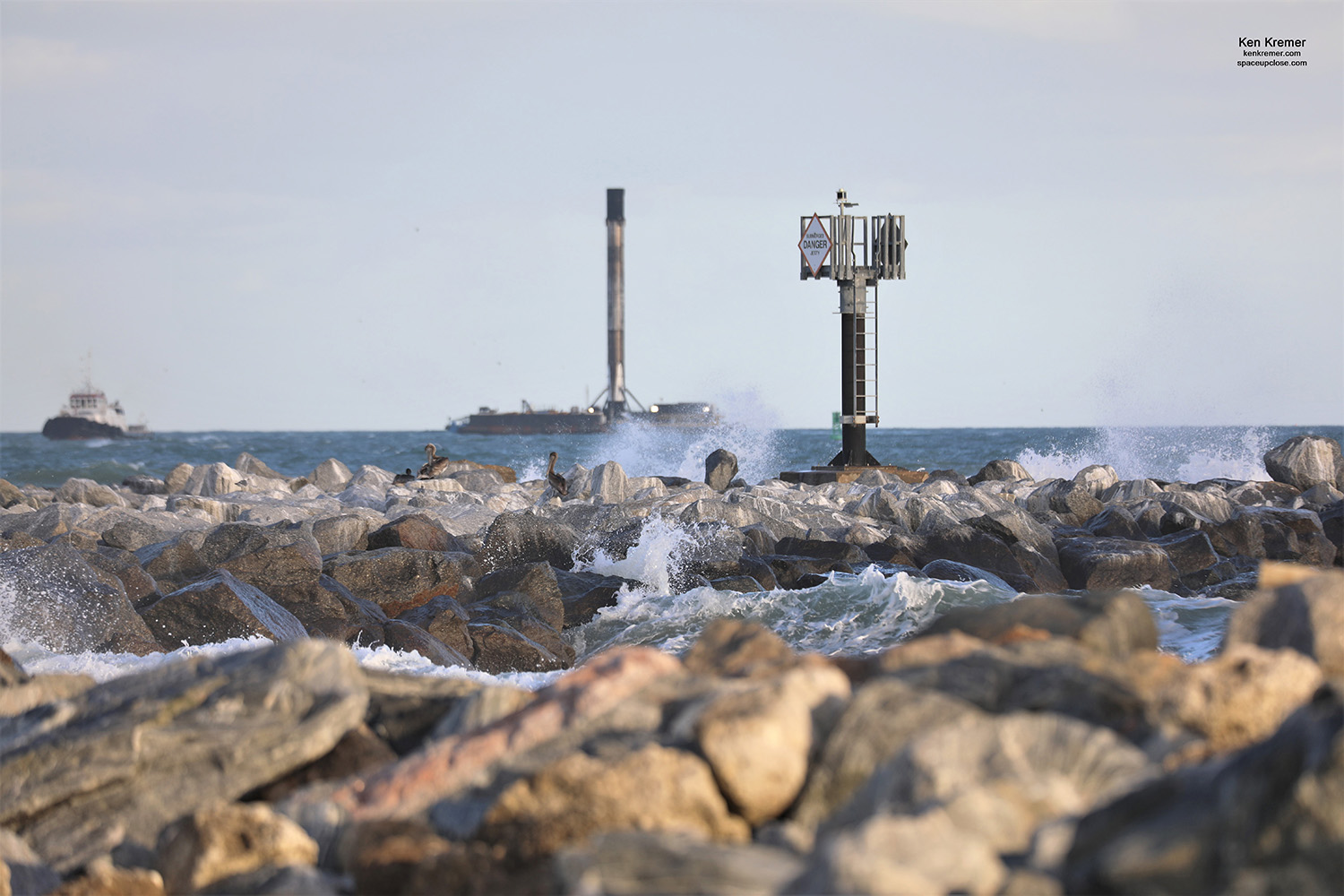 For SpaceUpClose.com & RocketSTEM
PORT CANAVERAL/CAPE CANAVERAL AIR FORCE STATION, FL – Barely three days after the thrilling first blastoff of 2020 streaked to orbit Monday night Jan. 6 from the Florida Space Coast on only the second quadruply launched SpaceX Falcon 9 booster on the 3rd Starlink mission carrying 60 broadband internet satellites, the quadruply recovered 1st stage booster sailed into Port Canaveral atop the OCISLY droneship Thursday during a rare late afternoon arrival Jan. 9 under picture perfect sunlight accompanied by crashing waves for an exciting arrival into Jetty Park Pier and Port Canaveral, Florida.
The 156 foot-tall Falcon 9 booster arrived around 5 p.m. this evening Jan. 9 booster towed by tug Hawk in the Atlantic Ocean and accompanied by the SpaceX naval fleet just offshore of the beach – greeted by a nice sized and excited crowd of spectators and media gathered along Jetty Park Pier and Park.
Rocket recycling is a major tenant of SpaceX CEO and founder Elon Musk as the driver for radically slashing launch costs.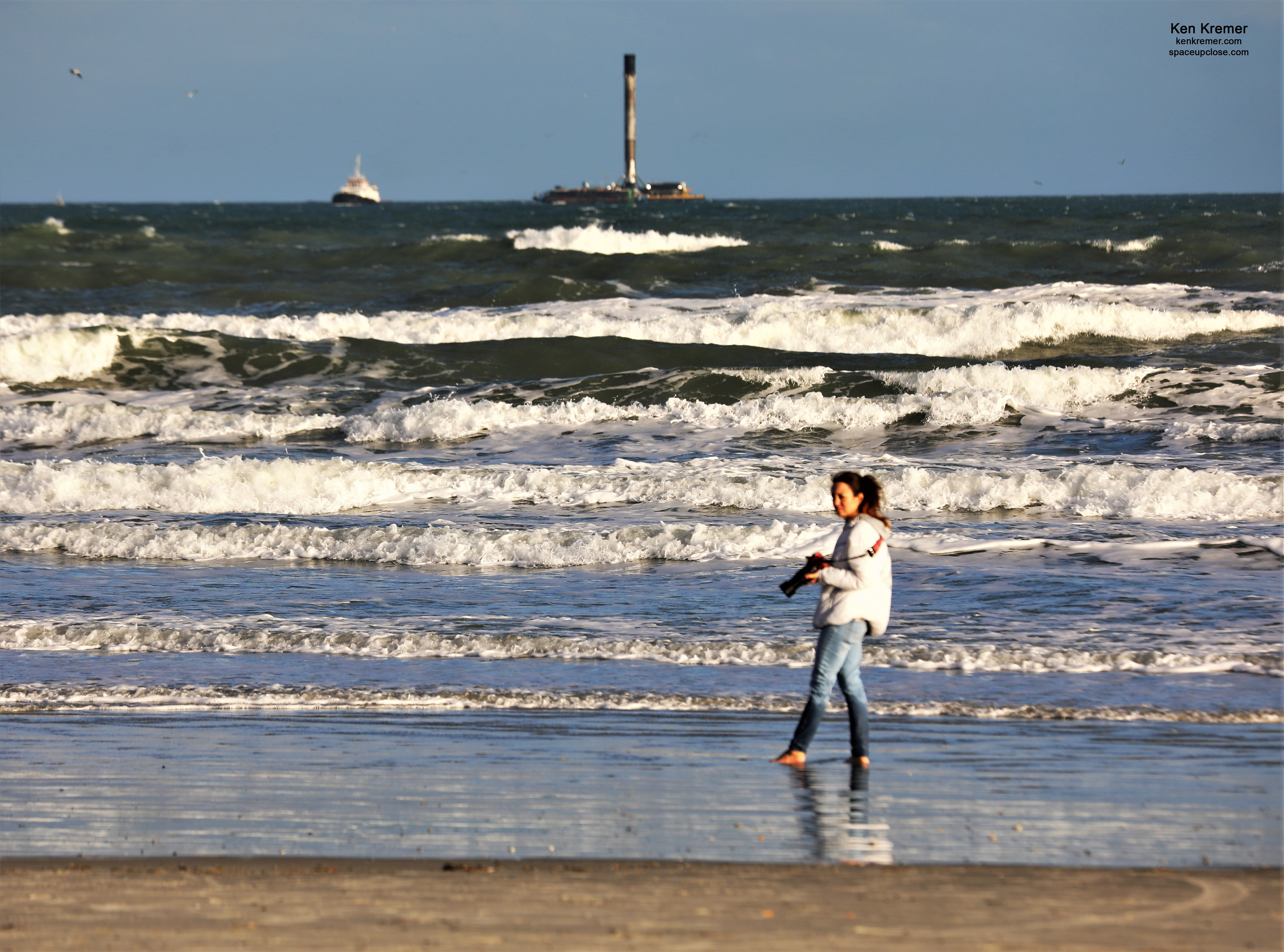 Enjoy our Space UpClose photo gallery of the arrival and docking of the somewhat sooty Falcon 9 booster 1049.4 at the droneships normal northside berthing port.
Check back as our booster arrival gallery grows.
The booster identity was clearly labeled as '49' at the top near the Falcon 9 insignia.
Overall it took roughly an hour from Port arrival to docking of OCISLY at its normal berthing port. Everything appeared to go very well.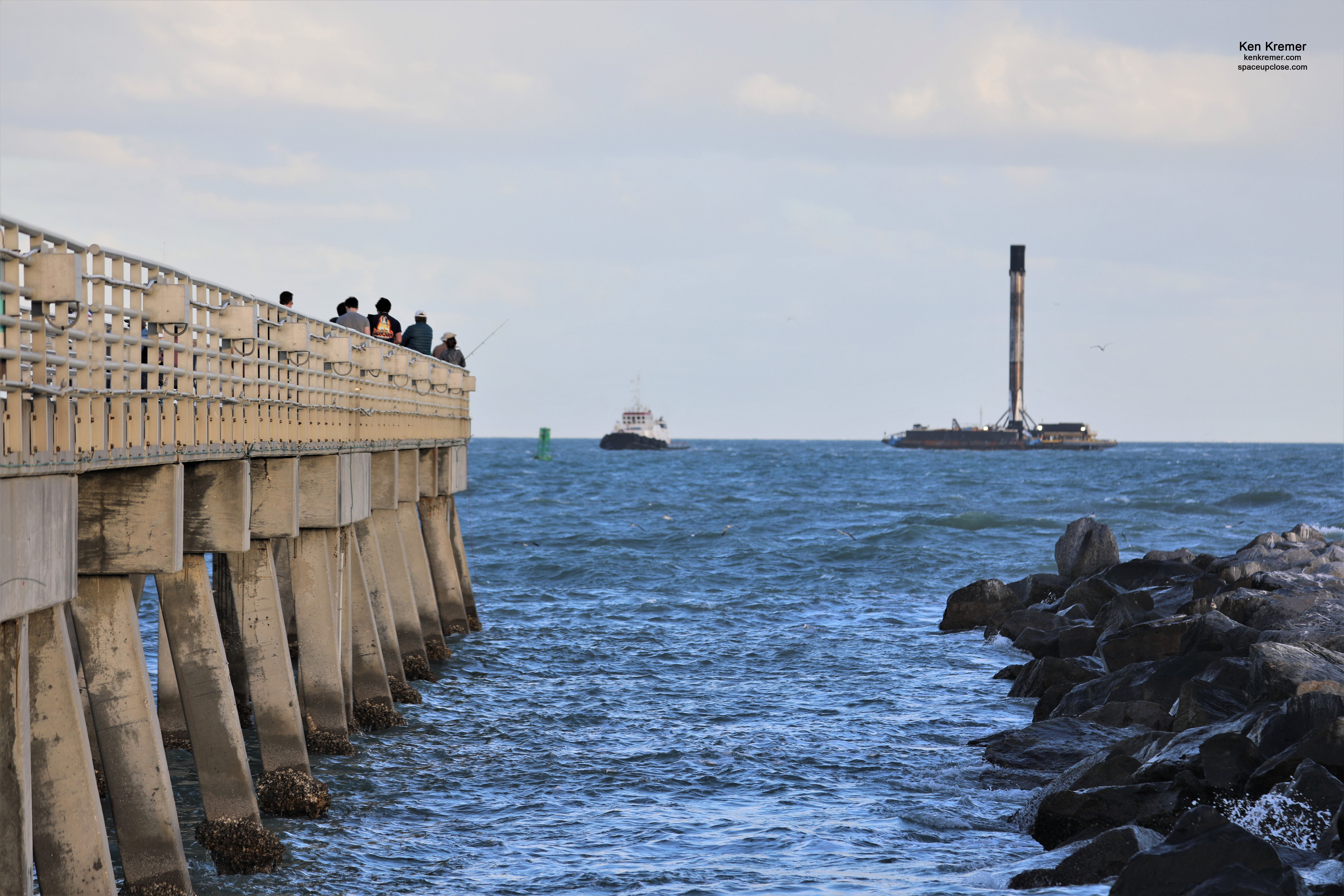 As it sailed past the Jetty Park Pier numerous onlookers gazed in wonder, snapped photos and even anglers stopped a moment to look until fish tugged their lines.
I captured the historic Cape Canaveral lighthouse and several launch pad darting in between the landing legs – aiming my camera and shooting at just the right moment as it sailed by.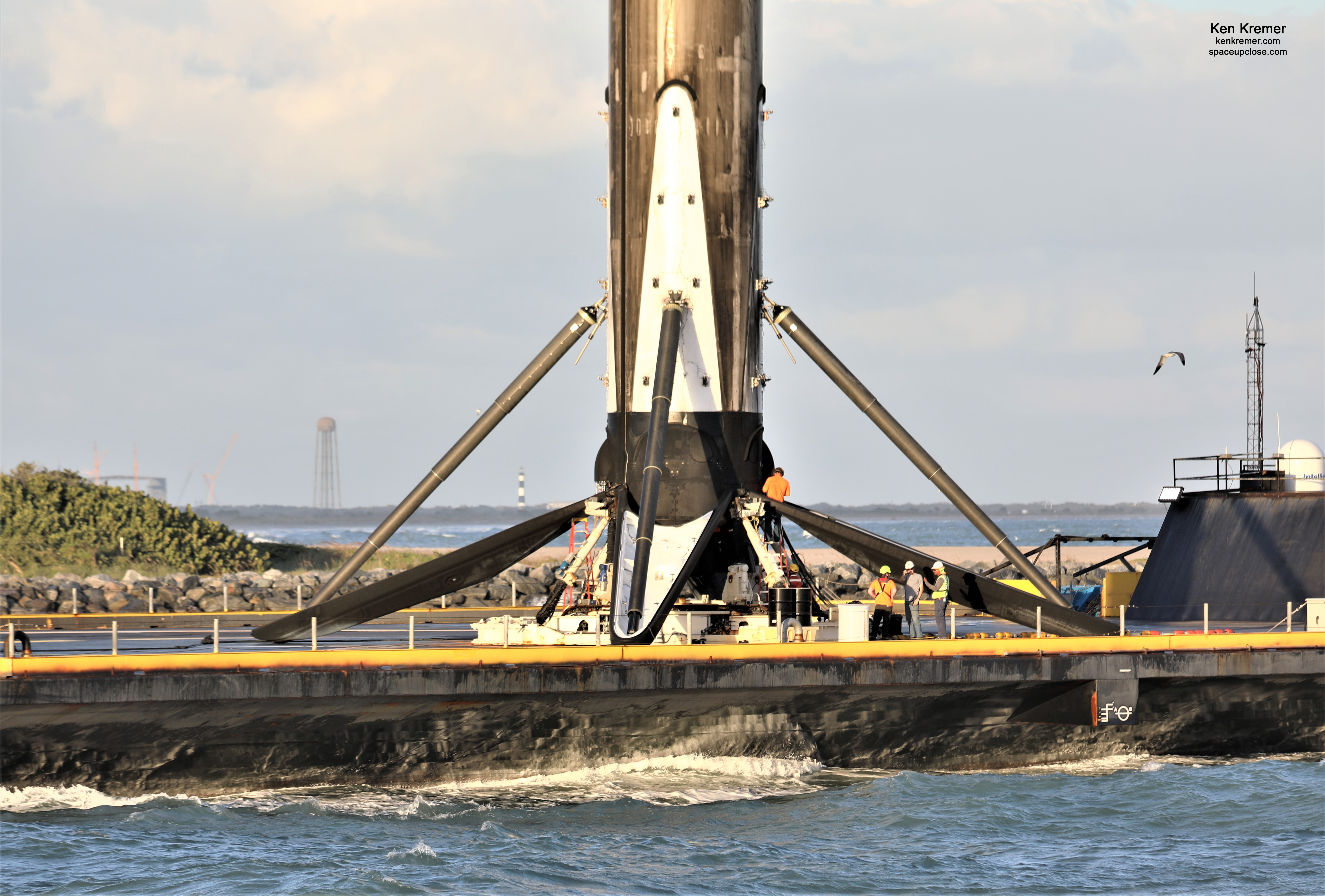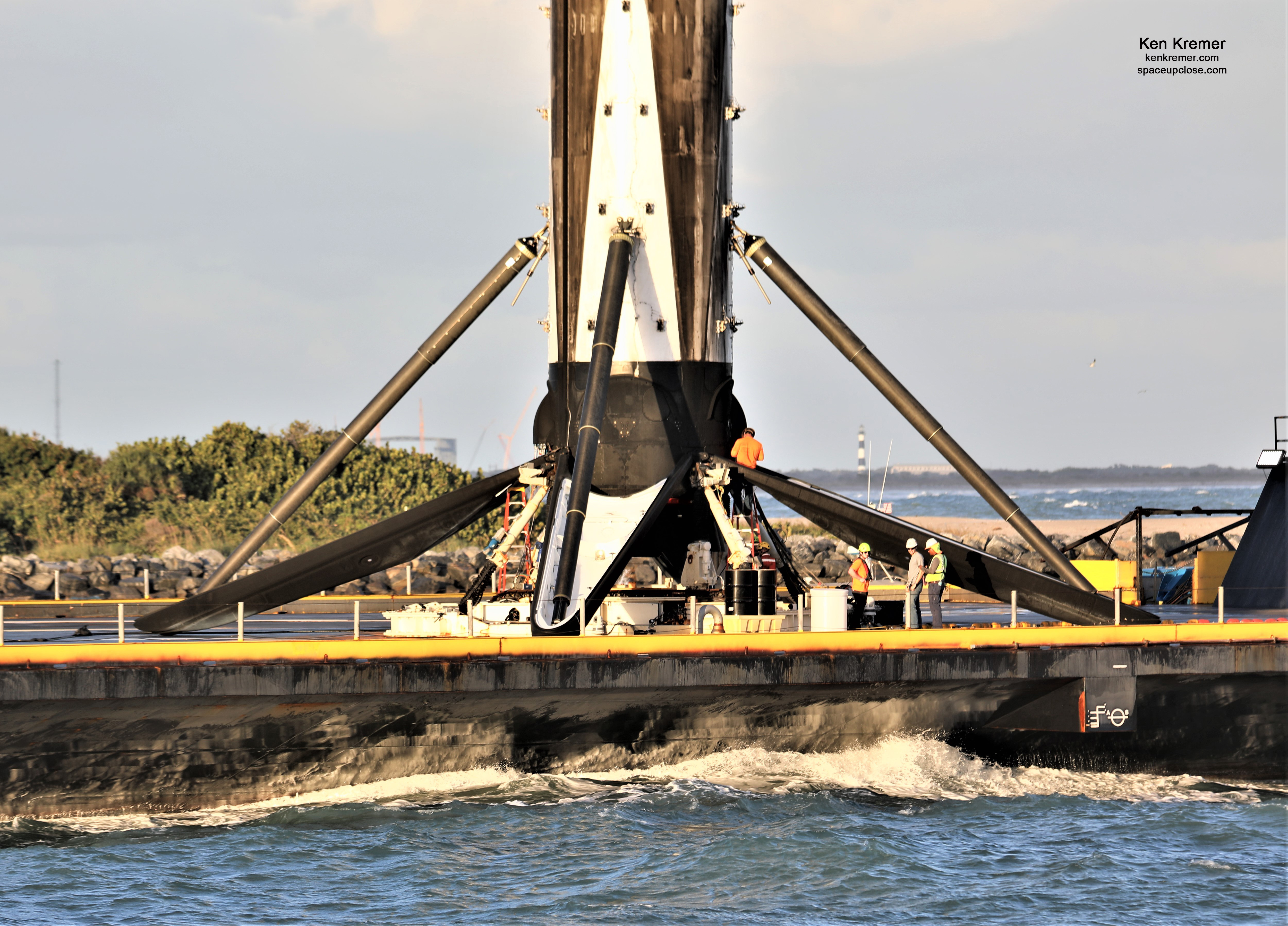 As night fell the newly arrived and recovered Falcon 9 was still held in place atop OCISLY and cast a wondrous nighttime glow in the Port.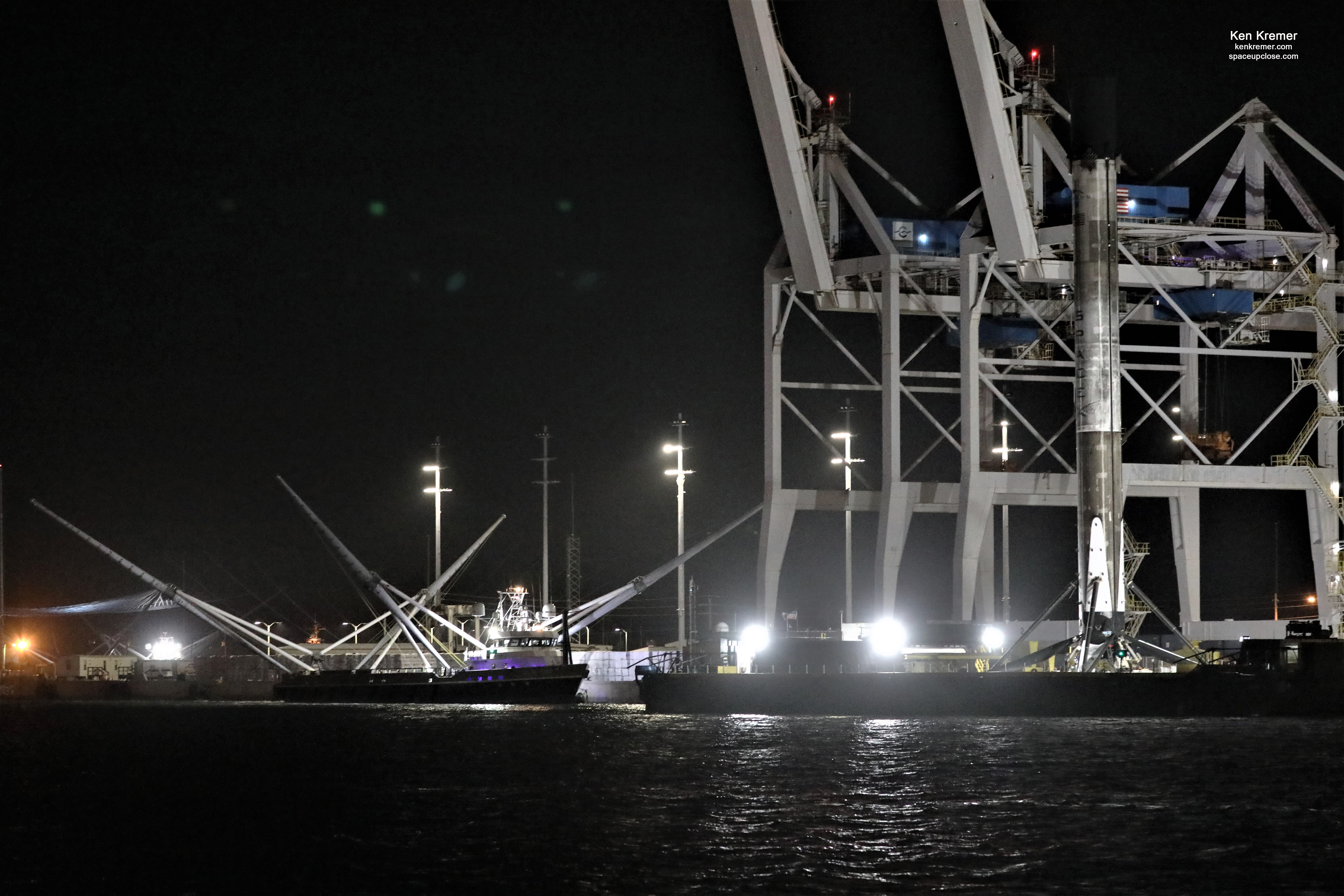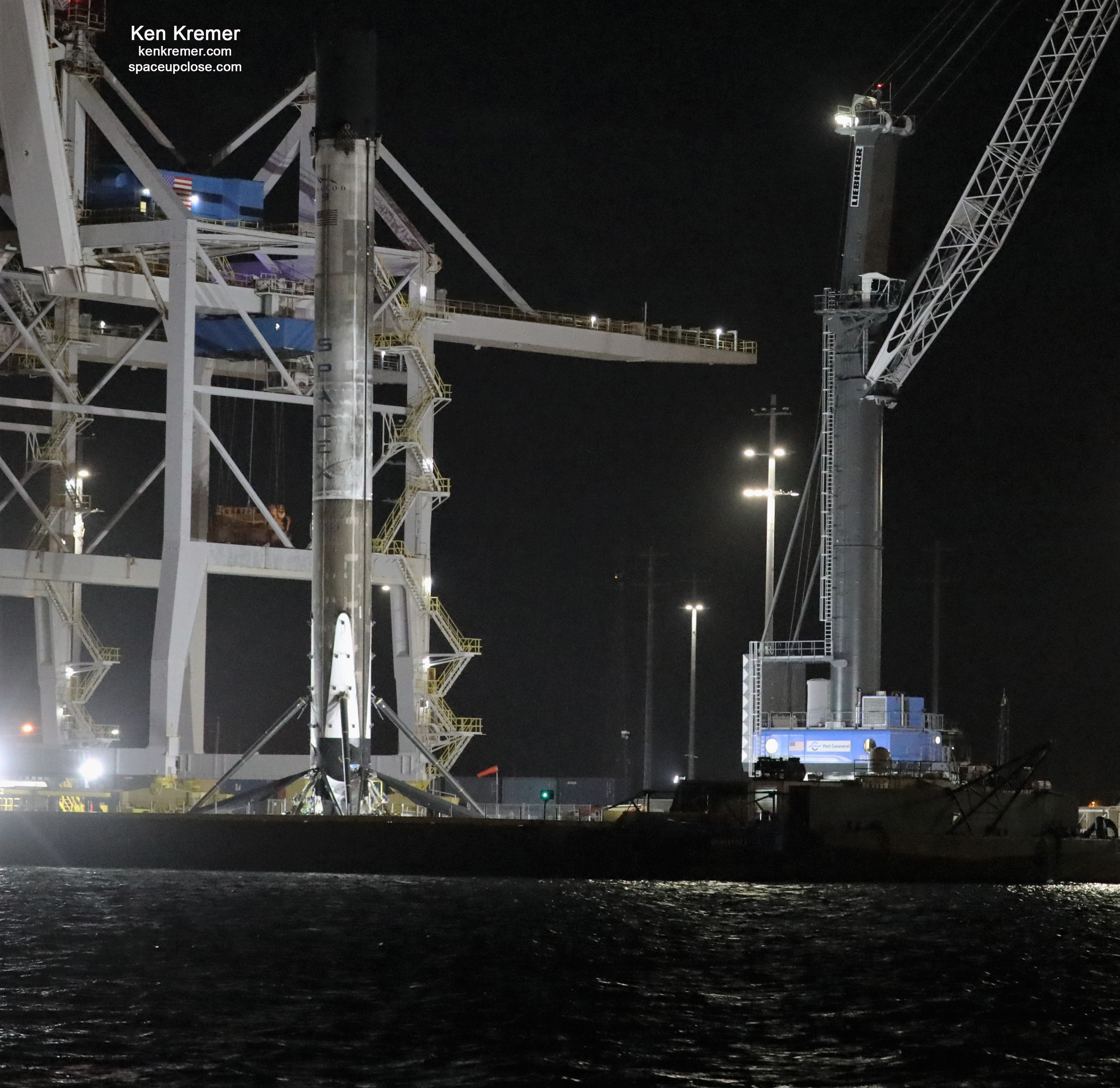 Liftoff of the 3rd Starlink mission – officially designated as Starlink 2 – on this fourth time recycled Falcon 9 took place during an instantaneous launch window at 9:19 p.m. EST Monday, Jan. 6 (0219 GMT Tuesday, Jan. 7) from Space Launch Complex-40 (SLC-40) on Cape Canaveral Air Force Station, FL.
SpaceX then successfully soft landed the Falcon 9 first stage for the fourth time – in this case on the "Of Course I Still Love You" (OCISLY) droneship deployed some 400 miles (620 km) downrange in the Atlantic Ocean off the Carolinas coast.
The first launch of 2020 streaked to orbit Monday evening Jan 6 kicking off what is expected to be a busy year at the Florida Space Coast with the breathtaking nighttime launch by SpaceX of the 3rd batch of their Starlink broadband internet satellites on a used Falcon 9 thereby enlarging the constellation to some 180 – under outstanding weather conditions.
Enjoy our Space UpClose gallery of images of Monday's spectacular blastoff.
In another major milestone in rocket recycling the mission marks only the second time use of a reused first stage booster for the fourth time.
The first 4th flown booster was used on the prior Stalink mission launched on November 11, 2019.
This counts as the 48th successful booster landing recovery by sea or by land.
Thus the booster is set up to launch for a record fifth time perhaps later this year.
To date it flew on three prior missions on Starlink 1 in May 2019 as well as Iridium-8 and the Telstar 18 VANTAGE mission.
The Block 5 Falcon 9 first stages are designed to launch 10 times each with minimal refurbishment between flights.
The two stage Falcon 9 rocket stands 229 feet (70 meters) tall.
The next steps at Port are to attach the hoisting cap, crane off OCISLY onto land and then detach or retract the landing legs.
SpaceX currently plans at least two additional Falcon 9 launches in January.
Namely the InFlight Abort Test (IFA) NET Jan 18 to demonstrate the emergency abort capability with a Crew Dragon for NASA involving the ability to save the astronauts from a failing rocket in flight – and another Starlink mission in later January.
My commentary and photos about the SpaceX Starlink launch and SpaceX Force were featured on WESH 2 News NBC TV News Orlando, WFTV Channel 9 ABC TV News Orlando and Channel 6 CBS News Orlando on the Jan. 6, 7 and 8 evening and overnight news programs multiple times.
wftv.com   https://wesh.com
Watch my Channel 6 CBS TV News Orlando comments here on Starlink sighting opportunities and potential harm to astronomical observations:
Look up, see a lot of satellites ??
What a time to be alive. #SpaceX #Starlink @news6wkmg @AmSpaceMuseum @ken_kremer pic.twitter.com/m4gBaBiy5T

— James Sparvero (@News6James) January 9, 2020
https://www.wftv.com/news/local/brevard-county/falcon-9-rocket-set-launch-cape-canaveral/K5XCONPOLNAAFJPP27XFGNTBAQ/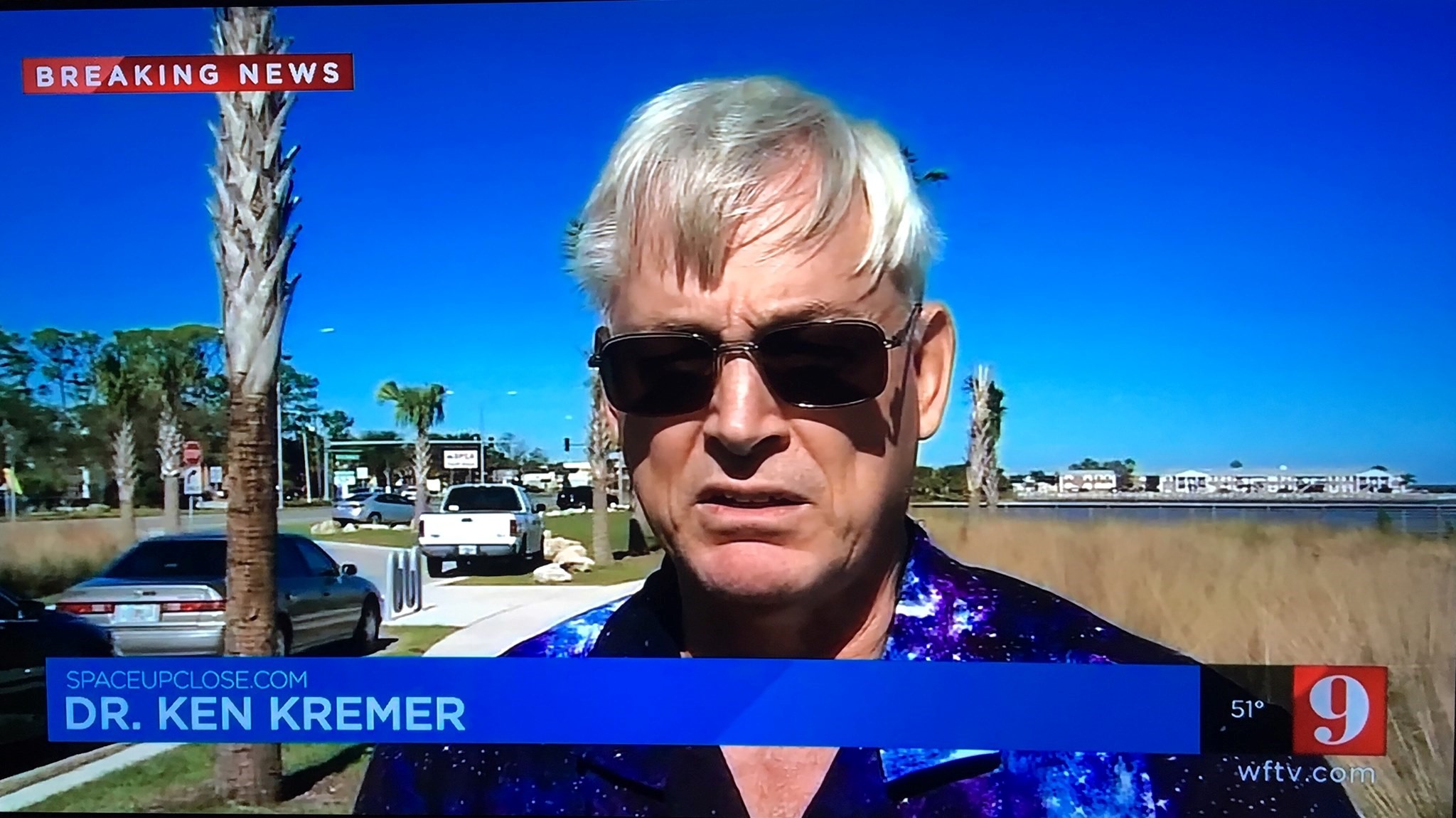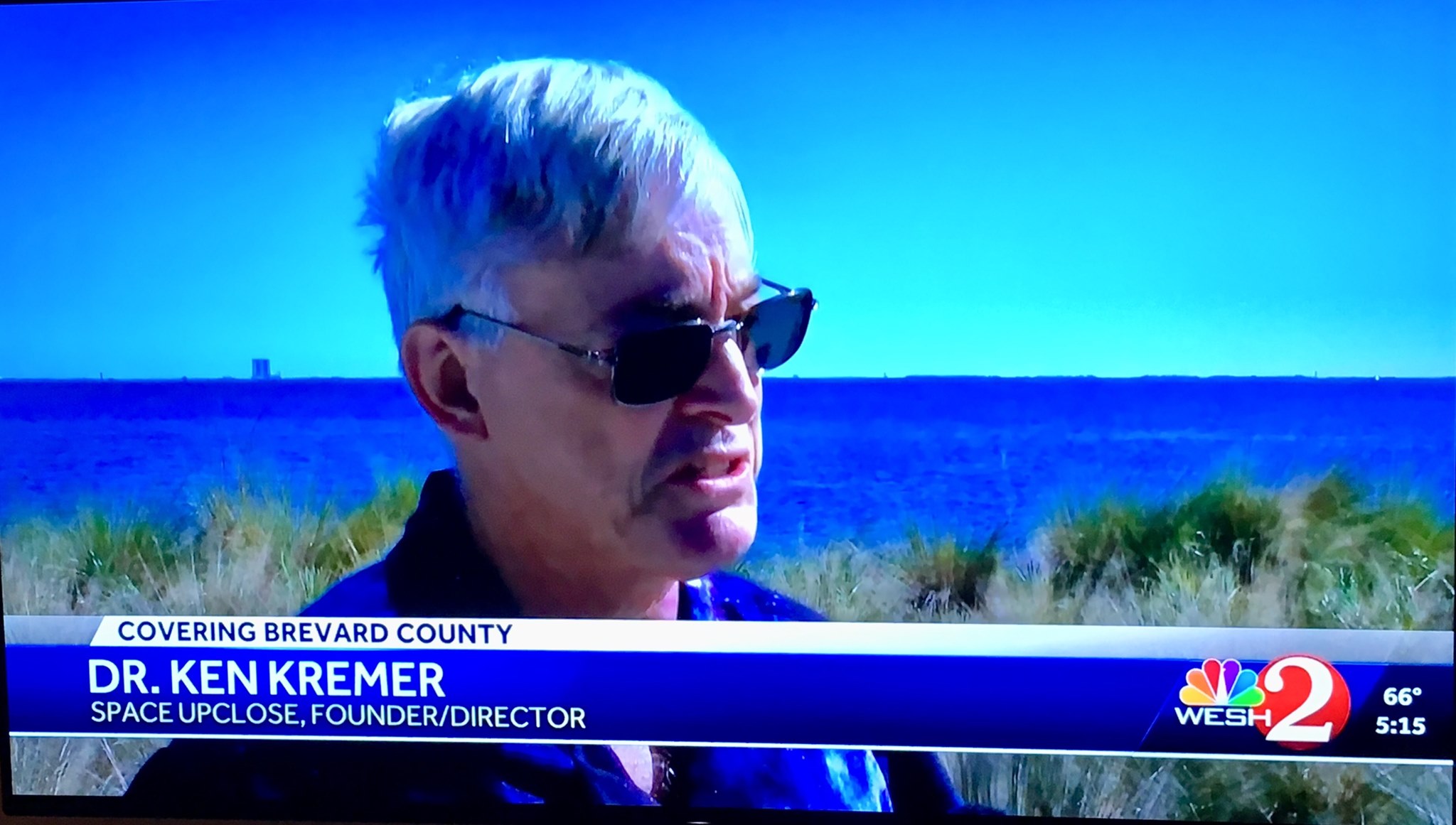 Watch Ken's continuing reports onsite for live reporting of upcoming SpaceX and ULA launches in Jan/Feb 2020 at the Kennedy Space Center and Cape Canaveral Air Force Station.
Stay tuned here for Ken's continuing Earth and Planetary science and human spaceflight news: www.kenkremer.com –www.spaceupclose.com – twitter @ken_kremer – email: ken at kenkremer.com
Dr. Kremer is a research scientist and journalist based in the KSC area, active in outreach and interviewed regularly on TV and radio about space topics.
………….
Ken's photos are for sale and he is available for lectures and outreach events