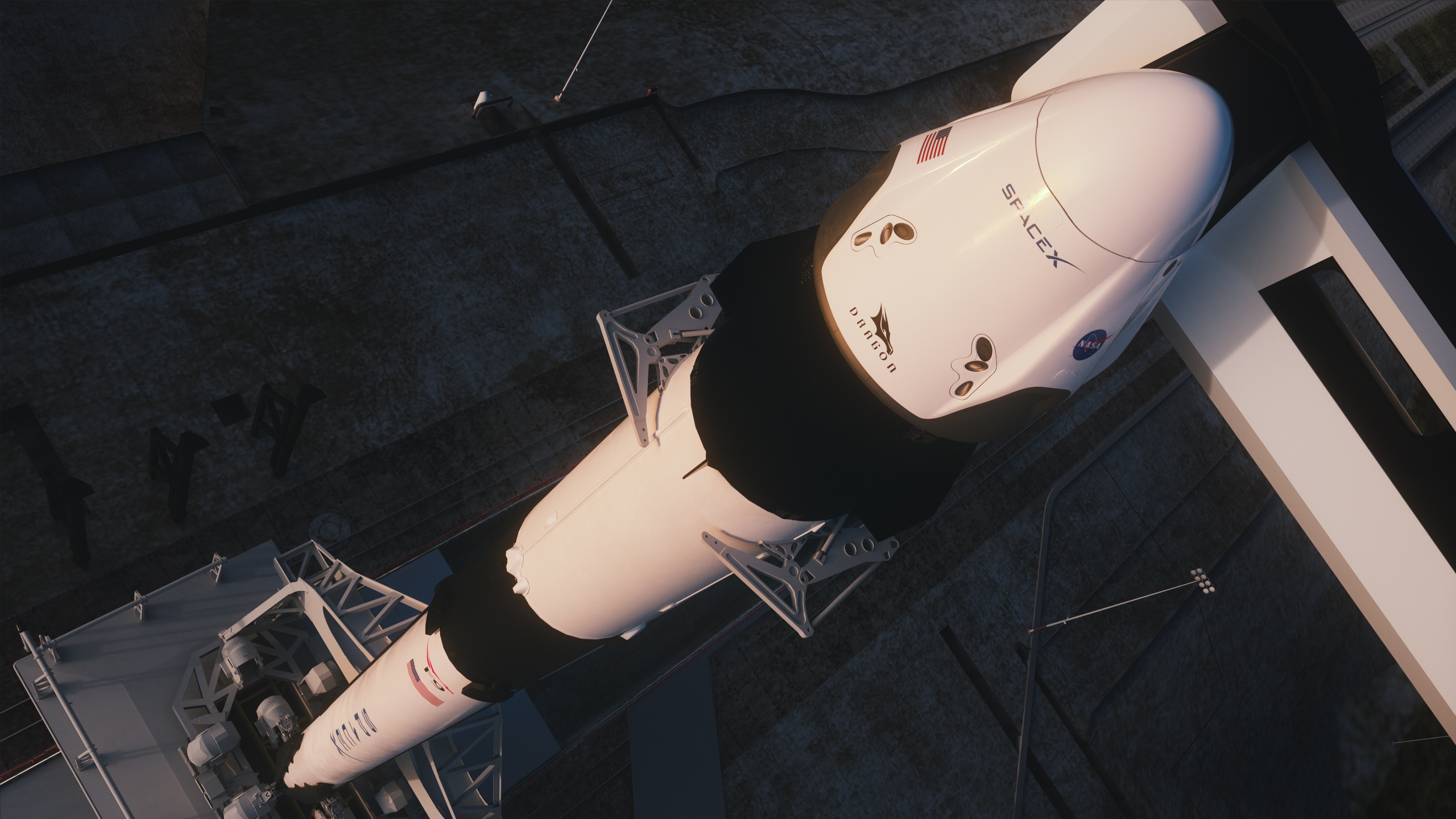 For SpaceUpClose.com & RocketSTEM
KENNEDY SPACE CENTER, FL – The NASA and SpaceX team has given the 'GO' for launch of the In Flight Abort (IFA) demonstration test on Saturday morning, Jan. 18 following the joint 'Launch Readiness Review' (LRR) held today. Jan. 16.
Following the LRR SpaceX technicians raised the integrated Falcon 9 Dragon crew capsule stack vertical this evening in the 10 p.m. EST hour, Thursday, Jan. 16.
The In Flight Abort (IFA) demonstration is the final, major test before astronauts fly aboard the Crew Dragon spacecraft and Falcon 9 rocket to the International Space Station as part of NASA's Commercial Crew Program.
The IFA test flight test is planned to demonstrate the ability of Crew Dragon's launch escape system to safely escape from a Falcon 9 rocket in the unlikely event of a rocket failure during launch.
The Crew Dragon Super Draco thrusters will fire to verify the spacecraft's ability to separate from the Falcon 9 in flight at high altitude to carry astronauts to safety in the event of an emergency during ascent.
The SuperDracos will fire to trigger a launch escape at about 90 seconds after liftoff and at an altitude of about 20 km while generating almost 130,000 pounds of thrust.
The Crew Dragon will continue skyward on an escape trajectory to a maximum altitude of about 42 km and then jettison the spent trunk no longer needed.
Soon after the four parachutes will deploy to slow the descent for a splashdown due east of KSC and the Cape at a distance of about 20 miles (32 kilometers). See video animation below.
Liftoff of the uncrewed IFA mission is now targeted for a four hour launch window that opens at 8 a.m. EST Saturday, Jan. 18 (1300 GMT). from Launch Complex-39A on NASA's Kennedy Space Center, FL.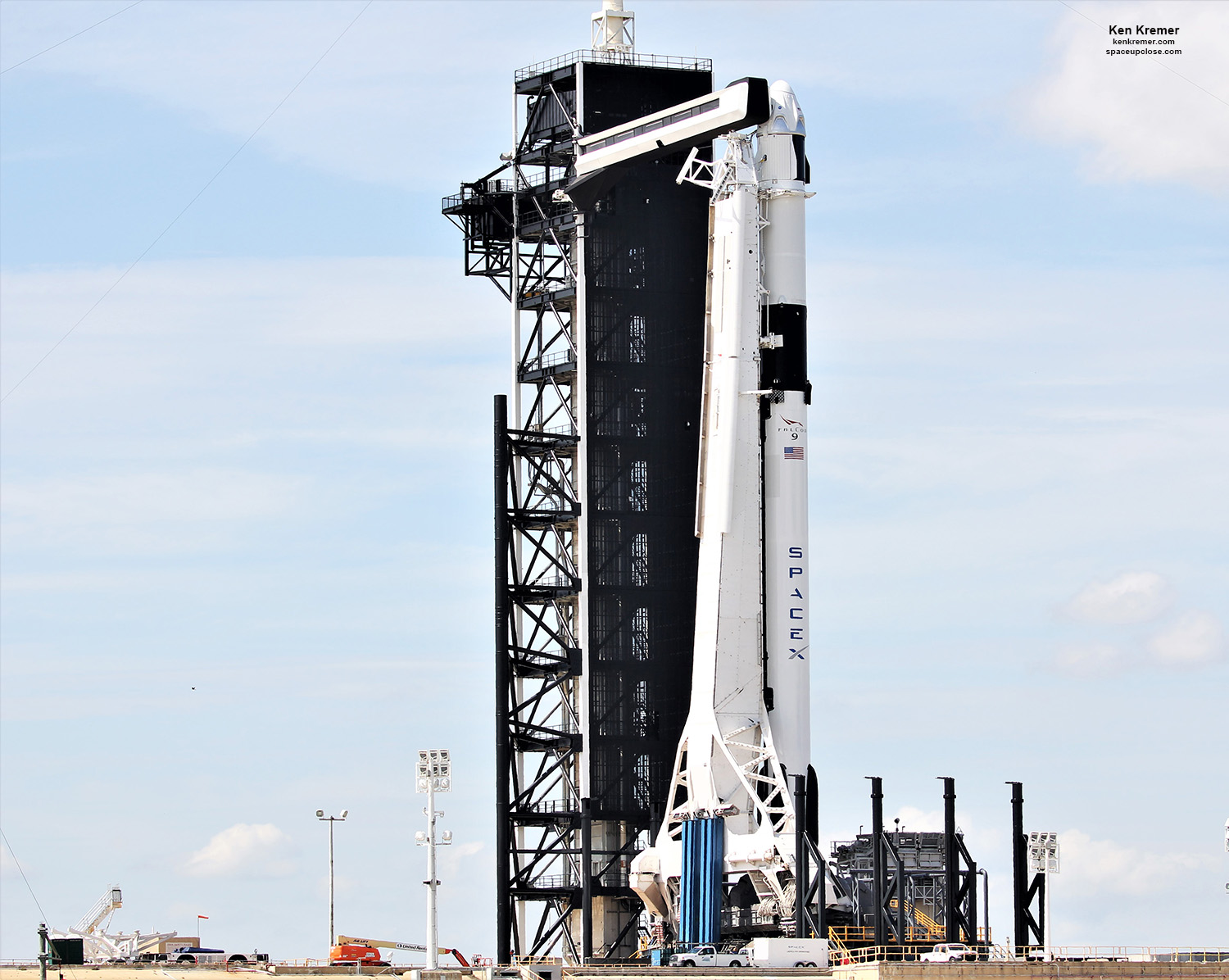 The In Flight Abort demonstration test is a critical test hurdle for SpaceX to prove that a human rated Crew Dragon spacecraft will be pulled away safely in a split second in case of a catastrophic failure of the Falcon 9 rocket in flight at high altitude and save the astronauts lives using the Super Draco abort engines mounted on the side wall of the spaceship Crew Dragon.
NASA astronauts will only fly aboard Crew Dragon following a successful IFA demonstration.
Watch this NASA SpaceX video outlining the IFA test:
Video Caption: The uncrewed in-flight abort demonstration is targeted for 8 a.m. EST Saturday, Jan. 18, 2020 from Launch Complex 39A in Florida. There is a four-hour test window. Credits: SpaceX
Weather looks very favorable for Saturday.
Meteorologists with the U.S. Air Force 45th Space Wing predict a 90% chance of favorable weather, with the primary concerns for launch day being the flight through precipitation rule during the four-hour launch window.
"Prior to launch, SpaceX and NASA teams will practice launch day end-to-end operations with NASA astronauts, including final spacecraft inspections and side hatch closeout. Additionally, SpaceX and NASA flight controllers along with support teams will be staged as they will for future Crew Dragon missions, helping the integrated launch team gain additional experience beyond existing simulations and training events," said NASA officials.
"After liftoff, Falcon 9's ascent will follow a trajectory that will mimic a Crew Dragon mission to the International Space Station matching the physical environments the rocket and spacecraft will encounter during a normal ascent.
"For this test, SpaceX will configure Crew Dragon to intentionally trigger a launch escape prior to 1 min, 30 seconds into flight to demonstrate Crew Dragon's capability to safely separate from the Falcon 9 rocket in the unlikely event of an in-flight emergency. Once the launch escape sequence begins, Falcon 9's first stage Merlin engines will shut down and Crew Dragon's SuperDraco thrusters will begin their firing sequence. The launch vehicle and spacecraft will separate, and Crew Dragon's SuperDracos will burn to completion.
"After Crew Dragon's SuperDracos shutdown, the spacecraft will passively coast to apogee, the highest point in its arc. Near apogee, Crew Dragon's trunk will separate and the smaller Draco thrusters will re-orient the spacecraft for reentry and parachute deploy. At the appropriate conditions, Dragon's drogue and main parachutes will sequence to provide for a soft landing in the Atlantic Ocean near SpaceX Dragon recovery teams.
"Following Crew Dragon's separation, Falcon 9 is expected to aerodynamically break up offshore over the Atlantic Ocean. Expected breakup time will vary based upon a number of factors, including day of launch winds and expected minor variations in vehicle attitudes and positions, but could occur shortly after separation or later upon reentry from the upper atmosphere. In either scenario, a dedicated team of SpaceX Falcon 9 recovery personnel will be staged and ready to begin recovering debris immediately after breakup.
"As part of the Dragon recovery operation, Air Force Detachment-3 personnel will work with the SpaceX recovery team to observe Crew Dragon and practice their initial approach to the spacecraft in the open ocean, mimicking an actual rescue operation before the SpaceX team recovers Crew Dragon for return to Cape Canaveral.
"SpaceX's uncrewed in-flight abort demonstration test of Crew Dragon's launch escape capabilities is designed to provide valuable data toward NASA certifying SpaceX's crew transportation system for carrying astronauts to and from the International Space Station.
The path to the IFA launch was cleared after SpaceX technicians conducted a successful static fire test Saturday morning, Jan. 11 of the Falcon 9 first stage rocket at Launch Complex-39A to prepare for the truly monumental upcoming launch from NASA's Kennedy Space Center in Florida.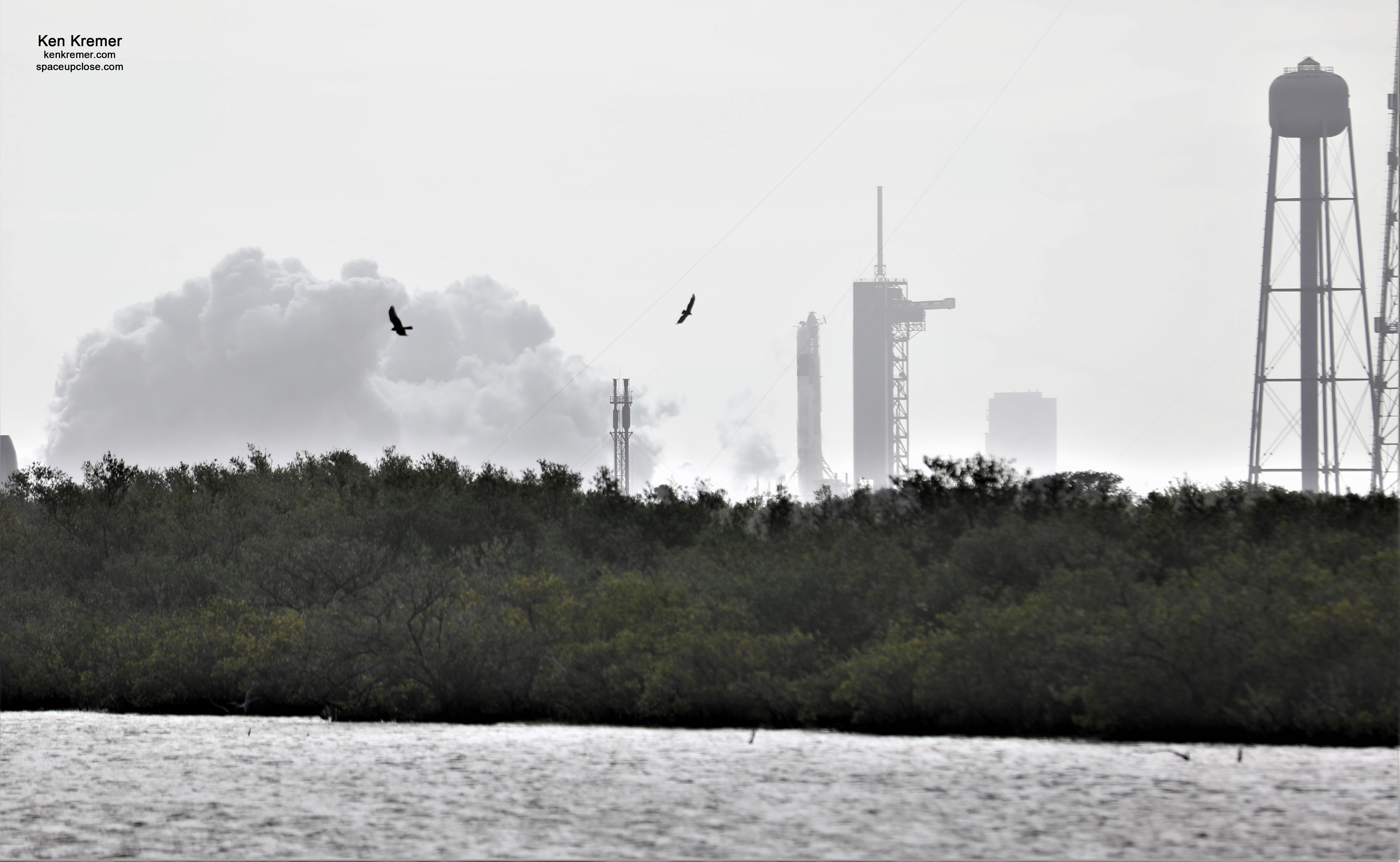 The brief hold down hotfire test of the SpaceX Falcon 9 first stage rocket and 9 Merlin 1D engines raised vertical took place today Saturday, Jan. 11 at 10:10 a.m. EST (1510 GMT) on Launch Complex-39A on Kennedy Space Center under cloudy skies and hefty winds on Florida's Space Coast.
The Falcon 9 at pad 39A for the IFA test flight is recycled Booster 1046 and comprises the first and second stages. The rocket lacks the SpaceX Crew Dragon capsule on top to keep it safe inside the hangar during the hold down static fire test.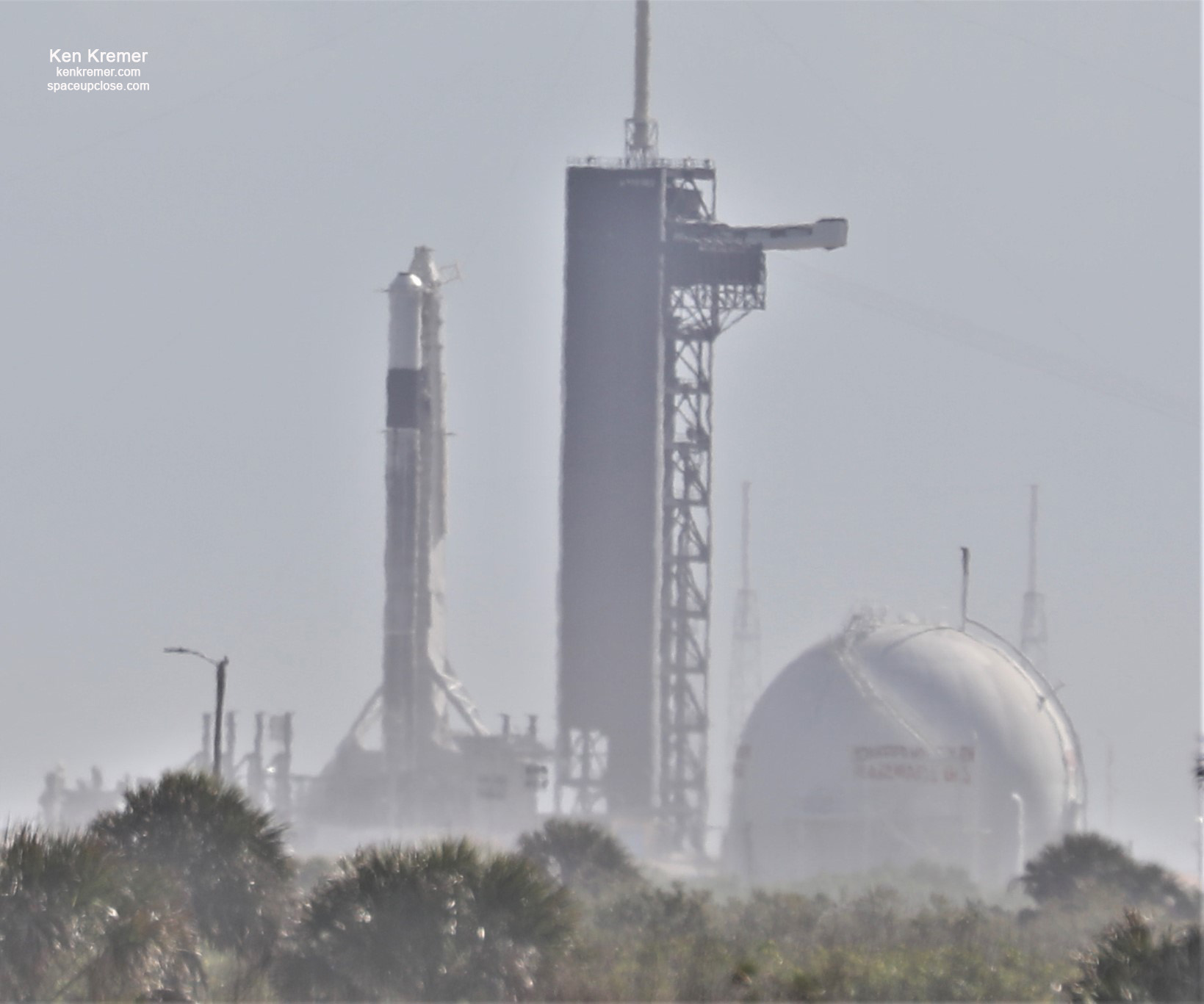 Enjoy my Space UpClose photos taken this morning Jan. 11 from the Merritt Island National Wildlife Refuge and Cape Canaveral National Seashore.
Furthermore, there are no grid fins and landing legs attached to the side of the booster – because it is not expected to survive the survive the severe aerodynamic forces induced by the IFA test after triggering separation of the Crew Dragon.
Watch Ken's continuing reports onsite for live reporting of upcoming SpaceX and ULA launches including In-Flight Abort, Starlink and Solar Orbiter in Jan/Feb 2020 at the Kennedy Space Center and Cape Canaveral Air Force Station.
Stay tuned here for Ken's continuing Earth and Planetary science and human spaceflight news: www.kenkremer.com –www.spaceupclose.com – twitter @ken_kremer – email: ken at kenkremer.com
Dr. Kremer is a research scientist and journalist based in the KSC area, active in outreach and interviewed regularly on TV and radio about space topics.
………….
Ken's photos are for sale and he is available for lectures and outreach events
Ken's upcoming outreach events:
Jan 17/18/19: 7 PM, Quality Inn Kennedy Space Center, Titusville, FL. "SpaceX In Flight Abort and Starlink launches Jan 18 & 20. ULA Solar Orbiter Feb 5." Free. In hotel lobby. Photos for sale