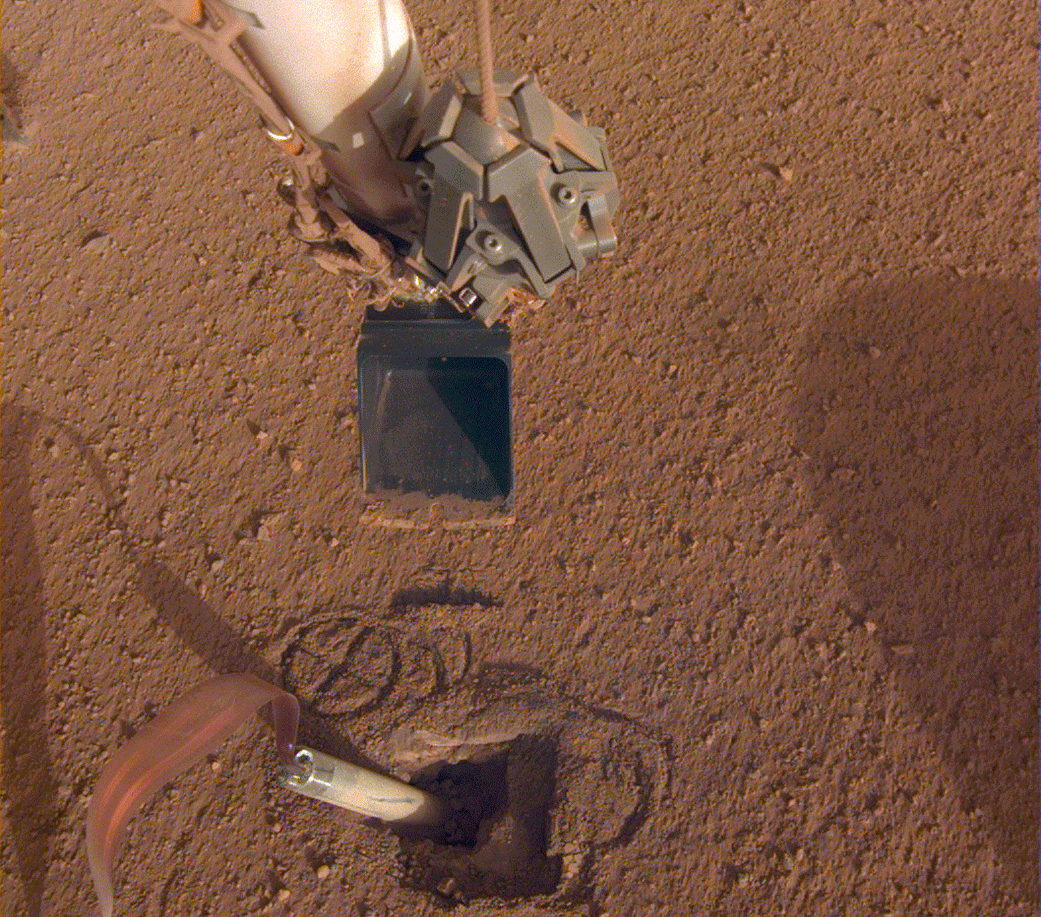 For SpaceUpClose.com & RocketSTEM
CAPE CANAVERAL, FL- In what could be a last ditch rescue effort the NASA/German InSight Lander science team is working to 'Save the Mole' with a little help from a friend – namely by giving the deep drilling robotic mole a 'Martian push' using the robot's arm.
For nearly a year the German-built Martian mole designed to measure subsurface heat flow from Mars interior has been unable to penetrate the Red Planet's surface by anything more than a few inches (cm) before popping out again and again after multiple valiant efforts.
So they have decided to do something they never wanted to do.
Starting soon the team will command InSight's robotic arm maneuver into position above the mole and then push down with the arm on top of the mole to hopefully keep it in place and force it down so it can hammer itself into Mars interior.
"My robotic mole has had a hard time getting underground, so I'm going to try something we never thought we'd do: giving it a push with my robotic arm while it hammers. This will take several weeks, as the NASA Jet Propulsion Laboratory and Deutsches Zentrum für Luft- und Raumfahrt (DLR) team works to #SaveTheMole," InSight tweeted.
The mole is a 16-inch-long (40-centimeter-long) spike equipped with an internal hammering mechanism that is part of the instrument called the Heat Flow and Physical Properties Package, or HP3 – provided to NASA by the German Aerospace Center, or Deutsches Zentrum für Luft- und Raumfahrt (DLR).
"The mission team plans to command the scoop on InSight's robotic arm to press down on the "mole," the mini pile driver designed to hammer itself as much as 16 feet (5 meters) down," the InSight team says.
"They hope that pushing down on the mole's top, also called the back cap, will keep it from backing out of its hole on Mars, as it did twice in recent months after nearly burying itself."
But here's the catch.
The team needs to maneuver the mole in such a way so that they don't rip the ribbonlike tether trailing the mole that carries all the data back to InSight for transmission back across interplanetary space to the scientists waiting back on Earth.
"While burrowing into the soil, it is designed to drag with it a ribbonlike tether that extends from the spacecraft. Temperature sensors are embedded along the tether to measure heat coming deep from within the planet's interior to reveal important scientific details about the formation of Mars and all rocky planets, including Earth."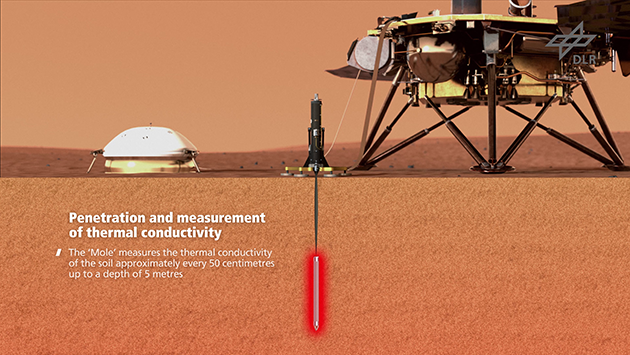 InSight soft landed on Mars on Nov 26, 2018 at Elysium Planitia, following a 7 month, 301 million mile (484 million km) interplanetary journey from Earth. She has begun a 2-year mission to explore the Red Planet's mysterious deep interior.
InSight in an international science mission. Loaded aboard are the two primary science instruments provided by European partners from France and Germany: The SEIS seismometer and HP3 heat flow measuring instrument.
The SEIS seismometer instrument is equipped with a trio of incredibly precise seismometers to detect marsquakes and was provided by the Centre National d'Études Spatiales (CNES) – the French national space agency equivalent to NASA.
The second instrument measuring heat flow from the Martian interior is provided by the German Aerospace Center (DLR) and is named Heat Flow and Physical Properties Package (HP3).
Watch Ken's continuing reports about Mars InSight and Mars 2020 and onsite for live reporting of upcoming and recent ULA and SpaceX launches including Crew and Cargo Dragon, Solar Orbiter, In-Flight Abort and Starlink at the Kennedy Space Center and Cape Canaveral Air Force Station.
Stay tuned here for Ken's continuing Earth and Planetary science and human spaceflight news: www.kenkremer.com –www.spaceupclose.com – twitter @ken_kremer – email: ken at kenkremer.com
Dr. Kremer is a research scientist and journalist based in the KSC area, active in outreach and interviewed regularly on TV and radio about space topics.
………….
Ken's photos are for sale and he is available for lectures and outreach events
Ken has created hundreds of widely published Mars rover mosaics and lectures also about NASA's Mars rovers
Ken's upcoming outreach events:
Mar 4-6: 7 PM, Quality Inn Kennedy Space Center, Titusville, FL. "SpaceX CRS-20, IFA and Starlink launch, ULA Solar Orbiter launch." Free. In hotel lobby. Photos for sale