For SpaceUpClose.com & RocketSTEM
KENNEDY SPACE CENTER/CAPE CANAVERAL AIR FORCE STATION, FL – The final SpaceX Dragon 1 spacecraft streaked to space on a fantastic midnight launch and cargo deliver run carrying over two tons of NASA science and supplies to the International Space Station (ISS) Friday, March 6 from the Florida Space Coast.
Furthermore the SpaceX team accomplished the 50th landing of a Falcon 9 first stage back at the Cape some eight and a half minutes after liftoff – that thundered with sonic booms and set off car alarms too !! – to the delight of hordes of spectators gathered here from around the world.
The SpaceX Dragon CRS-20 cargo spacecraft is on its way to the International Space Station after launching atop a 'flight-proven' at 11:50 p.m. EST Friday (0449 GMT Saturday) from Space Launch Complex 40 at Cape Canaveral Air Force Station in Florida.
The first generation Dragon 1 spaceship has been flying NASA contracted resupply mission to the ISS since 2012 and was developed with seed money funding from NASA.
Enjoy our Space UpClose photos of the fabulous launch and landing.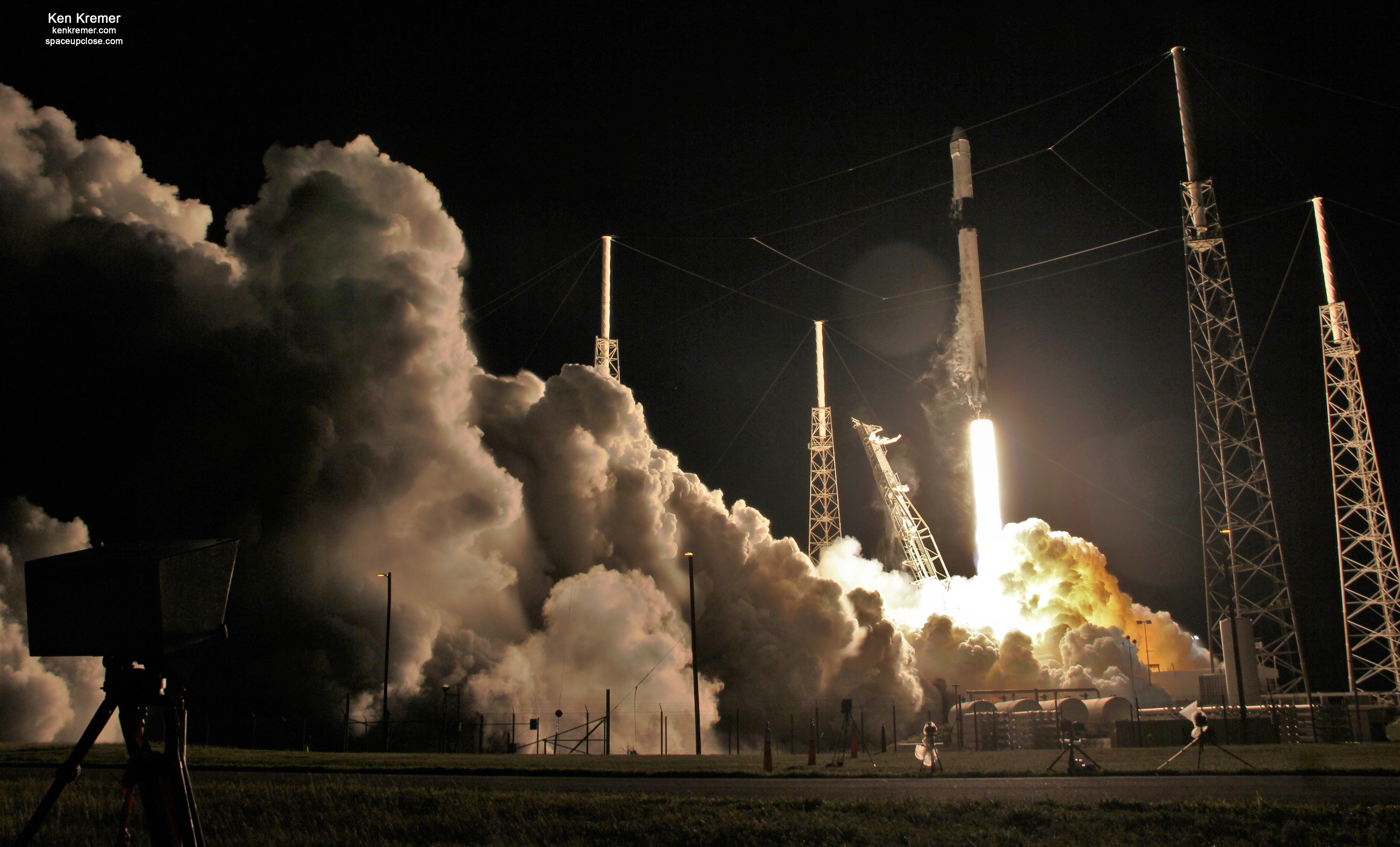 The launch was carried live on NASA TV and SpaceX webcast
This final Dragon 1 liftoff also marked the 3rd cargo Dragon to fly 3 missions – the maximum for which they are certified – on what counts as the final mission of the first generation Dragon 1 vessel which has been flying to the ISS since 2012.
The Dragon 1 will be replaced by the more advanced Dragon 2 to be used for both cargo and crew flights for astronauts.
Dragon will deliver more than 4,300 pounds of NASA cargo and science investigations, including a new science facility named Bartolomeo built by ESA (European Space Agency) and Airbus that is scheduled to be installed to the outside of the station during a spacewalk this spring.
Overall SpaceX has delivered over 94,000 pounds of cargo up mass to the ISS during the life of Dragon 1 since 2012 with 19 successful mission and 1 failure during the CRS-7 launch in 2015. Dragon has returned over 70,000 pounds of science experiments and cargo back to Earth.
The Dragon CRS 20 reach orbit 8 minutes after liftoff and successfully separated from the second stage and unfurled its life giving solar panels.
After a two day voyage with carefully choreographed thruster firings Dragon is scheduled to arrive at the orbital outpost on Monday, March 9.
Coverage of the spacecraft's approach and arrival at the space station will begin at 5:30 a.m. EDT on NASA Television and the agency's website.
Dragon will join three other spacecraft currently at the station.
When it reaches the vicinity of the space station NASA Flight Engineer Jessica Meir will grapple Dragon with the 57 foot long Canadian-built robotic arm.
Meir will be backed up by NASA's Andrew Morgan.
Coverage of robotic installation to the Earth-facing port of the Harmony module will begin at 8:30 a.m. Monday, March 9.
Here are details from NASA about some of the scientific investigations Dragon is delivering:
New Facility Outside the Space Station
The Bartolomeo facility, created by ESA (European Space Agency) and Airbus, attaches to the exterior of the European Columbus Module. Designed to provide new scientific opportunities on the outside of the space station for commercial and institutional users, the facility offers unobstructed views both toward Earth and into space. Potential applications include Earth observation, robotics, material science and astrophysics.
Studying the Human Intestine On a Chip
Organ-Chips as a Platform for Studying Effects of Space on Human Enteric Physiology (Gut on Chip) examines the effect of microgravity and other space-related stress factors on biotechnology company Emulate's human innervated Intestine-Chip (hiIC). This Organ-Chip device enables the study of organ physiology and diseases in a laboratory setting. It allows for automated maintenance, including imaging, sampling, and storage on orbit and data downlink for molecular analysis on Earth.
Growing Human Heart Cells
Generation of Cardiomyocytes From Human Induced Pluripotent Stem Cell-derived Cardiac Progenitors Expanded in Microgravity (MVP Cell-03) examines whether microgravity increases the production of heart cells from human-induced pluripotent stem cells (hiPSCs). The investigation induces stem cells to generate heart precursor cells and cultures those cells on the space station to analyze and compare with cultures grown on Earth.
…
SpaceX was awarded an approximately $3.1 Billion contract from NASA to launch 20 Dragon cargo missions to the orbiting outpost through 2019 under the Commercial Resupply Services-1 (CRS-1) agreement that was amended in 2015 and increased from an original value of $1.6 Billion.
NASA also awarded a CRS contract to Northrop Grumman that has likewise been increased.
Both companies also won new cargo mission contracts under the Commercial Resupply Services-2 (CRS-2) agreement awarded last year.
The path to launch was cleared following a successful static fire test today of the recycled Falcon 9 rocket at 11:00 a.m. EST (1600 GMT) Sunday, March 1.
SpaceX engineers briefly ignited all 9 engines on their 'flight-proven' Falcon 9 first stage booster for a hold down static fire test at Space Launch Complex-40 generating 1.7 million pounds of thrust to affirm its readiness for Friday's launch.
My static fire photos were also featured at WKMG CBS 6 TV News Orlando
Watch Ken's continuing reports onsite for live reporting of SpaceX CRS-20 as well as upcoming and recent ULA and SpaceX launches including Crew and Cargo Dragon, Solar Orbiter, In-Flight Abort and Starlink at the Kennedy Space Center and Cape Canaveral Air Force Station.
Stay tuned here for Ken's continuing Earth and Planetary science and human spaceflight news: www.kenkremer.com –www.spaceupclose.com – twitter @ken_kremer – email: ken at kenkremer.com
Dr. Kremer is a research scientist and journalist based in the KSC area, active in outreach and interviewed regularly on TV and radio about space topics.
………….
Ken's photos are for sale and he is available for lectures and outreach events
Ken has created hundreds of widely published Mars rover mosaics and lectures also about NASA's Mars rovers