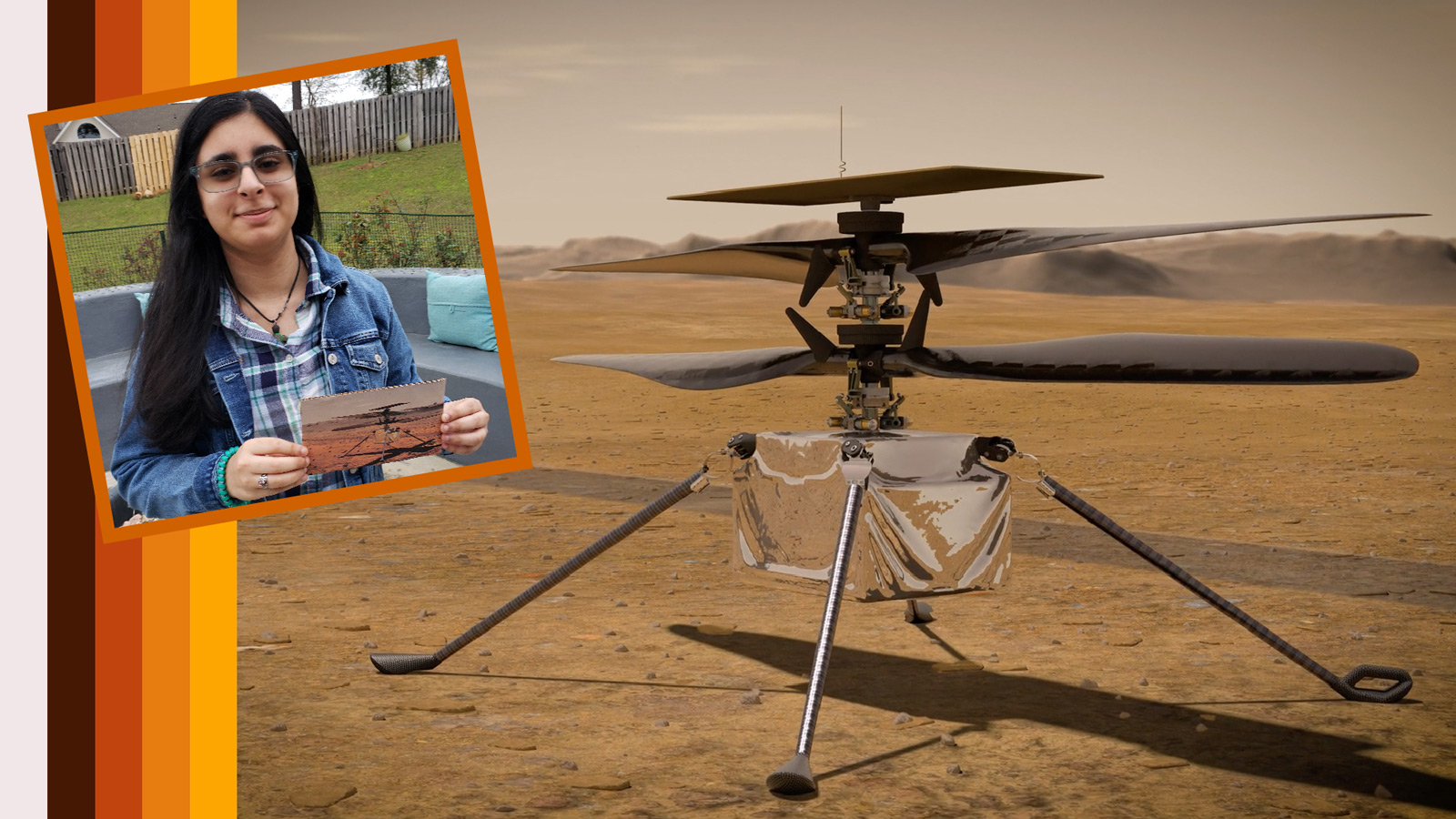 For SpaceUpClose.com & RocketSTEM
CAPE CANAVERAL, FL – Ingenuity has been chosen as the name for the small but innovative and groundbreaking spacecraft that will mark NASA's first attempt at powered flight on another planet as part of NASA Mars 2020 Perseverance rover mission – and the name was submitted by Alabama High School junior student Vaneeza Rupani.
NASA's 2020 Perseverance rover will deliver it to the surface of the Red Planet during a soft landing via the skycrane maneuver targeted for Jezero Crater in Feb. 2021.
No less than NASA Administrator Jim Bridenstine made the final selection of 'Ingenuity' as the winning name for the Mars 2020 Helicopter.
Ingenuity was selected from among the finalist names submitted for NASA's "Name the Rover" essay contest.
"Vaneeza Rupani, a junior at Tuscaloosa County High School in Northport, Alabama, came up with the name and the motivation behind it during NASA's "Name the Rover" essay contest," NASA announced.
"Destined to become the first aircraft to attempt powered flight on another planet, NASA's Mars Helicopter officially has received a new name: Ingenuity."
"The ingenuity and brilliance of people working hard to overcome the challenges of interplanetary travel are what allow us all to experience the wonders of space exploration," Rupani wrote in her contest submission.
"Ingenuity is what allows people to accomplish amazing things, and it allows us to expand our horizons to the edges of the universe."
Ingenuity will attempt the first ever flight on another planet – namely Mars – as a payload launch to the Red Planet as part of NASA's next Mars rover mission: the Mars 2020 Perseverance rover.
"Ingenuity encapsulates the values that our helicopter tech demo will showcase for everyone when it takes off next year as the first aircraft on another planet's surface," said Bridenstine.
"It took a lot of hard and ingenious work to get the helicopter ready and then placed on the rover, and there's a lot more going to be required. I was happy we had another great name from the naming contest finalists from which I was able to select something so representative of this exciting part of our next mission to Mars."
The goal of the Ingenuity Mars Helicopter is to prove the rather difficult feat that a heavier than air vehicle can fly in the Red Planets extremely thin atmosphere.
"On behalf of the team I want to thank you Vanezza," said MiMi Aung, Mars Helicopter project manager at JPL, durting a congratulatory phone call with 11th grader Vaneeza Rupani.
Watch this short video:
Video Caption: The first aircraft that will attempt powered flight on another world has a new name! Meet Ingenuity – NASA's Mars Helicopter. And the inspiration for the name? We owe that credit to Vaneeza Rupani, an 11th grader from Northport, Alabama. Credits: NASA/JPL-Caltech
"In the early days of this project, the feasibility of flying at Mars was questioned," said MiMi Aung, Mars Helicopter project manager at JPL.
"But today we have a helicopter down at the launch site, installed on the rover and waiting to board the rocket which will carry us to the Red Planet. Like Vaneeza said in her essay, ingenuity and hard work led us to see beyond what was logical to what was possible. Now Ingenuity will have its chance to fly at Mars."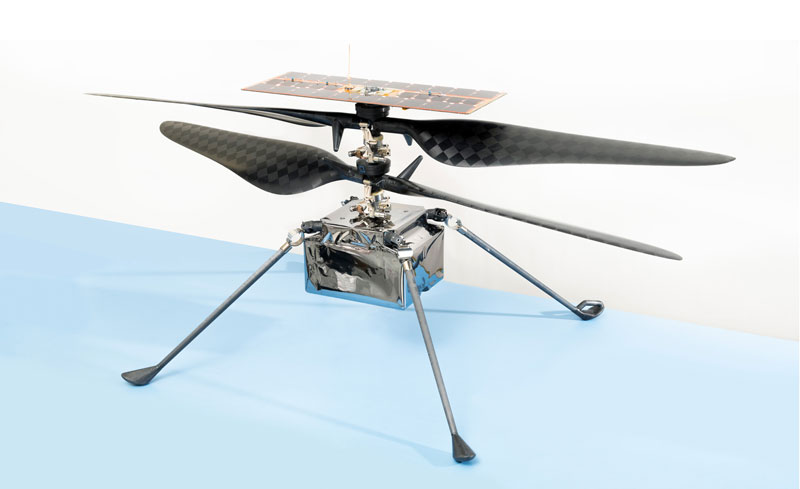 NASA's Mars Helicopter was attached to the belly of the Mars 2020 Perseverance rover in the High Bay 1 clean room at the Jet Propulsion Laboratory in Pasadena, California in Aug. 2019.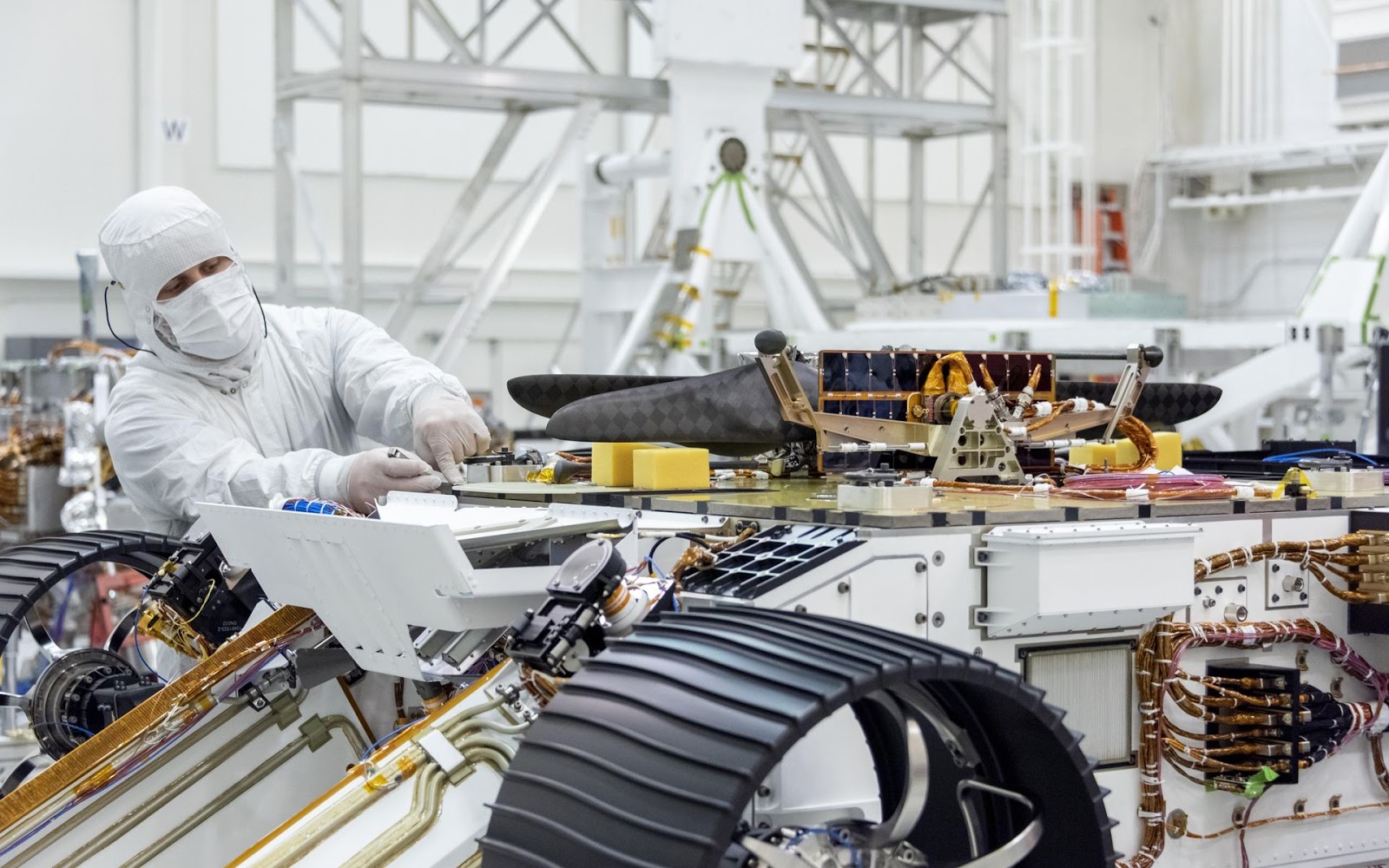 "The twin-rotor, solar-powered helicopter was connected, along with the Mars Helicopter Delivery System, to a plate on the rover's belly that includes a cover to shield the helicopter from debris during entry, descent and landing," said NASA officials.
Video Caption: NASA's Mars Helicopter, Ingenuity, is set to arrive at the Red Planet on Feb. 18, 2021. Its mission: to demonstrate the first powered flight on another world. Credits: NASA/JPL-Caltech
The 4-pound (2-kilogram) solar-powered experimental craft was built from a combination of specially designed components and off-the-shelf parts.
After the touchdown in Feb 2021 it will remain encapsulated inside the shield to protect it from the EDL debris until the team decides the time is right to proceed.
Then if it survives the cold Martian nights during its pre-flight checkout, the team will proceed with testing, says NASA.
The team expects roughly a 30-Martian-day (31-Earth-day) experimental flight test window for their "high-risk and high reward" experimental technology demonstrator payload.
Then the small craft "will prove that powered flight can be achieved at Mars, enabling future Mars missions to better utilize second-generation helicopters to add an aerial dimension to their explorations."
Rupani's was among 28,000 essays submitted to NASA by K-12 students from every U.S. state and territory recommending names for the next Mars rover.
"In March, the agency announced that seventh-grader Alexander Mather's essay earned him the honor of naming the rover Perseverance.
But with so many good essays, it seemed fitting to also choose a name for the helicopter that will accompany the rover to Mars.
So NASA officials went back to the submitted essays to choose a name for the helicopter. Thomas Zurbuchen, associate administrator of NASA's Science Mission Directorate, made the choice for the rover's name, and NASA Administrator Jim Bridenstine chose the name for the helicopter."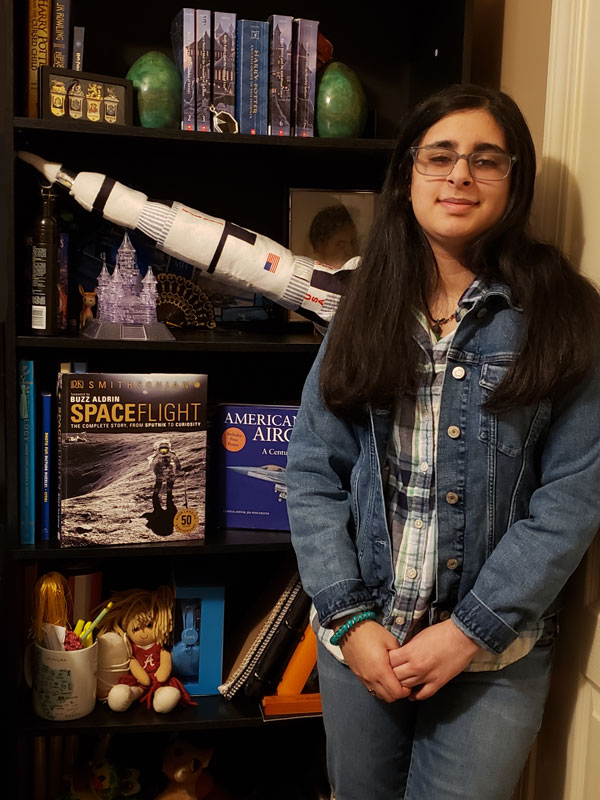 Scheduled to launch in July 2020, the Perseverance Mars 2020 mission will search for signs of past microbial life, characterize Mars' climate and geology, collect samples for future return to Earth, and pave the way for human exploration of the Red Planet.
The car-sized Perseverance Mars 2020 rover is targeted for liftoff on 17 July 2020 aboard a United Launch Alliance (ULA) Atlas V 541 rocket from Space Launch Complex 41 on Cape Canaveral Air Force Station.
She is scheduled to touch down in an area of Mars known as Jezero Crater on Feb. 18, 2021.
The 1 ton rover is nearly a copy of the NASA's Curiosity Mars Science Lab rover still operating on Mars – but with a completely new suite of science instruments and cameras as well as the 1st Mars Helicopter.
Meanwhile Curiosity continues to explore the Red Planet at Mount Sharp since the dramatic touchdown in 2012.
ESA's plans to launch their ExoMars 2020 rover this summer have been delayed to 2022 in part due to the COVID-19 crisis and resolves parachute landing system issues as well.
Watch Ken's continuing reports about Mars 2020 and reporting of Demo-2 Crew Dragon and upcoming and recent ULA and SpaceX launches including Boeing Starliner, Crew and Cargo Dragon, Solar Orbiter, In-Flight Abort and Starlink at the Kennedy Space Center and Cape Canaveral Air Force Station.
Stay tuned here for Ken's continuing Earth and Planetary science and human spaceflight news: www.kenkremer.com –www.spaceupclose.com – twitter @ken_kremer – email: ken at kenkremer.com
Dr. Kremer is a research scientist and journalist based in the KSC area, active in outreach and interviewed regularly on TV and radio about space topics.
………….
Ken's photos are for sale and he is available for lectures and outreach events
Ken has created hundreds of widely published Mars rover mosaics and lectures also about NASA's Mars rovers