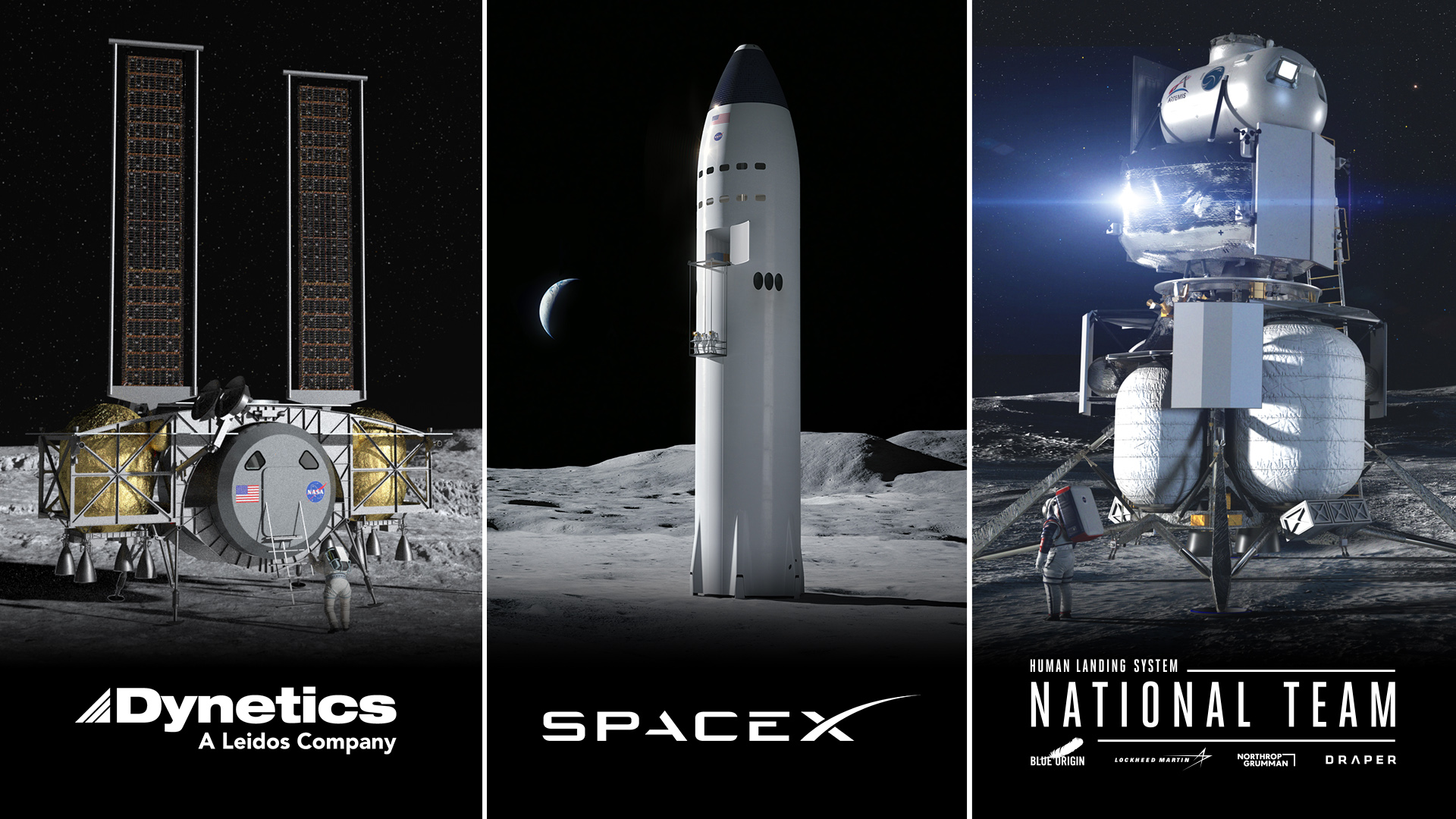 For SpaceUpClose.com & RocketSTEM
CAPE CANAVERAL, FL – Marking a significant step forward in landing Americans on the Moon by 2024 NASA Administrator Jim Bridenstine announced the selection of three U.S. companies – Blue Origin, SpaceX and Dynetics – to design and develop the critical human landing systems (HLS) under the agency's Artemis moon landing program.
Blue Origin won by far the largest contract as leader of a 'National Team' that includes Northrop Grumman, Lockheed Martin and Draper – valued at $579 million, NASA announced on April 30.
Overall the total combined value of the 3 awarded contracts is $967 million for the 10-month base period.
Dynetics will receive $253 million for the 10-month contract base period and SpaceX will receive $135 million.
Each company will also invest their own funds as well.
Many billions more amounting to close to $20 Billion will need to be invested and approved by the U.S. Congress and President in order for Project Artemis to succeed. Its hard to predict what Congress will do amidst the Coronavirus COVID-19 worldwide pandemic crisis
NASA's goal under Project Artemis is to land the first woman and next man on the lunar south pole surface by 2024 during the Artemis 3 mission when a crew of astronauts will launch in the Orion Crew Capsule atop the mammoth Space Launch System rocket – currently under development by NASA.
Eventually by 2028 NASA aims to establish a sustainable human exploration of the Moon for the first time in history.
"With these contract awards, America is moving forward with the final step needed to land astronauts on the Moon by 2024, including the incredible moment when we will see the first woman set foot on the lunar surface," said NASA Administrator Jim Bridenstine.
"This is the first time since the Apollo era that NASA has direct funding for a human landing system, and now we have companies on contract to do the work for the Artemis program."
The following companies were selected to design and build human landing systems:
• Blue Origin of Kent, Washington, is developing the Integrated Lander Vehicle (ILV) – a three-stage lander to be launched on its own New Glenn Rocket System and ULA Vulcan launch system.
• Dynetics (a Leidos company) of Huntsville, Alabama, is developing the Dynetics Human Landing System (DHLS) – a single structure providing the ascent and descent capabilities that will launch on the ULA Vulcan launch system.
• SpaceX of Hawthorne, California, is developing the Starship – a fully integrated lander that will use the SpaceX Super Heavy rocket.
"Big News! The #Artemis generation is going to the Moon to stay. I'm excited to announce that we have selected 3 U.S. companies to develop human landers that will land astronauts on the Moon: @BlueOrigin, @Dynetics & @SpaceX," Bridenstine said in a series of tweets on April 30.
.@BlueOrigin is the prime contractor for the "National Team" that includes @LockheedMartin, @northropgrumman and @DraperLab. The team's design is a three-stage lander that harnesses the proven spaceflight heritage of each team. pic.twitter.com/PU2u2LF2kN

— Jim Bridenstine (@JimBridenstine) April 30, 2020
The @SpaceX human lander design is a single-stage solution with Starship, their fully reusable launch and landing system designed for travel to the Moon, Mars and beyond. The proposal included an in-space propellent transfer demonstration and uncrewed test landing. pic.twitter.com/dnyD4Fk0Ki

— Jim Bridenstine (@JimBridenstine) April 30, 2020
"These are three companies that we believe have a lot of capability that are going to enable us to get to the moon," said NASA Administrator Jim Bridenstine, at a briefing with reporters on April 30.
"Each one of them is very different. They have all proposed something very different and unique, which has a lot of value to us."
No American or human has set foot on the Moon since 1972 during the Apollo 17 mission – NASA's last human foray to the Moon's surface.
"We are on our way." said Douglas Loverro, NASA's associate administrator for Human Explorations and Operations Mission Directorate in Washington.
"With these awards we begin an exciting partnership with the best of industry to accomplish the nation's goals. We have much work ahead, especially over these next critical 10 months. I have high confidence that working with these teammates, we will succeed."
The HLS awards were made under the Next Space Technologies for Exploration Partnerships (NextSTEP-2) Appendix H Broad Agency Announcement (BAA) and are firm-fixed price, milestone-based contracts, says NASA.
Video Caption: NASA has selected three American companies – Blue Origin, Dynetics and SpaceX – to design and develop human landing systems for the Artemis program. With these awards, NASA is on track to land the next astronauts on the lunar surface by 2024, and establish sustainable human exploration of the Moon by the end of the decade. Credits: NASA
The human lander is the critical missing piece to place Americans back on the lunar surface for the first time in nearly 50 years.
The SLS rocket and Orion Crew Capsule have been under development for a decade.
But we can't land without a modern version of the Grumman lunar module lander which was 100% successful during NASA's Project Apollo of the 1960s and 1970s.
Neil Armstrong and Buzz Aldrin were the first humans to set foot on the Moon in July 1969 during NASA's historic Apollo 11 mission.
Watch my commentary about Project Artemis and human landers, COVID-19 and more during my May 1 interview at the American Space Museum:
Watch Ken's continuing reports about Artemis and onsite for live reporting of upcoming and recent SpaceX and ULA launches including Starlink, Solar Orbiter, In-Flight Abort, Mars 2020 and more at the Kennedy Space Center and Cape Canaveral Air Force Station.
Stay tuned here for Ken's continuing Earth and Planetary science and human spaceflight news: www.kenkremer.com –www.spaceupclose.com – twitter @ken_kremer – email: ken at kenkremer.com
Dr. Kremer is a research scientist and journalist based in the KSC area, active in outreach and interviewed regularly on TV and radio about space topics.
………….
Ken's photos are for sale and he is available for lectures and outreach events