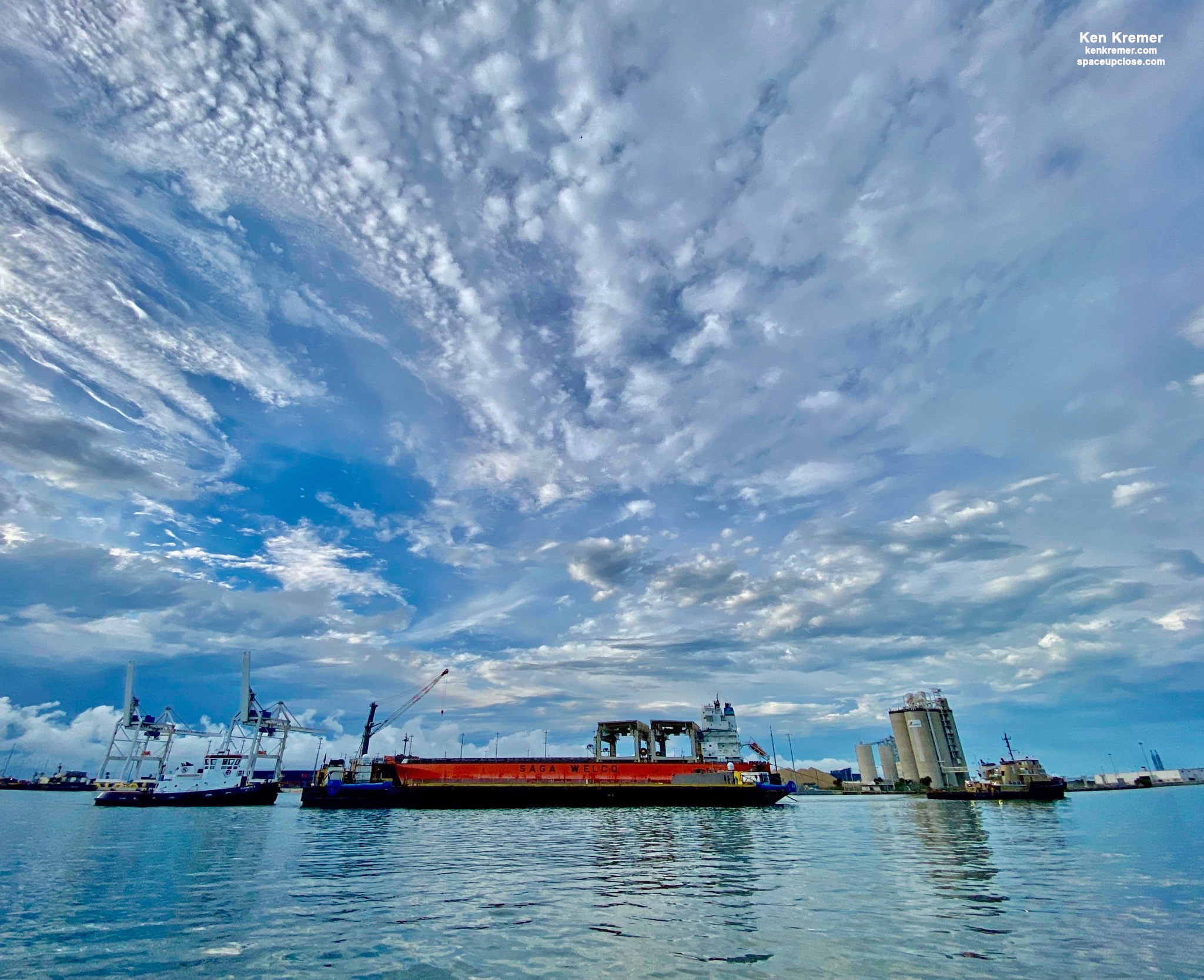 For SpaceUpClose.com & RocketSTEM
PORT CANAVERAL, FL – Prelaunch preparations have begun for the next SpaceX Starlink mission marked by the departure of the "Of Course I Still Love You" (OCISLY) droneship under spectacular twilight sunset skies Friday, June 19.
OCISLY was towed away from her berthing spot at North Cargo Pier 6 by tug Finn Falgout at approximately 7:15 p.m. this evening as I watched from across the south pier.
Enjoy our Space UpClose eyewitness photos of the OCISLY droneship departure taken this evening at Port Canaveral. And check back as the gallery grows.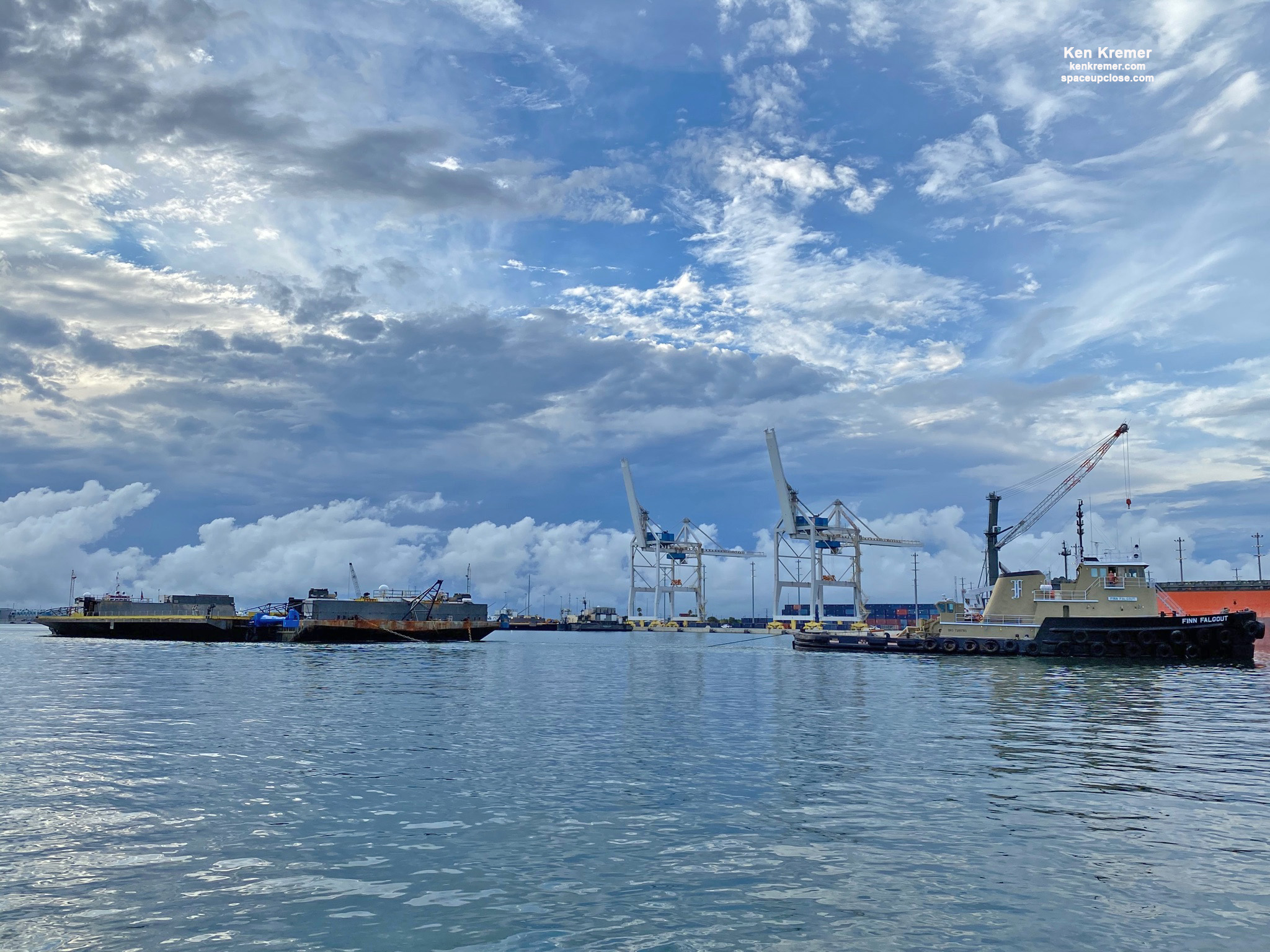 Liftoff of the tenth batch of Starlink broadband internet satellites on a SpaceX Falcon 9 two stage rocket is currently slated for 5:58 p.m. EDT (2158 GMT) Tuesday, June 23 from seaside Launch Complex-39A (LC-39A) on NASA's Kennedy Space Center, FL.
The weather forecast is somewhat favorable.
The 45th Weather Squadron forecast a 60% chance of favorable conditions at launch time.
The primary concerns are for the Cumulus Cloud Rule, Anvil Cloud Rule, Lightning Rule.
In case of a delay a backup launch opportunity is available to Wednesday. But the chances for acceptable weather drop to only 40% GO.
SpaceX intends to land the Falcon 9 first stage on OCISLY some eight and a half minutes after Tuesday's dinnertime liftoff.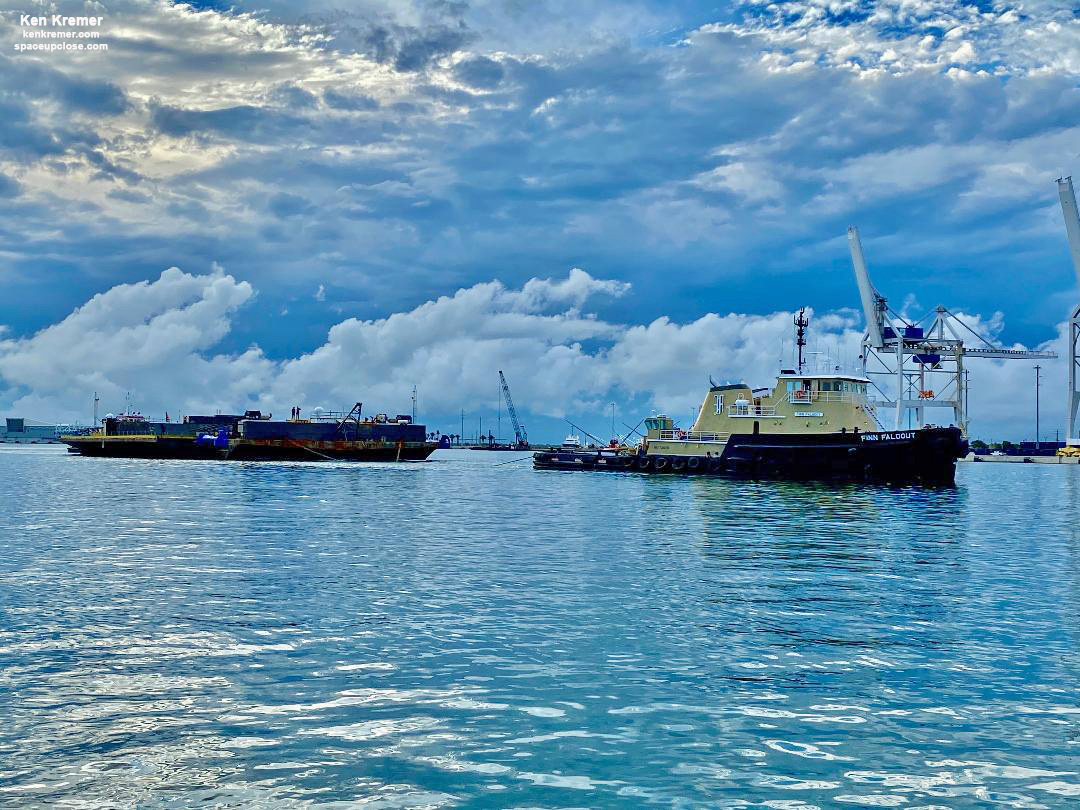 'Of Course I Still Love You' droneship is heading to its stationing position some 400 mi (640 km) north east of KSC off the coast of the Carolina's.
In fact this also counts as a remarkably fast turnaround for OCISLY because the vessel just returned to Port Canaveral with the prior landed first stage earlier this week on Tuesday. June 16. See our articles and photos.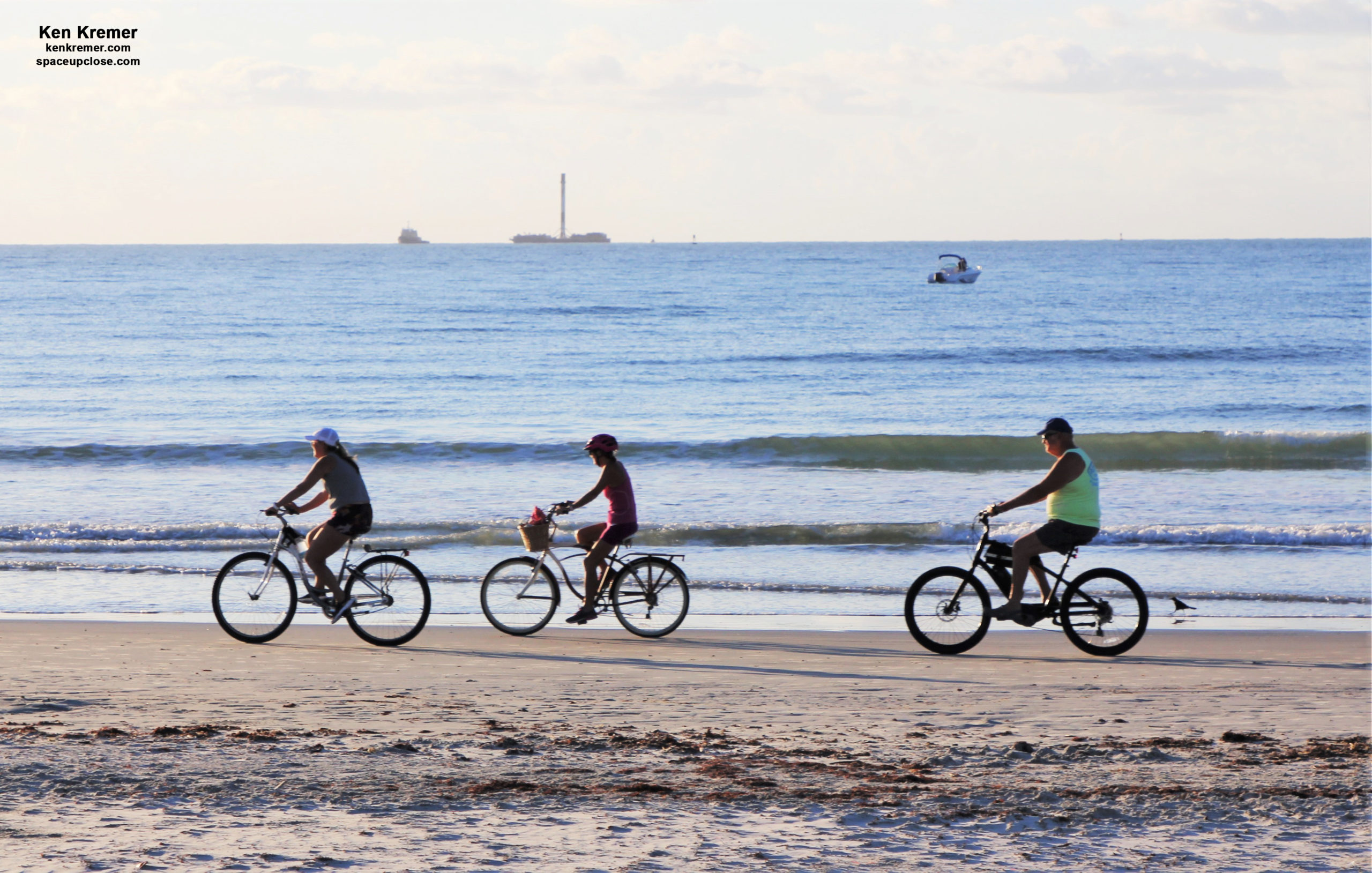 One might have expected SpaceX to swap out droneships and use their vessel named 'Just Read the Instructions' (JRTI) which was used here for the first time for the DM-2 mission.
The mission designated Starlink 9 is comprised of approximately up to 60 Starlink satellites as well as the a pair of Earth observation satellites for BlackSky Global for what counts as SpaceX's second rideshare mission.
In fact this launch comes a week and a half after the prior Starlink 8 mission that launched the ninth batch of Starlink satellites numbering 58 altogether on June 13 with what counted as SpaceX's first rideshare mission with a trio of trio of Planet's SkySats Earth-imaging satellites.
SpaceX is also expected to dispatch their two special fairing boats GO MS TREE and GO MS CHIEF featuring giant nets akin to a catchers mitt and deploy them downrange to catch the two payload fairing halves.
Those two ship returned on Sunday, June 14 with the two fairing from the June 13 launch- see our article and photos.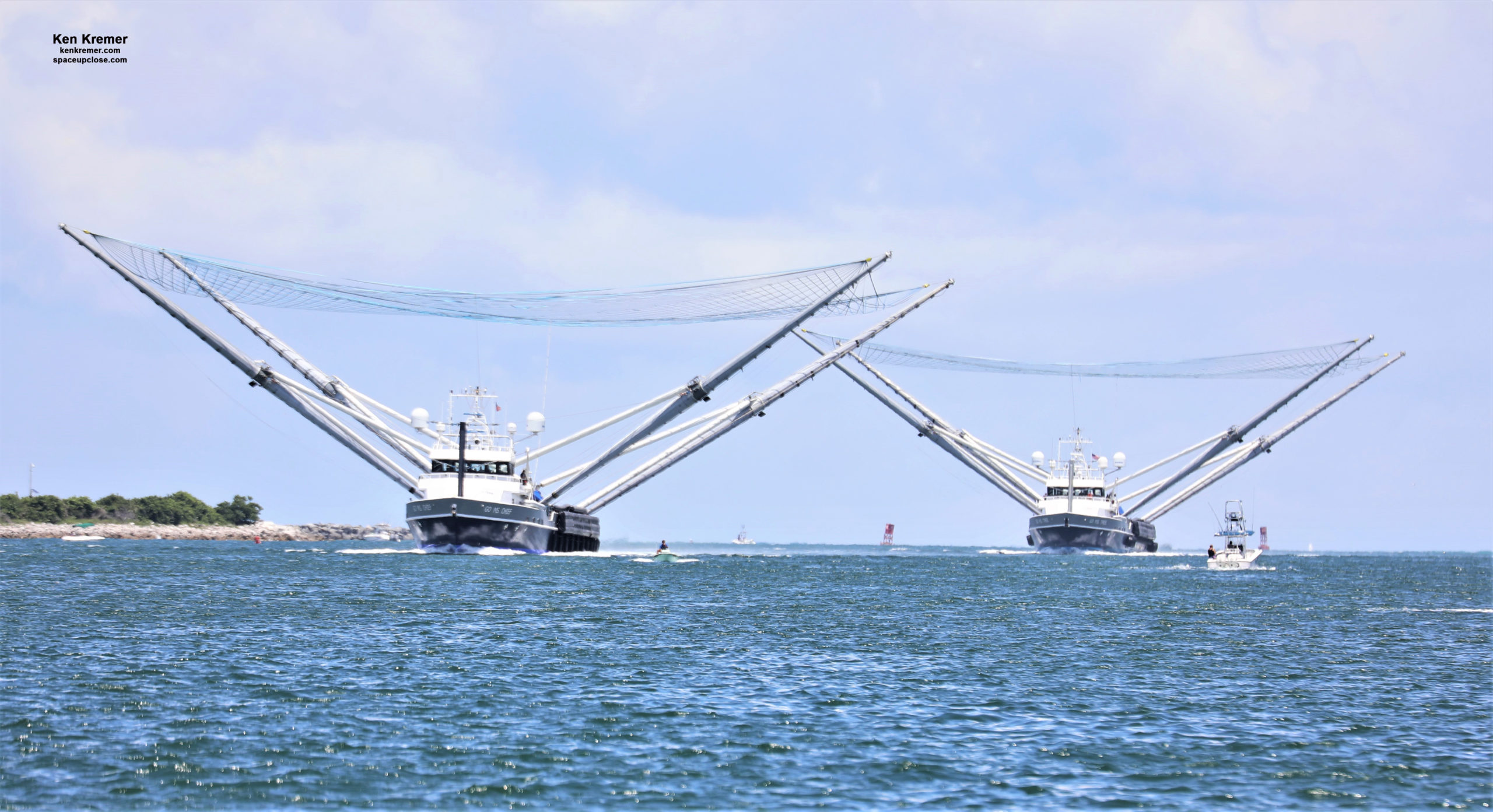 It is not known whether SpaceX will conduct a static fire test. They skipped the test for the first time for the last launch last week.
The two stage Falcon 9 rocket stands 229 feet (70 meters) tall.
SpaceX CEO Elon Musk has made rocket recycling a top priority in order to slash launch costs.
Musk says that the fairings cost approximately $6 million or roughly 10% of the approximate cost of $60 million for a new Falcon 9 rocket.
Watch Ken's continuing reports about Commercial Crew and Artemis and onsite for live reporting of upcoming and recent SpaceX and ULA launches including Demo-2, Starlink, X-37B, Solar Orbiter, Mars 2020 and more at the Kennedy Space Center and Cape Canaveral Space Force Station.
Stay tuned here for Ken's continuing Earth and Planetary science and human spaceflight news: www.kenkremer.com –www.spaceupclose.com – twitter @ken_kremer – email: ken at kenkremer.com
Dr. Kremer is a research scientist and journalist based in the KSC area, active in outreach and interviewed regularly on TV and radio about space topics.
………….
Ken's photos are for sale and he is available for lectures and outreach events